Damage Diaries: 3 Women Relive Their Biggest Hair Mistakes
You live, you learn. In collaboration with T3.
Hair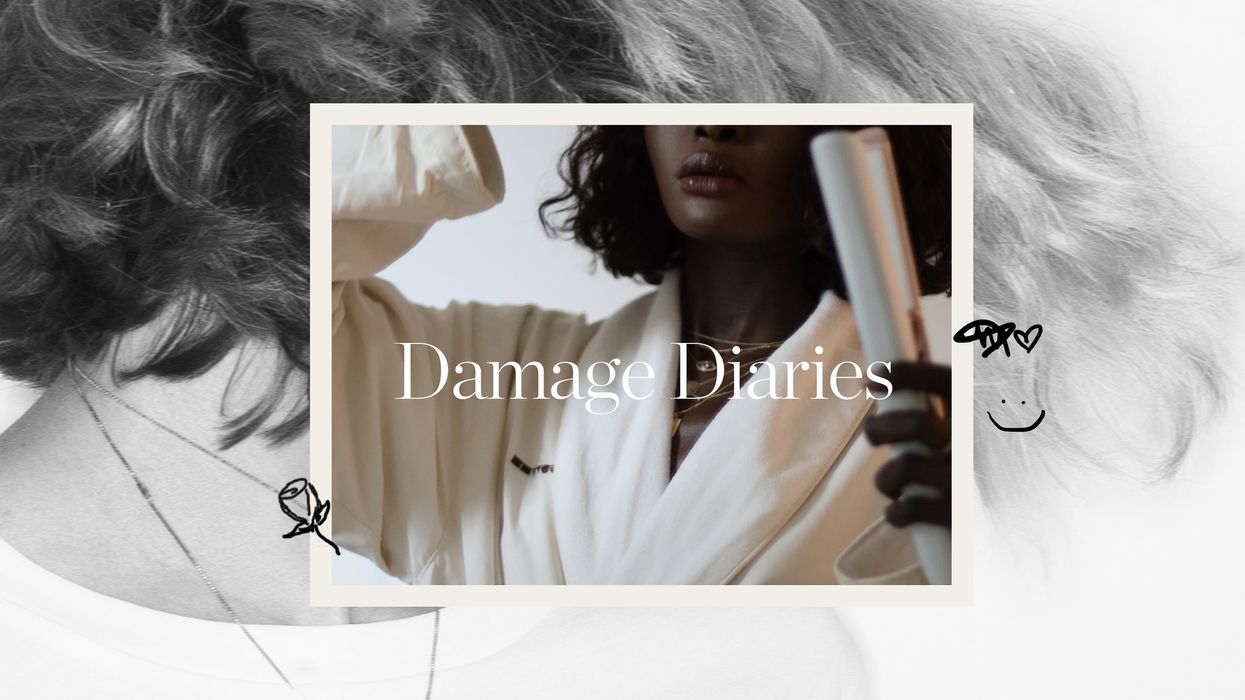 By the time you notice, it's probably too late. We're talking about hair damage, the often irreversible result of a few too many harsh chemicals or over-styling that leaves your hair desperate for a break, in need of TLC, and, at least for a short while, looking slightly below your own personal expectations. It's not an uncommon occurrence (i.e., we've all been there).
Thankfully, get burned once—literally or figuratively—and you learn to tread a bit more lightly going forward. That's what
T3
was built for. Using all new Heat ID technology, the latest line of styling tools uniquely adjusts its settings to anyone's individual hair type before applying heat to your precious mane. That means a tailored temperature that's effective enough to give you the look you want, but won't result in frizzled strands.
To experiment with the T3 Lucea ID straightening and styling tool's personalized feature, three women on three different hair journeys put it to use in their individual routines. And to prove that even some of the coolest modern hair inspirations make mistakes, they also revisited their own past hair-damage horror stories that they're glad to have grown from. Live and learn, right?
---
Shop the Story
My natural hair texture and go-to style:
"My hair is pin straight with very little texture, not a traditional holder of curls or hairspray. So I tend to go either natural, crimping over dried [and] braided hair with a straightener, or alternatively, letting it air-dry while I have it knotted into buns."
My worst hair mistake:
"I have had pretty much every color in the rainbow in my hair (poor girl). I have gotten lucky with my hairstylists—not too many of them used such heavy chemical bleach. In one instance when I went platinum after 6–8 hours in a chair, I went home and found my scalp bleeding and scabbing over. After that lesson, I do my research quite extensively before committing to a colorist. Fortunately for her, I loved being platinum. Being able to use platinum as a base to add in fun colors was worth the initial pain.
"The biggest hair-care mistake I have made was thinking I would look cute with a bob. This came originally out of desperation as I had gotten a piece of gum stuck in my very long hair. When you are 10, I don't think you understand the many layers of complications to creating the perfect bob... Even now I cringe when I find photos of myself with that unfortunate hairstyle. (Nothing against a good ol' bob!)"
My greatest lesson learned:
"Although my hair only holds color in two small strands that frame the front of my face currently, I still take great care to keep the color and health vibrant. I still tone those strands about once every two weeks, throw in dye once a week, and also commit to a scalp and hair moisture treatment about once a month. I rarely blow-dry my hair, but make sure it's dry before leaving the house on a cold day. All the mom tricks coming in handy."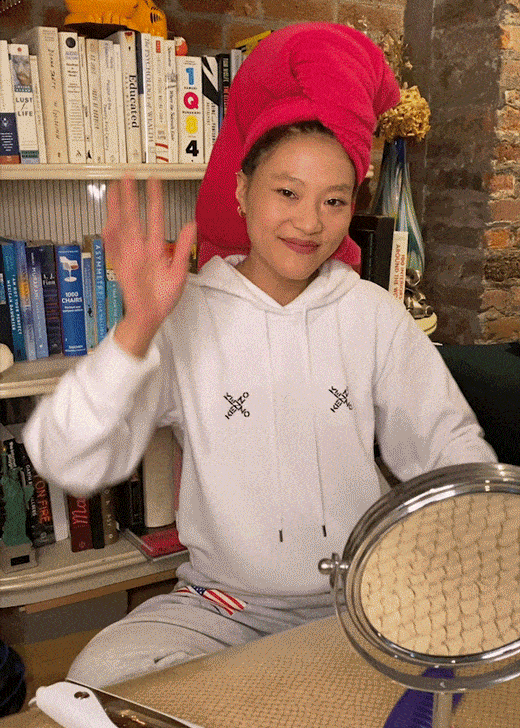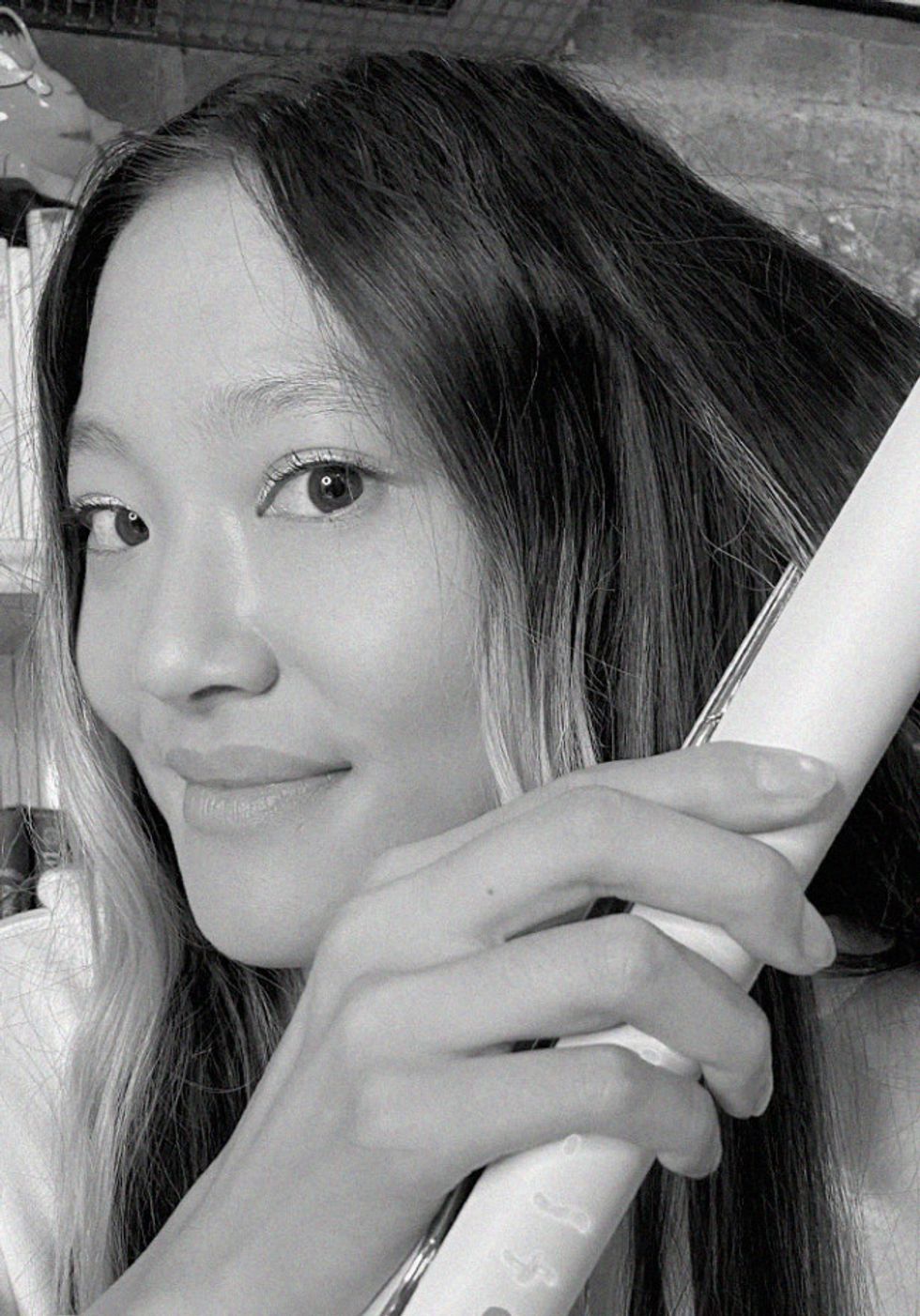 When it comes to my hair and heat:
"Sometimes I use a straightener because it really brings the frizzies down, as well as amps up the shine. It makes me feel a bit more polished when I have the time for such. Alternatively, I use the straightener to throw in some quick beach waves throughout my hair to give the illusion of volume and texture. I use a heat protection spray before I use any heat in my hair to create a mask of stability and protection (we hope, but thus far, it works!)."
My T3 Lucea ID experience:
"It's amazing to see the evolution of the straightener since I was a kid in the '90s. The weight of the straightener is what surprised me the most. It was so light to use; my arms did not feel like they were falling off after only 15 minutes with a clunkier straightener. The different settings of colored hair or not, levels of heat availability, and the lock feature are worth the mention. I really feel that this straightener is somehow personalized for my hair needs—thin, long hair, and colored—which is something I never thought I would say!"
My final results:
"I generally find that most straighteners and curlers are way too hot even at their lowest setting. With the T3 Lucea ID and its intelligent HeatID, it felt like the perfect amount of heat for the beach wave I wanted to achieve. There was no steam or sizzle coming from the straightener, which is something I am very familiar with... Now I must stop with this interview so I can go outside and show off my new hair-do!"
Shop the Story
My natural hair texture and go-to style:
"My hair has tighter curls and is pretty thick. I find myself often using a flatiron to expand on the curls for a looser look. Lately, I have loved to keep a wavy hairstyle. I usually straighten my bangs."
My worst hair mistake:
"I used to have really long hair that I would straighten every day! It would be A LOT of heat to straighten it. There were certain flat irons that I used that continuously damaged my hair. I kept using them and burned so much hair. When I realized that my hair was getting damaged, I started cutting back on the heat and straightening overall. It is unfortunate, because I did love the long, straight hair look."
My greatest lesson learned:
"Using hair masks is so key. It really boosts healthy hair and cleanliness."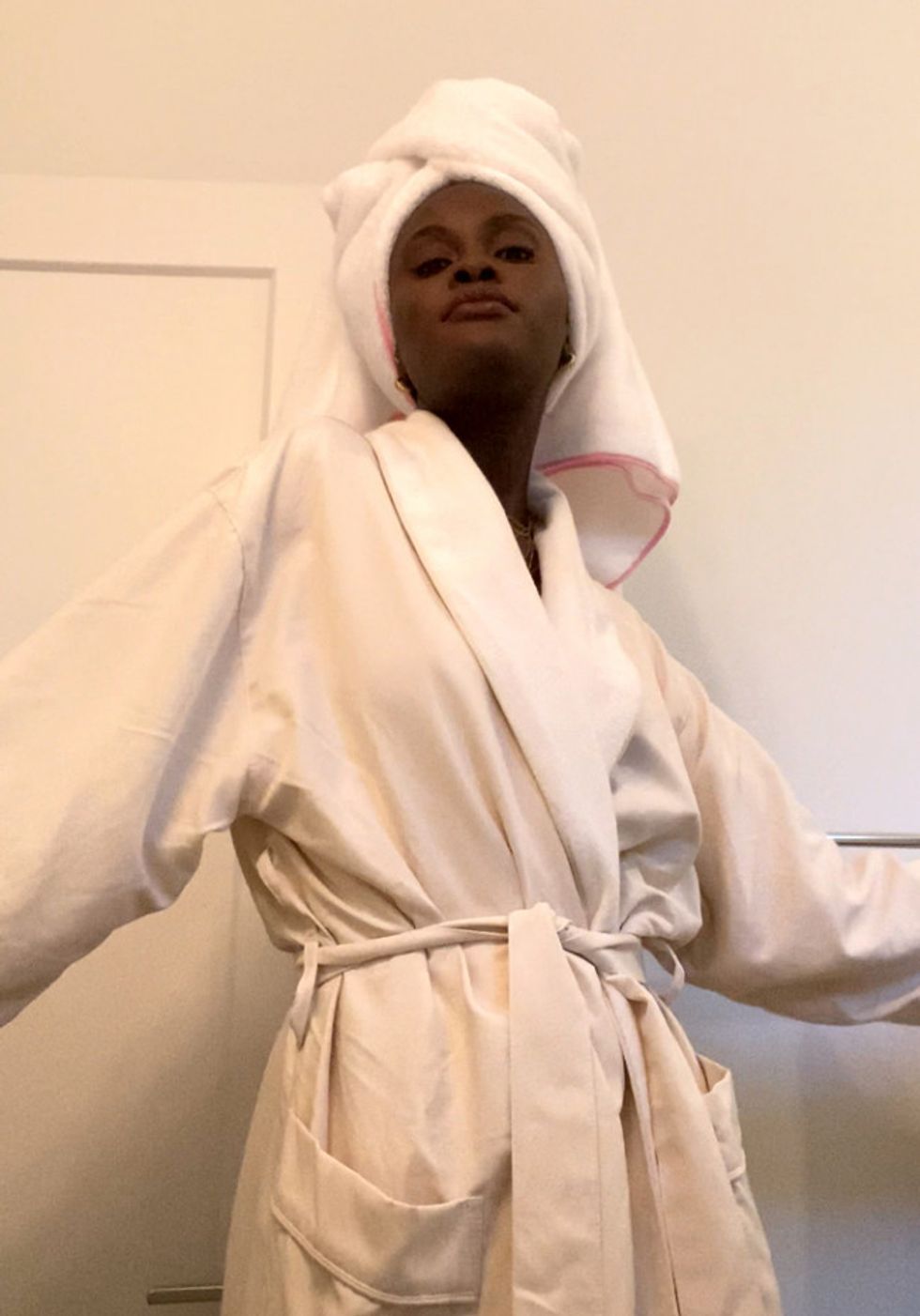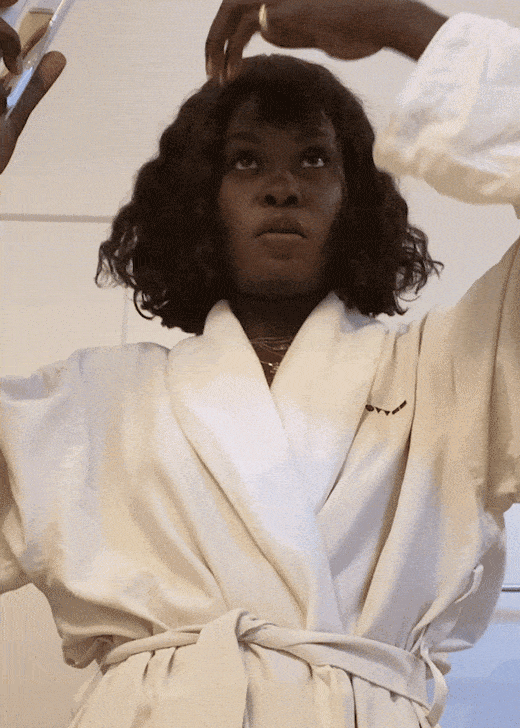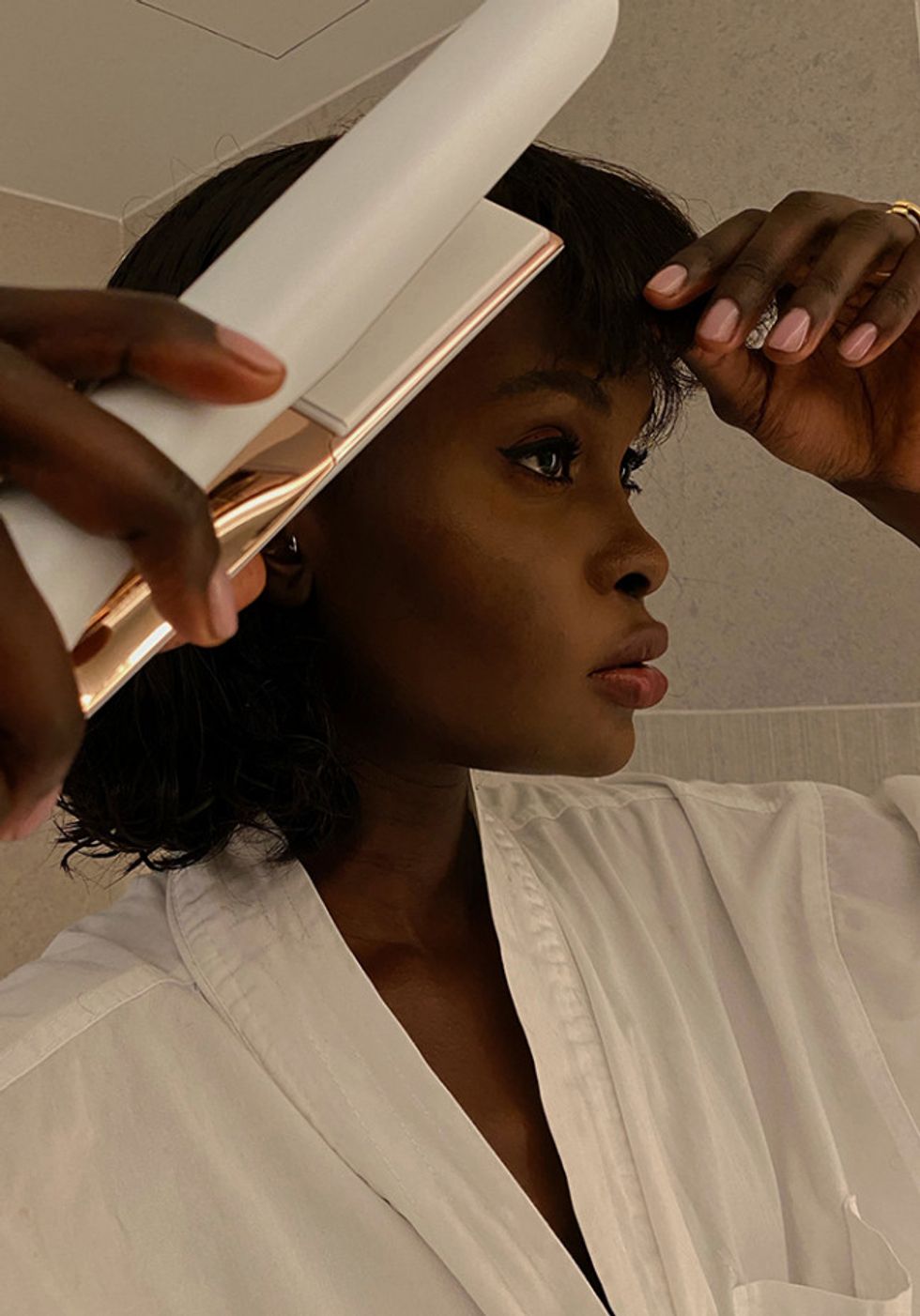 My hair and heat:
"I do still use a flat iron. I mainly use it to wave my hair for a wavy, organized look!"
My T3 Lucea ID experience:
"I have never used a smart flat iron, and I have to say it was revolutionary for me! I initially thought that the tool would be complicated, but it is so straightforward to use. I have thick, short, and non-color-treated hair. The T3 takes all this into account, and my personalized settings worked magic. I assumed that I would need to have the highest heat level, but I was surprised."
My final results:
"The heat application was more precise for my hair type, and it was so perfect for curling my hair. The results were so great. It has cut down on the amount of heat I need to apply and the time it takes to get the perfect style."
Shop the Story
My natural hair texture and go-to style:
"My hair is very thick and is naturally dark brown and wavy. In the summer, sometimes I let it air-dry, but still drying and straightening my bangs, of course! So a flat iron is always needed. In the fall/winter, I blow-dry with a round brush as straight as I can and then flat-iron it layer by layer, giving the ends a rounded bend."
My worst hair mistake:
"Oh man, where do I begin! When I was 13 until I was about 18 I had every hair color and style imaginable. Platinum blond mohawk, yellow and orange liberty spikes, rainbow-colored extensions, Vidal Sassoon Twiggy pixie, and then always black in between. I used to do the color myself, and when I messed up and couldn't get the color or shave I wanted, I would just wear a wig. I loved Manic Panic hair dye. This is probably the longest and healthiest my hair has ever been in my life.
"The last time I decided to go back to my natural color was probably 10 years ago. They say it's harder going back dark than going blonde because you've basically already stripped your hair so there's nothing the color can latch onto. So it can be a long process. After I was finally brunette again, I immediately missed being blonde, so I just cut it into a bob and went back! I really love being blonde."
My greatest lesson learned:
"The most important thing I learned about being blonde is that you don't have to use bleach and highlights to obtain the perfect color I have. I used to sit in the hair salons for hours to get super blond hair, and when I moved to NY one of my stylists suggested using a single-process highlight. It literally takes less than two hours (including a blow-dry, which, with all my hair, can take a while) and is way less damaging for your hair. Now my hair is a more golden tone, and in the summer, the sun gives it natural highlights."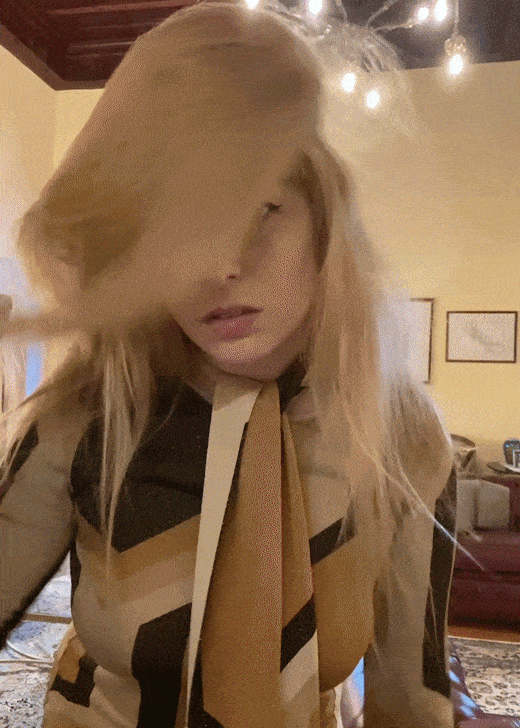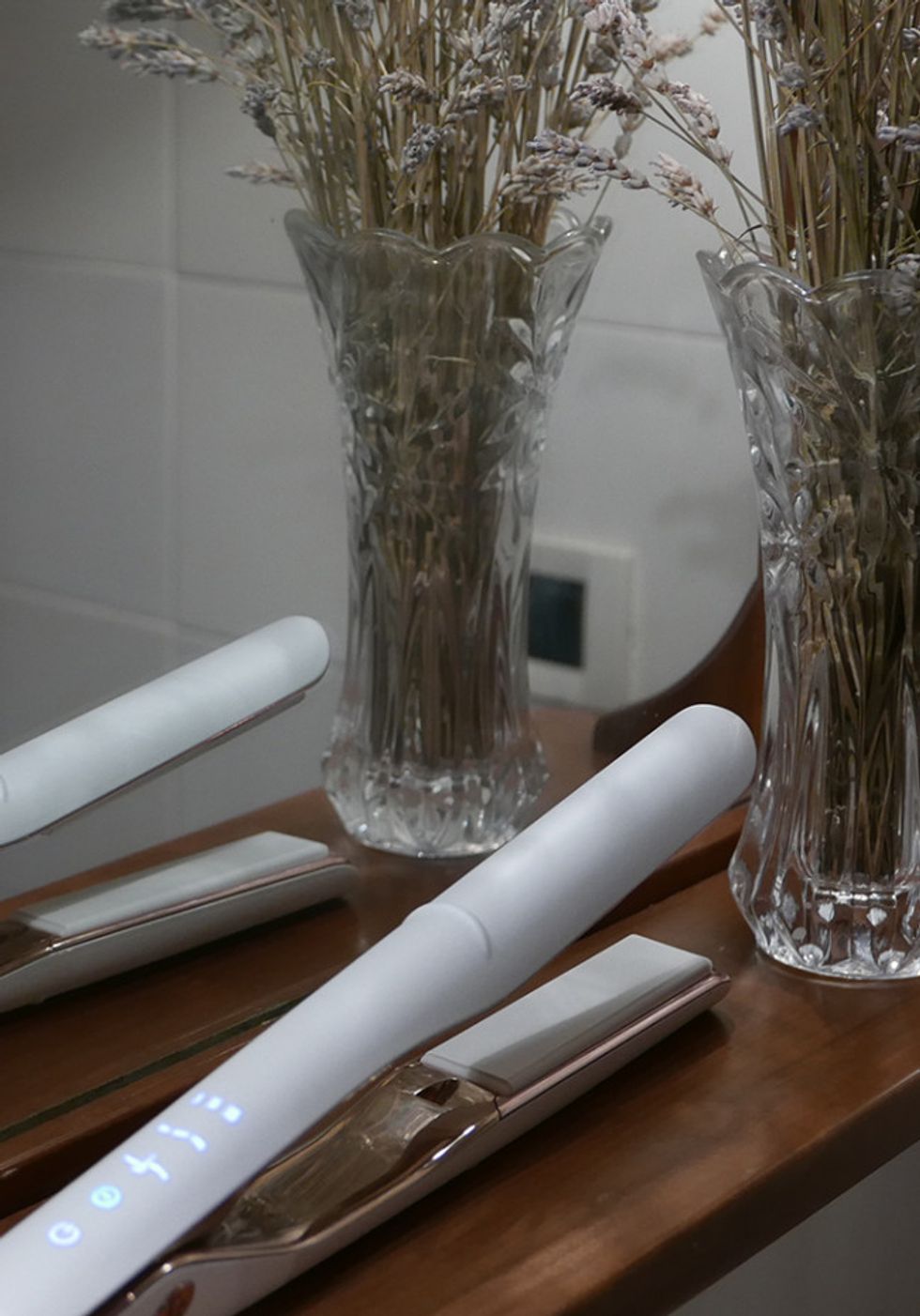 My hair and heat:
"Honestly, I don't use any heat-protecting products. I probably should! I only really use deep conditioners and hair oils to help keep it smooth and shiny. I like to use the flat iron more like a brush; I run it through each section a few times and not let it sit too long on it."
My T3 Lucea ID experience:
"It was really fun, I've never had such an interactive hair product. I thought I would need the highest setting since my hair is super wavy near the root and I always have a hard time getting the back no matter how much I try to blow-dry it out. When I put in that my hair was long, coarse, and color-treated, the heat setting locked in at seven."
My final results:
"The smart, personalized heat setting worked great. It was the perfect temperature and left my hair feeling more straight and softer than any other straightener I've ever used. I noticed the next day my hair held up longer than normal!"
Want more stories like this?
7 Repairing & Hydrating Hair Masks Our Senior Beauty Editor Swears By
How to Transition Your Hair Care Routine from Summer to Fall
Can You Slow the Greying of Hair? We Investigate