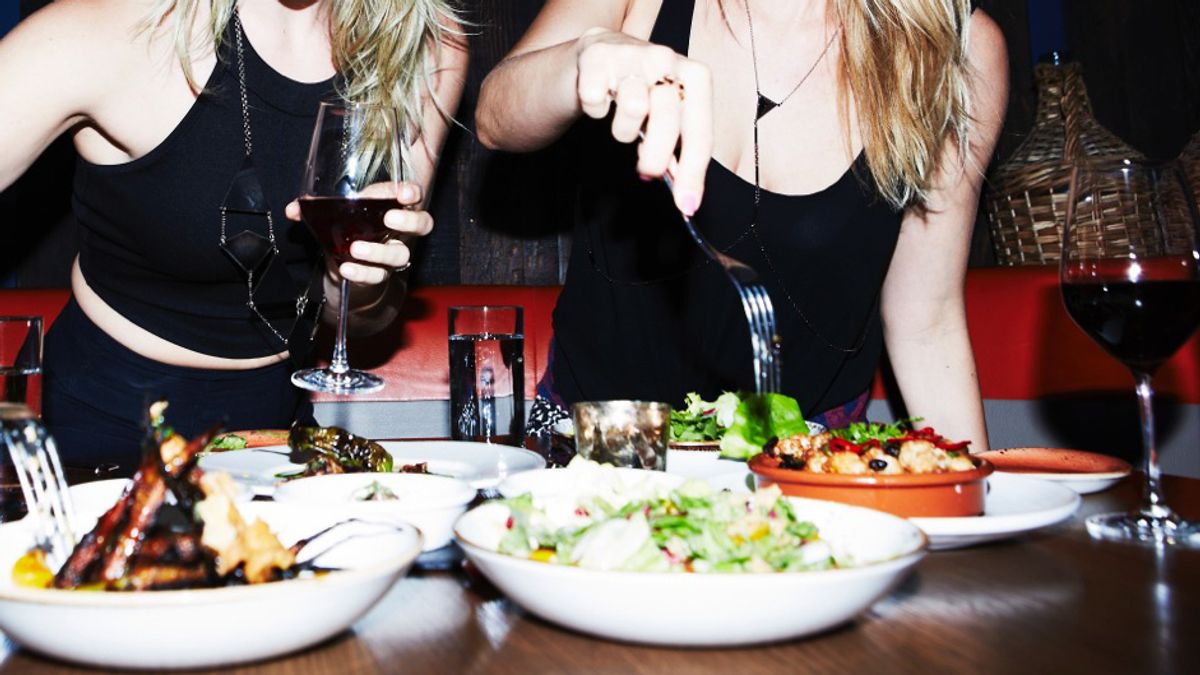 Food
Because that chickpea stew and PB&J deserve a fine wine, too.
It goes without saying that we're all cooking at home more these days, and we've found ourselves eating a LOT of chickpeas and pasta as of late. We're even starting to wonder: Just how many different dishes can you make with chickpeas? It feels like we're on the path to finding out. And if our Instagram feed and Zoom dates with friends have told us anything, it's that we're certainly not alone in this.
But what wine pairs best with your Alison Roman chickpea stew, or that PB&J you're eating on the couch while ordering moisturizing gloves for your dried-out hands? For answers, we consulted with our friend
Victoria James
, beverage director and partner at the Michelin-starred COTE restaurant in NYC and author of the new book 
Wine Girl
. (We highly recommend that you
order it
while you have some downtime in the next several weeks.)
Here, she weighs in on pantry dinner pairings. A PB&J or frozen pizza become so much more interesting when you have the right drink in your glass. (Trust us when we say that the $12 bottle of Sancerre you're drinking is not helping the situation.) Even if you are just too tired and overwhelmed to cook anything, and dinner consists of chips and salsa, elevate it with something delicious (James suggests Ramona).
---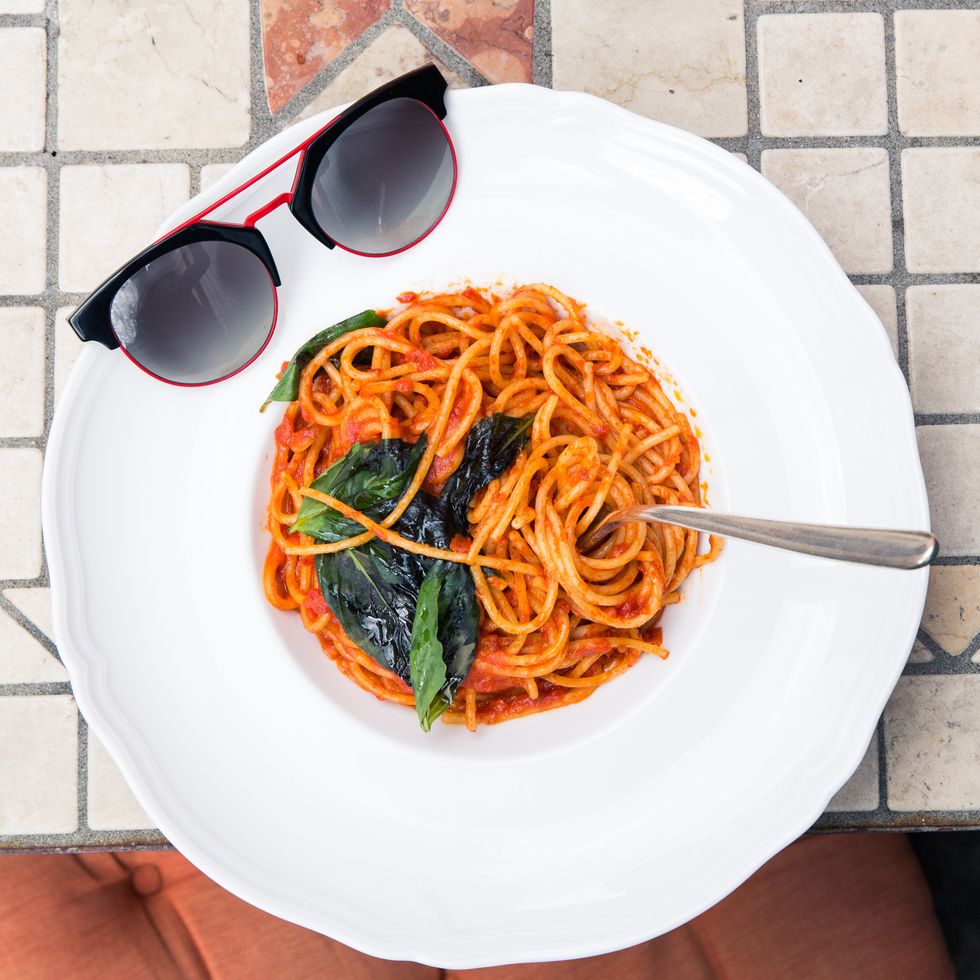 Spaghetti and meatballs: "What grows together, goes together! With this classic central-Italian dish, think wines like Chianti, Brunello di Montalcino, and other Sangiovese-based reds. You need something that is savory but with enough acid to match the tomatoes and grip to cut through the richness of this dish."

Chickpea stew: "Think Mediterranean wines such as light-bodied reds (Rossese from Liguria), oily and textural whites like Vermentino/Rolle from Provence, or a hearty Bandol rosé."

Chicken noodle soup: "Soup is a hard dish to pair because of temperature and the boldness of flavors; however, I always go with Sherry. A dry, nutty style like a Fino or Manzanilla are great to sip (or even pour in your soup!) alongside. You add power to the dish, and because the wine is already so full in body/alcohol, you don't need much, which is great since you're already ingesting so much liquid."

Peanut butter & jelly: "This is a deceptively hard dish to pair, since it is made from sweetened grapes. If you pair it with an even sweeter wine, you have an overload of sugar. I like to do a Trappist beer that is nutty, or a stout that is milky. This adds a toasty-nutty character that highlights the peanut butter and is crisp and refreshing."

Oreos: "Dipping your Oreos in milk is cool, but what about dipping your cookies Italian-style in Vin Santo or Marsala? Usually the Italians do this with biscotti, but hey, you're inside and no one will see you, so go for it! The honeyed and caramelized flavors of the wines almost make your cookie taste like it has nuts or pieces of toffee."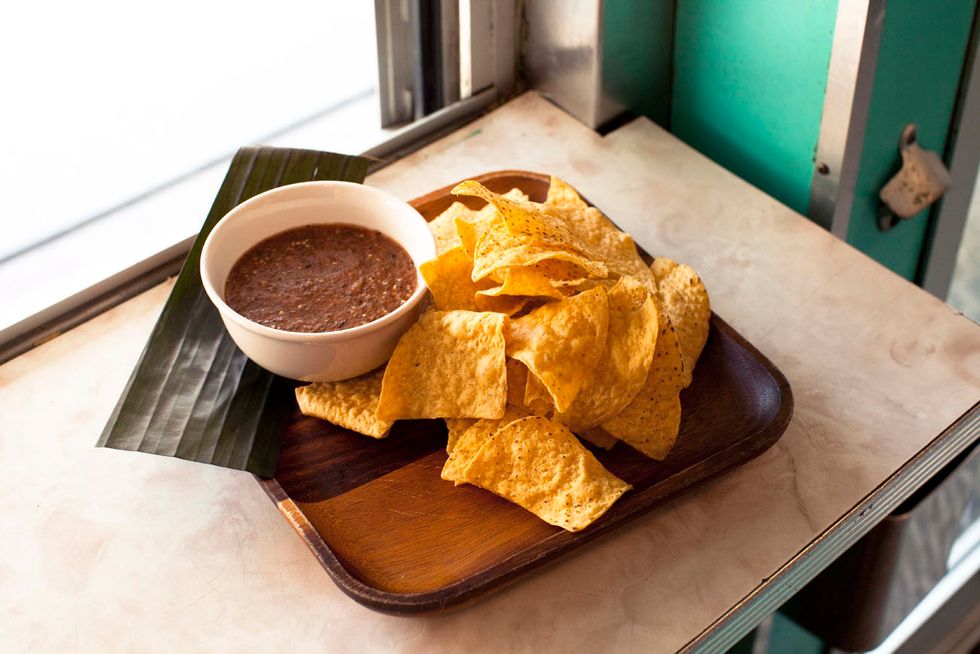 Tortilla chips and salsa (for when you're just too tired to cook):
"Been there. And
Ramona
is my go-to; it has a touch of sugar to match the spice, but the bright fruit flavors really enhance the flavors of the salsa. If you really need to amp up your quarantine, add in some tequila to a grapefruit spritz, and you have a Ramona Paloma (a classic cocktail with Mexican fare)!"
Margherita pizza:
"Whether delivered from your favorite restaurant (support locally!) or frozen, my go-to pizza wine is always cru Beaujolais. Serve it slightly chilled, and it is highly crushable, or as the French say, 
glou glou
(glug glug). For a more festive occasion, Champagne also works very well. It's like beer with pizza, but way fancier."
Veggie chili:
"You need a big wine for a hearty dish like this. I love Northern Rhone Syrah that adds black pepper and spice to the dish. And even though it's veggie chili, the Syrah gives it a certain meaty and sanguine character that is divine."
Chocolate chip cookies:
"Banyuls! Many sommeliers will argue that this is the one true pairing with chocolate. This wine actually predated Port even though it is made in the same style, instead just coming from the South of France by the Spanish border. I like this fortified red wine slightly chilled, so it's more refreshing, especially with a warm platter of freshly baked cookies."
NOTE:
You can purchase these wines through local restaurants in NYC—please support them! They need lots of help right now. In particular, you can order wine for pickup at
Cote
by emailing
Prime@cotenyc.com
. If you're not in NYC, support your local restaurants, wine shops, and winemakers directly by calling them or checking their websites for more info.
Want more stories like this?
What to Eat—and Drink—in the Bath
How to Let Go of Food Anxiety Once and for All
How 6 Coveteur Staffers Approach Working from Home