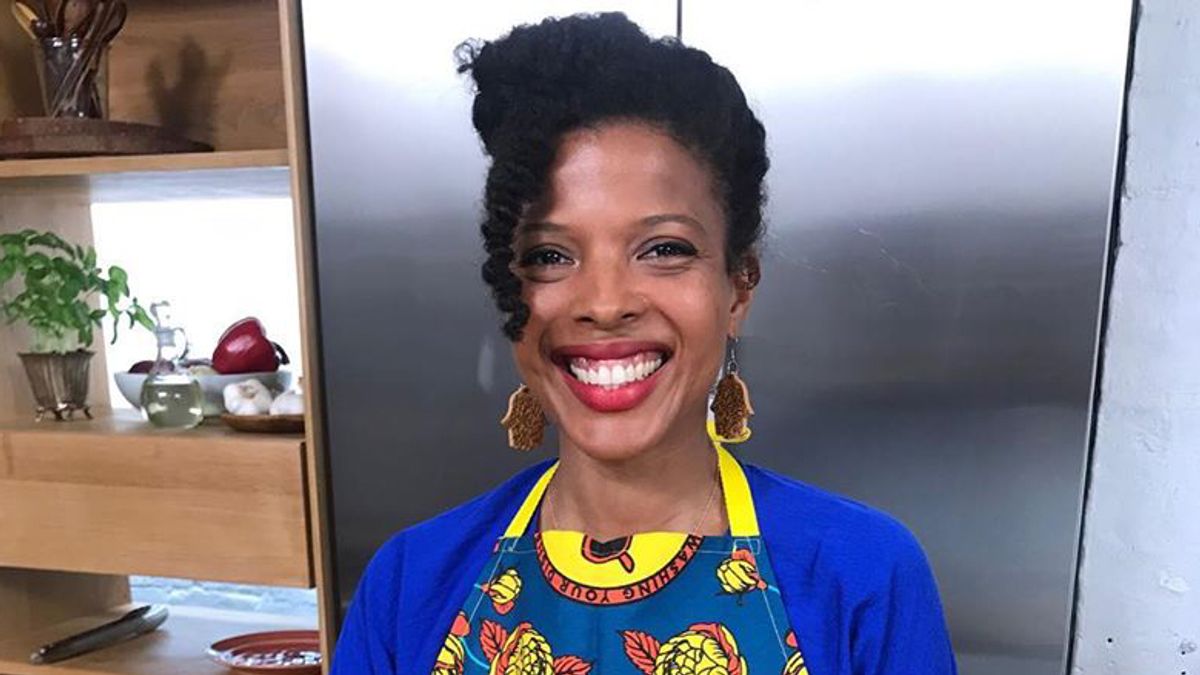 Food
Klancy Miller is the Brooklyn-based writer, chef, and founder of For the Culture magazine.
It all started when Klancy Miller, a Brooklyn-based writer and chef, was asked to guest-edit an all-Black issue of a food magazine several years ago. She was intrigued by the concept and started working hard on the issue right away, but it ultimately never came to fruition.
"A friend said, 'You know what? You should just do your own magazine,'" says
Miller
, who is the author of the 
Cooking Solo
cookbook and contributor to publications such as
The New York Times
and
Food & Wine
.
That's exactly what she did. Cue Miller's new, biannual print magazine, 
For the Culture
, celebrating Black female talents in food and wine and created entirely by Black women. The debut issue, due out this fall (available online and at select local bookstores), was made possible by an impressive $40,000 raised from Miller's Indiegogo crowdfunding campaign and another $10,000 raised from the
For the Culture
bake sale organized by Jenelle Kellam and Keia Mastrianni.
"One of the things that has been clear to me for a long time, and I think clear to anybody who's Black or a person of color in food media, is that everything that happened with
Bon Appétit
and other individuals and entities recently, it's nothing new," says Miller. "We're at a place of major recalibration across several industries in this country and in the world right now. I hope that
For the Culture
will represent long-missed opportunities in terms of introducing audiences to Black women throughout the diaspora who don't get highlighted enough."
We caught up with Miller to hear more about the first issue of
For the Culture
. Plus, she shared a few of her favorite summer recipes with us to try out at home.
For the Culture
is really the first of its kind. What can we expect from the debut issue?
"When I initially put out the call for submissions, at the end of February/early March, I said the theme was 'It's Personal' because in many ways, this magazine is a personal passion project and it speaks to something that I personally have wanted to see out in the world. I think one of the reasons why it resonates with people is because of that same personal need to kind of see yourself out in the world, and specifically, to see yourself represented in the world of food and wine. You can also look forward to being introduced to a lot of women, some who you might know and some you don't, in the world of food and beverage in very personal ways in the format of personal essays."
The pandemic has hit the food and beverage industry extremely hard. How is COVID-19 reflected in the magazine?
"It evolved as a whole other theme. The pandemic has really kind of decimated the hospitality industry, and you have to look at what's going on in food and wine through that lens. Also, since COVID-19 has disproportionately affected Black and brown communities, I feel like it's really important to have some stories that reflect that."
When did you start working on
For the Culture
?
"I came up with the idea [of]  
For the Culture
years ago, and I did the crowdfunding campaign to launch the first issue starting in December. So before there was a pandemic and before anything was revealed about
Bon Appétit
and other places and people. I am not starting this in reaction to those recent revelations; I started it in reaction to a general trend and lack of acknowledgment that I had sensed for years, and I'm not the only person who's sensed that. I hope that
For the Culture
will be a fun reading experience, and I also really hope it will give people opportunities to tell stories that perhaps wouldn't be accepted at other publications. The thing is, we've been here, Black women have been doing the work, it's just [that] we don't always get to tell the stories and we're not always the ones written about. I want it to be a vessel for some of the amazing work that Black women do in food, wine, and hospitality."
You were asked to guest-edit an all-Black issue of a food magazine a few years ago, and I know that moment was a big inspiration for the magazine. Were there any other specific moments that prompted you to launch this?
"It was over time, but there definitely were three significant markers. I was asked a few years ago to guest-edit an all-Black issue of a food magazine, and I found that intriguing. Then 
Chef Leah Chase died
. I feel really lucky that I got to interview her three times because her story is so incredible. When she died, I just thought, 'Oh my gosh, she takes with her all these stories.' Fortunately, she was prolific in her work, and she's been interviewed by dozens, if not hundreds, of people, so her story is out there, but it just kind of underlines the fact that people die. You have to get and share these stories because a person like Leah Chase is so inspirational, and there's so many other people of different ages and different backgrounds who are just as inspirational as she was.
"Also,
Toni Morrison's death
, in a similar vein, was a big reminder that if there's something you want to do, you have to do it. This is me kind of butchering what she said, but she said, 'If there's a book you want to read, write it." And even though
For the Culture
is a magazine, I feel like this is a magazine I would want to read. I had the feeling that if I don't do this, someone else will, and I might not like the way they do it, so I'd rather do it. That way, even if I make mistakes, at least they will be my mistakes."
Who are some of the amazing women highlighted in the first issue?
"I am keeping it top secret (for now)!"
What are some magazines you love?
"I grew up loving
Gourmet
. I really enjoyed the lushness of it. I can't say that I am modeling
For the Culture
off of
Gourmet
, but it's aspirational. Current magazines include
Whetstone
, which I think is a great independent publication.
Cherry Bombe
is a magazine that I just thought was so exciting when it first came out in terms of focusing on women and the fact that at the time that seemed like such a novel idea, you know? Now you look at
Cherry Bombe
, and you're like,
Of course there should be a magazine on women, right
?"
It sounds like you have always been a storyteller in one way or another. As a kid, did you know you wanted to be a writer when you grew up, or what did you see yourself doing?
"When I was really little, I wanted to be president so I could boss everyone around. I had very random work goals as a child, like president and orthopedic surgeon...and cartoonist. I started writing pretty early. I used to write a lot of poetry as a child, and I just wrote stories for fun. I don't think I took them seriously, it was just something I did."
Where did your passion for food originate?
"I grew up enjoying restaurants with my family and eating really well at home, but I didn't really cook that much. I wasn't a kid who helped my mom out in the kitchen. My first actual job at 15 was working as a dishwasher in a really cute gourmet shop. (I was raised in Atlanta, and then we moved to Philly when I was about 12 or 13.) But I didn't get super interested in food until after I graduated from college, and I was trying to figure out what I wanted to do, and I was taking cooking classes on the side. I applied for a job at a restaurant, and the chef wouldn't hire me because I didn't have any experience, but said I could apprentice on the weekends. That was the best. I took it seriously and found it really gratifying that you could see the fruits of your labor immediately, versus working at an NGO and working in international development (which I was doing) and knowing that whatever I was researching, those issues weren't going to be solved within the decade, let alone within a day or a week. Then I decided to go to culinary school to become a pastry chef in Paris—that was a fairy-tale experience for sure."
Who do you count as a mentor in your career?
"When I came back to the States, I knew I wanted to write about food as opposed to work in a restaurant, because restaurant work is super hard. I was trying to launch myself as a freelance writer, and Marcus Samuelsson was opening up a new restaurant, and I reached out to interview him. I profiled him, and then he started introducing me to people in the industry. He has definitely been a consequential figure in my career."
When you aren't cooking at home right now, what local restaurants have you been ordering from?
"
Ode to Babel
has been doing this cocktail delivery service that's amazing. I'm a sucker for cute packaging, and it's so cute and the cocktails are so delicious! I have been getting pizza from
Roman's
in Fort Greene—I like pretty much anything they make. I missed one pop-up that
Kia Damon
did, but I want to try the next one she does for sure. I am constantly salivating over what she is working on! Also,
Lani Halliday
, she does vegan, gluten-free baked goods and savory treats, and I went to her pop-up at Maison Yaki and it was so good."
---
---
To-Be-Eaten-Only-in-Season Tomato Salad
MAKES 1 SERVING

Go for the most potent and healthful tomatoes out there: the grape or cherry variety. According to Bon Appétit magazine, the smaller varieties pack 18 times more lycopene (a powerful antioxidant and protector of cells) than big tomatoes. Petite tomatoes are also a single cook's friend because the portioning is so easy. (You'll never end up with a half tomato losing flavor in the fridge.) Pine nuts toast up nicely in just a few minutes in a dry skillet over medium heat. Toss them often and watch carefully, as they burn easily.
Photo: Tara Donne
Ingredients:
2 cups halved cherry or grape tomatoes
1⁄2 cup diced feta cheese
1⁄4 cup finely chopped fresh flat-leaf parsley
2 tbsp pine nuts, toasted (see Note)
1 garlic clove, minced
Salt
2 tsp extra-virgin olive oil



Directions:
1. In a medium bowl, combine the tomatoes, feta, parsley, pine nuts, garlic, and a few pinches of salt.
2. Drizzle with the olive oil, and toss with your hands to coat.
3. Taste and adjust the seasoning, if desired, and serve.
Note: To toast the pine nuts, place them in a dry skillet over medium heat and stir the nuts continuously until they are slightly golden and release a faint, toasty aroma, two to three minutes.
---
Rustic Strawberry Shortcake
MAKES 1 SERVING

This twist on a classic starts with a large cupcake for one and builds—up or out, as you prefer. The whipped cream adds a fluffy lightness and helps keep the layers stacked. It's almost too pretty to eat.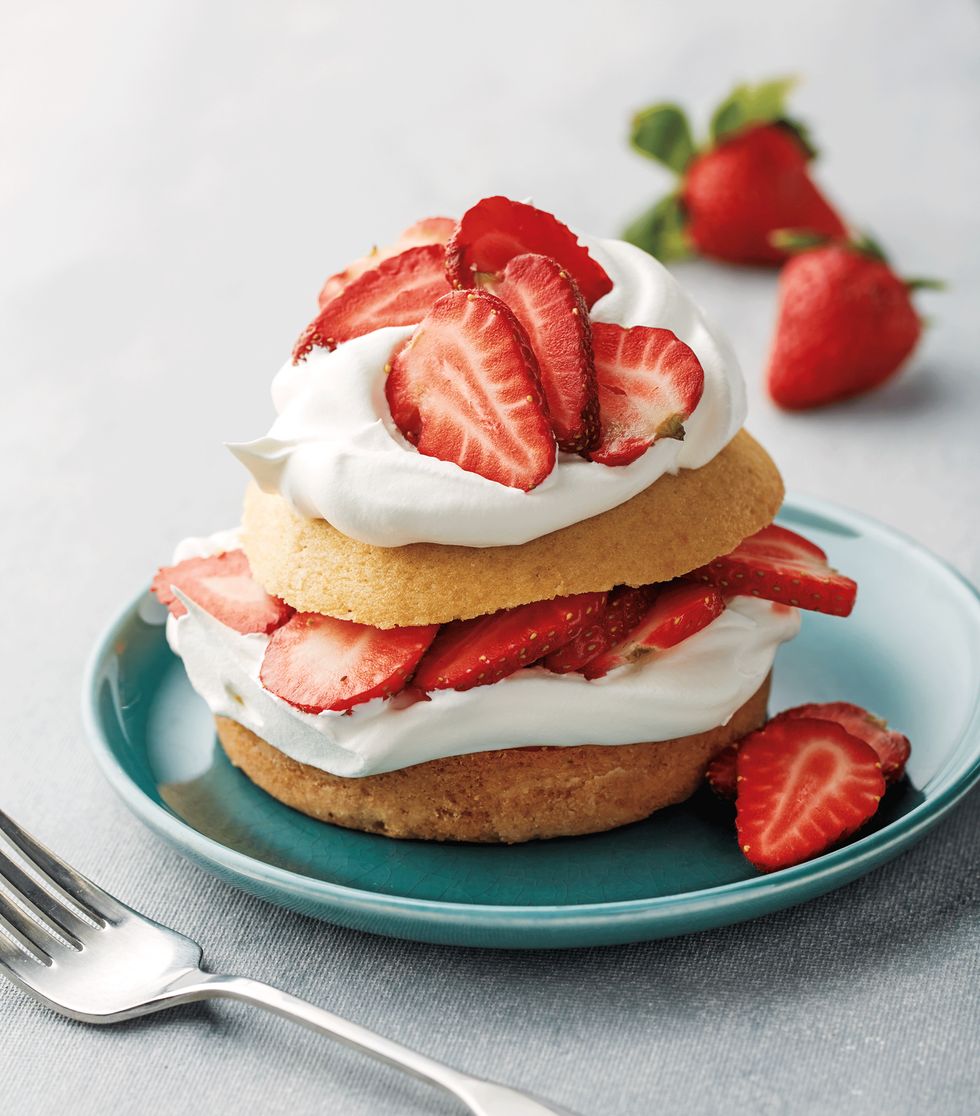 Photo: Tara Donne
Ingredients:
For the mini cake:
2 tbsp butter, melted, plus 1 tsp for the ramekin
1⁄4 cup plus 1 tsp all-purpose flour
1 large egg white
2 tbsp light brown sugar
1½ tbsp whole milk
1⁄4 tsp  vanilla extract
1⁄4 tsp baking powder


For the whipped cream:
1⁄3 cup heavy whipping cream
1½ tsp confectioners' sugar, plus more as needed


6 to 8 fresh strawberries, hulled and sliced
Directions:
For the mini cake:
1. Preheat the oven to 350°F.
2. Use 1 teaspoon of the butter to grease the inside of a 4-inch ramekin.
3. Add 1 teaspoon of the flour, rotating the ramekin to coat it evenly, and shake out the excess.
4. In a small bowl, whisk the egg white with the brown sugar until the sugar dissolves.
5. Stir in the remaining 1⁄4 cup flour and 2 tablespoons butter, the milk, vanilla, and baking powder, and beat until smooth.
6. Pour the batter into the prepared ramekin, set it on a baking sheet, and place it in the oven.
7. Bake for 24 to 26 minutes, until the cake is golden on top and a toothpick inserted in the center comes out clean.
8. Set it aside on a rack to cool completely, about 30 minutes.
For the whipped cream:
1. In a medium bowl, whisk the cream until soft peaks form.
2. Add the confectioners' sugar and whisk gently to combine.
3. Taste and add more confectioners' sugar, if desired.
Remove the cake from the ramekin and cut it horizontally into two disks of cake of equal size. Place one disk on a dessert plate and top with half of the whipped cream and half of the strawberry slices. Stack the second disk on top and layer it with the remaining whipped cream and strawberries. Serve immediately.
Recipes are excerpted from
COOKING SOLO: The Fun of Cooking for Yourself
© 2016 by Klancy Miller. Photography © 2016 by Tara Donne. Reproduced by permission of Houghton Mifflin Harcourt. All rights reserved.
Top photo: Courtesy of Instagram/@klancycooks
Want more stories like this?
4 Black Sommeliers Share Their Perfect Pour and How the Industry Is Changing
What to Eat and Drink for Every At-Home Summertime Activity
In the Kitchen with Jenné Claiborne