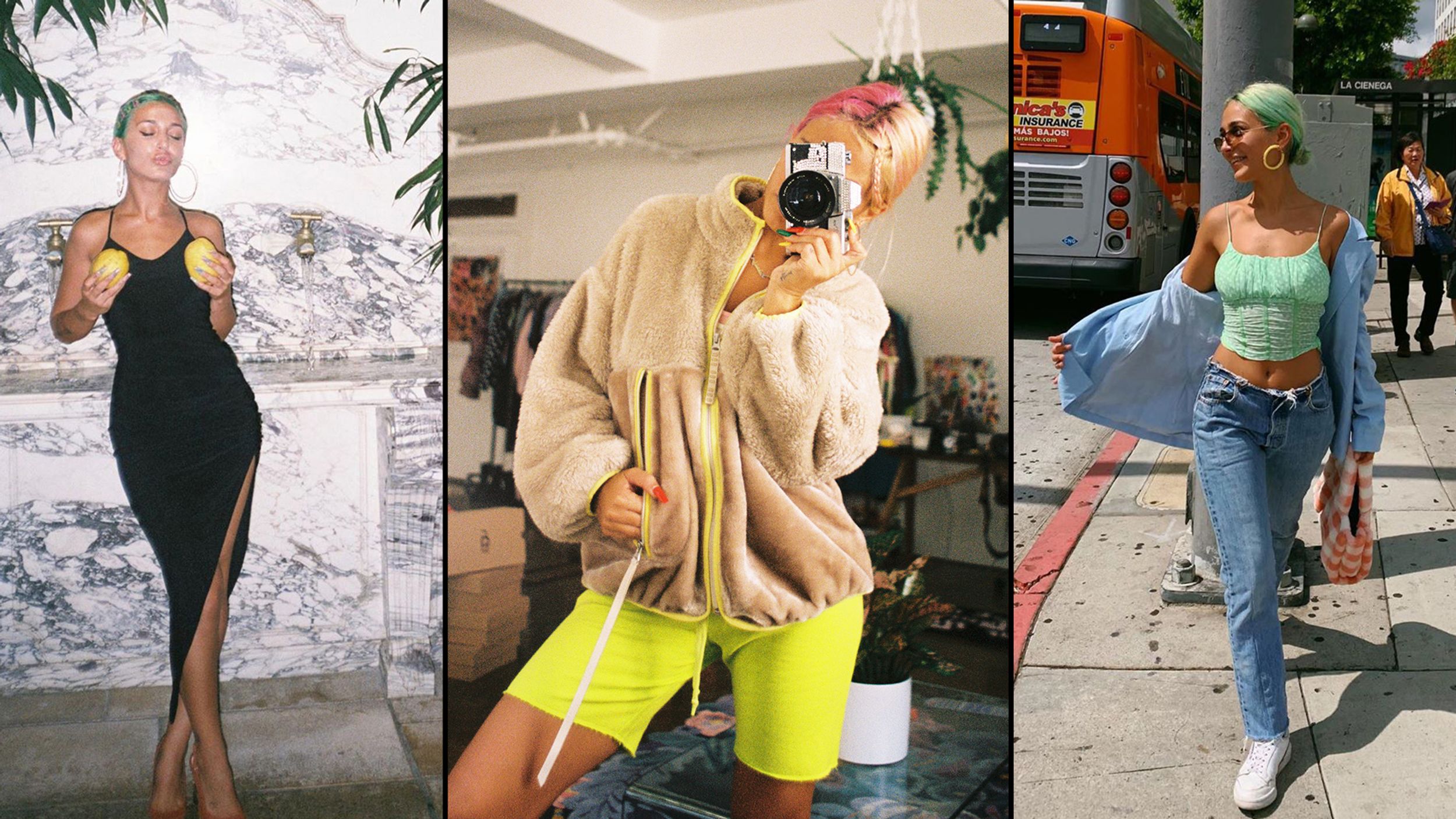 Shopping
Now, this is style to live by!
Graphic
Rachel Pickus
Photographer
Amber Ann Asaly
—
"
that's right…triple
A,
baby ;)"—is drawn to all things color. Scroll through Asaly's Instagram, and you'll see warm shades of pink, shocking greens, and sky blues. For this reason (and, oh, a million others!), we were itching to peruse her wardrobe to see if the same notion applied, and we were not disappointed.
Not only does she know how to select clothes, she knows how to make them look good. Just ask her impressive roster of celebrity friends/clients she photographs—the list includes Kylie Jenner, Sydney Sweeney, Kehlani, and Sofia Richie, among many others. She's got a knack for using camera angles to extend the lines of the human body and highlight the *assets.* What began as shooting Kylie Jenner's professional-grade Instagram photos has evolved into high-profile projects  for
Harper's Bazaar
, Converse, and more. Oh, and did we mention she's now working with UGG? Yeah, nbd. We caught up with the young photographer to discuss her personal style, her love of vintage couture, and her style icons.
---
Shop Amber's Current Picks:
El Dante's
Anna Ltd
Fendi
UGG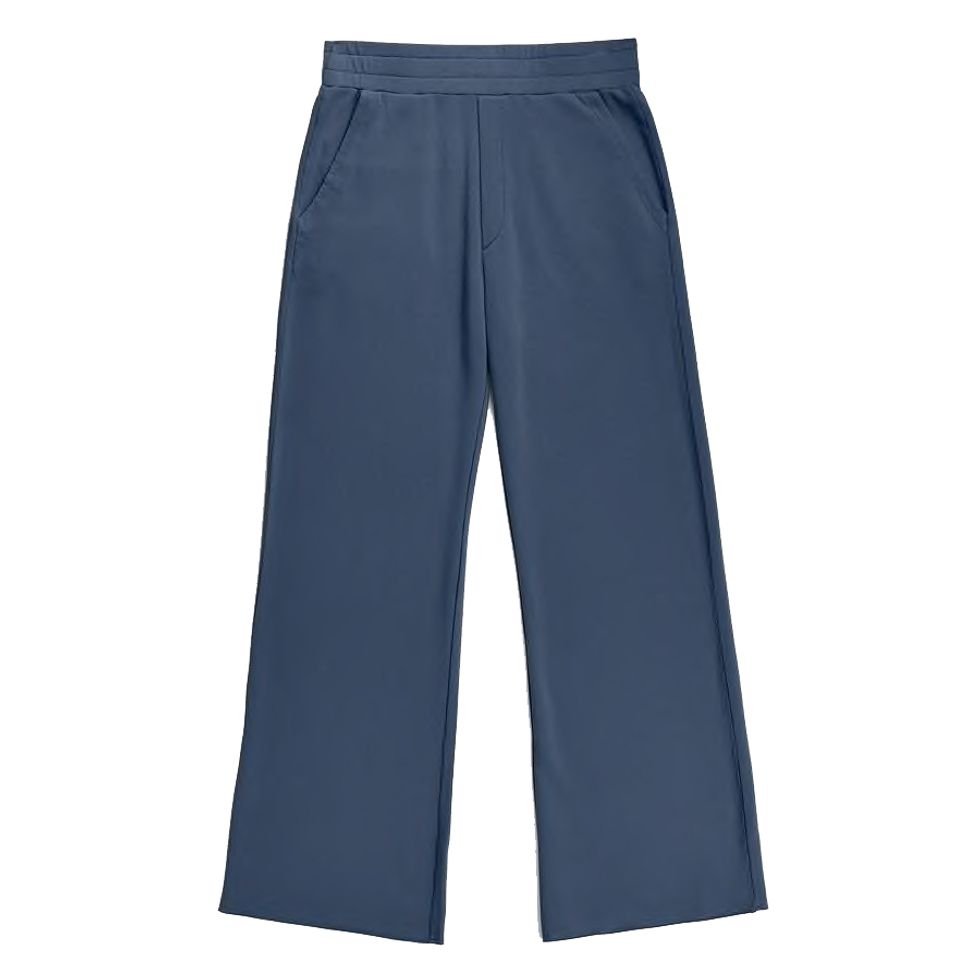 UGG
UGG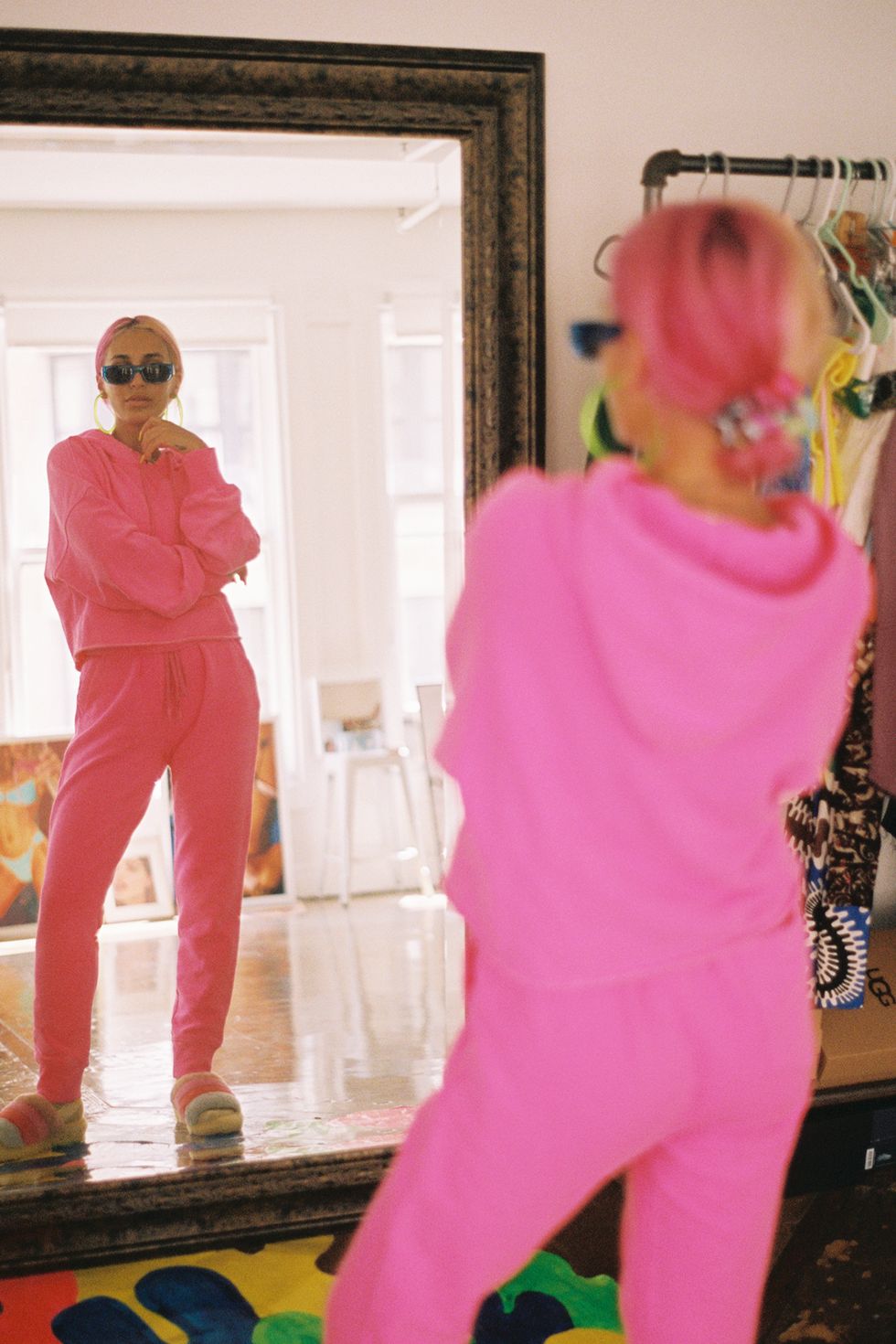 Photo: Courtesy of Amber Asaly
When did you first fall in love with fashion?
"I was born and raised in a small beach town you may have heard of…Laguna Beach, CA. Back in the early 2000s I really thought I was a long-lost Olsen triplet and a threat to the fashion community. My closet consisted of Juicy Couture velour sweatsuits, C&C tank tops, and UGG boots. Shoutout to the Spice Girls for making it OK to clash prints and colors, and thank you to the Olsen twins for inventing
'
boho chic
'
—two styles to live by."
How would you describe your personal style?
"Colorful, bold, and effortless. Also, fly 24/7—even if I'm not trying. Whether I'm dripped down in designer or rocking Goodwill finds, I wear everything with confidence, always."
Do you have a uniform?
"Absolutely! Hair up in a bun, vintage sunglasses, big gold hoops, crop top or XL tee, biker shorts, and you already know some UGG platform slides to make me look tall and cool ;)."
What do you let yourself splurge on?
"Any and all vintage couture—especially shoes and statement pants (*heart eyes*)."
What has been your favorite purchase of all time?
"I hope none of my clothes read this interview because they will be devastated, BUT I'd have to say, I bought this UHMAZING custom Nike blazer from a sustainable clothing shop called
Triple Shop Vintage
. It's a vintage oversize off-white (not the brand) blazer with colorful paint splatter all over and a Nike logo slapped on the back. It's dreamier than I made it out to be, I promise. I haven't had the chance to wear it out yet because CORONA (Cardi B voice), BUT once the world is back on, I am stepping out with loooooks, honey!!!"
How does your work in photography influence your personal style?
"I am my work and my work is me. I think we both influence each other to produce the outcome you see."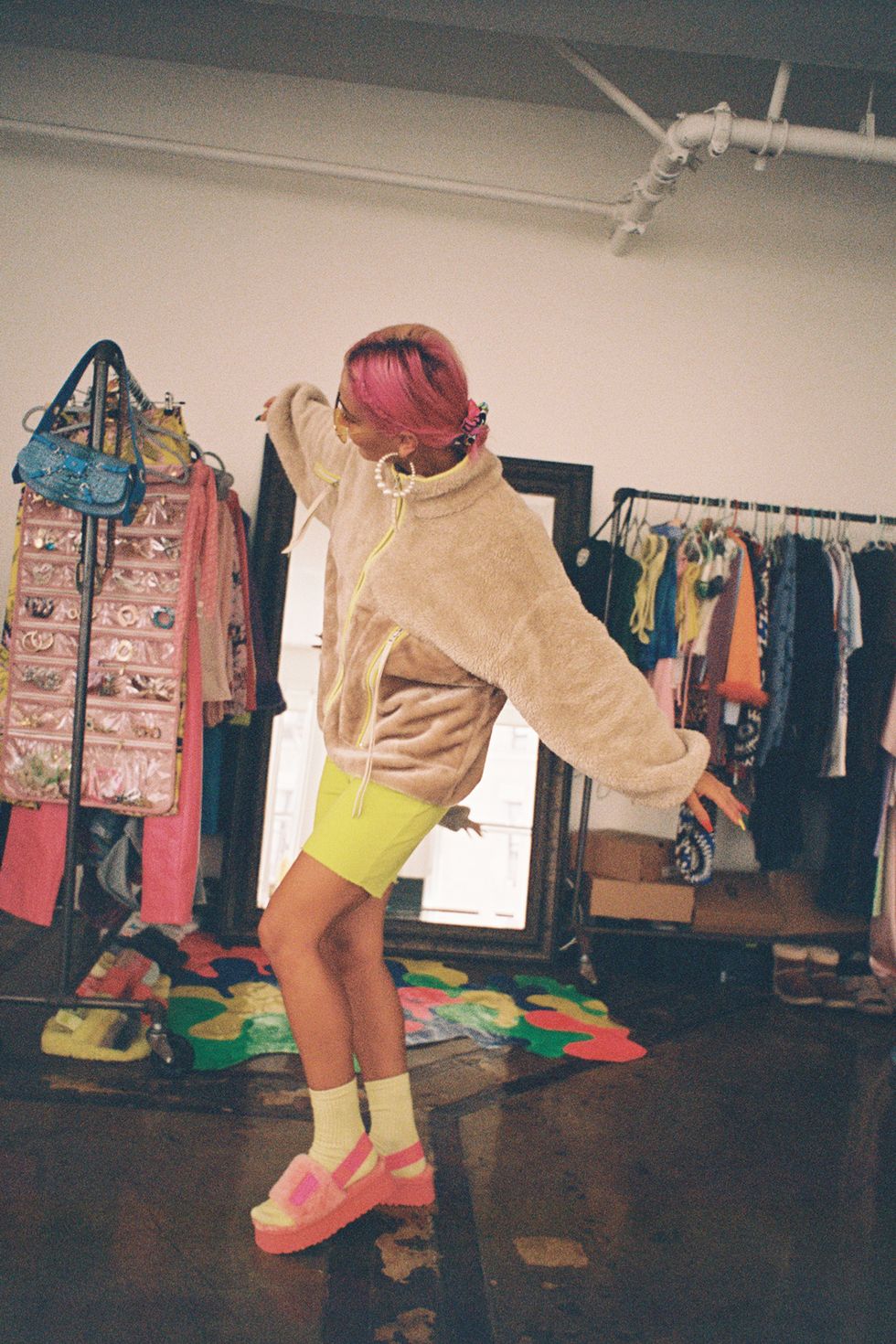 Photo: Courtesy of Amber Asaly
What about UGG drew you to the brand and the partnership with the RTW collection?

"First off, what an absolute honor and dream it's been to partner with UGG!!! Thirteen-year-old me would have a panic attack. Honestly, 27-year-old me low-key had a panic attack when they first reached out about the partnership.

"I've been drawn to UGG since middle school. With that being said, the RTW collection quality is top-tier. The colors are beautifully radiant. The styles are a cozy, chic, effortless vibe we all strive for, and the feel of the collection is incredible. I want everyone in the world to own a jacket—they're just THAT soft."

What would your closet be full of if money were no object?

"Vintage couture everything!! Emilio Pucci, Christian Dior, Gucci, power suits, big hats, gold rings for every finger, Rolexes up my arm to my elbow, and absolutely every single UGG collab to ever exist."


Vintage or new?

"Baby, come onnn…vintage, no doubt."

Your favorite trends of the season?

"I don't really pay attention to trends. I just do me and start them."

Who are your favorite style icons?

"My mom and Rihanna."


What does your current WFH wardrobe look like?
"I swear the AC in my house was imported from Alaska because that shit gets cold, man. So when I do work from home, I'm always bundled up in sweatpants, a big jacket, and socks."
If you could only keep three pieces in your closet, what would they be?
"Pucci pants, my dad
'
s vintage Burberry button-down, and we must not forget Jeremy Scott x Ugg flame boots."
What era of fashion is your favorite and why?
"This one (current one) because we have the freedom and ability to wear what we want, how we want, when we want. We can replicate the '70s, '80s, '90s with a twist of the 2020s."
Photos: Courtesy of Amber Asaly
Want more stories like this?
Meet the Stylist Creating Wearable Works of Art for Artists Like Orville Peck and Post Malone
Meet the Stylist Behind Some of Music and Fashion's Most Iconic Looks
How to Shop Like Twin DJ Duo Angel and Dren Coleman