How to Shop Like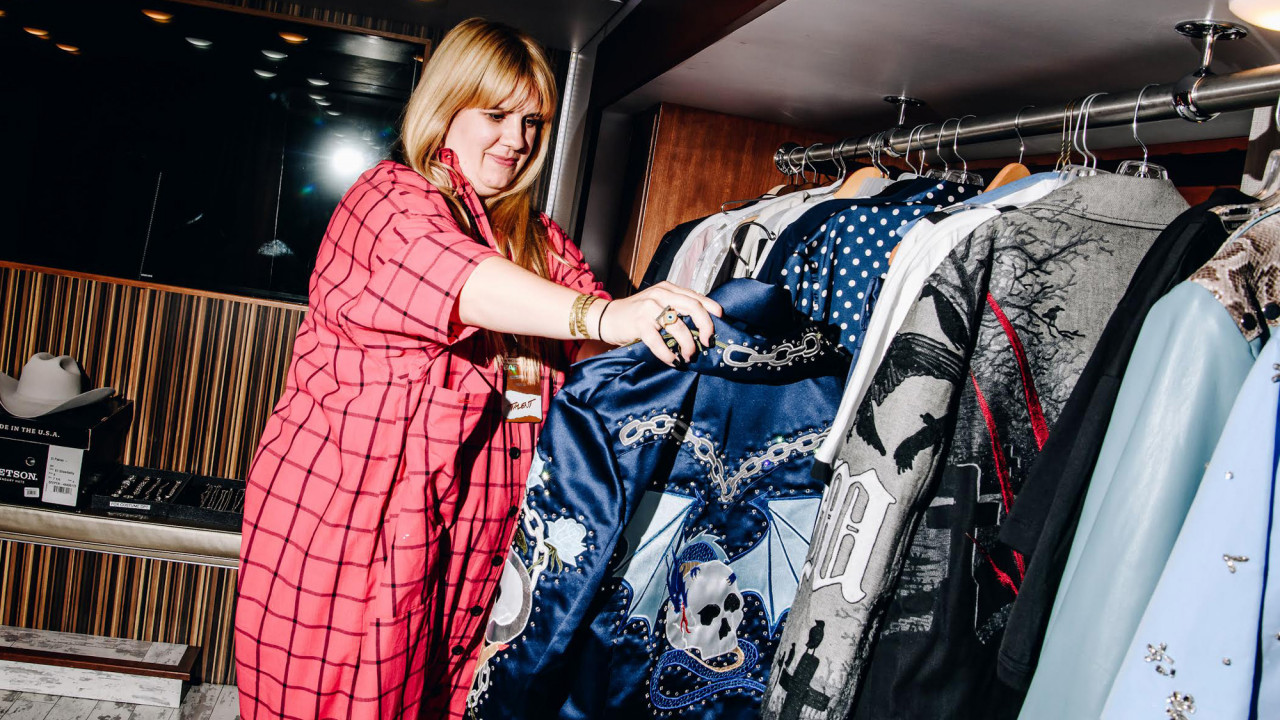 Meet the Stylist Creating Wearable Works of Art for Artists Like Orville Peck and Post Malone
Ladies and gentlemen, meet Catherine Hahn.
Part of the allure of many performers these days, musical ability aside, is the overall persona they create. Think of artists like Orville Peck or Post Malone, who have transcended from singer/songwriter into instantly recognizable icons. Much more than just a voice, their style has evolved into a tool, which their stylist carefully wields to shape their performance.
Catherine Hahn, stylist to both aforementioned artists, began her career in costume design, fittingly enough. Her first job out of college was assisting Debra McGuire—the stylist on both Friends and Freaks and Geeks, nbd. "With costume design, I love the idea of studying a character and figuring out who they are, what the backstory is." Her job title may have shifted, but her mentality has not.
Now Hahn's work has evolved from TV to music, but still entails the personification of the characters through fashion. She goes beyond the job description of your typical wardrobe stylist to collaborate with designers and create wearable works of art for clients like Orville Peck and Post Malone. We caught up with the uber-talented stylist to discuss her go-to uniform, her love of vintage (plus her favorite sources), and some amazing collaborations.
When did you first fall in love with fashion?
"I used to watch Style with Elsa Klensch with my mom when I was little. I loved fashion magazines and would sit at the bookstore in the mall looking at all the new issues. I think I have always loved fashion. I am in the middle of a huge quarantine purge and finding a lot of old school papers, and whenever I was asked what I wanted to be when I grew up, it was always a fashion designer."
How would you describe your personal style?
"I like to be comfortable—I like function. When I am working, I like to have clothes with a lot of pockets and shoes that I can wear all day. I love the idea of a uniform for work—I find shapes/silhouettes that work for me and go with it."
View this post on Instagram
Do you have a uniform?
"Lately, my uniform has been jumpsuits—lots and lots of jumpsuits. I love all the pockets and that they are so easy. One piece, and you are dressed. We are up early for work a lot, and most days I just throw on a jumpsuit and go.
"I love fun socks with Clarks or Birkenstocks. I was just looking at the new Jessie Kamm collection, and she has some pieces that are perfect for my fall/winter uniform. Oversize menswear-type button-down shirts with great cropped wide-leg pants, cute socks, and some flats. I love a uniform!"
What do you let yourself splurge on?
"Jewelry! I love jewelry! The Tucson Gem Show happens once a year and is amazing. I love going and finding treasures and pieces from artists from all over the world.
"Fabric! If I see great fabric, I can't resist it. I love finding fabrics with interesting prints and textures that I can save and use to make custom pieces for clients or as inspiration.
"Vintage pieces! I love finding amazing vintage pieces. I have always loved going to antiques stores, flea markets, vintage shows. A Current Affair is an amazing vintage show. I love beautiful old pieces from the past. I always wonder who owned the pieces and what their life was like and where they wore the pieces. I love clothing with a history! There is an amazing vintage store in Tucson, Arizona, called Desert Vintage. They have beautiful vintage and are really knowledgeable about the history of the pieces. The store is perfect—like a museum."
View this post on Instagram
What has been your favorite purchase of all time?
"A pair of vintage pink-and-black cowboy boots from a vintage store in Santa Fe, New Mexico. I would love to know who owned them before me and where they were worn, etc. Hopefully, they went dancing in some honky-tonks and to a few rodeos.
"I have a turquoise cuff that I bought years ago from a vintage shop in Julian, California. I have worn it every day since. I feel weird when I don't have it on—it has become a part of me."
How does your career as a stylist influence your own style?
"Honestly, I spend so much time thinking about other people's clothes, so when it comes to my clothes, I just need it to be easy. If I find a piece I like, I usually buy it in different colors and prints. It is important for me to feel good/confident in my clothes—especially when I'm working. It's hard to tell other people what they should wear if you aren't feeling your own outfit… Sometimes I wish I had a stylist."
How does your approach differ when you are styling someone like Orville Peck versus just getting yourself dressed?
"Well, Orville is so fabulous. I wish I was getting myself dressed like Orville every day! I get to have so much fun with his pieces. I have been custom-making a lot of amazing things for him lately. I just made a jacket for him that was a collaboration between so many of the local L.A. artists that I love working with. I love seeing so many people's work go into a piece. So much love went into that jacket!"
Which stores do you frequent?
"Heritage Goods and Supply in Carpinteria—it is run by three amazing ladies. They offer classes and sell amazing goods.
"Vintage stores, flea markets, thrift stores, vintage shows… I have been doing a lot of vintage shopping on Instagram lately.
"Echo Park Craft Fair (I love so many of the designers that show at this twice-a-year sale.) I always splurge here. It is only two times a year. I love getting to buy pieces directly from the people who are making them. I am always inspired by what people have created.
"Sam Roberts—This is an amazing shop in Ojai. He makes these really beautiful hats. He also reworks vintage pieces, has amazing vintage jewelry, vintage clothing, etc. His shop is very cool.
"Solar Return in Echo Park. They make the most amazing cakes. Each cake is a work of art!
"The General Store in Venice. Beautiful shop that is perfectly curated.
"Dover Street Market—I like to go in there to see what's new. They carry a lot of up-and-coming, young, interesting designers as well as more established designers. It's always inspiring."
View this post on Instagram
What would your closet be full of if money were no object?
"Vintage designer pieces with a story behind them… I would love to own some of the Bowie looks that Kansai Yamamoto made. They are works of art! Original Nudie suits…vintage cowboy boots…tons of vintage turquoise jewelry…"
Vintage or new?
"Vintage!"
Dress up, or dress down?
"For me…dress down. But it is nice to have an excuse to dress up every once in a while."
What does your current WFH wardrobe look like?
"A lot of Online Ceramics tees and sweatshirts! Tees and bike shorts. Lots of tie-dye. Baseball caps. Birkenstocks. Crocs. I have been doing a lot of tie-dyeing, so lots of tie-dye. It's so fun!"
Who are your favorite small fashion brands of the moment?
"Online Ceramics! They make the most radical tees.
"69! Love what they are doing. I own so many jumpsuits from them. I have a denim trench that is one of my favorite pieces in my closet. It is so soft and comfortable, with giant pockets. I love it.
"Kathryn Bentley is one of my favorite jewelry designers. I have some of her older pieces that I wear every day. She has some new designs I have been lusting after.
"Leigh Miller—another friend who is a jewelry designer. Her pieces are very sculptural and very beautiful.
"All the artists I get to create pieces with, like RoseCuts, Stay Chill Bill, Gentle Thrills, My Fawnwy, etc."
View this post on Instagram
If you could only keep three pieces in your closet, what would they be?
"Vintage cowboy boots. My favorite Post Malone/Bud Light collab purple hoodie (it's soooo soft and comfy) and all my 69 jumpsuits."
What era of fashion is your favorite, and why?
"Late '60s/'70s—Rolling Stones Rock and Roll Circus, Bowie, glam rock, East West leather jackets, Nudie suits… Also the beginning of punk rock—groups like the Sex Pistols and The Clash…. Menswear at that time was so out-there and inspiring!"
9 items Catherine Hahn currently has in her shopping cart: