Meet the Stylist Creating Wearable Works of Art for Artists Like Orville Peck and Post Malone
Ladies and gentlemen, meet Catherine Hahn.
Fashion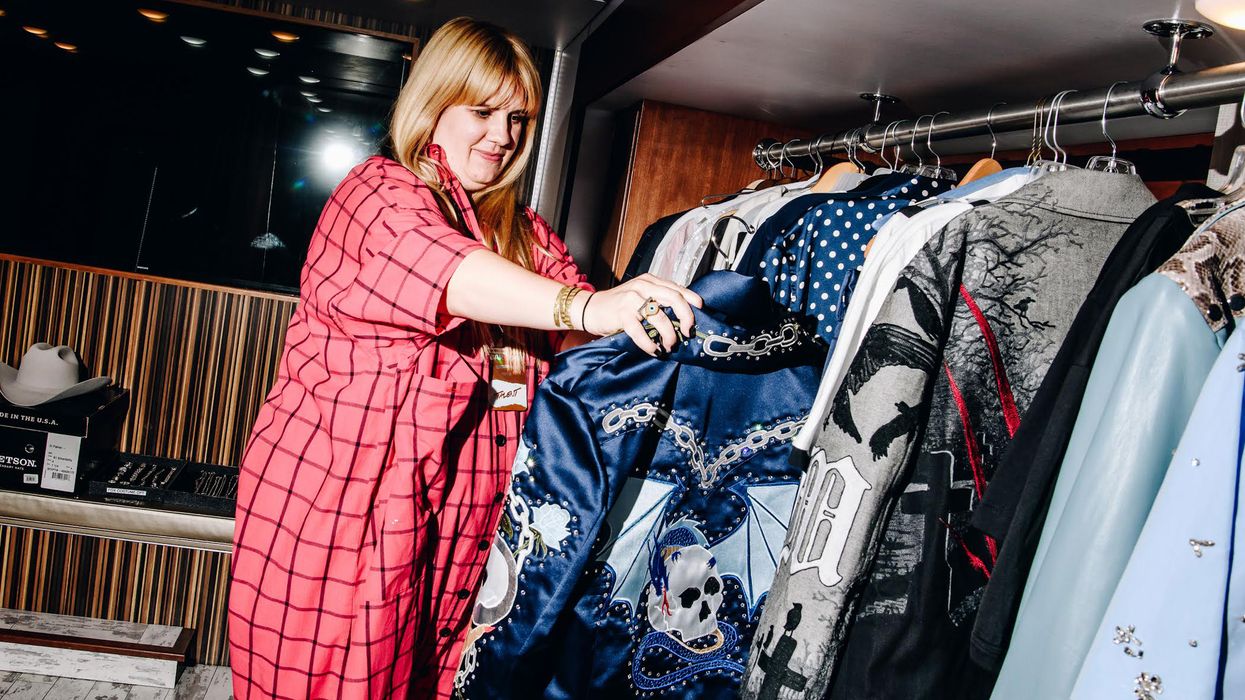 ---
What has been your favorite purchase of all time?
"A pair of vintage pink-and-black cowboy boots from a vintage store in Santa Fe, New Mexico. I would love to know who owned them before me and where they were worn, etc. Hopefully, they went dancing in some honky-tonks and to a few rodeos.
"I have a turquoise cuff that I bought years ago from a vintage shop in Julian, California. I have worn it every day since. I feel weird when I don't have it on—it has become a part of me."
How does your career as a stylist influence your own style?
"Honestly, I spend so much time thinking about other people's clothes, so when it comes to my clothes, I just need it to be easy. If I find a piece I like, I usually buy it in different colors and prints. It is important for me to feel good/confident in my clothes—especially when I'm working. It's hard to tell other people what they should wear if you aren't feeling your own outfit… Sometimes I wish I had a stylist."
How does your approach differ when you are styling someone like Orville Peck versus just getting yourself dressed?
"Well, Orville is so fabulous. I wish I was getting myself dressed like Orville every day! I get to have so much fun with his pieces. I have been custom-making a lot of amazing things for him lately. I just made a jacket for him that was a collaboration between so many of the local L.A. artists that I love working with. I love seeing so many people's work go into a piece. So much love went into that jacket!"
Which stores do you frequent?
"
Heritage Goods and Supply
in Carpinteria—it is run by three amazing ladies. They offer classes and sell amazing goods.
"Vintage stores, flea markets, thrift stores, vintage shows… I have been doing a lot of vintage shopping on Instagram lately.
"
Echo Park Craft Fair
(I love so many of the designers that show at this twice-a-year sale.) I always splurge here. It is only two times a year. I love getting to buy pieces directly from the people who are making them. I am always inspired by what people have created.
"
Sam Roberts
—This is an amazing shop in Ojai. He makes these really beautiful hats. He also reworks vintage pieces, has amazing vintage jewelry, vintage clothing, etc. His shop is very cool.
"
Solar Return
in Echo Park. They make the most amazing cakes. Each cake is a work of art!
"
The General Store
in Venice. Beautiful shop that is perfectly curated.
"
Dover Street Market
—I like to go in there to see what's new. They carry a lot of up-and-coming, young, interesting designers as well as more established designers. It's always inspiring."