Retail Innovator Brian Bolke on Thriving During a Pandemic & What's Next for Fashion
And why everything is changing for the better.
Career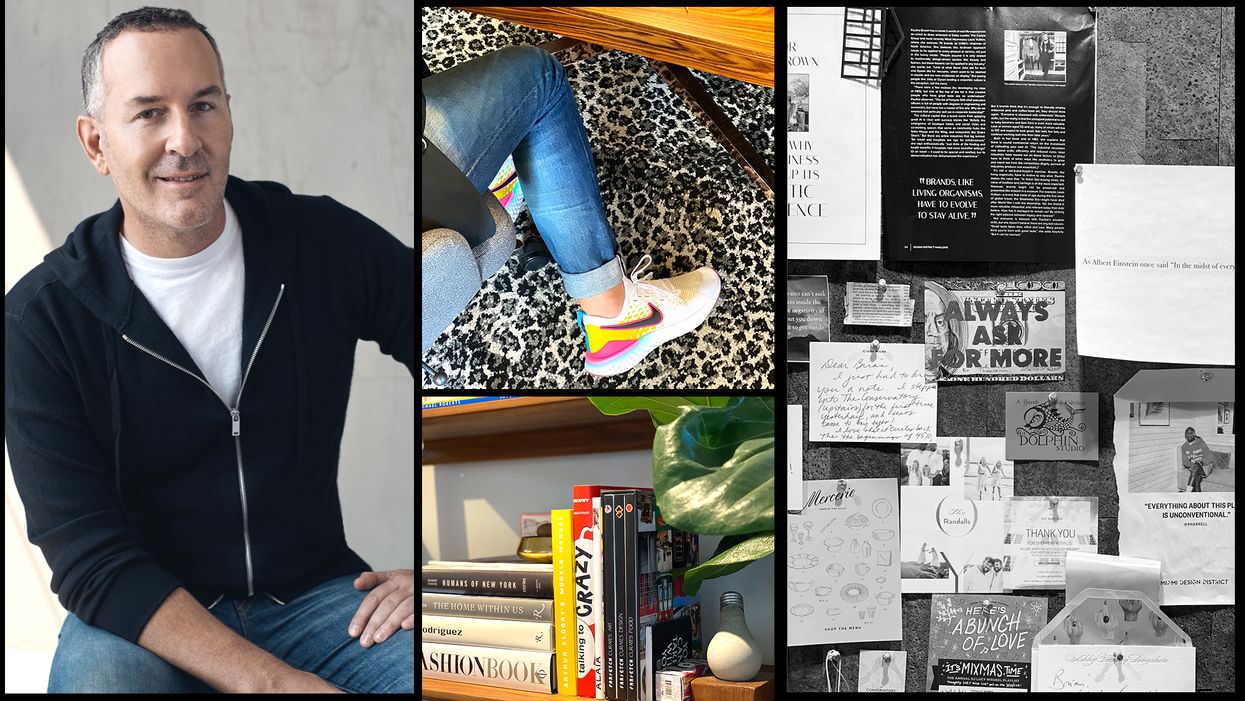 Each week we're checking in with friends to see how they're working from home and leaning into the fall months. Today we're chatting with Brian Bolke, chief visionary and founder of The Conservatory. With a résumé that would make any fashion industry insider jealous—see his work at Neiman Marcus, I. Magnin & Co., oh, and Forty Five Ten, of which he happens to be a founder—Bolke's work is far from finished.When headlines detail the closure of another favorite department store or landmark retailer, Bolke and The Conservatory have thrived, opening up two new locations amidst the pandemic. Located at the intersection between e-comm and brick-and-mortar, The Conservatory is here to stay, delivering much-needed fashion with a conscience. Read below for an exclusive peek into the life of Bolke, CBD tinctures, and how vodka sodas fit into that.
---
How do you start your days?

"I wake up at about 6:45 AM (never with an alarm anymore)—I've become an early bird (who knew?)—and I spend a few minutes in bed simply assessing my life and starting from a grateful place. As tough as life seems right now, it helps to think about how lucky I am."

Are you incorporating movement or exercise into your routine? If so, anything you're loving at the moment?

"Every morning I do 45 minutes of 'something'—walk on the Katy Trail (it's the Dallas High Line), a spin class, or Orangetheory. Group exercise works best for me...I need the push of a class starting and not wanting to be late, and I like the mix of being anonymous yet a bit competitive. I talk all day, so not having to be one-on-one is a blessing, and for sure it's the only 45 minutes of my day with no phone. And all the group fitness in Dallas is at 50 percent capacity, so it feels like you are working out in your own world."

Talk to us a little bit about your work environment right now. Are you back in the office, or working remotely from home?

"Since COVID I have spent (literally) every day at my Dallas office in Highland Park Village. It kept me sane—it felt normal—except NO ONE was there for three months, which I LOVED. It saved me. I needed a calm work space. I called it the 'retail war room.' We opened two stores (a Dallas flagship and a charming store in Napa Valley) the last two months (yes, in the middle of a pandemic), so my office was where all the planning came from. It allowed me time to really understand 'how' to open stores safely in the new world we live in."

What are the most critical things needed for creativity and to survive a workday?

"Coffee, a sense of humor—especially now—and mostly looking at the challenges as opportunities."

How do you stay focused and motivated throughout the day? Any tricks you can share?

"Focus and motivation simply come from feeling responsible for the lives of about 40 people. Which also is very stressful, but it keeps me going.

"I love playing canasta—it's my favorite thing with a group of friends. Since COVID we haven't been able to meet to play, so whenever I feel stressed, I play canasta on an app called Hand and Foot. It is five minutes of relief from whatever is stressing me. I usually win, and that feels like a minor accomplishment."

It's a tricky time in our world, and economically speaking, it's unclear what the future holds. How do you foresee this time impacting your industry?

"Everything will be changed forever—mostly for the better. It reminds me of my grandmother; she talked about the Depression her whole life. This is our Depression—we will get through it, but be changed.

"What I think is positive is that our fashion industry will realize the waste. I think we will see less shows, less markets, less production, less sales. The Conservatory was built on many of these ideas that now seem to be the 'new normal,' so I'm grateful some good is coming out of all this."


From a creative standpoint, who or what has been your biggest influence?
"Our customers. That sounds trite, but I'm fascinated by their lives and how they adapt. The positive reaction to The Conservatory, especially during the pandemic, has made me really appreciate what I do again."
Tell us a little bit about your style right now:
"I'm trying to stay comfortable, first and foremost. Right now, that's where I start. But I'm secretly excited to get dressed again. Someday."
What's your go-to uniform?
"Black t-shirt, usually from
Salle Privee
,
khaki shorts
, bright Nike
sneakers
, and a chic mask that somehow pulls it together. In fall you can insert
denim
for shorts, and I LOVE a shirt jacket every day—with pockets for my phone and the crap that I seem to need all day. This fall the designer Teddy Vonranson was kind enough to add a shirt jacket to the collection
just for us
. It will be my new uniform."
Salle Privée
Salle Privée
Todd Snyder
Teddy Vonranson
Are there any style essentials you rely on for your summer wardrobe?
"I'm a shorts person. This summer I wore them every day. Dallas is HOT. It's a pandemic—I'm going to wear shorts."
Let's switch gears for a minute: Are there any beauty products essential to your day-to-day?
"I'm now obsessed with
Bottle and Stone CBD tinctures
—they are new at The Conservatory—and
Favour CBD gum
. It totally chills you out. Beauty starts on the inside anyways."
How do you unwind at the end of the day? Cocktails? Recipe, please!
"Well, I'm definitely binge-watching a lot of Netflix. And when it comes to cocktails, I like to keep it simple: vodka, Topo Chico, and a lot of lime. My new favorite vodka is from
Kastra Elion
—it's a Greek vodka made from olives. I missed Mykonos this summer, so this is as close as I'll get."
Bottle & Stone