You Might Be Washing Your Hair All Wrong
From fine and straight, to thick and curly, we got all the tips from the experts.
Hair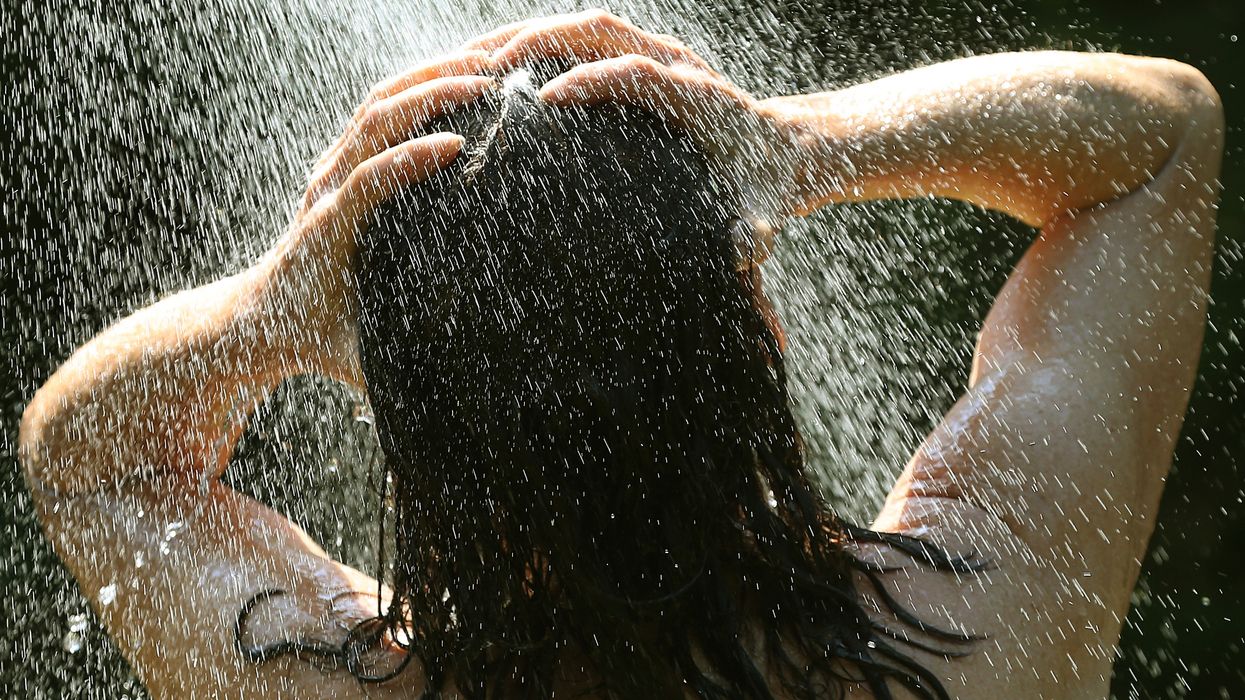 Since Los Angeles hair salons were only recently allowed to open their doors due to the pandemic, I visited my friend and hairstylist, Leanne Citrone, cofounder of the Andy LeCompte Salon, and got a much-needed trim in her backyard. Pre-cut, as she gave me the standard wash, really getting in there with her hands and the product, she inquired about my at-home hair wash technique. Did I wash my hair twice? Did I scrub the back? I answered yes, feeling proud as if I had done my due diligence—but surprisingly, even as a beauty editor, she gave me a solid C in hair washing. To put it bluntly, my skills were lacking.
After we laughed about the fact that my husband, who has the same length of hair as me (it falls just below my breasts), is better at shampooing and conditioning, Citrone noted that clients tend to not properly wash their hair, despite it being a nearly universal beauty treatment (except if you have no hair, of course). To learn more about how to improve my own habits for my medium, 2A hair—meaning it has a bit of a wave—I called on Citrone and New York
–
based celebrity hairstylists Tommy Buckett and Chuckie Amos to explain the right way to wash your hair, from fine and straight to thick and curly. 
---
Common Hair-Washing Mistakes

Everyone makes hair snafus occasionally, but there are some fairly common missteps made when it comes to shampooing. "The number one mistake I see with clients is not using enough shampoo or not getting a full lather around the head," says Buckett. "Sulfate-free shampoos deliver less lather, but are still necessary to remove the dirt and oil." The hairstylist suggests using a quarter-sized amount of shampoo to cleanse the top and bottom of long, thick strands. For thinner and shorter hairstyles, the equivalent of two dimes is adequate. "Many people, when they shampoo their head, put shampoo straight on top, wash the top, and get a little bit on the bottom," he adds, which is not enough to rid your entire scalp of dirt, buildup, and oil. "Besides not getting your hair clean, not washing properly can sometimes lead to dandruff."

Amos feels similarly, yet he believes that the hair-washing process happens in two sections: the scalp, and then your strands and ends. He also notes that clients tend to use the same temperature while washing. "You want to focus on the scalp first using the warmest water your hair can take," he says. "Then you want to focus on the strands and the ends separately. And we don't usually do that—we do it all as one. Instead, rinse with cool water post-conditioner to lay down the cuticle. We think our head of hair is just a one-part process and a one-temperature process. You end up getting flatter roots, more oil buildup at the scalp, clogging [the hair follicle], and less growth."

How often you wash your hair also informs how many times you should shampoo. "I believe that you should wash your hair twice," says Citrone. "That first shampoo lifts the grease and oil, and the second shampoo gets it really, really clean." That said, Buckett and Citrone both agree that if you're washing every day, then one shampoo will suffice—that way you won't strip your scalp of those natural oils, which you need to keep your hair soft and hydrated.


Shampoo Technique Tips

Whether you wash your hair one, two, or three times during your shower, there are a few tricks of the trade to ensure that your hair looks and feels its best afterward. "Start at the back of your head at the nape of the neck, and get the lather going up to the front. And don't forget behind your ears," says Buckett. "For the first shampoo, use the pads of your fingers in circular motions. You want to invigorate and almost scrape the scalp a little bit to remove the dirt and oil. The second shampoo involves more of a massage. I call it the body shampoo, where it's extra clean."

Citrone likes to separate her hair in the shower to let the water get into the scalp and run the shampoo out. "Tilt your head forward and part the hair in the back, and let the water run through," she says. "It's like washing a pan or a dish. You can tell when it's clean, but you need to scrub to get all those leftovers off the plate. Also, pay attention to where you're rubbing. Does it feel clean? Does it feel like there's clumpy shampoo on your head?  I always rub shampoo on my hands first to start the lather."


Fine Hair How-To

The texture of your hair is classified as the circumference of your individual hair strand, which, for fine hair, is smaller. You might have a lot of hair, but if your hair diameter is thinner, your hair is still considered fine. Buckett and Citrone both support a daily single shampoo for this hair type, for both straight hair and looser waves and curls. Most people with fine hair may be prone to excessive oil production, as the shaft of their hair tends to be smoother and less porous than thicker hair types, so the oils sit visibly on top of the hair.

"Use one good shampoo, rinse it out well, and condition from the ears down," says Buckett. "Sometimes you don't even need a conditioner. If it's really oily, rinse and use a little spray detangler as your conditioner. Avoid applying conditioner to your scalp, as it can weigh your hair down."

For tighter curls that are also fine, Amos recommends washing every three to five days max and using a clarifying shampoo—a shampoo that cuts through product buildup and oils to leave your hair extra clean—on occasion. Think of it as a reset for your strands. It's not meant to be used daily due to the drying agents that are in most formulations. Instead, apply weekly or once a month depending on your hair type. Amos notes that you should apply a clarifying shampoo at the roots, scrubbing with the balls of your fingers to stimulate the scalp.

If you feel like you're still getting a bit of buildup, but don't want to fully shampoo, he recommends doing a water rinse sans shampoo or conditioner. This will help keep your roots clear and your scalp healthy.


Medium, Textured Hair How-To

If you have more middle-of-the-road hair—not quite fine, but not as thick or coarse—Amos recommends washing once a week or every 10 days maximum. "I use a low-lather, sulfate-free shampoo on curly hair and massage it into the scalp in circular motions since it excretes the dirt during the wash process. And you don't want anything that will strip the hair," he says. "Wash twice using warm water, because you want to open your follicles and remove the dirt. Then condition your hair mid-shaft to ends for at least three minutes. Anything under three minutes, you're not really conditioning."

Buckett also recommends using a heavier conditioner after two rounds of shampoo, or a once-a-week mask to help maintain moisture.


Thick, Curly & Coily How-To
For thicker, textured hair, Buckett stresses the importance of shampooing at least three times and
cleansing the scalp
, especially if you're using more styling products. Whether it's a gloss, cream, gel, or pomade, those formulas can cause buildup and can actually suffocate your scalp if you're not cleaning it properly.
"You have to think about all that silicone on your hair," he says. "It's going to take a while for the shampoo to really break down those molecules and be fully cleaned and rinsed off. If you're not lathering up, add a little more shampoo. Tip your head back in the shower, add a little more water, and get the emulsification process going."
Buckett is also a proponent of shampoo brushes for natural hair. "They're these little silicone pads that fit in the palm," he says. "It's made for people with psoriasis that need a little more invigoration. Plus it removes dirt, oil, and dead skin."
Amos believes that this hair type should wash every two to three weeks to keep the hair and scalp healthy. Pre-shampoo, he suggests detangling by rinsing with water and adding a little bit of conditioner to the ends, not at the roots. Then rake through the length with your fingers or a wide-tooth comb. "If the hair is long enough, I like to divide it into two or four sections and braid the hair. That keeps it together while you start your washing process, and you're able to get more into the scalp. Then get into the shower and rinse your hair with hot water. When you begin the first shampoo, start at the scalp and use a clarifying shampoo. Then massage in circular motions with your second shampoo, not zigzags and not up and down. Circular is the best because that is the way your hair grows as a coily girl."
As for the third shampoo, Amos likes to use a co-wash. "If you don't have a co-wash, you mix one part conditioner, two parts shampoo. At this point, you're going to get a little more lather than you did the first two times because a lot of the dirt from the first two rinses [is] pretty much out of your hair."
Then comes the conditioner, which Amos says to leave on for 10 minutes. "Cover your head with a plastic cap," he suggests. "This will cause a greenhouse effect [from the heat], letting the conditioner penetrate the shaft of the hair. Rinse with cold water, which will lay the cuticle down. Then pat dry and detangle."
Don't Forget to Shop Some of Our Favorite Shampoos and Conditioners:
Buckett is a big fan of this volume shampoo for fine hair. He admits that natural and organic products don't usually rinse thoroughly, but this one gets the job done and leaves locks soft and shiny.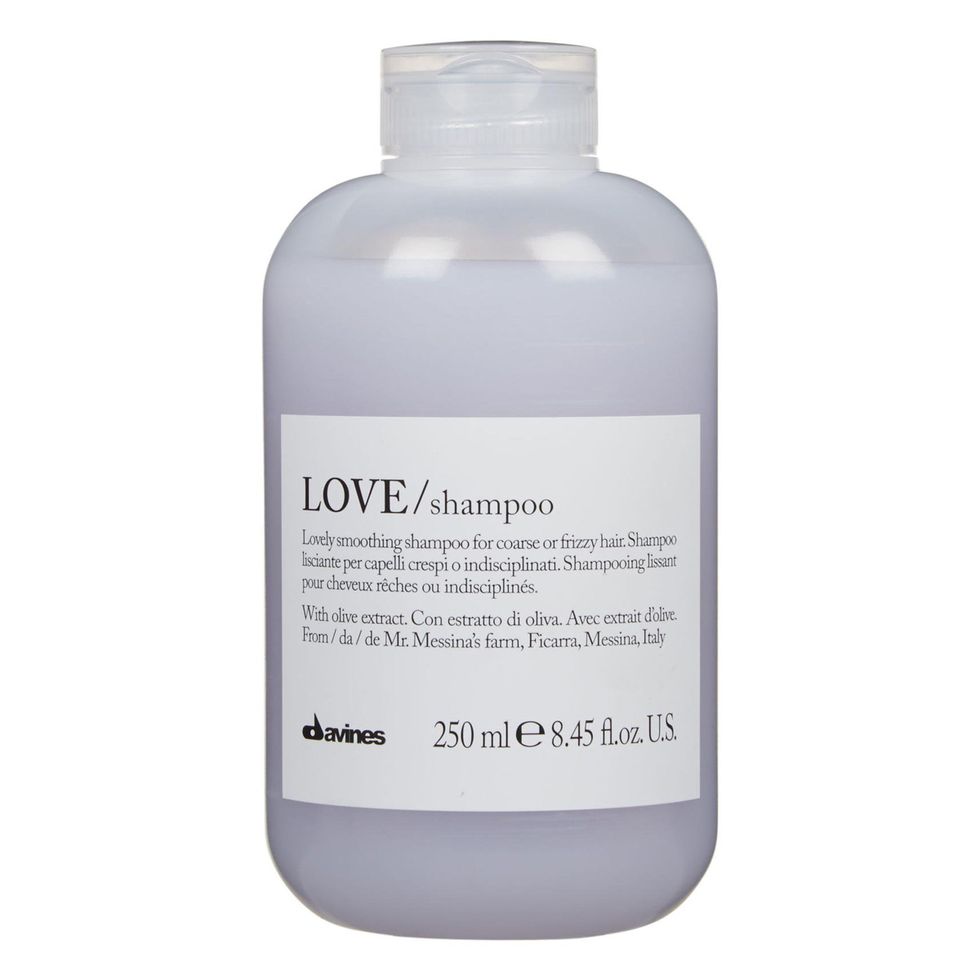 A favorite of Citrone and one she recommends to a variety of hair types is the Davines Love Smoothing Shampoo. It gently cleanses strands with fatty acids and vitamin E–rich Sicilian minuta olives, which smooths and nourishes frizzy and unruly hair.
Another go-to for Citrone is Shu Uemura's Ultimate Reset Shampoo for damaged strands. From bleaching and coloring to heat styling, this repairs and restores locks without weighing the hair down. It also lifts away dirt and impurities while offering a gentle cleanse.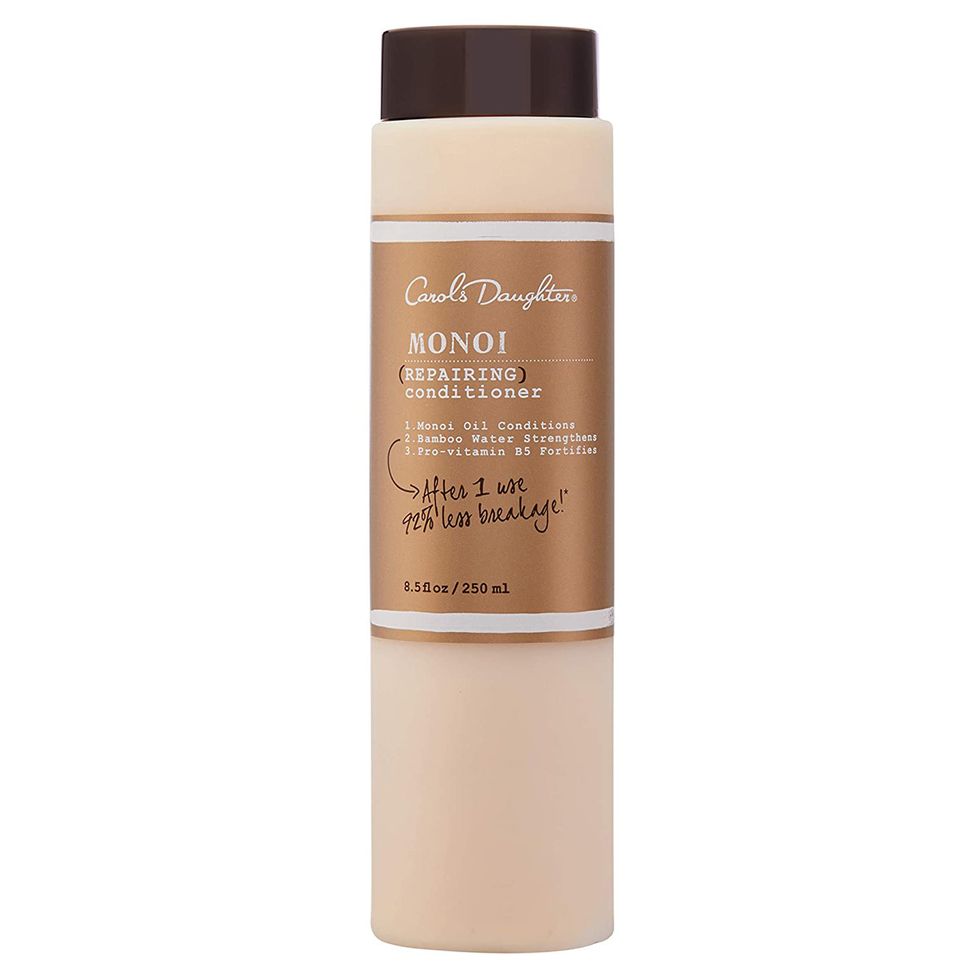 For natural hair, Amos suggests the Monoi Repairing Conditioner because it doesn't leave the hair heavy. Infused with Monoi oil—a blend of Tahitian Tiare gardenia flower and coprah coconut oil—bamboo water, and pro-vitamin B5, this hydrator helps repair damaged strands.
Buckett raves about Olaplex shampoo, which was created specifically for color-treated, bleached, or superthick strands that need some extra hydration. He also recommends it for natural hair that is about to be straightened or blown out, as it preps locks for heat styling.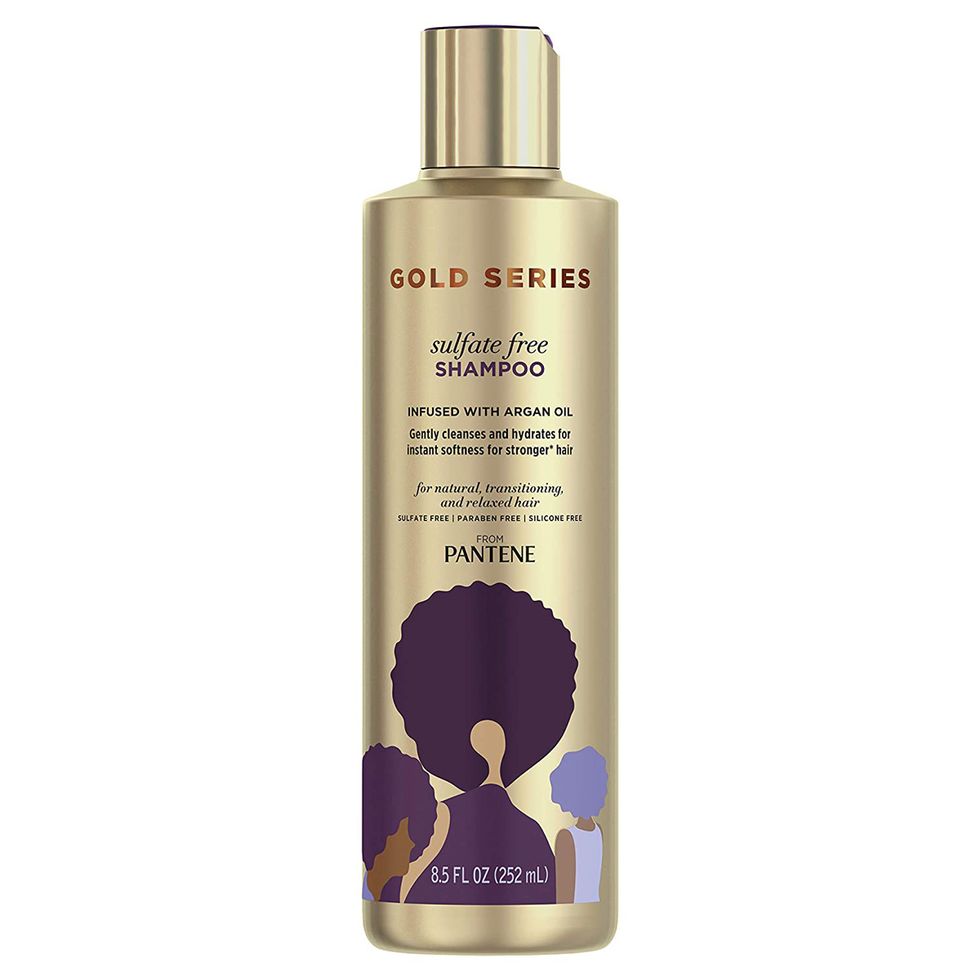 Amos is a fan of the entire Gold Series collection from Pantene. He recommends washing curly and coily strands at least three times every two to three weeks and suggests a sulfate-free shampoo for the third round of washing. The rich lather helps to remove buildup without stripping the hair of its natural oils.
For scalps prone to dandruff, Buckett swears by Nizoral. This twice-a-week shampoo contains 1 percent ketoconazole to relieve flaking, scaling, and itching. It's also gentle enough to be used on color-treated and chemically processed strands.
For curly and coily hair, Amos loves this hydrator to detangle and define curls. He suggests letting it sit for 10 minutes or more and covering strands with a shower cap to allow the formula to penetrate the hair shaft, smooth, and repair.