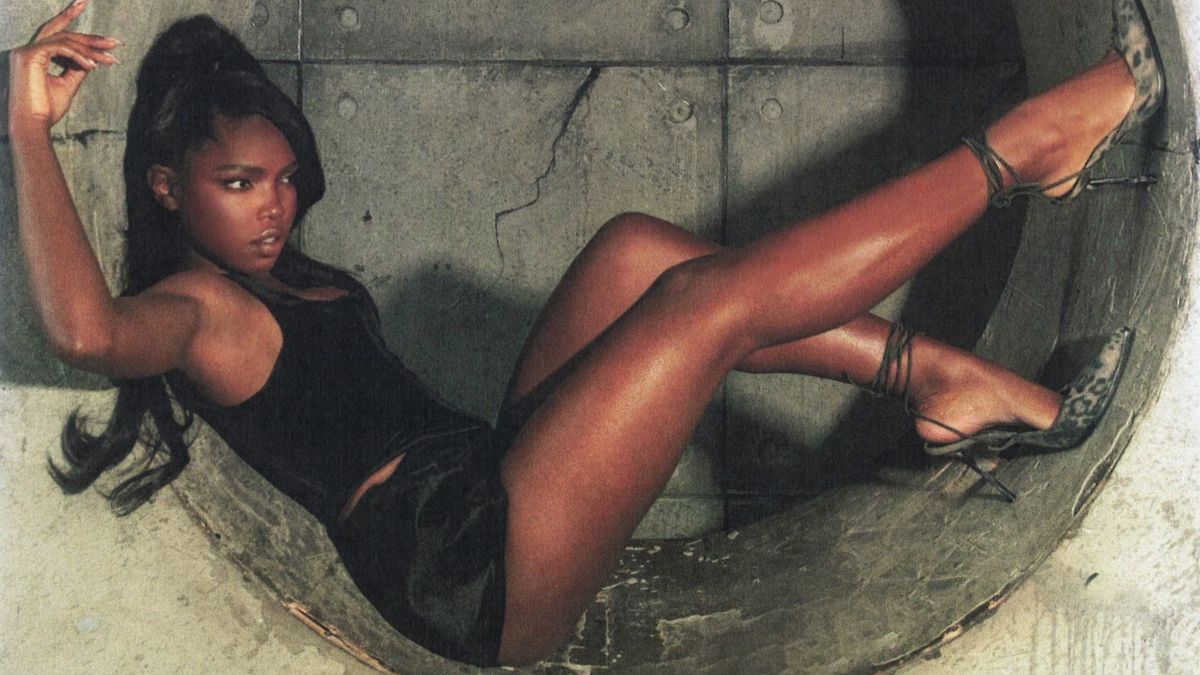 Celebrity
The musician on what seizing control of her music career looks like, kicking insecurities, and colorism in the entertainment industry.
Protecting our mental health, especially for Black women in the public spotlight who are constantly facing criticism, is essential during these racially and culturally trying times. Prior to the pandemic erupting within the nation,
Ryan Destiny
closed out 2019 on a strong note—joining the cast of Freeform's
Grown-ish
, announcing her starring role in
Flint Strong
, and releasing new music. "Honestly, I have no idea. I'm taking it one day at a time," Destiny says, laughing but serious, about how she's been holding up mentally. Lucky for her, she has the luxury of being quarantined with family and has been using this time to recharge and give herself grace when it comes to productivity and work ethic. "Trying to find a balance with a lot of different things helps, for sure."
A wise person once said,
"W
ith great power comes great responsibility
"
—it's either Voltaire or Spider-Man's uncle. In any event, Ryan Destiny has used her role to speak out against the various injustices of Hollywood and the music industry against Black culture and communities. "The beautiful thing about this whole time, and everything that we've been going through, I really feel like there's an actual shift this go-round. It's inspired a lot of people within our community to speak out about a lot of the things we've gone through and we experience in our work spaces," Destiny says. She sought to use her voice to speak out against negative behaviors and encourage the Black community to no longer tolerate disrespect within entertainment. "I just hope that with me speaking up, along with so many other actors, singers, entertainers, it just helps the next wave of people and inspires to not take anymore crap from people and not hide what we feel anymore," Destiny says passionately about being over the fear of being blackballed in the industry and transforming her fright into fight for the greater picture.
Born in the home of Motown Records, Ryan Destiny Irons can already be considered a millennial staple for Black Girl Magic in the industry as a talented singer, actress, and budding influencer. The Detroit native discovered her own unique talents at the age of 10, but decided to pursue her passions in the entertainment industry full-time at the age of 12. "I wasn't one of those kids who flipped back and forth with what I wanted to do. I always knew it was this, I just didn't know in what capacity," she admitted. At a young age, she was involved in performing arts-centric extracurricular programs that ignited her fire to become who she is today. "Being from Detroit and my experiences in Detroit only helped shape me more, and I think luckily the people out of there who were part of my journey, they were super supportive," she says about her Motown hometown in addition to praising its musical history. "To know who has come out of it is always something that helps you believe that it's possible if you keep going and keep at it."
---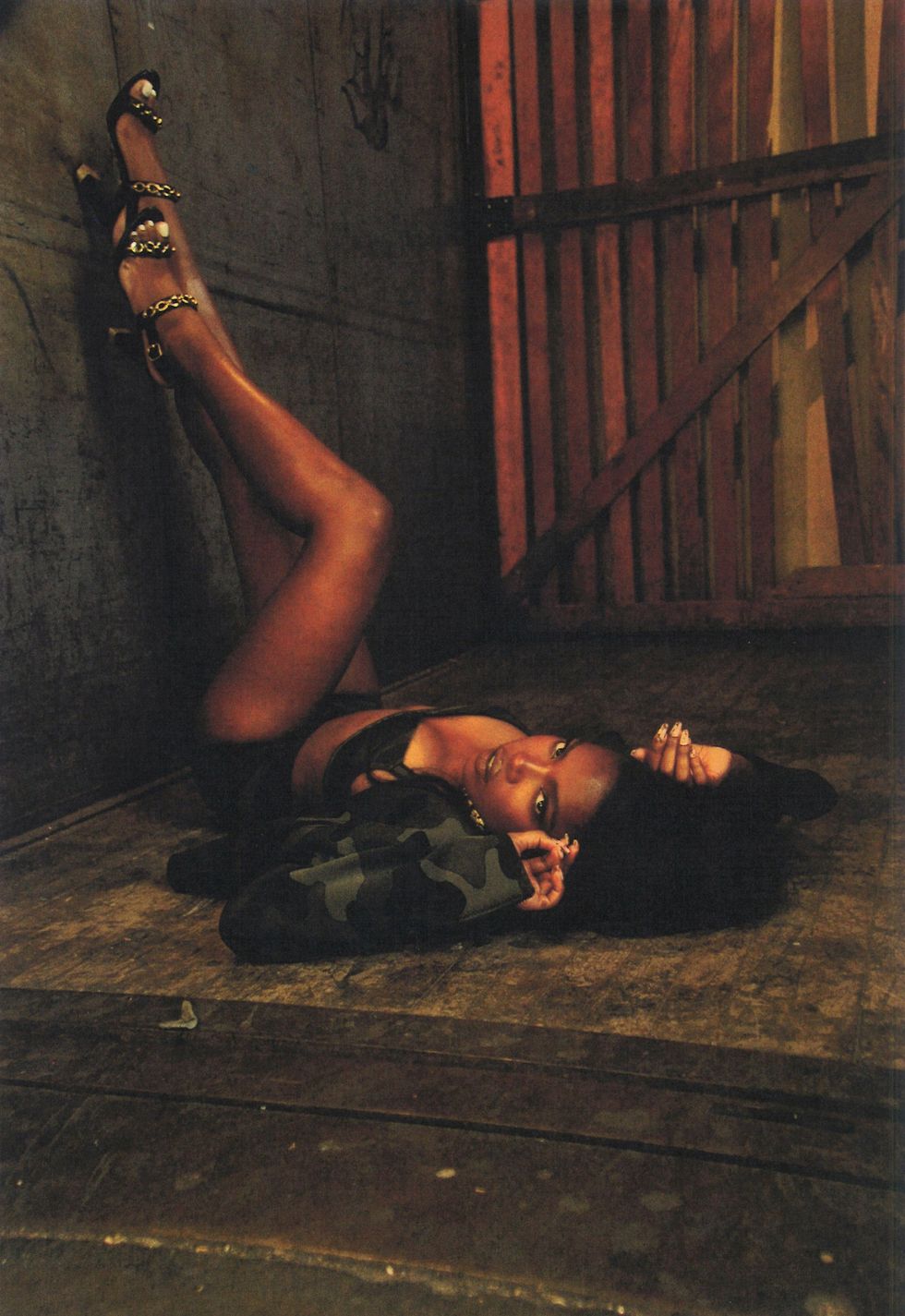 Full look: Christian Dior; Shoes: Giuseppe Zanotti
Photo: Amber Aseley
Her father, Deron Irons, who was one half of the '90s R&B duo Guesss, was a major musical influence in her earlier years of childhood, which gave her a taste of what would be to come in the following years for her own career. "His dreams kind of connected to mine," she said of her father's empathy for her vision for herself. Destiny was fortunate enough to have the everlasting support of both parents, which she further recognized as a staple once she saw that some of her friends did not have the same positive experience. "Without them, I literally would not be here. I would not be in this position where I'm at right now. They've been such an important part in my whole journey," she praises her parents.
From her role in AMC's
Low Winter Sun
and first big break on
America's Got Talent
in 2011 with girl group members who would later be transformed into Love Dollhouse, to her recent single, "
Do You
," and starring alongside Yara Shahidi and Chloe x Halle in
Grown-ish
, it's safe to say that Ryan Destiny has been a name to get familiar with. "To be honest, in my mind, I'm still just starting," she says, laughing humbly. "It's weird when you even say that, I'm just like, 'I completely forgot that I did that at that age.' It really has been a long time. I think I always knew that whatever I did, it was going to be big, and I felt that way since I was young. To me, I still have a very long way to go, and I haven't even done what I think I've dreamt up in my head since I was younger yet." Though she recognizes her strides so early on in the game, she knows that she has only scratched the surface of her potential.
Destiny's talent and work ethic isn't the only thing that's just beginning to bust through the industry—discussions about racial, gender, and social injustices are coming to light in Hollywood, as well. "People are opening their eyes. Certain people [are] put in these positions, like myself, because our duty and mission is to hopefully make these rooms bigger and make people see that we are universal and we can reach the masses," notes Destiny.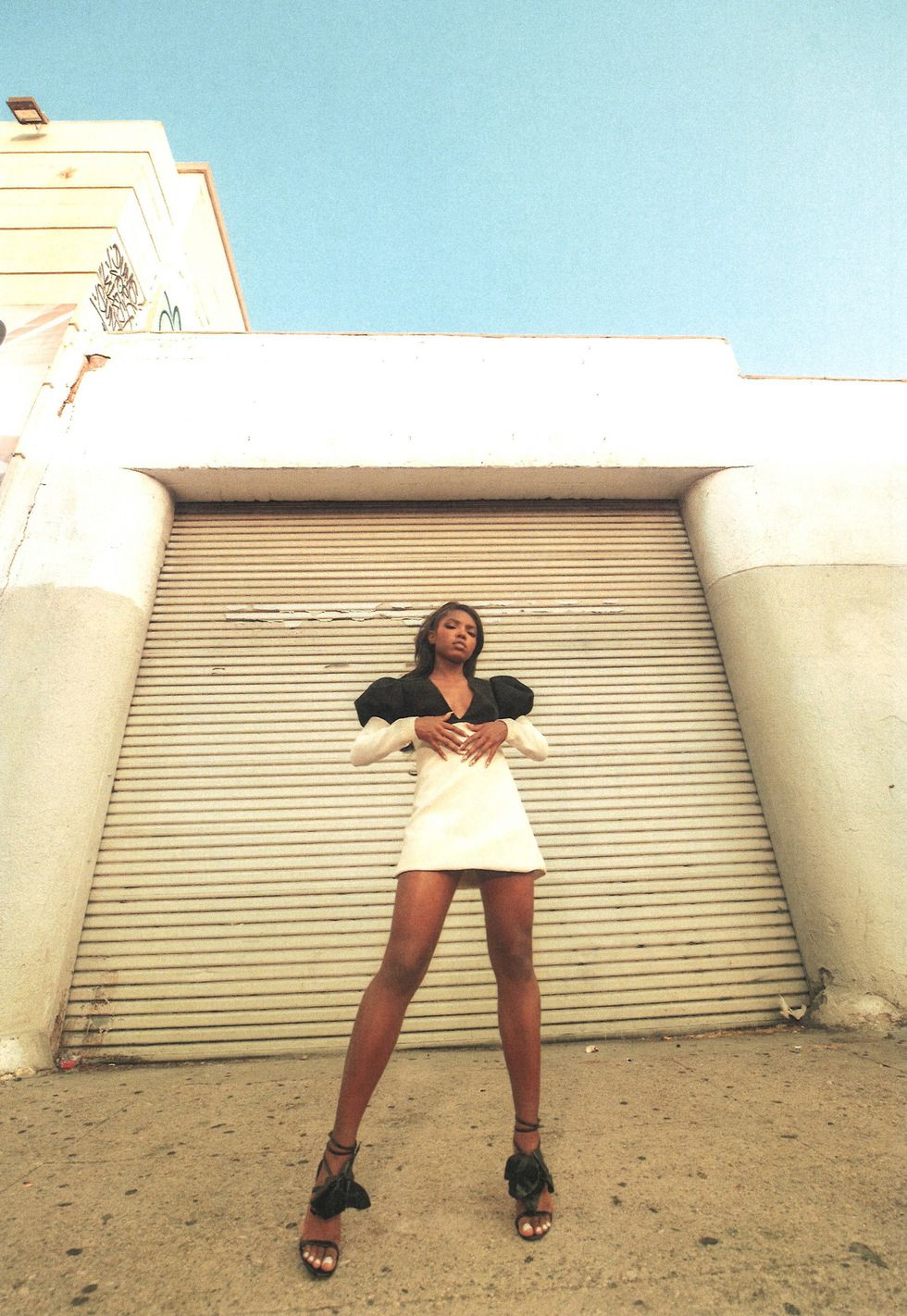 Dress: Louis Vuitton; Shoes: Giuseppe Zanotti
Photo: Amber Aseley
Unfortunately, Destiny is no stranger to the conversation of colorism, but combats it by making it her sole mission to make Black women feel seen in the roles she reprises and the projects she partakes in. She tells me that she recognizes the shift in the conversation of colorism and there is an acknowledgment that the problem does exist beyond what's presented, but there is still work to be done. "It's always going to be important for me to talk about this, to try to open up minds and hopefully change perspectives within this community and worldwide because it's such a huge issue and not enough people talk about it. It's something that we should talk about more and make very clear what needs to be done in order for it to all change."

She also stresses the importance of reshaping and deconstructing the definition of "Black is beautiful" while empathetically pulling from her own experiences. "I know what it feels like to feel like you're not being seen, heard, or validated. It's a journey, and I don't want people to feel alone in that," says Destiny. She continues to tell me the importance of including as many young girls into the conversation as she can and how her purpose lies within creating positive narratives for young Black girls. Destiny recognizes her influence beyond her own age bracket and feels good to be part of a narrative that's bigger than herself. "Young girls are always sending messages to me and telling me how much I've inspired them, and that's what it's all about. My mission is to hopefully open more and more doors like people have opened the door for me."

Though we see Ryan Destiny the role model presented to us on screen and on social media, her self-love journey has taken a bit of time to create the confident brown-skinned beauty we see on our explore pages. She shared that her journey started at the age of 18 or 19, when she had an epiphany of sorts about acknowledging her feelings, how she had been perceiving herself, recognizing that she was not alone, and how to combat insecurities. Now 25, Destiny finds serenity in her journey to understanding, acceptance, and patience with herself as a human being who will not always have it together at every given moment. "Understanding that and being OK with the time where I'm not OK was something that helped me in those times. It's OK to be that as long as you address it and then snap out of it as soon as you can," she revealed. The industry, Destiny discloses from her personal experience, has taught her to have a strong mind due to the possibilities of being taken advantage of, manipulated, or controlled. "You need to keep a tight circle and understand that people are not always for you," she says.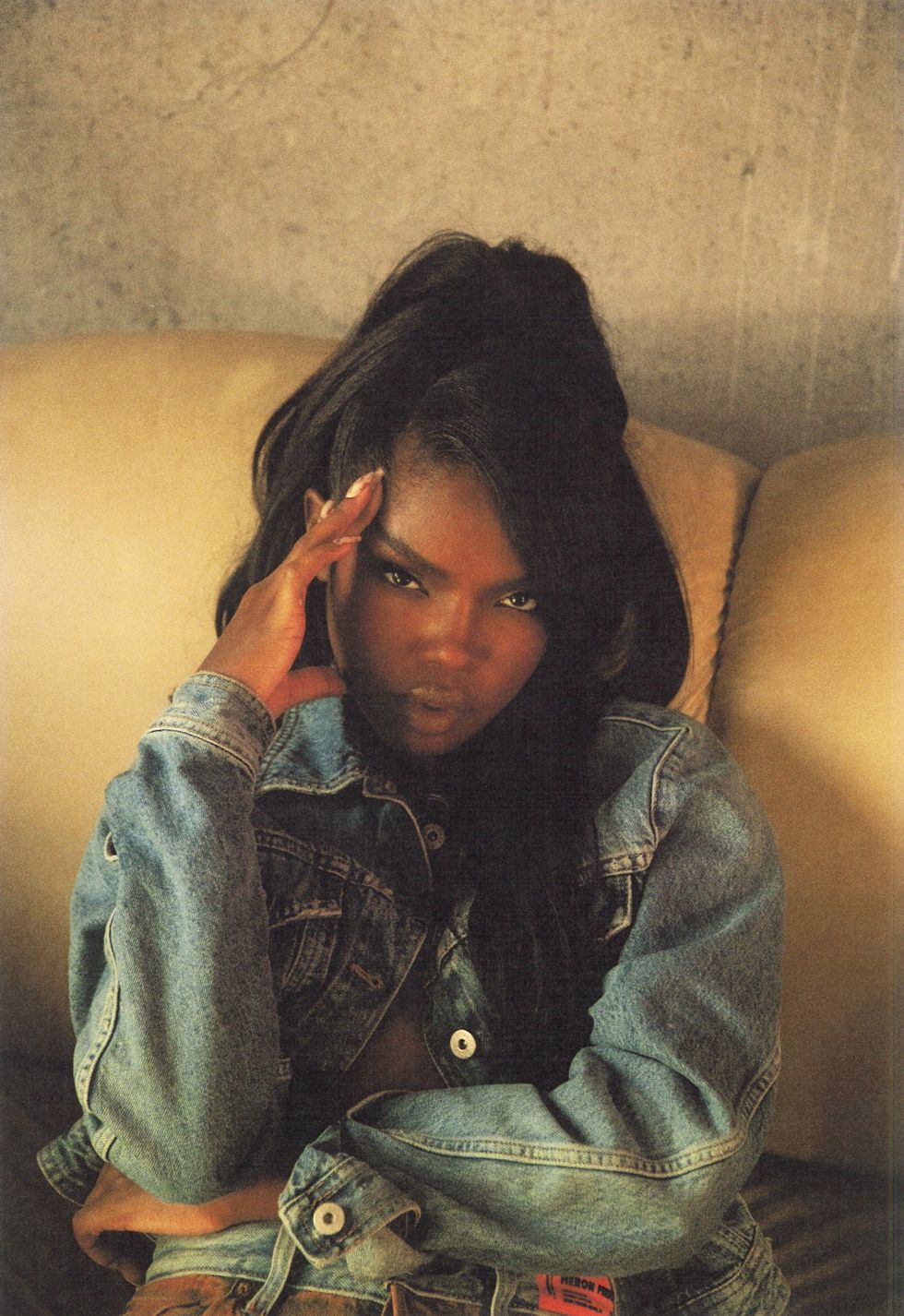 Jacket: Marcelo Burlon; Pants: Heron Preston
Photo: Amber Aseley
In real life, fashion and style are part of Ryan Destiny's brand as an influencer, actress, and singer. During the later end of last year, she partnered with Footlocker for "
Discover Your Air
," which showcased the
Star
breakout starlet in her natural element: kicks galore. "I'm a big sneakerhead. I will put sneakers on to go anywhere, and I mean
anywhere
," Destiny says about her unique style. While she tells me that her stylist will force her into some heels every now and again, her inner tomboy heart lies with laces and soles. "I'm such a huge person on comfort and doing what I want to do regardless of wherever we're going—that's how I've always been. I will literally put sneakers on for any event and feel perfectly fine. My stylist hates me for it," she joked. Her favorites? The low-top Reebok classics in cream, the red, blue, and yellow high-top Nike x Sacai collaboration, and her Converses in a classic high-top Chuck with soft tan cloth material finish.
"I want to be somebody where they can pull off any kind of look, but they still make it 'them.' I'm a big person on 'you wear the clothes, the clothes don't wear you,
'
and I think that is something you always see so clearly in certain people. They're just rocking something and it's not taking over who they are," she says, praising modern-day style icons about going from '70s-inspired outfits to outer-space chic. "That's been something I've always wanted to grasp when it comes to fashion and my style in general. I just want to make everything feel like me, but I never want to be tied down to one style."
As she finds balance between flexing her muscles for the Barry Jenkins
–
written film and keeping herself cute and cozy quarantine-style in boxers and an oversize t-shirt, Destiny hasn't slowed up on her passion for music and creating. Since her release of her early 2000s soft soul-inspired "
The Same
" with Tobi Lou, Destiny has broken into her own brand as more than just Alex Crane from
Star
and into a singer to be on the lookout for. "I think it's very easy for people to not take someone serious in the music industry who just does things on a show to them," Destiny confides about the difficulty of consumers to separate the artist from their previously affiliated projects. Keeping this in mind, she made it a priority to create her own sound different from and in contrast to the music found on the FOX show's soundtracks, all while maintaining her authenticity. Though she is distinctly R&B based, Destiny expresses her desire to be experimental with her sound and have her music career be a reflection of what she's listened to.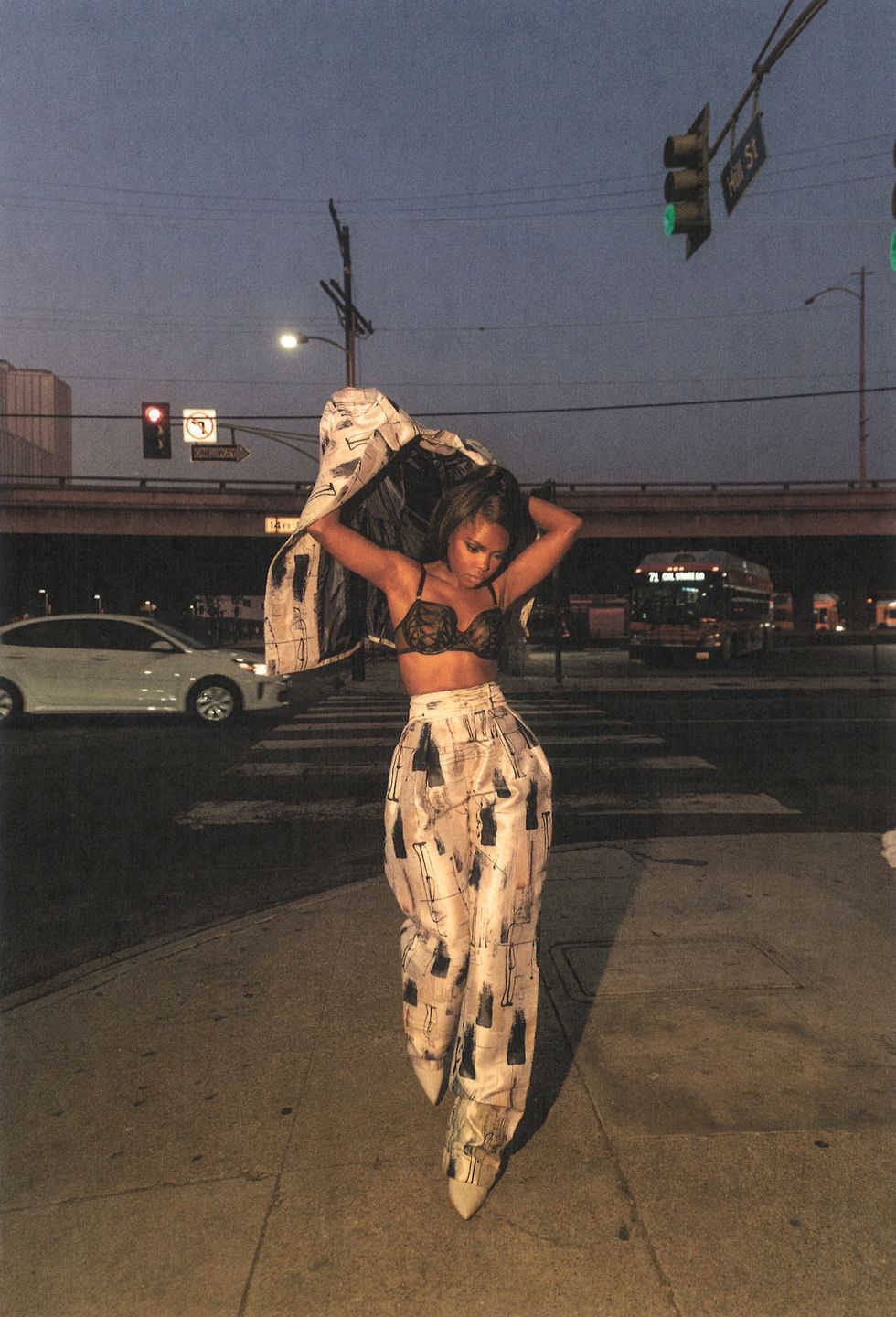 Suit: Nicole Shante; Bra: Honey Birdette; Shoes: Jimmy Choo
Photo: Amber Aseley
Luckily, in her forthcoming debut EP,
On One's Own
, fans can expect a potpourri of genres. According to the songstress,
On One's Own
will be a clear reflection of her growth organically through her vocals and lyrics. "I never really want people to tie me down to one thing, and I think a lot of people do that with Black people, but Black women and darker women in general. I didn't want that to happen with this." Destiny's latest throwback-inspired breakup bop and
accompanying music video
, "Do You," has clearly been demonstrating to fans that she is here to stay. "I'm really excited for people to hear all of it and hopefully see the world that I'm trying to create within it. I just really wanted it to be a great introduction to who I am. It's not all of me, but it's part of me," she said about her upcoming music.
"I see myself in more control of it all," Destiny said about her plans within the next few years. Coming full circle in our conversation to discuss the mishaps of 2020, she is making the most out of what's left of the year by being more introspective and challenging her independence. "Within everything that I've been learning, doing on my own and trying to figure out here while at home, I'm hoping there's some type of liberation and feeling that a lot of other people are feeling like we're unstoppable ourselves," Destiny said calmly, proud of the strength of the community during these unprecedented times.
"Nothing can stop us, and I think that's really what the message has been the whole year. It's been a lot of hardships and a lot of things that have tried to stop what we wanted to do and our dreams, but we're still here, and we're still going. Hopefully that's what happens and that's how it becomes the best year for us and for ourselves."
Photos: Amber Aseley; Styled by Scot Louie; Hair by Darnell Davis; Makeup by Ernesto Casillas. Fashion credits: Top: House of CB; Shorts: Hakan Aakaya; Shoes: vintage stylist's own; Full look: Christian Dior; Shoes: Giuseppe Zanotti; Dress: Louis Vuitton; Shoes: Giuseppe Zanotti; Jacket: Marcelo Burlon; Pants: Heron Preston; Suit: Nicole Shante; Bra: Honey Birdette; Shoes: Jimmy Choo
Want more stories like this?
Kendrick Sampson's Fight for Justice Is Only Getting Started
Madelaine Petsch on Learning & Living a Sustainably Quarantined Life
Alison Brie on Her New Thriller The Rental, Adapting to Quarantine, and Taking Charge of Her Own Career