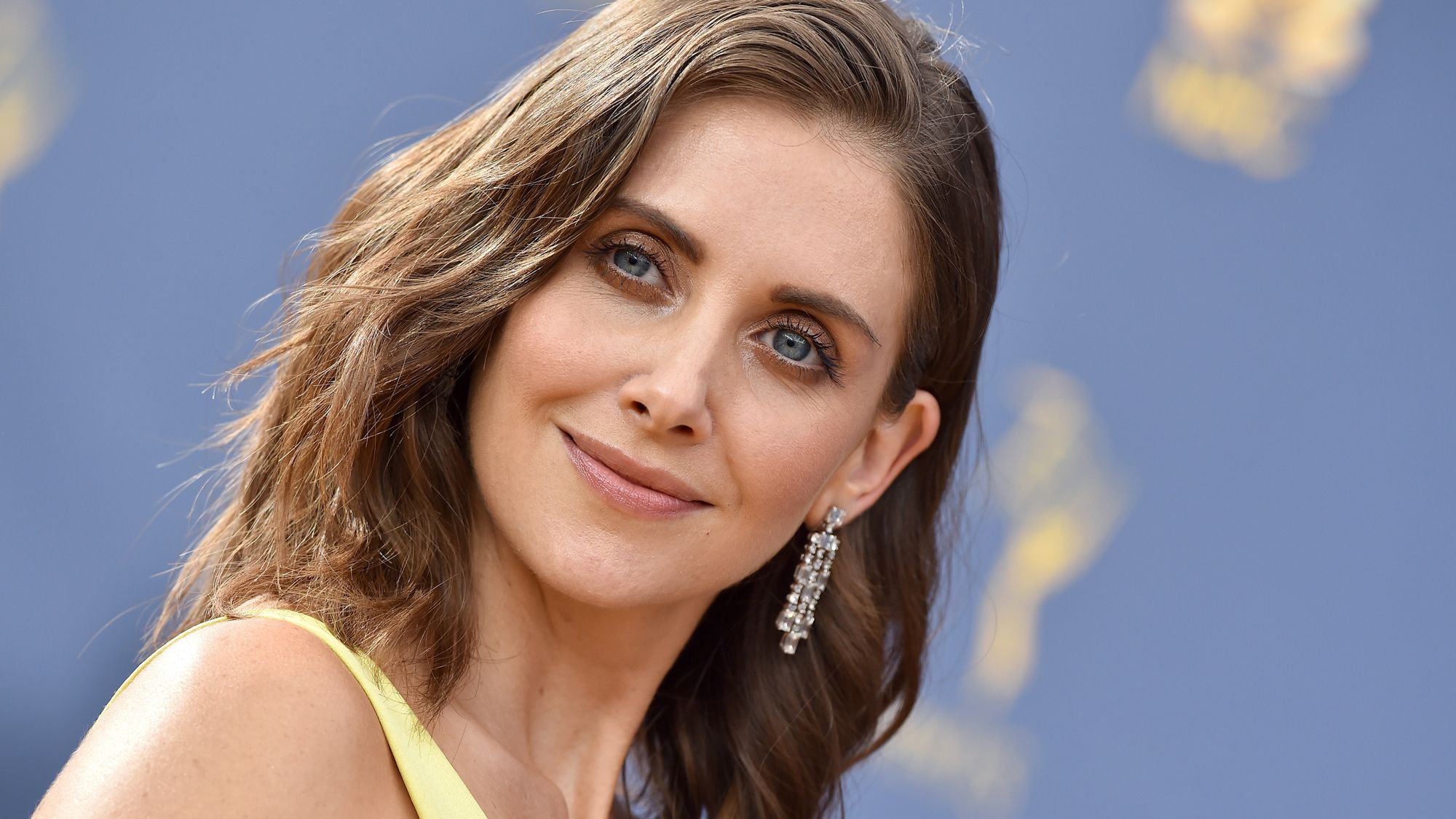 Celebrity
Apparently, you can still act in a horror movie even if you're scared of them.
In March, Alison Brie had recently wrapped filming one movie, had another come out, and was just beginning to shoot the final season of
GLOW
when the country shut down—female wrestling isn't very conducive to six-feet-apart social distancing. Her mile-a-minute lifestyle came to a screeching halt. Now she is experiencing her first On-Demand movie release with her new film,
The Rental
.
The Los Angeles born-and-bred actress has racked up quite a diverse r
é
sum
é
in the past few years. After catapulting to fame with her role as Trudy in
Mad Men
, she has since bounced from a female wrestler in
GLOW
to a student on
Community
, from the animated series
Bojack Horseman
to co-writing and starring in the Netflix original
Horse Girl
that explores the nuanced issue of mental health. Most recently, the comedic actress has delved into horror and suspense in the thriller
The Rental
, directed by her husband, Dave Franco. The film follows four young adults who rent a secluded cabin on the coast of Oregon and find a few unwanted surprises on the trip...and that's all we'll say about that.
For the past few months, Brie has been in quarantine at her home in L.A. with said husband (and her cat) watching rom-coms and cooking a ton—sounds just like us, minus the Dave Franco part, right? We *virtually* sat down with the actress to discuss her new movie, how she's adjusted to quarantine, and taking charge of her own career.
---
Has it been weird to have a movie release amidst everything going on?

"A little. Mostly, honestly, because it feels a little silly and trite to be promoting a movie right now. On the one hand, I actually think it's a great time to put a movie out on VOD because so many people are home. I think we all are really wanting more content to watch. But the flip side is there are obviously such heavy things going on in the world. I think this quarantine has been a time of reflection for everybody, trying to grow and learn and change and do things that are important, that matter, and that make a difference. It's funny to go from being at a protest to then being like, 'Oh yeah, we made this movie.' But I don't want to undermine the value of entertainment. I do think that it's really valuable to have an escape. Genre films really give us that. Also, this is our passion, and this is our work. It's not just Dave and I, but at least 100 people that worked on this movie and were very passionate about the work that they put into it, so I want to honor that, too."

What's it like to shoot a horror movie as opposed to a comedy or a drama?

"It's really interesting because the emotions are so heightened. I think that's what makes it fun as an actor because you get to go to these real deep, dark, and very intense places. On comedy sets, there's so much joking around and laughing, and it aids what you're making. With this, there still was a good amount of joking around, but now it was more about releasing tension between scenes. Just the mood of the whole thing was different because we shot four weeks out of a five-week shoot at night, so you really feel like a vampire. You're sleeping most of the day, and you're just kind of existing in this dark, spooky realm all the time. We shot at this very secluded house on this cliffside in Bandon, Oregon. It's a beautiful home, but driving there by myself on unlit, windy forest roads while listening to a podcast about the Black Dahlia murder really put me in the zone."

What's the prep like for a role like this?

"Honestly, not that much different than other things because it's such a character study, this movie. Also, because I'm married to the director, I got to read several drafts of the script before even knowing that I was going to be a part of the film. I knew so much about the themes of the movie. Trust is a major theme, the trust that we put in the hands of strangers when we use these home-sharing apps. The trust that those homeowners are putting in strangers staying in their home. And also, the trust that we have in our partners. I think what's so clever about the movie is, as the trust is dissolving between the characters, it opens them up to being really vulnerable to this sinister presence in the house."


You've worked with your husband in an acting capacity, but what was it like having him direct you?

"It was wonderful. It really was the best thing. Shooting the movie was a really special time for us. We were staying in an Airbnb in this little cabin on the beach on the Oregon coast. We had our cat with us. It was so nice to be at work with him every day. I felt like we were sort of cracking open this whole other way to collaborate with each other. We've worked together creatively as actors before. It was even better, I think, because I already knew that we worked well together. And speaking of trust, I trust him so much. I know what a strong vision he has for this movie, and then he was such a good director. Getting to see him work with the other actors and the care he took with the way that he spoke to everyone on set and every member of the crew and how he got them involved. His own passion really stirred up passion in everyone around him. That was a treat. Honestly, I felt like I was falling in love with him all over again."

Are you working on anything at the moment?

"Dave and I actually have been writing a new screenplay together for a romantic comedy for him to direct and for myself to star in, so that's been something. I'm also actually writing another script with Jeff Baena, who I wrote Horse Girl with. Writing has been a really good way to channel artistic energy right now, since we got about two episodes into shooting GLOW and then were put on hold. I've been editing something, as well, that I directed. So there's been some work to do, which is nice."

What do you guys like to do when you're staying in?

"We watch a lot of movies. Lately, we've been watching a lot of rom-coms and horror thrillers because we're in a mode of promoting this movie, and then we've been writing this other movie. For research, we're watching all these old-school rom-coms—My Best Friend's Wedding, How to Lose a Guy in 10 Days, 13 Going on 30. On the flip side, we're watching horror movies like The Lodge—newer indie thrillers to keep an eye on that landscape. Dave's really gotten me to come around. I've always loved thrillers and suspense. Silence of the Lambs I would say is one of my favorite movies, but horror movies scare me so much. I always would be up for seeing the big ones in the theater, but then I won't sleep for weeks. So we get into this good pattern where Dave vets all the thrillers and then will kind of be like, this one's worth the scare."


On quarantine, style, and fitness:
"Well, I've definitely been living in sweats, but right now I'm wearing my tightest jeans. This sounds so vain, but like, halfway through quarantine I was like, 'I think I should start putting on a pair of jeans once a week just to make sure things aren't getting too far away from me.' I've been trying to keep up on my physical fitness and doing some sessions over FaceTime with my trainer. I've been cooking a lot, which can be healthy, but we've also been drinking a lot, which I don't usually do, eating a lot of dessert, and things like that.
"What I have been doing style-wise is really buying a lot of new, cute tops because I feel like that's the biggest difference, whereas maybe in the past I would probably buy more dresses or full outfits and really kind of think about putting it all together. Right now my sole focus is just on blouses and cute tops because everything is over Zoom. It's been pointed out to me that a trend that I'm doing is a lot of puffed sleeves. I just bought a puffy-sleeved
Ulla Johnson
top and a puffy-sleeved ALC—I think I'm trying to buy shirts that are comfortable but still stylish."
As you explore different paths such as writing and directing, has this shifted your feelings about what you want to do next?
"I think the biggest shift since I started writing a year ago is that it's sort of calmed me down. It's had a really calming and confidence-building effect to take control of my career in that way and sort of say, 'Oh, I'll write the role that I want to play,' whereas maybe in the past I would get really anxious when I was between acting jobs. As you can imagine, it can be nerve-racking to feel like you're sitting around waiting for a job to come your way or even to find something that I would find interesting and exciting to do. So it's been a nice power shift. Of course, I still want to look for projects to act in that other people have written and are directing, but [writing] is more than just a distraction. It's really nice to hold some of the power. It's fun to sit with people who I am very close with and be like, 'What do we want to do? What's the next thing?' And then create it."
What is something that you can't wait to get back to doing once this pandemic is all over?
"
GLOW
! Like top of my mind, total honesty, the first thing I was going to say is going to the gym because, while I am proud of myself for my at-home regimen, there's a social aspect to being at the gym that I really miss. Even though I feel like I mostly am just competing against myself, it's fun to be in a room with other people. My trainer, Jason Walsh, trains a lot of really strong women, and I often just feel inspired and I push myself harder when I'm in the same space with them, rather than seeing them in the background or on another's person's FaceTime. Also, obviously, just seeing my friends. I miss my friends. I've seen some of them recently for these social-distanced hangs, and I just want to hold them. I'm a real physical person—I like physical affection. I like to hug my friends and hold their faces in my hands, and I hope to be able to do that again someday."
Top photo: Getty
Want more stories like this?
Betty's Dede Lovelace and Ajani Russel Are Flipping the Script on Skate-Bro Culture
Julia Fox Went from Selling Her Underwear to Starring in Uncut Gems
Powerful Women in Powerful Outfits