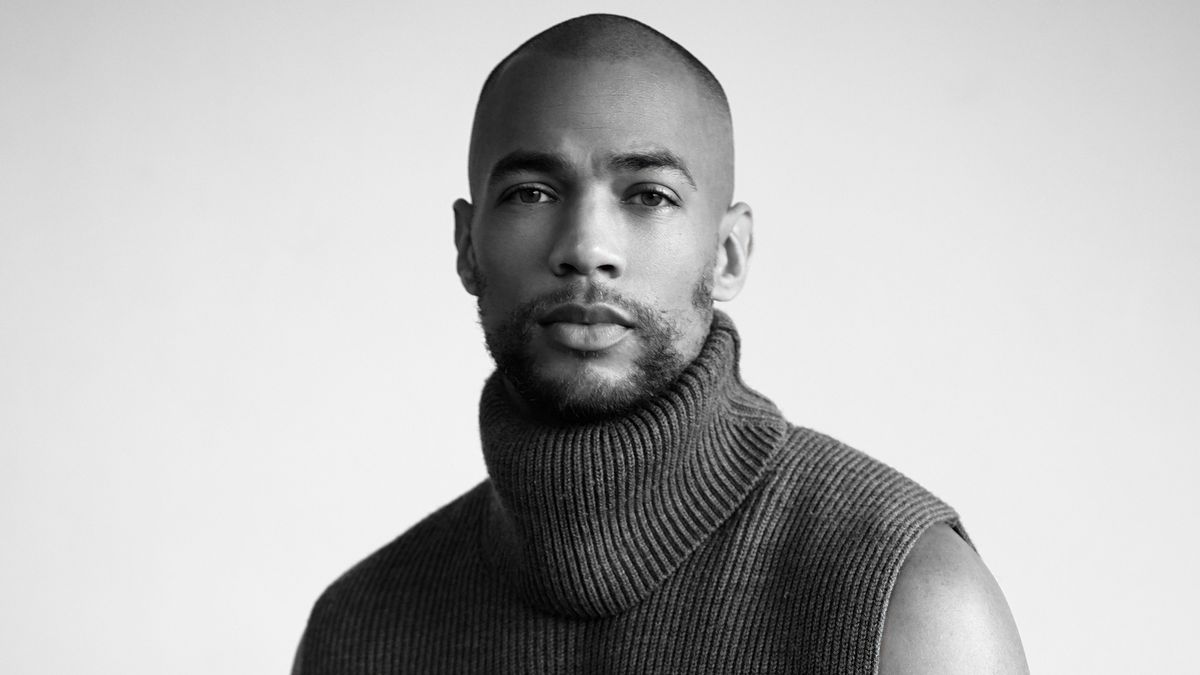 Celebrity
The Insecure actor talks about the Black Lives Matter movement, mental health within the Black community, and much more.
At this point in time, we're all very aware of the Black Lives Matter movement. But raise your hand if you've actually done more to contribute than posting a black square on your timeline and resharing petitions to sign. If you haven't attended a protest, donated to an organization, or frankly, haven't done any advocacy work outside of retweeting and posting informational posts on your stories, you're unfortunately not the only one: Though Black Lives Matter is reported as
the biggest movement in American history
, it's reported by
Vox
that protest crowds have been dwindling daily.
But, while many of the shallow-surfaced "advocates" move on to the next trending topic, there's still people at the forefront striving day to day to break down the global pandemic of racism and discriminatory police brutality. That's where actor and activist
Kendrick Sampson
, whom you may recognize as Nathan (aka "Lyft Bae") on
Issa Rae
's hit HBO show,
Insecure
, comes in.
Whether intentional or not, everything Sampson is intuitively tied to the greater good. You can catch Sampson in his usual uniform, which he dubs "Senioritis Couture": simple comfort à la earth-toned athletic wear, with an occasional grill glimmering from his smile as a nod to his southern Houston roots. But even then, he's conscious of what clothes he's putting on his back.
"I do my best to be conscious of where my money is going," he tells Coveteur. "I like to support Black designers. I do my best to honor Indigenous sovereignty. I do not want to invest in further harming Mother Earth or animal cruelty. At the same time, I get gifts and wear them. Mostly, I go with what makes me feel good."
If you're a follower of his Instagram, you'll most likely notice his
BLD PWR
shirt, which represents the nonprofit he founded. BLD PWR works with creatives in the entertainment industry to address and challenge social injustice through a variety of artistic mediums while giving BIPOC creatives an ability to showcase their work as Hollywood continues to superficially address its underlying biases and deep-rooted issues with discrimination—an issue that Sampson has recently addressed in his letter and call-to-action to Hollywood (backed by over 300 Black artists and executives, including Tessa Thompson, Billy Porter, and Janelle Monáe) published in
Variety
.
"We've seen a broad range of reactions and a lot of people coming to the table, mostly production companies," Sampson says. "Studios and corporations are very slow to respond. Maybe donations and such, but those are superficial—they're not enough. We need the money, absolutely, for resources to float around and fund liberation work, but you can see some of them only willing to donate to institutions that are not doing the real work. You can see that the foundational aspects, or the foundational changes, are slow and reluctant. Boards need to change, board rooms need to change. C-suites need to change. Support for Black employees needs to change, and the unions need to change. There's a bit of anti-Black culture in many of the unions, especially the below-the-line unions, in blocking out Black membership. I had a buddy that couldn't find a Black hairdresser in Atlanta. It's hard to find Black crew in Atlanta and New Orleans. This is just a heinous thing, right?"
There's a reason why Sampson has such an emphasis on Hollywood to divest from the police: It's one of the biggest epicenters of the police brutality epidemic and up until recently has had an issue with glorifying police officers as the "heroes" on both the big
and
small screens.
"Until Hollywood started being forced to tell stories of police brutality, they didn't ever prioritize the voice of the community," he says. "They always prioritized the voice of police, and they've spent millions, if not billions, of dollars in that regard and have made billions of dollars off of glorifying police violence and corruption. It's very indicative of priorities and, of course, police are gonna glorify themselves."
Since the start of the millennium,
886 people have been killed by police in Los Angeles county
alone. However, like a plague, police brutality is running rampant across our country: As for Houston, Sampson's hometown,
six people have been shot and killed by the police
in a single month, yet officials
voted to increase the police department's budget
by a staggering $20 million.
---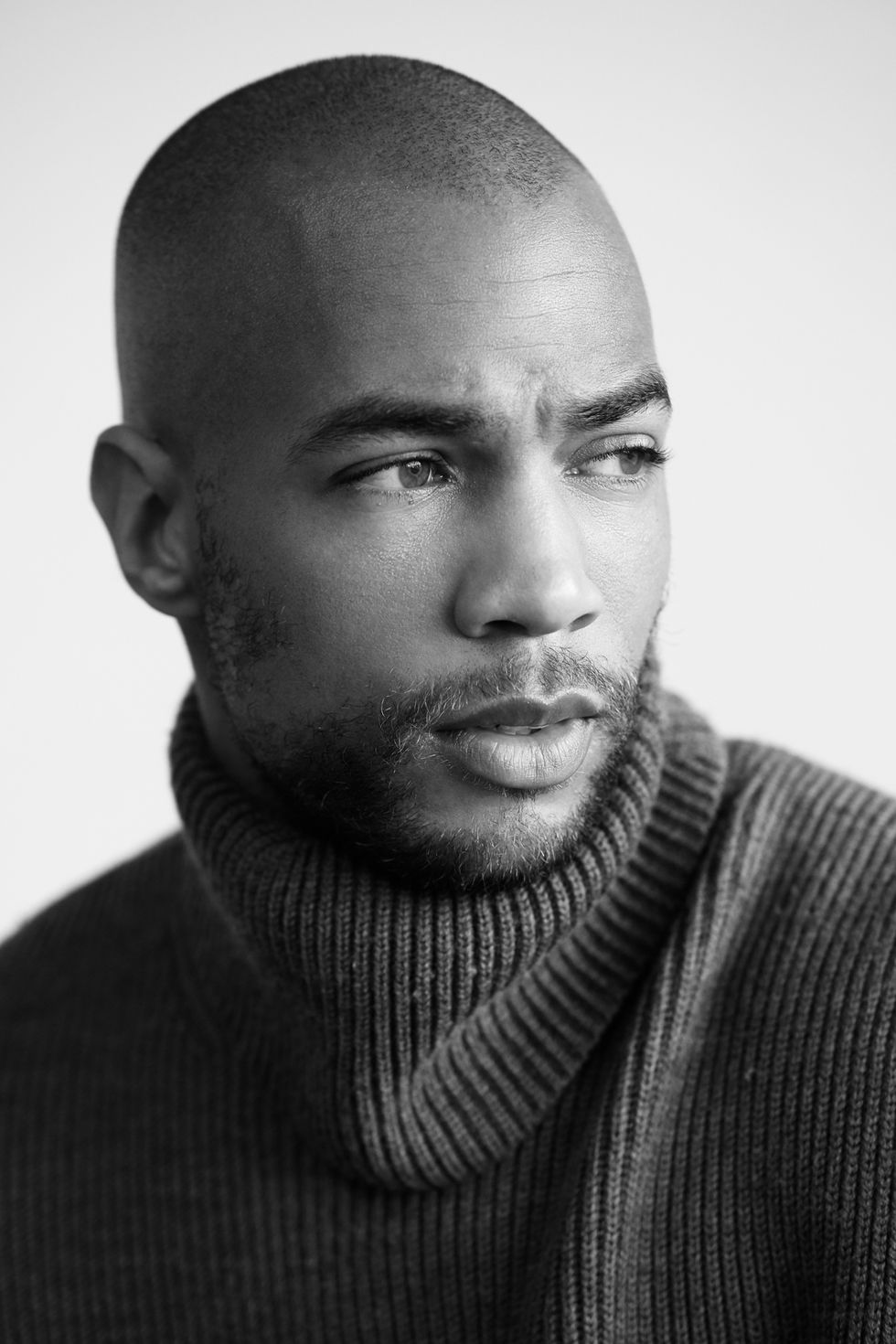 Photo: Justin Vaseur
"It's an epidemic," Sampson says. "It's been a crisis for a very long time. You can't ever cite a point in our history where law enforcement in this country didn't represent trauma in Black and Brown communities, especially Black communities. It hasn't ever represented healing or accountability or any peace, and that's a clear indicator that it needs to be changed."
We have seen quite a few of Los Angeles' most famous faces "protesting," but while celebrities and socialites pose with their signs for social clout and then go about their business, Sampson has been taking matters into his own hands. Unfortunately, being at the front of the lines means being face-to-face with the issue at hand: In May,
Sampson was attacked by officers during a peaceful protest for George Floyd
, in which he was shot seven times with rubber bullets and beaten with batons, making him one of the thousands of victims of police brutality in this nation alone. Sampson also noted that someone leaked his phone number on the internet, causing him to be a target of harassment.
But he's been calling for the abolition of our nation's law enforcement system since long before this firsthand encounter with excessive force and brutality.
"I'm calling for abolition, and so are many organizers who have been working on this for a very long time, who at one point fought for reform and thought that that was a thing," Sampson says. "Body cameras were a huge thing during 2014, 2015, 2016, and we've seen that those have not helped. They have become tools for so many things, but they don't prevent us being killed and brutalized and abused. We haven't ever had a point in American history where law enforcement or the legal system was completely transformed to center the most vulnerable. It was always built around protecting the property and controlling the population of folks that would rebel against oppression or possibly retaliate or seek revenge for the centuries that they were enslaved or try to take their land back, you know, Indigenous folks that the land was stolen from. That's what the legal system here and law enforcement was formed around."
"I believe wholeheartedly that a bad seed produces a bad tree and produces bad fruit," he continues. "All of these videos you're seeing of Black people dying at the hands of police and Indigenous folks being brutalized for protecting water or land and arrested and such, I think that is the bad fruit of a bad seed. So we need to plant new seeds of systems that are built on accountability and care."
But until those seeds are planted, BIPOC individuals have a daily fight to survive. Which leads to another issue in Black culture: heightened issues with mental health. According to Mental Health America,
6.8 million African Americans are diagnosed with a mental illness
 every year, yet many of them choose not to seek mental health assistance due to the underlying stigma of being labeled as "crazy." This is why Sampson's genuine portrayal as Nathan, a love interest of Issa Rae's character in
Insecure
that's diagnosed with bipolar disorder and anxiety, is so important.
"Mental health and mental health issues are always sensationalized and demonized in our narrative and usually an explanation for why somebody should be in jail or why somebody killed somebody or something like that, as opposed to the fact that we all have mental health," he says. "As Patrisse Collurs said, 'We all have mental health, literally.' Some of us have severe mental health issues, and some of us have different stages or levels of mental health issues. That is an everyday thing, and so I really felt honored to be able to play that and to have it be set in just a show about Black people being Black and navigating life, and it's something that only art can do."
But beyond film and television, how can we all help uproot ourselves of such a major part of our society that's rotten? Education, of course: Sampson recommends white allies look to organizations like
White People 4 Black Lives
or
Showing Up for Racial Justice
, which "work to take the burden of educating white people on their own privilege and their own oppression away from Black people." He also suggests that all of us look to literature, such as
The New Jim Crow by Michelle Alexander
,
When They Call You a Terrorist by Patrisse Cullors
, and "anything by Keeanga-Yamahtta Taylor." But most of all, he wants you to check yourself and your privilege, no matter who you are.
"If you're not fighting for trans lives, for Black women, for children, for those who are differently abled in the Black community, for those who experience mental illness or homelessness or who are incarcerated behind bars and in cages at the border and in our cities, you're not doing it right," he says. "You still have a lot of biases you need to address, and you always will. That's something I think we all need to come to, even Black people, is that we have all been fed an anti-Black culture. That is what America is. To call yourself American, you have to accept the fact that part of that identity, of what America is at its core, is genocide and slavery. Whether your ancestors were on the side of slavery or the side of the oppressor, that is part of the identity of America. Because there hasn't ever been an active uprooting of anti-Blackness on a large scale, or the scale that it needs to be, then there is anti-Blackness in all of us. Even Black people are taught to hate themselves."
Photos: Justin Vaseur
Want more stories like this?
Tommy Dorfman Is Not Here for the Faux-Woke
Brandon Kyle Goodman on the Art of Conscious Anti-racism
Laura Dern on Black Lives Matter, This "Incredible Moment," and FaceTiming with David Lynch During Quarantine