Eden Grinshpan Is Not Afraid to Get a Little Messy with Her Food
The chef and host of Top Chef Canada dishes on her new cookbook, Eating Out Loud, and why tahini is the best condiment of all time.
Food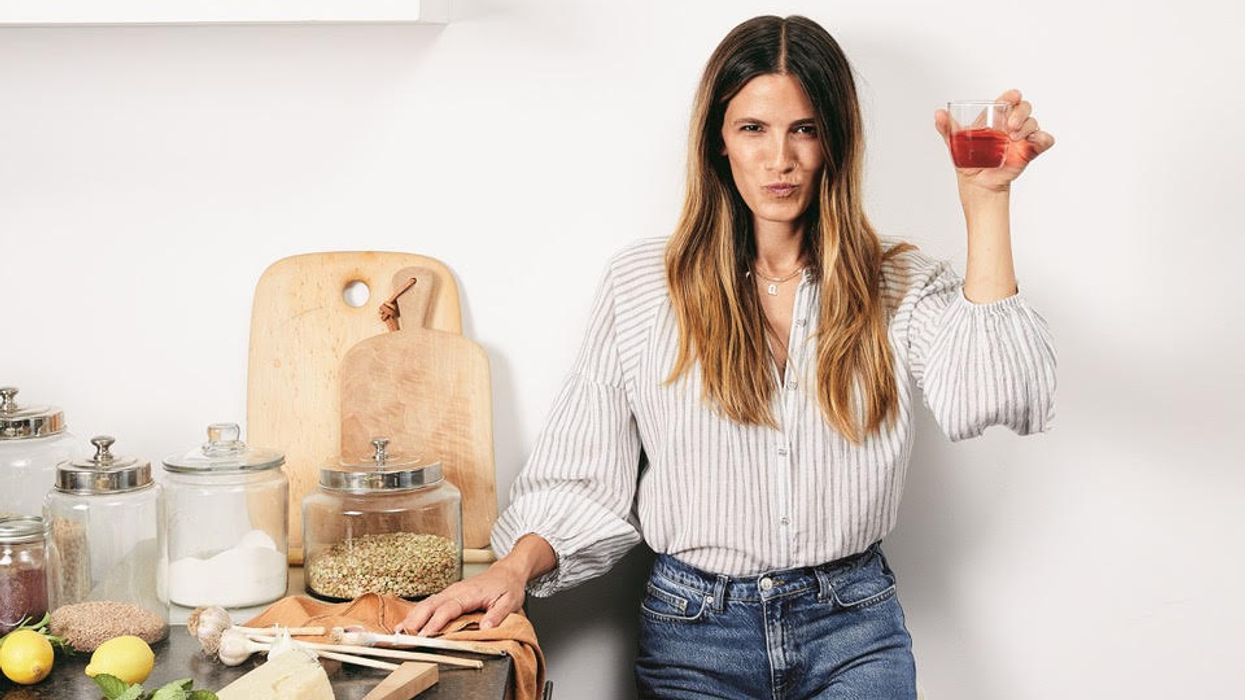 Eden Grinshpan
has spent nearly a decade in television, hosting shows like
Eden Eats
on the Cooking Channel and most recently,
Top Chef Canada
. But it was her brief time running Dez, a buzzy, fast-casual Middle Eastern restaurant in Nolita that closed its doors last summer, that gave the Brooklyn-based, Toronto-born chef and television host the boost to finally do a cookbook.
"Writing a book has definitely been a dream of mine for a long time," says Grinshpan, whose debut book published by Clarkson Potter,
Eating Out Loud
, comes out September 1st (available for pre-order now). "Dez was only open for a year, but I found that people really connected with the food—which was my interpretation of Middle Eastern flavors and dishes—and that really gave me the confidence to do this. That's when this book baby was born."
Eating Out Loud
is filled with over 100 modern Middle Eastern recipes that are intended to be highly approachable and no-fuss, from savory dishes like Summer Pita Fattoush with Peaches, Tomatoes and Basil, and her Very Green Shakshuka (recipe below), to desserts like Pistachio Cardamom Cake. ("I have a hard time not putting cardamom in every baked good I make.")
"For me, it's just about creating food that elevates vegetables without crazy techniques and too many ingredients," says Grinshpan, a graduate from Le Cordon Bleu in London. "I like dishes that you can put down at your table and everyone can just eat from the plate. I like when people really get their hands in there and sauces spill on the table... I like it a bit messy."
We caught up with Grinshpan, who temporarily decamped to Ontario with her daughter and husband to ride out the pandemic, to hear about how the cookbook came together and what she's been making in quarantine. Plus, in advance of the book's release, she shared one of her favorite shakshuka recipes from the cookbook exclusively with Coveteur.
---
What was the first recipe that you finished for the cookbook?
"Good question. I have a chapter called Eggs All Day—I'm very passionate about my egg dishes. It's a very easy protein to cook up, and you know, growing up half Israeli and going to Israel every summer, we always ate eggs for dinner. I would probably say my shakshuka dishes were the first to come to life, and I think it's because I know them like the back of my hand. It's just something that's always on steady rotation in my life. For the traditional one, I actually add in a little bit of curry powder, which for me just takes the tomato sauce and gives it such an interesting depth."
What dish in the book is the most nostalgic for you?
"Definitely the whole roasted eggplant. I worked at a restaurant in Israel when I was like, 21, and it was like a lightbulb moment when I saw how they treated the eggplants. They basically just score it and throw them whole on the grill on high flame and char the crap out of these eggplants. The chef dressed the eggplant with pomegranate molasses, yogurt, za'atar oil, fresh mint, and pomegranate seeds. My brain just wasn't working like that until I saw the way this woman was cooking in Israel—it's this kind of layering of these flavors, with the creaminess, the tanginess, the sweetness... It was one of those moments where I really connected with the food, and I just kept going back to that dish."
What are some key pantry staples you use repeatedly?
"Tahini! A struggle of mine in writing this book was not putting tahini on everything. Once you go down the tahini road, there's no turning back. It's my favorite condiment of all time. In the book, I have a condiment section, kind of like an essentials section, and I also focus on a handful of spices that you see constantly throughout the book called Your New Middle Eastern Pantry, and then I have a section called The Essentials. The New Middle Eastern Pantry is talking about all these spices that I always gravitate towards, like coriander seeds and cardamom. In The Essentials, I talk about garlicky tahini, charred tahini, and green tahini."
A good tahini is so important. What's your favorite tahini brand?
"There's so many different variations. Obviously, a lot of brands in the Middle East, but in the US, I really like
Seed & Mill
and
Soom
, they are both are amazing."
Where do you get your spices from?
"I like
Kalustyan's
and Amazon for spices, but I also sometimes smuggle them back from Israel. I toast a lot of my spices before I use them because it really releases a lot of the oils and the flavor and my whole house smells of spices. The couch, the curtains...everything. I developed all of these recipes in my Brooklyn apartment and I shot the entire book in my Brooklyn apartment, so it's really food that I serve my friends and my family. It's home-style cooking that's just elevated enough to feel extra special. I talk a lot about keeping your fridge stocked with a lot of these condiments so out of nowhere you can whip out an incredible spread at any moment."
What are some kitchen tools you can't live without?
"My microplane! You know, I'm a mom, so I don't have all the time in the world anymore to just put together multilayered dinners, so I'm very much about cooking and getting the food on the table as fast as we can. A microplane is one of those tools that kind of helps speed up your prep and also your cooking time. I use it for nuts, garlic, ginger...everything. Also, tongs—they are basically an extension of your hand, and I always have them on me. And this might be obvious, but a really nice Dutch oven (Le Creuset is definitely the first Dutch oven I ever owned) because it's such an heirloom piece. You buy it, and that will last you for generations. My mom is here with me right now, and she still has some of the first pots she bought in 1975!"
Speaking of family, what have you been cooking in quarantine with your family?
"I have been baking a lot with my daughter, and she loves it. She eats the flour, she eats the butter, she eats the sugar... I love that stuff, too. I developed most of the recipes for the book in my kitchen, so my daughter and my husband are basically my official taste testers."
You have also been working to help out a lot of NYC restaurants during quarantine via your Instagram (@edeneats). I see you just did an IG live cooking session with Camilla Marcus of west~bourne?
"Yes! I started this whole series because I really wanted to find ways to support the restaurant industry during this time, so it was very much about talking to restaurateurs and chefs, hearing firsthand what they're going through. So, getting my audience to donate hopefully to their GoFundMe pages and helping them during these difficult times. My career is so inspired and connected to the whole restaurant industry—it's a huge inspiration in my life, so anything I can do to help."
Here, Grinshpan shares her Very Green Shakshuka from her new cookbook
Eating Out Loud
.
Very Green Shakshuka
Serves 2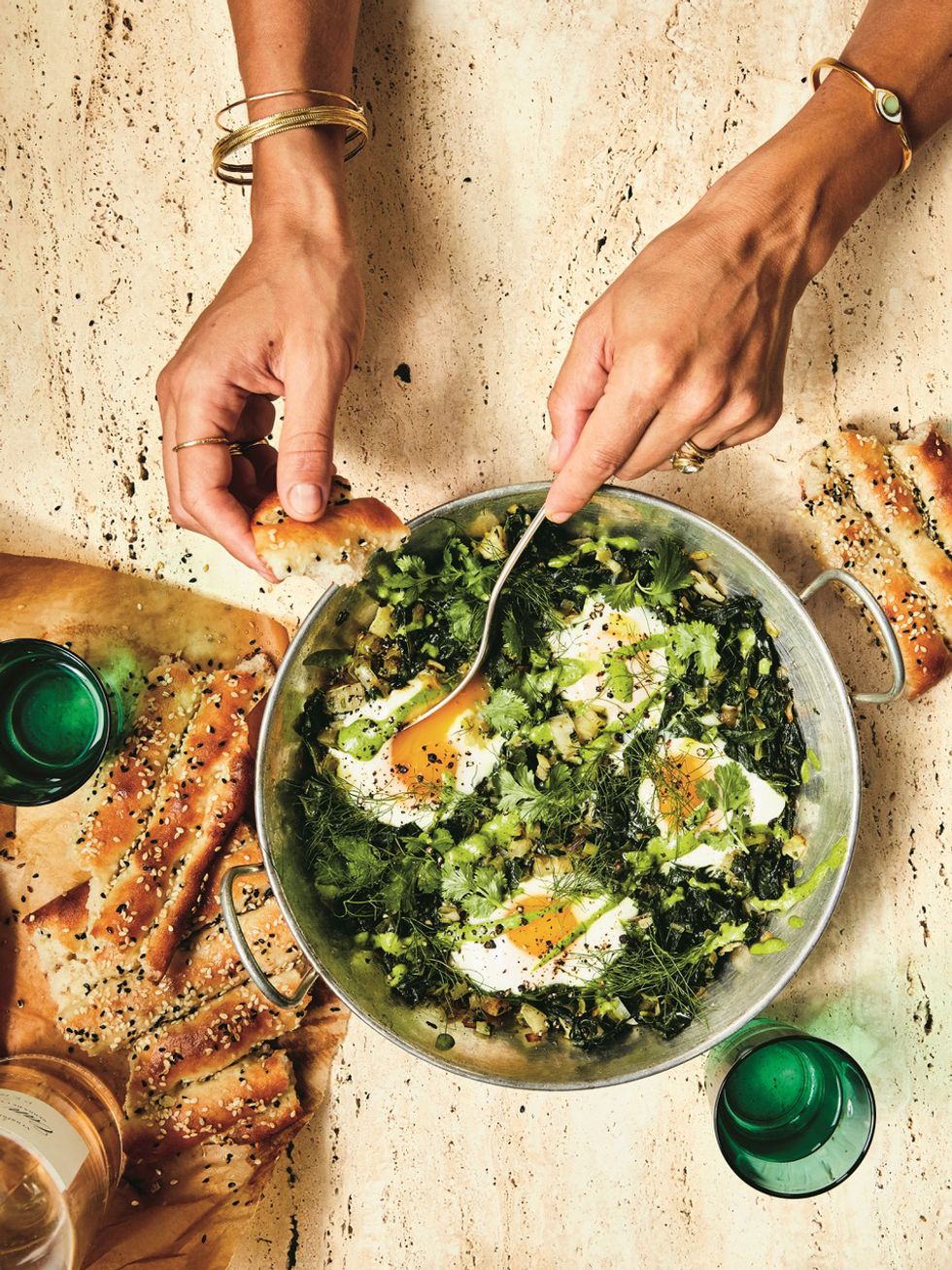 Photo: Courtesy of Eden Grinshpan
Ingredients:
2 tbsp extra-virgin olive oil
1 small yellow onion, finely diced
½ large or 1 small fennel bulb, trimmed, cored, and finely chopped (reserve the fronds for garnish, if available)
1 small jalapeño (seeded for less spice), finely chopped
1 garlic clove, finely chopped or grated
Kosher salt
1 tsp ground cumin
½ tsp ground coriander
4 large leaves Swiss chard or collards, midribs removed, leaves sliced into thin ribbons
2 tbsp chopped fresh flat-leaf parsley
2 tbsp chopped fresh cilantro, plus more for serving
¼ cup vegetable stock or water
4 large eggs
Freshly ground black pepper
Green Tahini (recipe follows) for serving
Fresh barbari or pita for serving



Directions:
1. Preheat the oven to 350° F.
2. In a large ovenproof skillet with a fitted lid, heat the oil over medium heat. Add the onion, fennel, jalapeño, garlic, and salt, and sauté until the vegetables are tender, 5 to 7 minutes.
3. Add the cumin and coriander, and sauté for another minute before adding the Swiss chard, parsley, and cilantro.
4. Let the mixture sauté for another 2 to 3 minutes, then check for seasoning.
5. Stir in the stock or water, cover, and cook until the greens are tender, 1 to 2 minutes.
6. Make four small wells in the mixture; crack the eggs into each of the dents, taking care not to break the yolks, and season with salt and pepper to taste.
7. Transfer the pan, uncovered, to the oven and bake until the whites are just set and the yolks are still runny, 3 to 5 minutes.
8. Serve drizzled with the green tahini, topped with fennel fronds (if using) and cilantro, and with the flatbread.
Green Tahini
Makes about 2 cups
Ingredients:
1 cup tahini paste
2 tsp fresh lemon juice, plus more to taste
1 garlic clove, grated
1 tsp kosher salt, plus more to taste
½ cup ice water, plus more if needed (see Note)
½ cup packed fresh flat-leaf parsley leaves, dill, or chives (or a blend of all 3)
Ice water (optional)



Directions:
1. In a medium bowl, whisk together the tahini, lemon juice, garlic, salt, and ice water. It will reach a weird, lumpy consistency, but don't be afraid. Keep whisking until it smooths out and becomes light in color (if it doesn't, it needs more ice water, so just add a bit more). Tahini sauce with the perfect consistency will drip through the tines of a fork, but just barely. Taste for seasoning, adding more lemon juice or salt if desired.
2. Store in a jar in the fridge for up to one week. If the tahini gets too thick while in the fridge, just loosen it up with a little water before using.
3. Make the garlicky tahini as directed above. Transfer to a blender or food processor, add the herbs, and blend until smooth. If the sauce gets too thick while blending, add ice water 1 tablespoon at a time until it gets nice and drizzly.
4. Store in a jar in the fridge for up to five days.
Photos: Courtesy of Eden GrinshpanWant more stories like this?
In the Kitchen with Ice Cream Guy Nick Morgenstern
What to Eat and Drink for Every At-Home Summertime Activity
Meet the Woman Celebrating Black Female Talents in Food and Wine