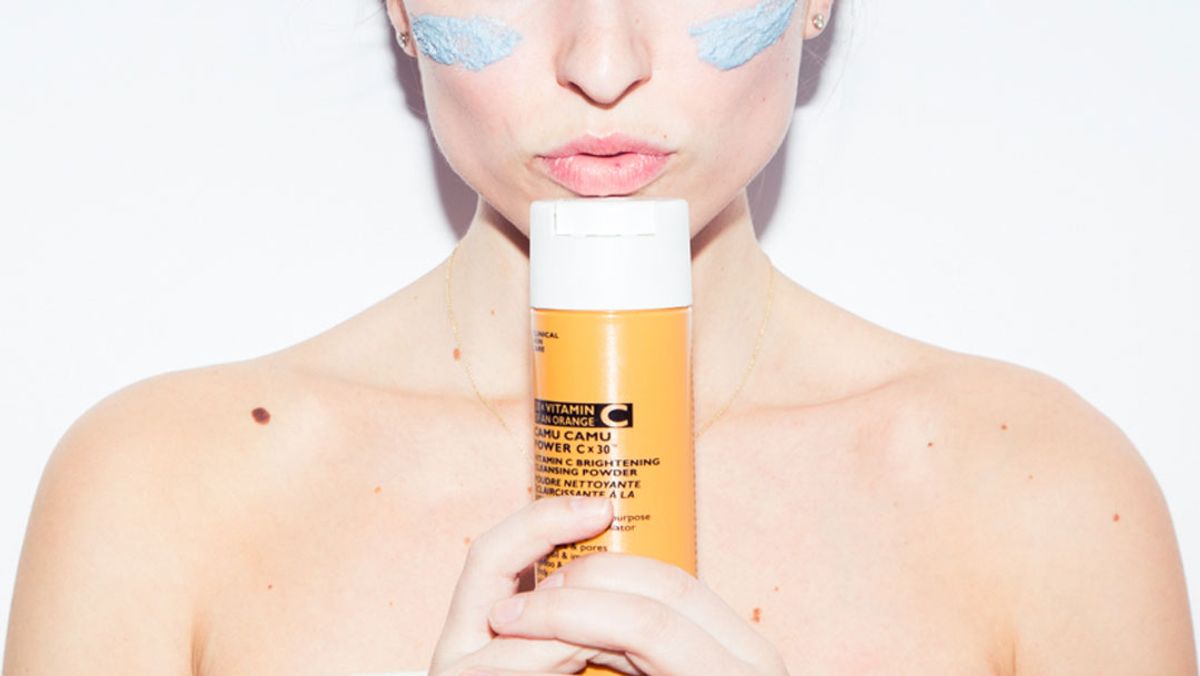 Shopping
Powdered Products Are the Future of Clean, Sustainable Beauty
Better formulas and longer shelf lives? Yes, please!
The past few years have seen powdered beauty products pop up in all areas of skin and hair care—from the rise of K-beauty powder cleansers to the relatively new powder shampoo category—and with good reason. As the world continues to seek out cleaner, more
sustainable options
for their medicine cabinets, these products have quite a few pros when compared to their gel, cream, and liquid counterparts.
Powder products are exactly what they sound like—dry, waterless versions of your usual beauty go-tos, such as
cleansers
, shampoos, face masks, and serums. Typically, these products aren't activated until mixed with water or absorbed into other products, such as facial oils, when you're ready to apply.
Many traditional hair and skin products contain water, which means they need to also include some type of preservative to keep bacteria and mold at bay and ensure they have a lasting shelf life. And while
not all preservatives are necessarily bad
for you, many of them have been linked to skin allergies, so it's best to do without them. Instead, these revolutionary products are formulated with water-soluble ingredients that activate as you use them, which enables them to exclude the added preservatives as well as other filler ingredients such as emulsifiers and stabilizers. This also means these products tend to be much more concentrated and pack more of a punch in each scoop or shake. A little goes a long way with powders, and a jar will last you much longer than you might think. In terms of both sustainability and keeping your wallet in check, powders are pretty much a no-brainer.
Even without preservatives and water in their formulas, products in powder form tend to have
a longer shelf life
on average. As long as you store them in a cool, dry place and away from direct sunlight (which is the best way to keep all your beauty products safe and effective), you're more likely to use the entire bottle or jar before you hit the recommended expiration date—more bang for your buck, so to speak.
There's also the stabilization factor. Some beauty ingredients are tougher to maintain than others—take
vitamin C
for example. Many of the serums and creams boasting this brightening and
antioxidant-rich ingredient
begin to lose their efficacy as soon as they're bottled, deeming them less potent before the product even makes its way into your hands. That's why a powdered vitamin C, such as
The Nue Co.'s Topical C
, is much more powerful, as it remains inactive until you're ready to use it (plus, it can be mixed with your other favorite serums to create your own beauty potion, which is
very
fun).
Of course, we can't fail to mention that powdered products make great TSA-friendly additions to your travel bag. Sure, it'll probably be a while before booking vacations or freely jet setting all over the world are a thing again (for most of us, at least), but keep in mind that powdered products make it possible to pack your
favorites in your carry-on
without having to shop for travel-sized versions or pay to check your bags. It's a win-win all around.
Below, check out eight must-have powdered skin-care and hair-care products to fulfill all your beauty needs.
---
It's not surprising that Tatcha's Classic Rice Enzyme Powder has become a cult favorite. This glow-inducing powder transforms into a creamy foam when mixed with water, gently exfoliating the skin with Japanese rice bran, papaya enzymes, and the brand's Hadasei-3 Bioactive Complex, making dull and lifeless skin a thing of the past.
If your skin needs a refresh, look no further than this pretty pink mask from Herbivore Botanicals. Formulated with French pink clay, rose hip, and chamomile flowers, this powder mask will activate with water to exfoliate and soften your complexion while preventing signs of aging.
Vitamin C is notoriously one of the toughest ingredients to stabilize, which means it loses its potency over time—sometimes before you even open the bottle. Because Topical C is offered in a crystalline powder form, it won't activate until you mix it with water (or even your favorite moisturizer or serum), ensuring you get a powerful, potent dose of C every time. Combined with ferulic acid, tapioca starch, colloidal oatmeal, and aloe vera, this powdered serum brightens and refines while also soothing and healing the skin.
Powdered shampoo is a relatively new product category in clean beauty, and we must say, we're intrigued. OWA Haircare's Moondust Hair Wash is a concentrated powder that almost resembles a dry shampoo until it's mixed with water and transforms into a silky, luscious lather. Best of all, this shampoo will gently (but effectively) cleanse and lightly condition all hair types.
If you suffer from oily or combination skin, consider this three-ingredient powder mask from Mario Badescu your new best friend. A powerful ally against oil and blemishes, it unclogs congested pores and draws out impurities to reveal a refined, clarified complexion. Greasy T-zone, no more!
This clean hair powder from Playa is a wavy-haired gal's dream. Like a dry shampoo, earth clay helps absorb excess oil while boosting volume, and oat-derived sugars help keep the hair soft and smooth with workable texture. To keep hair healthy, vetiver root extract nourishes each strand and encourages collagen formation.
Golde's Papaya Bright Face Mask might be the closest thing to a tropical vacation we get for a while, and we're not mad at it. Formulated with 100 percent pure, edible superfoods like lucuma, papaya, and sea buckthorn berry, this vitamin C–packed powder mask brightens and exfoliates like no other. Warning: You will be tempted to throw this in your morning smoothie—but please save this tropical treat for your face.
We love a multi-tasking product, and Moon Juice's topical and ingestible concentrated pearl extract does just this. When this beauty superfood is mixed with water or your favorite moisturizer and applied to the skin, it helps boost natural collagen production and evens out skin tone. You can also add a scoop to your smoothies, coffees, and even baked goods to reap pearl's hair-, skin-, and nail-strengthening benefits.