WWWRN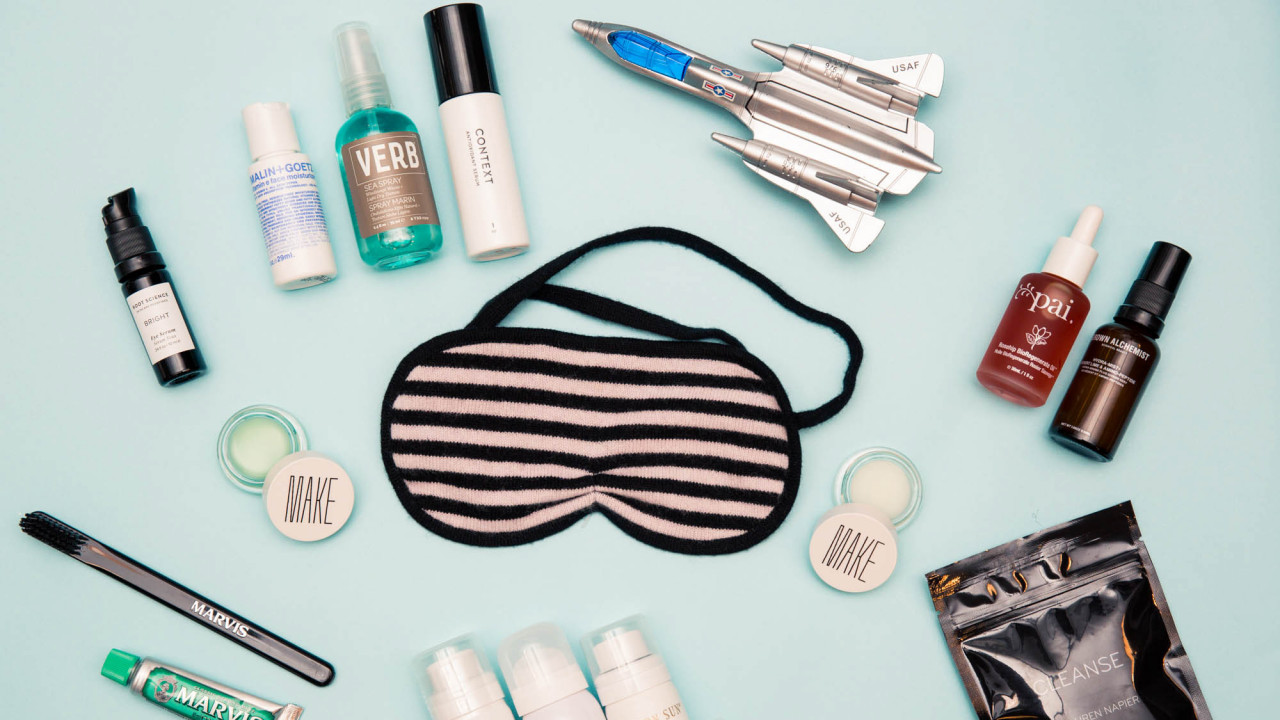 The Skin-Care Essentials We Can't Travel Without
From a decadent hand cream to *several* hydrating face masks.
When you travel with an editor, especially a beauty editor, there's an excellent chance you'll spot her pulling out a bag or two of products during the flight. It takes a village to keep your hydration levels in check when the recycled air is threatening to shrivel you like a raisin from takeoff to touchdown, not to mention warding off the multitude of germs that exist in the petri dish we call the modern airplane. So what exactly makes the cut for our carry-on luggage these days? From anti-bacterial sprays to soothing CBD oils, these are the 18 skin-care and wellness products we always bring with us when we travel.
---
Jessica Teves
Head of Content
1. Baggage Claim Gold Eye Masks from Wander Beauty: My biggest in-flight beauty secret are these Wander Beauty eye masks (oh, and wine)—because, really, what's the use in brightening and hydrating if you're not fully chill? Also, these quick and easy-to-apply patches are pretty inconspicuous and really do add a jolt of hydration during a longer flight.
2. EO Organic Hand Sanitizer Spray in Peppermint: I carry this stuff everywhere—I literally have one in every bag, so I'm armed like a germ-fighting superhero. Also, I'm semi-sensitive to foul odor and smells (I can smell someone's breath from two aisles away), and this TSA-approved spray is infused with peppermint oil, so it distracts my nose from impurities. If that weren't enough, it also contains aloe, so it doesn't dry out your hands like most hand sanitizers.
3. DearKlairs Fundamental Ampule Mist: I'm an aggressive mister—I mist all day long at my desk and definitely take it to new heights when I fly (see what I did there?). This green-tea water mist is one of the better formulations I've tried in that it actually locks in moisture and adds nutrients—I deplane looking dewy and refreshed, which is super key considering how drying airplane air can be.
---
Annie O'Conor
Audience Development Manager
1. Milk Makeup Kush Clear Brow Gel: I need this all day…even mid-flight. My brows seem to fall flat and lose shape easily. I like the clear gel to keep things simple and groom my brows back into place even at 30,000 feet.
2. Dr. Jart V7 Priming Moisturizer: Excuse me while my skin loses all hydration as I ascend into the air. Needless to say, I need a thick moisturizer. I'm a sucker for all of the Dr. Jart moisturizers on the market at the moment, but this one in particular has vitamins, antioxidants, and protection from, as they say, "environmental stressors." Does that include in-flight turbulence?
3. Slip Sleep Mask: Like many, I get very anxious about flying, but I still like to travel. I love the Slip Silk Sleep Mask because I can literally block out the entire flight. Slip is a must because it is anti-sleep-crease; I do not want to wake up at my destination with lines all over my face. So whether it's three hours or ten, I always bring this on board.
---
Jacquelyn Greenfield
Editorial Production Fellow
1. Dra Sunshine Head to Toe CBD Oil: I am extremely late to the CBD trend, but this product is my latest obsession. I throw it in my purse every time I travel and use a few drops before takeoff. It ensures the ultimate level of chill while flying.
2. Glossier Skincare Edit: I originally got this kit to test out Futuredew before committing to the full size, but I fell in love with it in its entirety and bought it again. The travel-size products live inside my backpack and have become my in-flight skin-care routine, especially for those long hauls.
3. First Aid Beauty 5 in 1 Bouncy Mask: I am definitely not that traveler who needs to put on a sheet mask as soon as they take their seat; however, when it comes to flights that are five hours or longer, I've found myself using this mask during the last hour to help me look alive before landing. Its jellylike substance goes on clear and is easy to wash away with just warm water on a cloth.
---
Jodi Taylor
Editor
1. Sistine Herbal Collagen x Retinol Cherub Eye Mask: My sister recently started selling these at her lash studio, and thanks to her I've become addicted. Not only do they look cute in the shape of a cherub, but they're super hydrating, making them the ideal mask for a flight.
2. Aesop Resurrection Rinse-Free Hand Wash: Consider this a bougie hand sanitizer. You won't catch me on a flight without this and sanitizer wipes.
3. Caudalie Vinosource SOS Thirst Quenching Serum: I'm a huge advocate for moisturizing before a flight, during a flight, and after a flight (that may be going a little overboard, but my skin seems to like it), and my favorite serum to do that with is this one. It's smooth to apply and gives you the *perfect* glow. Bonus points for the fact that it smells incredible.
---
Hannah Baxter
Senior Beauty Editor
1. Obagi Acne Cleansing Wipes: My in-flight beauty routine goes like this: I clean my seat and hands with an antibacterial wipe (because flying is disgusting), and then I remove any lingering pollution, dirt, or oil that accumulated on my face since I walked on board with a medicated wipe. I always, like clockwork, wake up after a flight with a trail of pimples along my chin and nose, but these contain salicylic acid and witch hazel to fight the breakouts before they start. There's also added aloe so my skin isn't stripped of hydration. It's the best way to ensure my face doesn't freak out from hours upon hours of recycled air and germs.
2. Lano Face Base Aussie Flyer Mask: Never feel ashamed to mask while in-flight. If I'm not in the mood to bust out a full-on sheet mask situation after I cleanse my face, then I always apply this transparent mask to lock in moisture. I love that it doesn't transfer to my hair once it dries, nor do I feel like a grease ball after a few hours wearing it. For especially long flights, I add a few drops of my favorite plum face oil—it's my secret weapon for landing with dewy skin every single time.
3. Aquaphor Healing Ointment: I have no shortage of fancy hand creams at my disposal at any given moment, but when I travel there's only one that can keep my mitts and lips moisturized for hours on end: Aquaphor. I slather on a thick layer the second we take off and only need to reapply after I wash my hands in the bathroom (and subsequently douse them in hand sanitizer because, repeat after me, flying is disgusting). One bottle also lasts forever, so stock up and throw them in every carry-on bag you own, just in case.
---
Noah Lehava
Director, Lifestyle and Talent
1. Dr. Dennis Gross Alpha Beta Universal Daily Peel: I've talked about these chemical peel wipes ad nauseam, but it's because they really work! Travel can wreak havoc on my skin, so I always throw in a few of these to keep my skin looking bright.
2. RMS Peach Luminizer: My vanity case can get out of hand really easily when I'm packing for a trip, which is why I love dual-use products. My absolute favorite is RMS's peach luminizer, and I honestly can't imagine a trip without it. I use it on my lids, cheekbones, and Cupid's bow for, dare I say it, JLo-level glow.
3. Supergoop Unseen Sunscreen: This sunscreen checks all the boxes for me. The texture is more like a primer than a traditional sunscreen, it's clear, and it absorbs almost as fast as you apply it.
Want more stories like this?
It's True: Press-On Nails Are Back
8 At-Home Scalp Products Your Hair Routine Needs
Want Fuller Brows? These Products Will Help You Get There
Part of the series:
WWWRN