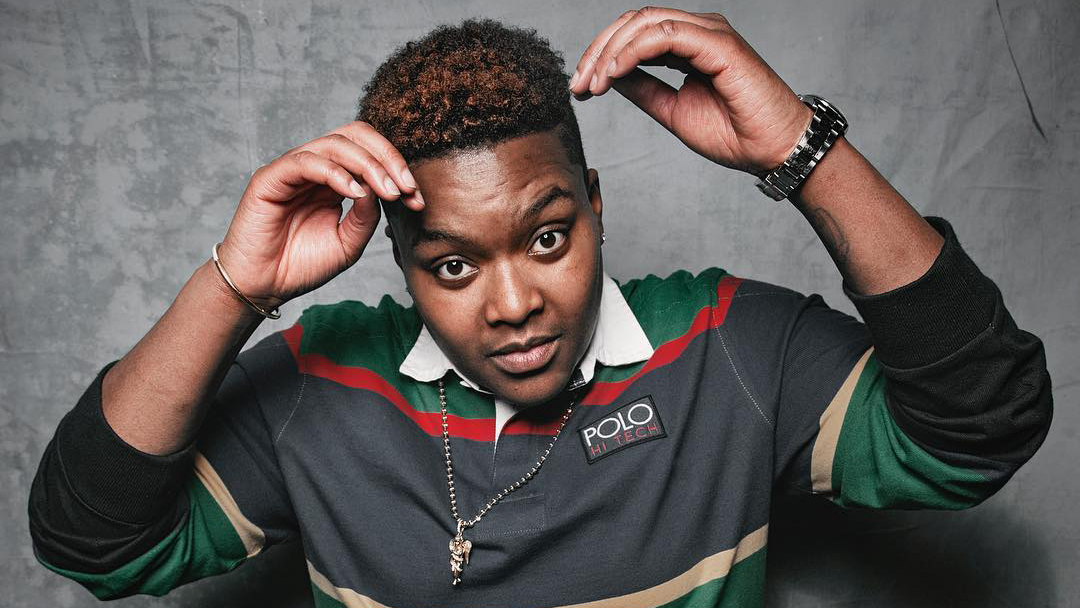 Comedian Sam Jay Knows Exactly How Her Funny Works
The comic talks her new Netflix comedy special and staying in the game long enough to see her star rise.
Don't ask Sam Jay if she thinks she's "made it." She might be an SNL writer going into her fourth season, an accomplished stand-up with a comedy album called Donna's Daughter and writing credits for the 70th Primetime Emmy Awards, to name a few, but if you were to ask the comic, she'd say she's really just stepping up to bat. "I've done half-hour specials, but this is my first hour-long comedy special-special,"  she says, adding, "It's kind of what you play for. It definitely feels that way now that I finally got to do it."
Sam Jay: 3 in the Morning is a distillation of her life in and out of comedy. Recounting the arc that took the Boston-raised performer from (hilariously) discovering her sexuality as a teen to finding her tribe in Atlanta, the special spares no grievance or triumph, laying it all out for laughs. This takes courage—so much that Jay's comedy career was just an idea for years before she decided to actually pursue it, despite being born with the chops. "I've always been funny," she says plainly. What makes her funny? "I'm more of a thinker and a pontificator, and I gotta sit on things and analyze every angle, pull them all apart, then put it back together in my own way," she says. "I was always funny and could hit you with a witty observation. When everybody was always roasting each other, I'd stay super quiet, then come with something crazy at the end cause I'm watching everything."
This gift of observation also means Sam Jay isn't scared to take it there with her comedy. At one point in the special she tells the audience, "the world is moving faster than we're ready to think about," and proceeds to break down why. As a fan of comics like Dave Chapelle and Chris Rock, among others, Jay was never interested in keeping her comedy safe. "I like comedians that push you a little bit out of where you're comfortable and into another space for a little while, and to me, that's the most compelling comedy, and it's in line with my voice and something that I want to talk about," she says.
As for what she wants to talk about, few things are off-limits. Whereas most audiences wouldn't know how to relate to the masculine-presenting lesbian, Jay subverts whatever you might take her for at face value with finesse and banter. "With the feminine and masculine and feeling like this is truly who I am, people try to throw you in boxes that make sense for them," she says. Dodging those assumptions with agility might not be easy for most, but for Jay, it comes from a lifetime of practice. "I think, as a Black person or a person of color, you realize that first," she says. Having that, the comedian is happy to be disruptive in the name of comedy. "Those are the vibes I want, especially when I think of queer people watching it and Black people watching it and thinking, 'OK, we got a shooter. Someone's not playing—someone's shooting,'" she says laughing.
When this mastery of her voice landed her as a writer on SNL, Jay stepped into a whole new game. "It was definitely hard to learn how to take this singular voice that I spent so long developing and turn it into something where I was using other people's voices to convey an idea," she says. Learning all the moving parts of sketch comedy with the best in the business has been a rewarding challenge for the comedian, whose collaborative work on the show has taught her a lot about working with other talents. One of the things she learned? "Seeing where people are strong and the types of characters they do very well or the characters that really excite them. They can take it and really grow it because when all the players are into it, they're going to make it something else—they're gonna just ball and start to play their own way, and that's the dope thing because you see they like this sh*t and they're having fun," she says.
Even though she's keeping busy, Jay always finds the time to put the experiences back into her personal work. Hence the special's title, 3 in the Morning. It's a work named after the mode of operation it was created in, a nod to the creative process. "I just felt like that's when I was up late and the wheels were turning and I was writing or I was at The [Comedy] Cellar arguing and riffing with comics and making jokes or thinking about the set I just did or I was up roaming the city. It's also kind of a witching hour for creatives, just that time when we're up and the world's sleeping," she says.
The hour-long special is now available on Netflix and was filmed in Atlanta, the city that made Sam Jay. "It's where I was born and where I ended up going back to and went to school, and I lived there for eight years," she says. "I met my girl there, I came out in Atlanta, made all my gay friends that I have and all my lezzie friends in Atlanta, so it definitely was where I found myself," she says. Who makes this comedian laugh the most? "I find my girlfriend to be one of the funniest people, and it's great because she's not trying, but she's super witty and she's one of those people who can go back and forth with me all day long," she says. With no real beauty routine to speak of, the naturally ageless performer also credits the laughs for her complexion. Does laughing keep her young? "I think it does. I really do. I think being funny and especially being in comedy around funny people all the time and being able to take even the darkest things and crack them open and laugh at them, it definitely keeps me right."
Photo: Courtesy of Instagram/@samjaycomic
Want more stories like this?
Female Basketball Players Work Twice as Hard, So Why Are They Paid Less?
Rising R&B Artist Jayla Darden Does It All—and We're Here for It
This Art Collector Wants You to Know Your Artists