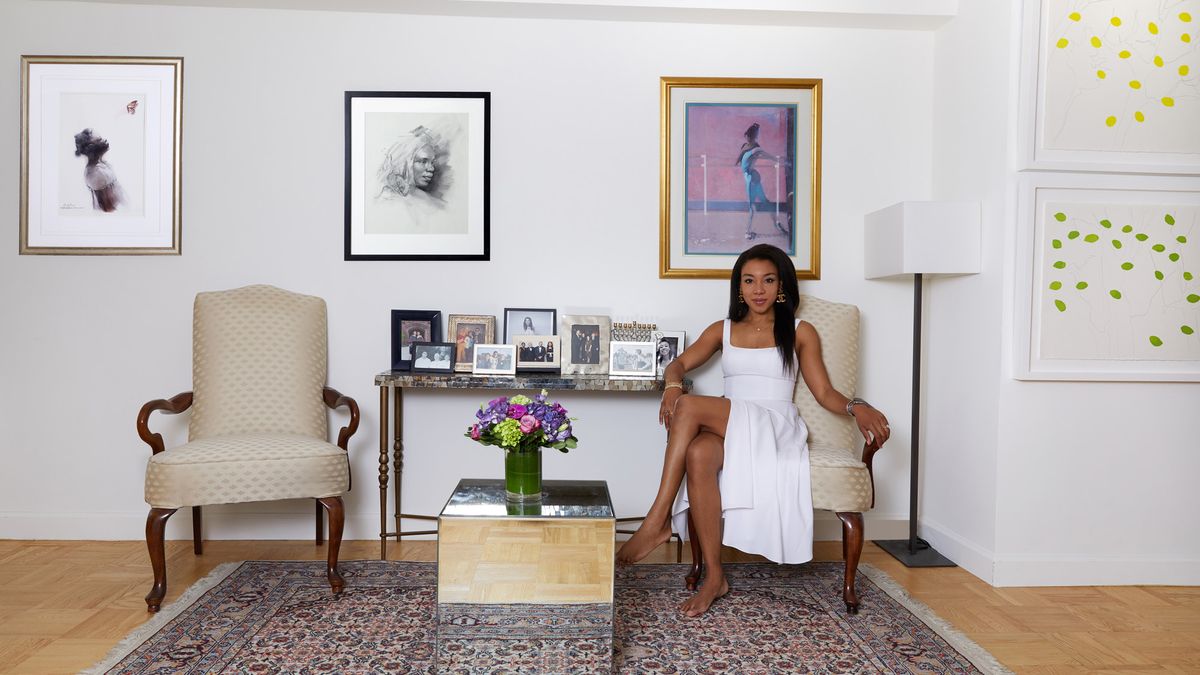 Culture
To form her widely diverse art collection, Arielle Patrick skipped the galleries and connected with the artists behind her favorite works one-on-one.
Just because you can't afford to start your art collection with a piece from Pace Gallery or Hauser & Wirth doesn't mean you can't get started as a collector. Arielle Patrick, a rising-star collector in the art world—and one of the youngest senior executives in financial communications consulting—has built an incredible collection of works from diverse artists through getting to know artists on a first-name basis. "I've been conscious of diversity my whole life," says Patrick. "Now seems like a good time to highlight creative people from diverse or nonbinary or LGBT or any backgrounds."

Her current collection runs the gamut of works by artists from Hanuk to Paul Colin. Spread across her Upper East Side apartment that she shares with her new fiancé, Patrick's recent purchases may come from the auction circuit or certain art-world mainstays, but her collection began from her own networking and connecting with each artist on a human level. "Every one of these pieces [has] a story. It's different depending on the piece," she says. "The running theme is a mutual connection or relationship with the artist [themselves]."

More recently, she's even worked to help newcomers to art collecting expand their perspectives past traditional methods. She's hosted studio tours for artists with works in more approachable ranges like Mark Fox and Yasmine Arman, among others. Coveteur spoke with Patrick about how new collectors can better support a more diverse range of artists and expand their collections.


---
There's something immediately humanizing about your collection, juxtaposed with you as a relatively young collector. What advice would you give to new collectors starting out who don't have a checkbook to stop by David Zwirner on the way home, but also don't want the same Matisse print everyone has?

"When I was about 22 or 25, right out of college, I knew that I was obsessed with collecting, but didn't have the money. My first job paid under $40,000. I had family in the city, and my parents would bring over meals once in a while, but I was largely on my own and voracious about going to art events and getting exposure to the community. What I did was join young members groups of museums. (The ticket prices on those memberships can be high as well, though.) What I started realizing was walking into a gallery is intimidating for a starter collector and certainly isn't in the price range. My focus was bringing artists to young collectors directly. That's how I started my collection—meeting artists, getting to know them, visiting their studios, and then collecting when I could afford it. Skip the gallery, skip the auction house, and get to know these artists as people. If you feel you have synergy with them, keep the conversation going, and follow their work to support it when you can."

In supporting more diverse artists, I'm sure there are art collectors out there who may think they're being objective by just seeing a painting they like and buying that painting. What those people may not realize, though, is it overlooks galleries representing and exposing a wider range of artists, potentially. As a collector, how do you find artists at the gallery level?

"I think galleries have an important place in showing important art, but I also think they can be prohibitive to artists of any color or gender who are starting out in their careers due to the high commission. To a degree, that almost preselects which artists are able to show in galleries. It then trickles down to what kind of art they are showing. For artists like Kara Walker that have become mainstream, you might find that galleries will wait until there's a New York Times piece and the work has really blown up before they entertain showing them. Someone like Kerry James Marshall, who was at the Met Breuer just recently, I'm sure it took some time for him to show up on the radar of mainstream galleries. The commissions cost is a big barrier to entry for artists, which is why I prefer to go direct. The path of an early collector sometimes mirrors the path of an early artist. Early artists can't be in mainstream galleries for the same reason early collectors can't go to mainstream galleries."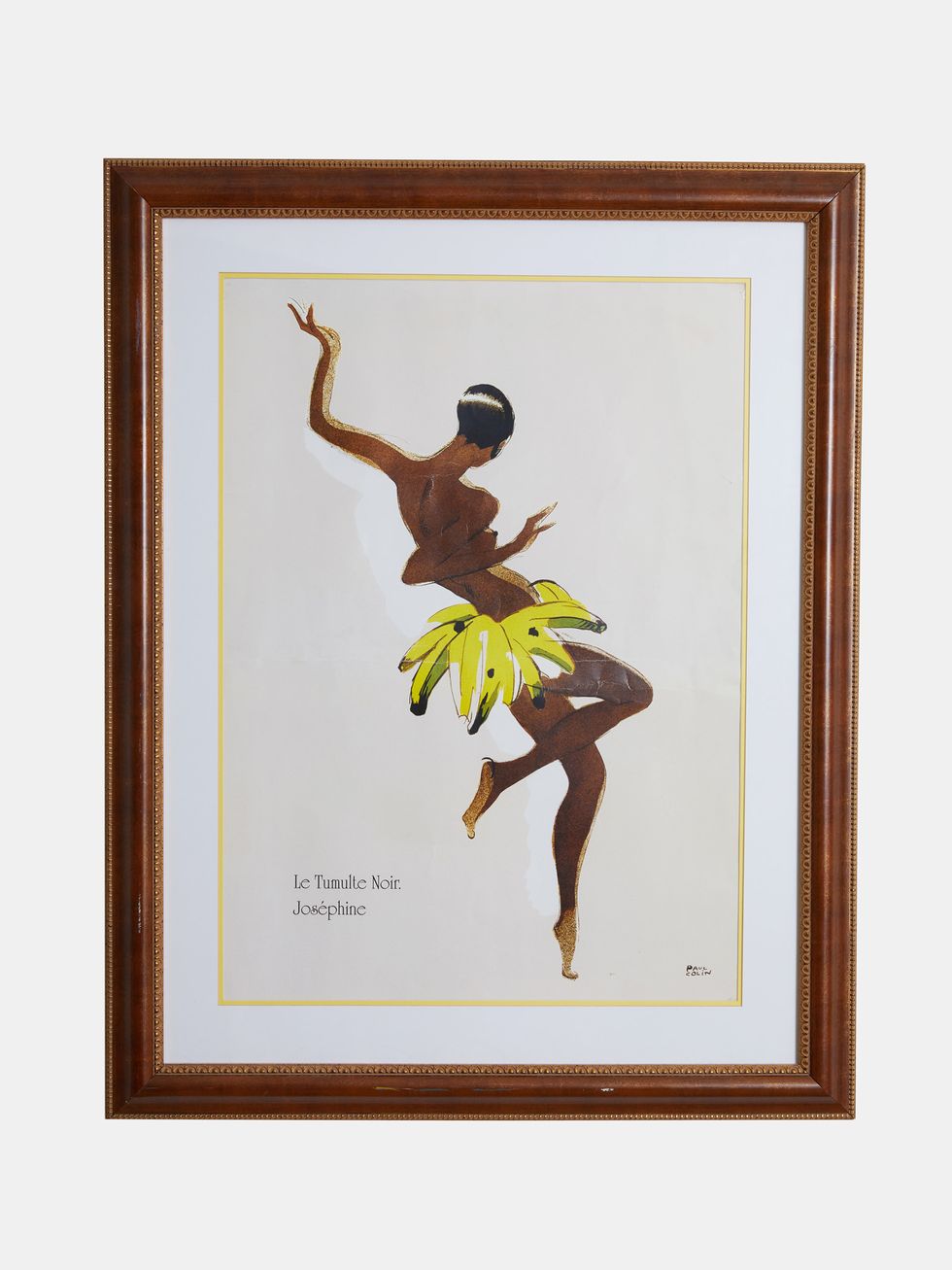 Photo: Parker Calvert
To those new to art collecting, it may be easy to see a big price tag on something at a mega-gallery and assume these artists are living in the lap of luxury. In getting to know artists more personally, what have you learned about the balance of where that money goes in getting to the artists themselves?

"It's actually similar to any trade where there's hidden costs. There's the commission the gallery gets, but often to get to a gallery you need to be represented. Often that agent or go-between also gets a cut. Then, artists are often tasked to frame things themselves. It's rare that a gallery takes on the framing costs for a work. Then there's labor and transportation and all these other things.

"There's also the buyer's life cycle. I don't know if all galleries do this, but the buyer can often hang on to a painting for a certain period of time before deciding to [purchase] it or not. It's not like the money comes in right away. For many galleries, they offer a grace period for buyers to live with the work before deciding to keep or return it. You need to financially plan for those things as an artist; I think that's why so many appreciate the direct contact. In my collection, the majority came framed, but the few that I framed on my own were because I knew it was too much to ask the artist on his or her own. Sometimes the frame can be more expensive than the work itself with the right glass."


How do you handle reaching out directly to the artist about rates and getting a price? Ideally, direct sales would be a bit easier on the collector's wallet, but you also want to support the artist as much as possible:

"I have a policy that I go with the price that they name when working directly with an artist. I never barter because I know that artists are quite honest. It's very rare that a price quoted is the same as the price in a gallery because they know that there are more costs involved with that. So I just trust the artist. I also know that their work is invaluable. All art is undervalued. If a piece makes you happy, it's inherently invaluable. Rather than negotiating a price, go in knowing what your price range is. One thing that people don't realize is that many of the auction houses are increasing their online sales to attract young collectors because they're generally more affordable."

When buying a new piece, are you ever concerned about how the work will look in your own apartment? To a certain extent, art is changed by the environment it's in, so how does knowing your own home's aesthetic change your buying habits now?

"I do the opposite of that. I've been in my apartment now for three years. I find myself shifting furniture around to better the art. For a year I hung all the paintings and had no furniture except for a bed. The reason I have such a simple wooden dining table is because the Hanuk paintings over it are so extra that I didn't want to distract from them in any way.

"My fiancé moved into my apartment earlier this year, and it was a huge endeavor to decide what pieces from a furniture perspective could stay and which couldn't because I was so attached to where the work was hung. I've moved some things around, but one of our fights is always where the televisions go because I feel they take away from the work."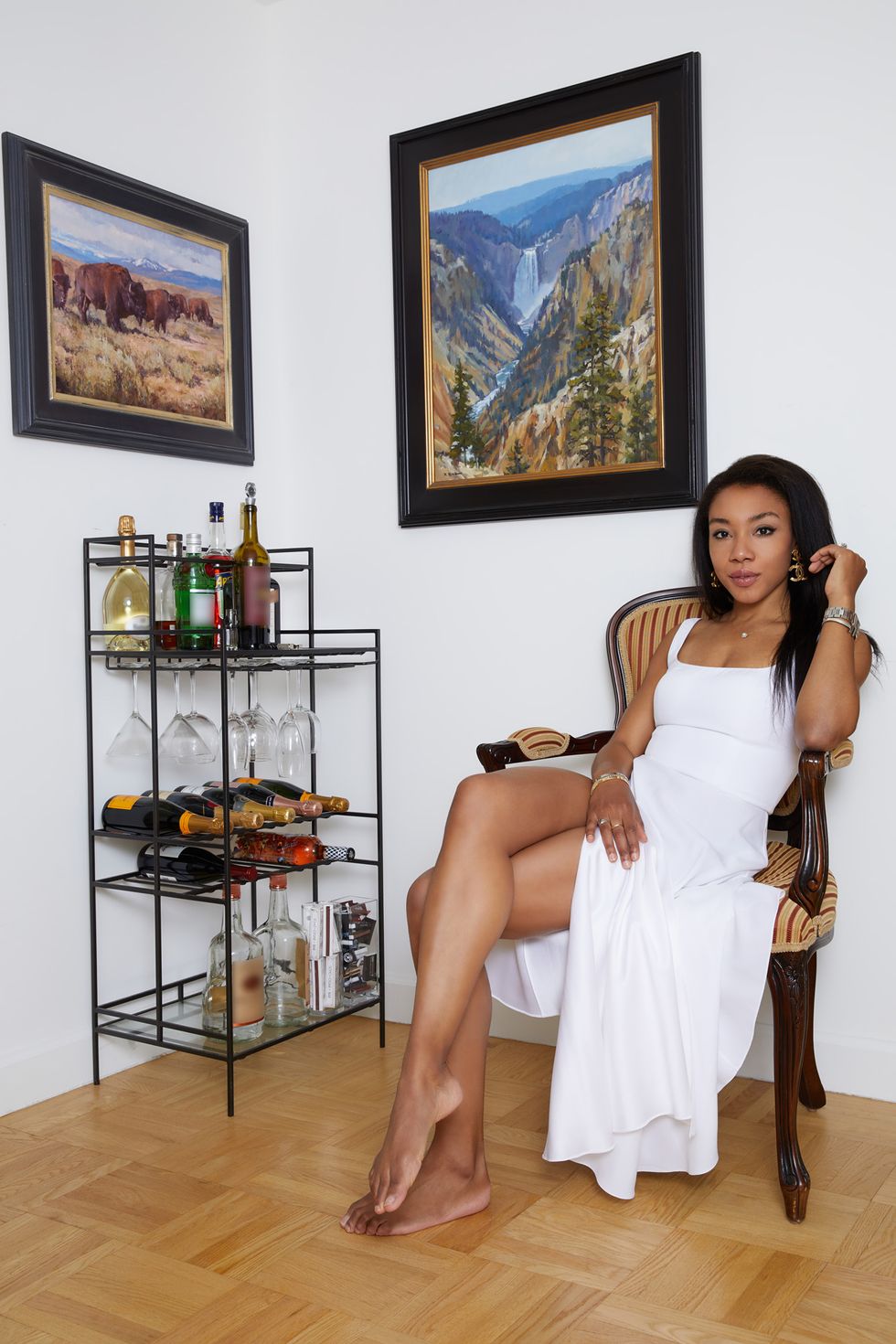 Photo: Parker Calvert
Apart from the works hung on Patrick's walls, she's always looking to support burgeoning makers and artists in other mediums. For those who don't have the funding to support artists by purchasing a painting for a few thousand right now, some of Patrick's other favorite artists and artisans are creating everything from china tabletop products to custom fashions.
"Founded by Shilla Kim-Parker, Thrilling deals in fine vintage wears from Black-owned businesses, pulling products from all over the world together."
"For [a] beautiful tabletop product for your next at-home meal, this Black-owned business, founded by Ajiri Aki, has the most beautiful china. The company is based in Paris, but has US-based operations."
"A Black artist I love, who also offers more accessible art, is CiCi Ramirez. Her work is also in my collection, and she does bespoke/custom pieces as well as off-the-shelf."
"The dress I'm wearing is a custom piece by Burnett New York, founded by two women I love and admire, Sterling McDavid (investor and entrepreneur) and Emily Burnett (former creative director at Dennis Basso). What makes their business special is that they are completely and entirely run by women on the production and corporate side. They also partner with the Parsons School of Design to donate unused fabrics and materials to design studios in underprivileged communities."
Photos: Parker Calvert
Want more stories like this?
Meet the Director Changing the Narrative of Black Women in America
Producer Sylvia Zakhary on the Value of Authentic Storytelling
Finding and Maintaining Your Inner Creative