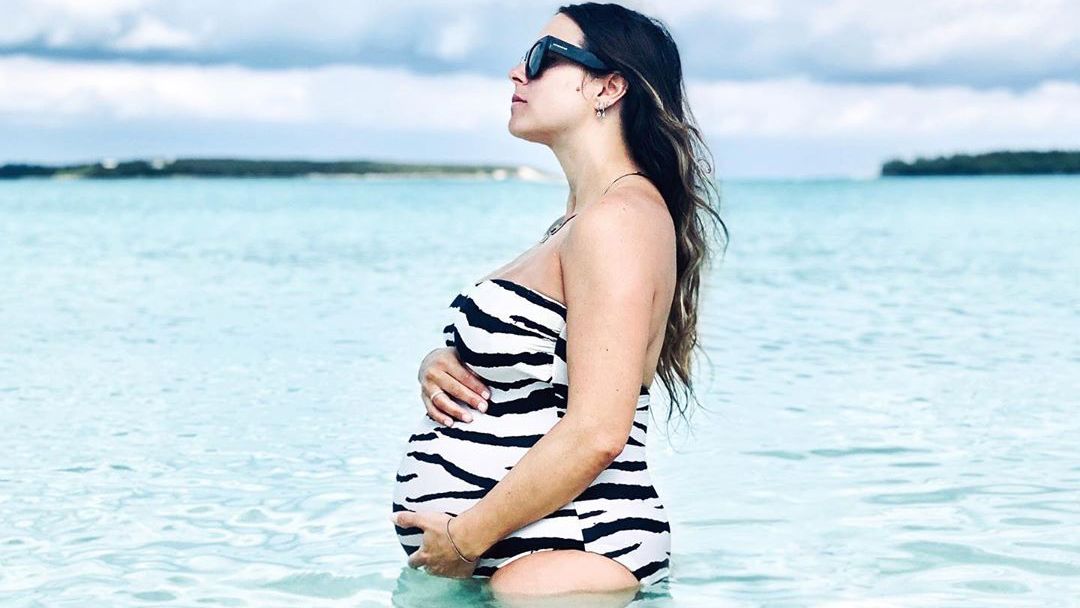 Living
A deeply personal love letter to her child.
Dear Dumpling,

Why do we call you dumpling? Because that is all I craved when I first got pregnant. You're 10 days away from being here—or so we think—and everyone keeps asking how I am holding you through all of this. So instead of telling them, I thought I would tell you—especially since navigating our way through a pandemic was not part of my birth plan.

After 20 years of friendship and work partnership, your father and I fell in love. Surprise number one! Dimitri and I got married in July 2019, and we never imagined you would have picked us to be your parents quite so quickly. And while I was so excited, I was a bit scared about all the unknowns of pregnancy. You don't know this yet, but I'm a little bit of a control freak and thought I could plan my life out very carefully.

Surprise number two. Little did I know how different things would be just nine short months later. Normally, we all go to work, play outside, socialize, and share things with our community IN PERSON…no masks, no gloves, no suspicion. But in the months leading up to your birth, things changed pretty dramatically because of COVID-19.


---
I had a P.L.A.N. As a Swiss Virgo New Yorker, I pride myself on an ability to seamlessly map out my vision for things. I would give birth in New York City—your grandparents, who live upstairs from us in the West Village, would be here to help. Your babushka and dedushka would meet you at the hospital. I hired a doula so I could have the most loving, stress-free, natural birth feasible. I would work my tail off until you arrived. My nearest and dearest planned a baby shower; my sister would fly in from the West Coast right when you arrived. Your grandparents and auntie and cousins would kiss and snuggle you right after you were born. It was all set. There is a famous saying… "We plan, god laughs." I have never felt that more acutely than now.

Then the earth shifted under our feet, and COVID-19 hit New York like a tidal wave. From one day to the next, change became the only constant. I went into the office one day and had to pack up everything I could carry home with me because it wasn't safe for us to be around other people anymore. I felt like I was robbing myself, gloved and masked, shoving loose stones, jewelry, and electronics into a duffel bag. At that point I still had a fantasy that I would be back to the office in two weeks and could wrap everything up before you arrived. I had a tough time adjusting to the reality that I was a person "at risk" because you were in my belly and that it would be months before things went back to "normal." After all, I felt so strong and had my entire pregnancy.

And one by one, many of the things that made me feel stable started falling away. We canceled the baby shower. I went to all my doctors' appointments alone. We didn't think your papa or our doula could come to the hospital with me when you were ready to meet the world. We had to wear masks just to walk down the street because we weren't sure if it was safe outside. There was no toilet paper—anywhere. New York runs through my veins; it is part of my DNA and was the only place I had ever considered having you. But suddenly, I began to question whether or not to leave, fearing labor on my own without your dad's support.


Everyone kept telling me the most important thing was to stay relaxed, keep my stress down—that just made me laugh. HOW, I asked? There was no more routine, I couldn't see my friends or my team. Perhaps most heartbreakingly, my parents were stuck in Switzerland and your aunt Nina was unable to leave Los Angeles. There would be no family cuddles when you arrived.
Surprise number three: Even though this was all terrifying, especially for your type-A mama, some beautiful gifts came out of it. I slowed down, which has not happened in the 10 years since starting Eva Fehren. Your father, Dimitri, and I have always worked on creative projects together ever since we met at The Cooper Union. But I don't think I could have genuinely grasped how lucky I am to have married my best friend, my collaborator, my backbone, until now. We have created so many beautiful things together during this time, filling the days with photo shoots and design projects, and trying to cleverly reinvent the way we communicate with Eva Fehren customers. Your papa has taken great pains to document this entire experience, especially my growing belly, for all our friends and family who are not seeing it in person. We feel like a team. No distractions.
I always find a sense of calm doing things with my hands. Drawing, knitting you a blanket, decorating your nursery with DIY dressers and mobiles. I am designing new jewelry, trying to envision what you may want to wear one day. We are putting together your bassinet and folding all of your baby clothes Marie Kondo
–
style. And while I expected to share these experiences with family and friends, there is a tenderness and simplicity in focusing on it alone with my partner. It really feels like the beginning of the three of us—and that is perfect, too.
How am I, and what am I looking forward to now? Surprise number four. I am pretty calm and focused these days. You make me feel like a warrior. You have helped me realize that I am tougher than I ever knew. That mothers are inherently strong. I am looking forward to meeting you. And beyond that, I have no expectations. For the first time ever, I have no real plan except to help make up for all the missing kisses from family and friends myself. And hopefully finish this baby blanket.
Top photo: Herring & Herring
Want more stories like this?
The Truth about Postpartum Anxiety During a Pandemic
What It's Like to Be a New or Expecting Mom Right Now
Can I Do My Yearly Well-Woman Visit via Telemedicine?