Expert Tips to Help Your Fragrance Last Longer
Smell good for hours—despite the summer heat.
Shopping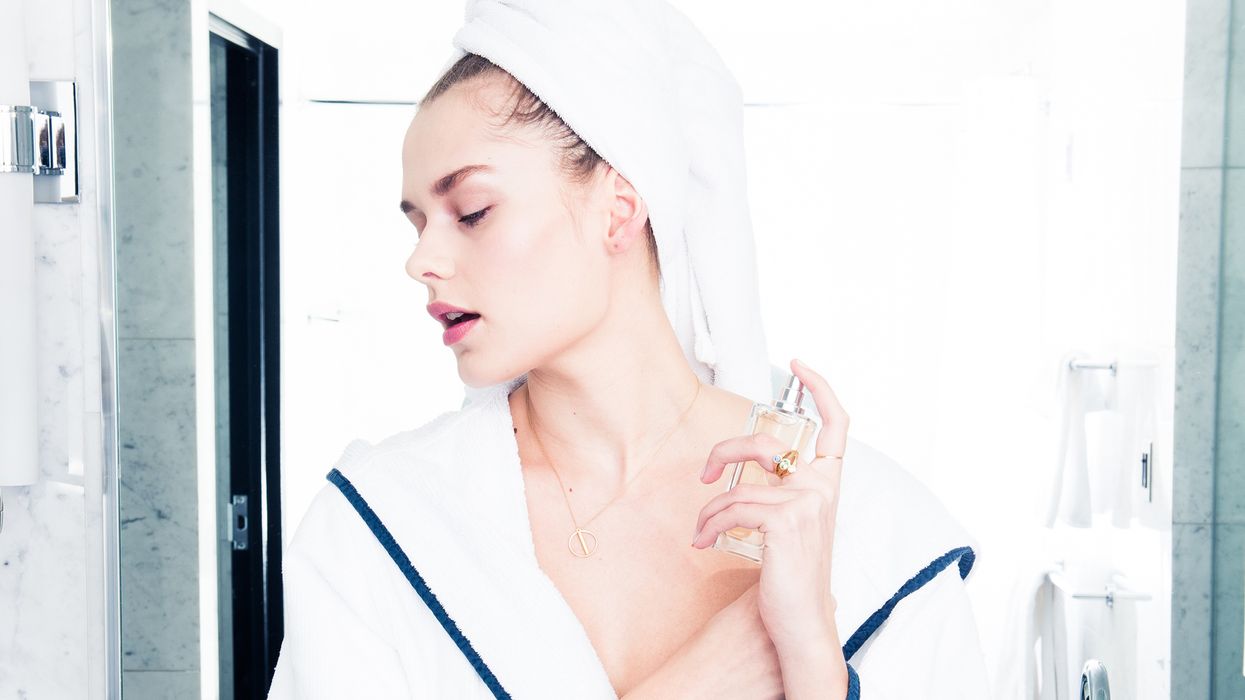 Summer is all about scents
—
the aroma of a savory barbecue with friends; the salty tang of
a day at the beach
; the freshly cut grass of your local park or backyard. But it's also a time when we're acutely aware of how
we
smell, meaning that (fingers crossed) your
preferred deodorant
is doing its job and your seasonal fragrance hasn't worn off by lunchtime.
Whether you're partial to a citrus-forward eau de parfum or a robust floral with a sugary dry-down, we'd all prefer it if our choice of scent lasted just a little bit longer. Sure, there's nothing wrong with carrying a miniature bottle around with you to reapply as needed, but wouldn't it be great if there was a technique to help your fragrance stick around? According to
Givaudan
vice president of perfumery Adriana Medina, there is.
First, it helps to understand why certain scents seem to last longer than their counterparts, which relates to the general structure of a fragrance: the top, middle, and base. Says Medina, "When you first spray a fragrance, you get a whiff of all the top notes, which are lighter and [fresher], like citrus, fruits, and green. Those flush off the skin quickly. After five minutes, you have more of the heart of the fragrance, or the main notes, which could be floral, fruity, spicy. Later on in the day, you get to the bottom of the fragrance."
The reason those base notes linger is due to their molecular weight. A raw material, like the flower or wood, that has a heavier molecular weight better adheres to the skin than the top and middle notes, which is why your fragrance undergoes something of a transformation throughout the day. It won't smell the same fresh out of the bottle as it does after a few hours of wear. Medina explains, "It's important to have a base that has a combination of these [heavier] ingredients like wood, resin, musk, or vanilla to make sure the fragrance stays with you and will last longer." So even before you purchase your scent, the formulator behind it has already made choices that will determine how long that particular blend stays with you.
When you're in the market for something that will cling to your skin for hours, Medina recommends selecting something with an amber, woody, vetiver, patchouli, or vanilla base, all of which can linger for 24
–
48 hours. She says that oriental blends especially will last you from morning until night.
That doesn't mean that lighter, more
summery fragrances
are out of the question for a long-lasting scent. While it's true that fresh and floral scents will only last a few hours, according to Medina, for the right formulator, it is completely possible to use these heavier notes to create a warm-weather option. "The key is to combine these notes with a cedarwood, sandalwood, or a vanilla."
This applies even more so to the world of natural fragrances, when you're only relying on raw materials and using zero synthetic scents. Some would argue that natural perfumes rarely last as long as others on the market, but Medina says that is a misconception in the industry. "There is no natural musk that you can use in natural fragrances, so that is kind of a challenge. But there are other natural woody and resin ingredients that you can use for a long-lasting [formula]. It depends on the character or the family of the fragrance. Obviously, if it's a citrus, you don't have anything in the base that is holding it. But if you combine it with a natural tuberose or a natural jasmine, it will be very long-lasting because you are using these natural florals."
Once you finally select your fragrance, the next step is to apply it strategically for maximum effect. Medina recommends the pulse points—aka the neck, wrists, and the inside of your elbows. "Because of the body heat, [these spots] help to diffuse the fragrance as you are wearing it." To further amplify the scent, she also suggests applying it after you shower or bathe, when your skin is still warm, as a "finishing touch."
To ensure that your fragrance stays prominent throughout the day, she advises investing in other products with that particular scent (if the brand offers them), like body lotion and body wash. "There is a reason why they are created, so you might as well [use the] body lotion and layer your fragrance on top of it. You'll get a double effect of a fragrance and carry it with you."
Worried about going a little overboard? It's a valid concern, especially considering most of us grow accustomed to our perfume and no longer sense how strong it is. For your neighbor's sake, take a less-is-more approach with your eau de parfum (which has about 25 percent oil and is highly concentrated). One good spray is plenty, in Medina's opinion. Just pair it with the accompanying products and stick to your pulse points, and you'll smell fantastic from morning till night.
In case you're looking for a new go-to summer scent, check out five of our favorite clean fragrances below to shop now.
---
Like a stroll through a citrus orchard in France, this scent is grounded in rich sandalwood and vetiver, with top notes of crisp lemon, jasmin, and mandarin orange. It envelopes you in all the right ways, and despite being an all-natural fragrance, it will cling to your skin for hours.
If you miss being close to the ocean, this sensual and vaguely floral blend will take you there this season. A musk, ambergris, and sandalwood base mixed with creamy ylang ylang and magnolia dianica, it's your beach vacation in a bottle.
Looking for a delicious floral to pair with your warm-weather activities? Grounded in liquid musk, ambrette seeds, and pear nectar, this blend is the ideal complement to your sun-kissed skin this season.
Nothing says summer like a tart, crisp grapefruit. Equal parts juicy and bitter, this tantalizing scent will have everyone in your vicinity wondering what mouthwatering scent you're wearing this season.
Who says fruity scents have to lean super girly? This sophisticated green apple, melon, and pineapple sorbet blend (from Michelle Pfeiffer's line, no less) dries down into an elegant, soft white wood and sandalwood musk.