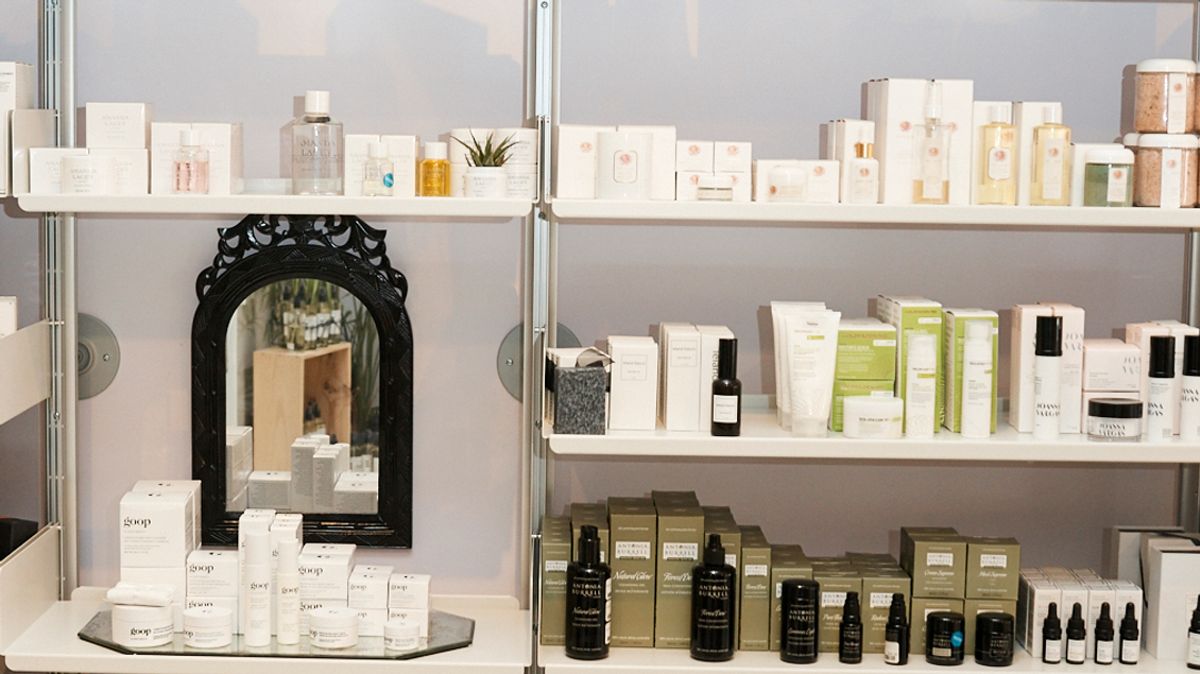 Skin
Plus, the products your dermatologist loves.
When it comes to marketing, it's all about identifying the new buzzword along with the carefully crafted phrases that lure us in and convince us that a new product will solve all our skin-care woes. Lately, beauty companies are jumping on the
"
anti-pollution
"
bandwagon with a surge of niche products hitting the market that target urban dwellers with claims of
deflecting free radicals
, neutralizing pollutants, and shielding against environmental damage. But what really sets these products apart from the rest, and are they even worth our attention and money?
To find out if the
"
anti-pollution
"
claims are a marketing gimmick or if there's any real science behind them, we consulted the pros:
Dr. Morgan Rabach
, board-certified dermatologist, assistant professor at Mount Sinai School of Medicine, and co-founder of
LM Medical NYC
;
Dr. Anne Chapas
, board-certified dermatologist and founder of
Union Square Laser Dermatology
; and
Dr. Caroline Robinson
, MD, FAAD, and dermatologist and founder of
Tone Dermatology
.
But first, a quick refresher on the pollution we're dealing with, what it's doing to our skin, and our best line of defense against it.
---
Pollution vs. Your Skin
The skin is exposed to a wide range of environmental aggressors every single day, and simply going about our daily routine leaves it vulnerable. "The effects of pollution on the health of our heart and lungs have been well studied, but the impact on our skin is something we are continuing to learn about," says Dr. Robinson. "Eighty percent of skin aging can be attributed to external factors, among which pollution plays an important role." She goes on to highlight the three components of pollution impacting our skin the most:


Ground-Level Ozone: a colorless gas that forms on the Earth's surface


Polyaromatic Hydrocarbons or PAHs: chemicals formed by the burning of oil, gas, and coal


Particulate Matter: small particles of pollution that float in the air


All three dermatologists agree that particulate matter is what we should be most concerned about, with Dr. Chapas noting it as being "the pollutant with the most studies conducted demonstrating damage and pigmentation to the skin." Dr. Rabach emphasizes that much of the danger lies in the variance in particle size, which allows some to be inhaled and absorbed through the pores, while larger particles sit on the skin like a thin film,
clogging pores
and causing damage to the cells.
According to Dr. Chapas, studies have connected these pollutants to increased oxidative damage, inflammation, and changes in the skin's microflora, and that "over time, exposure to these pollutants can weaken the
skin's natural protective barrier
, leaving it vulnerable to dryness and sensitivity."
Dr. Robinson adds, "In addition to producing free radicals, air pollution can also directly lead to a reduction in our skin's antioxidant levels."
Your Best Line of Defense
As the saying goes, the best defense is a good offense, and skin care is no different. A proactive approach is king as you consider the cumulative effects of exposure and the resulting damage to the skin.
When it comes to defending the skin against pollution, Dr. Chapas recommends products designed "to boost the skin's cellular defense for an anti-pollution effect that protects against environmental aggressors and inhibits the skin-damaging effects of free radicals."
Dr. Rabach adds, "It's not necessarily one product, but many different active ingredients that have shown to be beneficial," citing vitamins A, C, E, B vitamins, resveratrol, green tea, peptides, and growth factors as examples.
"One of the best things we can do is decrease the impact of pollutants on the skin through the use of antioxidants and UV protection," says Dr. Robinson, stressing the importance of a routine that consists of a solid foundation of gentle cleansing, moisturizing,
broad-spectrum sun protection
of SPF30+, and
topical antioxidants
.
Cleansing is particularly important, and just like the age-old adage
don't go to sleep with makeup on
, the same goes for pollution to ensure particles are washed away and not being absorbed into the pores. Dr. Robinson recommends a
gentle cleanser
that doesn't disrupt the skin barrier. For those partial to the
"
double cleanse
"
method, Dr. Chapas recommends an oil-based cleanser to break down makeup, debris, and pollution, followed by a cream or gel cleanser.  A
gentle AHA/BHA exfoliant
can also be helpful in breaking down accumulation on the skin's surface; however, Dr. Chapas cautions that over-treating the skin with acids can compromise the skin barrier.
The Verdict
Dr. Robinson points out that "until we fully understand all of the impacts of pollution on the skin, the 'anti-pollution' claims are more marketing-based," adding that given pollutants impact the skin through both inhalation and contact with the skin, and it is impossible to completely prevent inhalation, there is no such thing as a true
"
shield against pollution,
"
as some product claims suggest. "Skin-care ingredients don't need to be labeled
'
anti-pollution
'
to scavenge free radicals and boost the skin's natural defenses," says Dr. Chapas. "Most of the products I recommend for this purpose don't typically tout this on their labels."
When asked which anti-pollution products we could easily pass up versus which ones would be worth investing in, the consensus is that it really comes down to the concentration of active ingredients. According to Dr. Rabach, a product that will provide effective anti-pollution protection is one that has a higher concentration of antioxidants. "The best 'anti-pollution' products are the ones that are going to stay soaking into the skin," says Dr. Rabach, who believes that serums are your best investment.
Dr. Chapas concurs and adds, "You could pass on a
'
one-trick pony
'
anti-pollution product and instead invest in a high-active serum."
Here Are Some of Their Top Recommendations to Defend Against Pollution:
Both Dr. Rabach and Dr. Chapas recommend this two-step system for its atmospheric protection against pollution and blue light. This product duo is formulated to give your skin the power to resist the environment's attack during the day and recover itself overnight. Backed by two dermatologists is enough of a push for us to try it.
"I prefer a gentle cleanser that doesn't disrupt the skin's barrier," says Dr. Robinson, who recommends this gentle yet effective cleanser for its ability to remove dirt, oil, and other surface impurities without stripping the skin of its natural protective oils.
Recommended by Dr. Rabach, this overnight recovery serum is scientifically backed to decrease free-radical formation. It works while you sleep to help the skin recover from daily stresses with a 3-in-1 formula containing melatonin, bakuchiol, and vitamin C.
Dr. Chapas loves this highly effective active ingredient concentrate for preventing cellular damage by offering skin the ultimate protection against the effects of free radicals, pollution, and environmental aggressors. The product's patented Organic Molecular Vessel (OMV) technology releases the active ingredients straight to the core of cells to strengthen and stimulate renewal. "This serum is an excellent product," says Dr. Chapas. "Malachite Extract boosts the skin's cellular defense for an anti-pollution effect."
This daytime vitamin C serum with a cult following delivers advanced environmental protection while improving the appearance of fine lines and wrinkles and brightening the complexion. Clinically proven to reduce the combined oxidative damage from free radicals, this serum is a favorite of Dr. Rabach.
With its blend of vitamin C, E, and other antioxidants, Dr. Robinson recommends this complex for its ability to defend and correct the skin-damaging effects of free radicals generated by urban dust and blue light. "It also has prebiotic technology in a non-irritating, moisturizing formula that helps support the skin microbiome," says Dr. Robinson.
"Contains hyaluronic acid and Vichy mineral-rich volcanic water to infuse hydration into the skin (essential for skin health and recovery) and can be used by even the most sensitive skin types," says Dr. Robinson.
Referred to as a "superscreen," this product goes beyond UV protection to defend against harmful infrared rays while supporting the skin's ability to restore itself with an advanced antioxidant complex. A Dr. Rabach favorite.
A hundred percent mineral, water resistant up to 80 minutes, transparent, and in stick form. Pretty much the perfect sunscreen, which is why Dr. Robinson recommends it to her patients.
If you're looking to complement your skin-care regimen with a supplement, this is Dr Robinson's pick! "Marketed as a hair-loss supplement, but I have found other beneficial uses based on the ingredients, including adaptogens, which are natural ingredients that are important in modifying how our system responds to stress (including oxidative stress)," says Dr. Robinson.