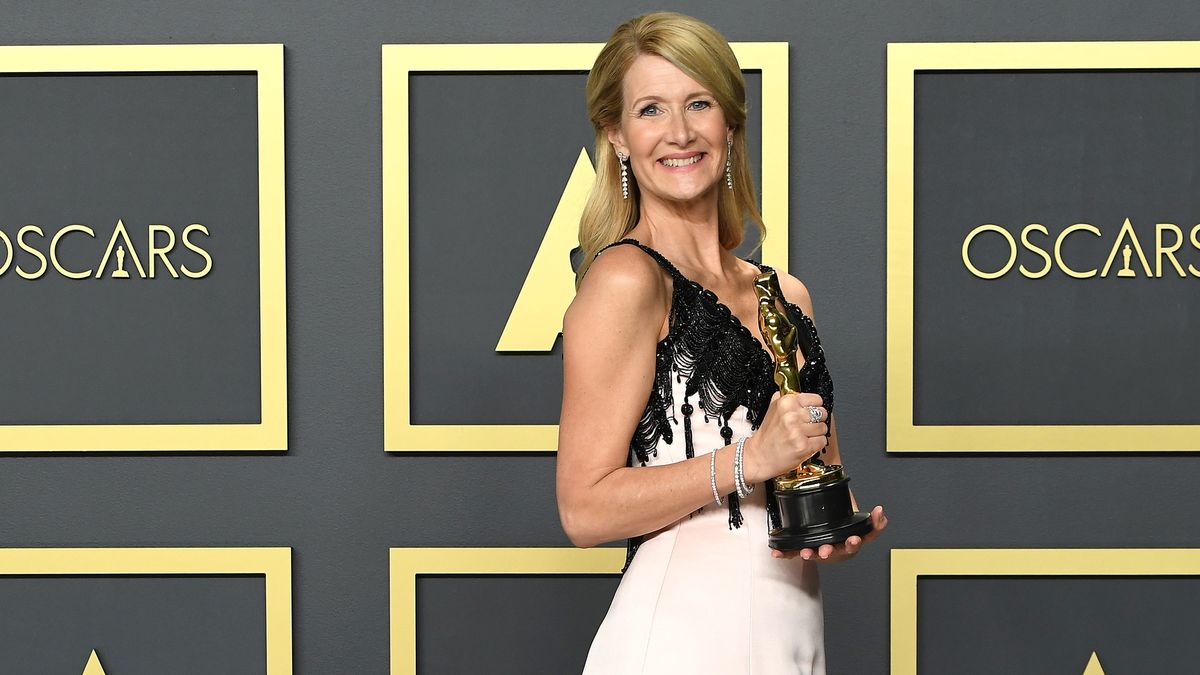 Celebrity
"Self-care has become using our voice."
Laura Dern is one of those actresses who enraptures the audience and charms the screen. She's been beguiling us since the late eighties, when she starred in a pair of David Lynch films—
Blue Velvet
and
Wild at Heart
. Last year she got her first Academy Award for her turn as a tough-as-nails divorce lawyer in Noah Baumbach's
Marriage Story
. She also played Marmee in Greta Gerwig's rendition of
Little Women
last year, which was so good we saw it twice (in the theaters! remember theaters?!).
Dern isn't just a Hollywood star, though. She's also deeply involved with philanthropy and has a track record of standing up for what's right. We spoke with her about her work with the
American Lung Association's COVID-19 Action Initiative
, which has pledged to donate $25 million over the next three years for respiratory research and other public health measures.
We also chatted about her choice to attend protests in Los Angeles over the past weeks and what it's like to have two teenage kids at home during a pandemic—her son, Ellery, who just graduated from high school, and her daughter, Jaya, who has been homeschooling and getting involved in social justice initiatives from afar, connecting with people all over the world during a time of isolation.
Dern's also staying busy by FaceTiming with David Lynch, which is a FaceTime we'd very much like to be invited to. She was gracious, thoughtful, and charismatic as we chatted about life in quarantine—and she keeps a sense of humor and gratitude throughout it all.
---
What's it like to have this big high of winning Best Supporting Actress right before going into quarantine?

"I think, like all of us, we came into quarantine from our own experience, our own moment, despite the fact that our parents told us that we have no control. We still continue to look forward in life to what we believe is ahead—and then everything changed.

"I had the great, good fortune of celebrating two movies I love with two directors [Gerwig and Baumbach] I love… We've shared on the phone how, my god, we were traveling the world with so many people, so many film festivals and constant conversation and input, to within a couple of weeks, total isolation and quarantine.

"I also have the great, good fortune to have a high-school graduate in my home. But his experience of being a high-school graduate in 2020 has been unparalleled. And my daughter's experience of being homeschooled in high school, too. I'm certainly grateful to have a job I love to do and to have come from a time that people enjoyed the work we'd completed before all of this happened.

"I feel like everyone's been going through this time figuring out how to be safe and healthy…but also asking deeper questions of ourselves that maybe we never have before. I know I've got to work out, I've got to do A, B, and C for basic health, but I think it's the first time in my life I've heard news journalists talking about mental health being a priority and the importance of finding nature, exercising, going for a walk. We've never had news teams remind us of these things. It's an incredible moment within all the heartbreak and fear."


Historically, it seems you've been choosy about who you collaborate with. Tell us more about why you decided to partner with the American Lung Association and CVS Health to raise funds for COVID-19 research—what about this initiative struck you?
"The partnership began the first time we worked together on this amazing
Lung Force initiative
they did in 2015. Myself and Reese Witherspoon had done a film adaptation of Cheryl Strayed's
Wild
. It felt like it was such an opportunity to walk through this with them and play Cheryl's mom [who passed away suddenly from lung cancer at the age of 45]. It meant so much to Cheryl, and to support families who've walked through the heartbreak of this.
"From that, I got to do some messaging work alongside one of my mother's dearest friends of her life, Valerie Harper, who at the time had been diagnosed [with lung cancer] and was such a hero, trying to help others and fundraise and support while she was in treatment. And my step-grandfather, when I was very young, died of lung cancer, so I'd had a palpable experience of watching the disease. I felt so grateful to know them and work with them.
"The American Lung Association came to me amidst this pandemic that deeply impacts the most high-risk, among them vulnerable lung patients—there are over 36 million Americans suffering from lung diseases, and they let us know that this is a disease that attacks the lungs.
"My mother is impacted by an environmental lung condition, so I became so aware. I had people reach out to spread what they were doing and any ways they can help. I also worked with
No Kid Hungry
and other organizations raising money—you just want it to matter, you just want to support our incredible first-responders. And then the American Lung Association reaches out, and in my mind, I'm thinking, 'Wouldn't it be amazing if they could give one million, two million to help support the cure? Help people know that social distancing and wearing a mask is so important?'
"Then I find out they're announcing their 25 million commitment. I want to do whatever I can do to help spread that messaging. Particularly at this time, we're all watching the reopening and we're seeing the very blurred messaging while the virus is still here. For my mother and others, I get so nervous about the lack of mask-wearing and people perhaps not being aware about what this moment still looks like.
"They told me that they're doing an in-store fundraiser with CVS until July 18th, and you can donate at the register or
on their website
and help raise funds to enhance public health measures to keep communities safe—particularly, underserved communities have been incredibly vulnerable to this pandemic—and at
CVS.com
, anyone can find out where to get testing right in their community. CVS has been setting up incredible testing facilities. It was with great privilege that I hope to lend my voice to continue spreading the word."
I saw that you posted some photos and videos on your Instagram of protests in L.A.—what was your experience protesting?

"One of the most perhaps extraordinary things amidst these protests and Black Lives Matter becoming household words that everyone knows instead of an organization that only some of us are aware of, it feels like this is a moment where instead of the business of the noise of our lives that makes us run where there's an emergency…and then we get overwhelmed with the next emergency, or the business of our everyday life—because of being in the state we have been, perhaps there has been the space to see the glaring injustice that has been here so long.

"When it was brought to everyone's attention, not just to those who are aware because they palpably live it, that self-care has become using our voice, that on our list of being safe, being careful amidst a pandemic, it's also being of service to our community, as we have been when we wear masks and when we social-distance.

"Here we've all been so terrified of this virus while an innocent individual can be murdered—it felt so glaring for so many. Given that my mother is a high-risk patient, I figured out a way, with my incredibly passionate teenagers, who are biracial, to protest in specific places where we could be socially distant and we could be wearing masks—we felt very lucky and relieved to see everyone around us taking those same precautions.

"I know others have risked so much to be in the front lines of this dialogue. It's very scary, and I also understand why it feels so essential. I think that commitment is the key, and it's going to be done in a myriad of ways, by so many, in such a troubled and delicate time.

"While all of this is happening, we can keep messaging how much we have to keep each other safe in this physical way."

Protesting in Brooklyn, I saw that everyone was wearing masks, but that's not so just walking around the neighborhood:

"True—I went to the market the other day, and I saw a lot of people not wearing masks. In the protest, I did not. Everyone was wearing a mask."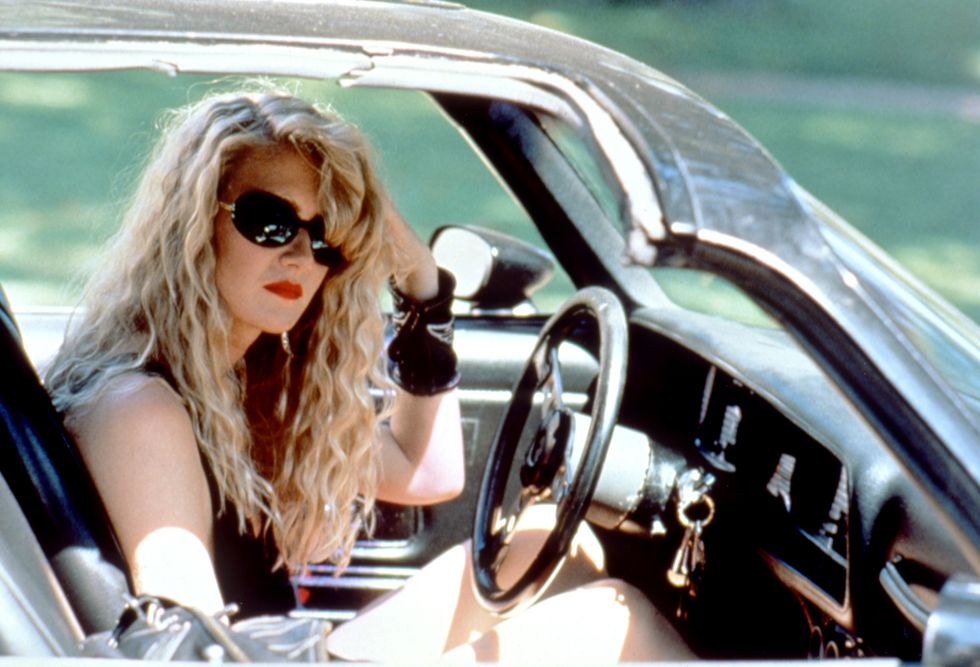 Photo: Getty
This is completely off topic, but I love
Wild at Heart
so much. When was the last time you watched it? Did you get to keep any of the clothes? Have your kids seen it yet?
"The clothes—god, I wish. I love the film.
"As
David Lynch himself said
, it's not them [my kids] seeing you in the movie, it's them seeing their grandmother [Diane Ladd] in the movie! She's totally brilliant and also somewhat terrifying. When they're in their thirties, maybe they'll watch that film.
"I did watch it some years ago, because we did a behind-the-scenes, a Criterion edition of the movie. But [the film] was an amazing gift, and it is a continual amazing gift, as David is in my life, who I've been regularly having FaceTimes with during this quarantine.
"You hope that you continue to allow yourself to be inspired as an artist, as a mother, to be inspired to be of service. It's hard, I think, to be an honest and empathic actor and not live a life of service. I think that's why a lot of artists and actors and musicians try to make it happen, both because they're given a microphone, but also because they have to try to remain empathic and vulnerable to do their job.
"This is the way I learn every day. This is my schoolhouse—to work with the people who want to make a difference and make it matter. To impact, save lives, make a difference, make people aware.
"What we've gained from this is a palpable sense of community. My children can feel it: 'I can't see my friends because Nana might not be safe.' We try to make a difference each day, to try to take care of our large family that is more connected than we've ever been, because we've never had one common enemy—this virus… It's quite a time for us all to be connected."
Top photo: Getty
Want more stories like this?
How to Shop Like Shoe Designer and Nail Artist Jessica Washick
Need a Distraction? The Best Shows, Movies, and Books to Delve Into
Friends of Coveteur on What They're Doing to Take Care of Themselves Right Now