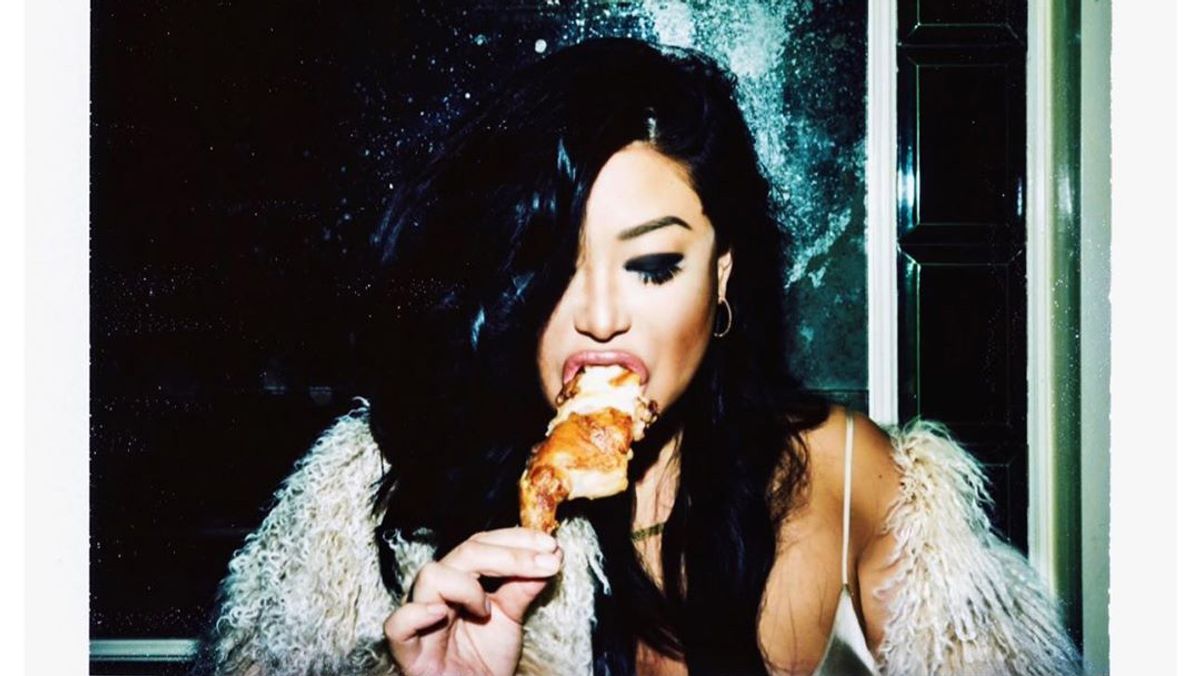 Food
In the Kitchen with Chef and Beatrice Inn Owner Angie Mar
Summer deliciousness.
In this episode of In the Kitchen, we follow the owner of the Beatrice Inn—a favorite haunt of the It crowd in NYC's West Village—author and executive chef Angie Mar, as she whips up one of her signature summer dishes, chicken with apples.
Throughout COVID-19, Mar has kept the Beatrice Inn's doors open, offering takeout to help support her neighbors and staff, and now that NYC is entering phase two of reopening, the restaurant is offering outdoor seating, too. If you're in the area, stop by for Mar's interpretations of French classics perfect for summertime—and if you're not, be sure to try this mouthwateringly delicious chicken dish that's sure to satisfy any picky palate.
---
Chicken with Apples, Laurel, & Cream
Serves 2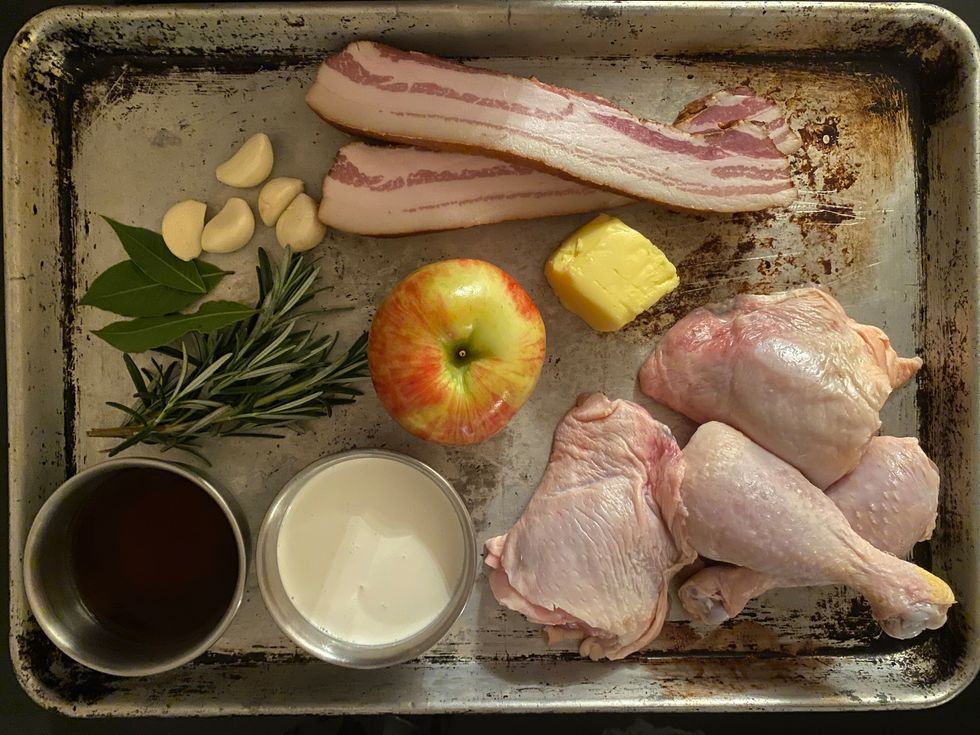 Photo: Courtesy of Angie Mar
Ingredients:
2 thick strips bacon, cut into lardons
2 chicken legs, separated into legs and thighs (four pieces total)
4 tbsp (60 ml) olive oil
salt
1 honeycrisp apple (cut into 8 pieces)
2 sprigs rosemary
5 fresh laurel leaves
5 cloves garlic (smashed)
1 cup plus 3 tbsp (267 ml) chicken stock
½ cup heavy cream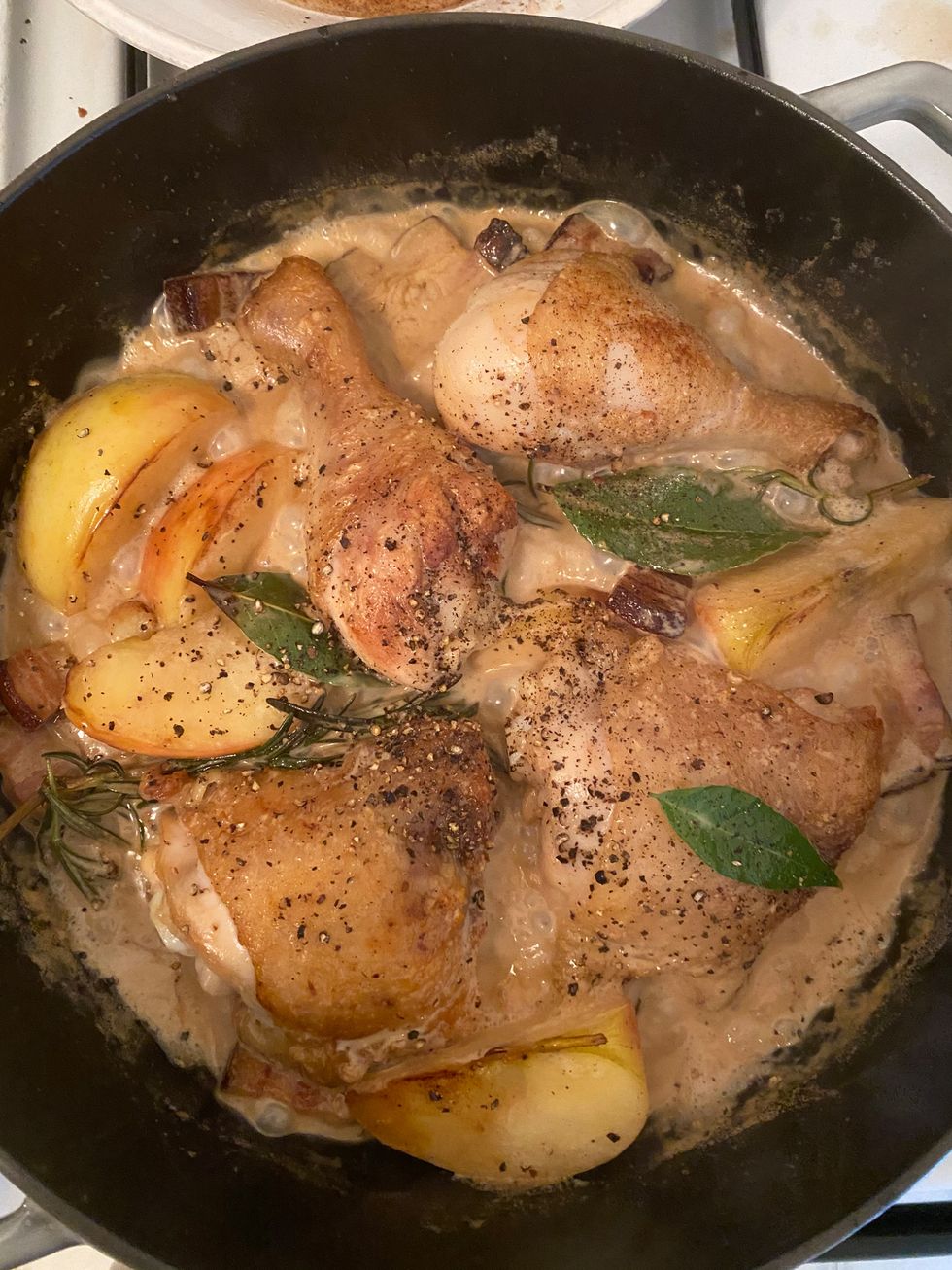 Photo: Courtesy of Angie Mar
Directions:

1. Evenly season the chicken all over with salt.

2. In a heavy-bottomed skillet or enameled cast-iron pan, over medium-high heat, lightly brown the bacon, about four to five minutes. Remove the bacon from the pan and reserve.

3. Add the chicken pieces, skin side down, and reduce the heat to medium. Roast until golden brown and crisp, about six to eight minutes. Flip the chicken pieces to cook the meat side, and add the apples, garlic, herbs, and bacon back to the pan. Cook until the apples just soften, about three to four minutes.

4. Pour off all the fat and return the pan to the stove over high heat. Add the chicken stock to deglaze, scraping any fond [browned bits] from the bottom of the pan. Decrease heat to medium-high and reduce the liquid by two-thirds, five to six minutes. You should have a rich, dark sauce with a beautiful mahogany color. Add the heavy cream and reduce again, until thick and unctuous, about three to four minutes more.

5. Finish with a few cracks of fresh black pepper. Serve directly out of the skillet, preferably with brioche to mop up the sauces.