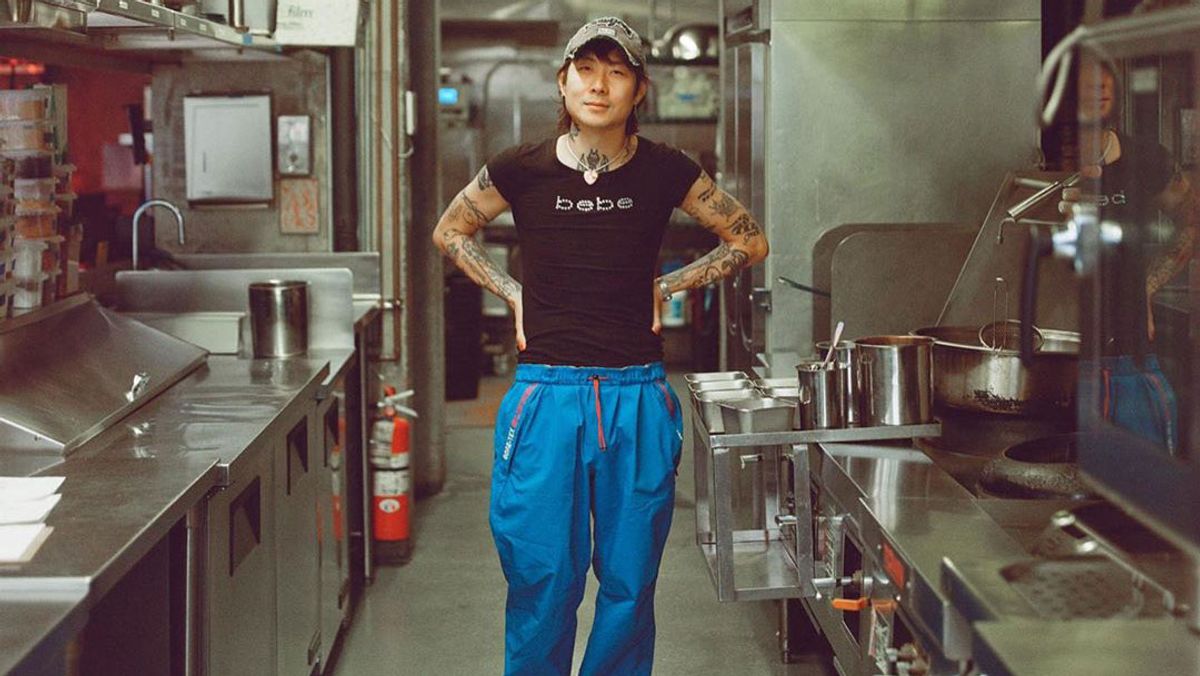 Food
In the Kitchen with Danny Bowien
Watch the renowned Mission Chinese chef whip up a soul-soothing rice dish.
In this episode of In the Kitchen, we follow the mastermind behind Mission Chinese, Danny Bowien, as he cooks his girlfriend's favorite dish: delectable, perfectly steamed rice topped with lightly pickled cherries and a side of rich collard greens. Sounds yummy, right? Watch Bowien whip up this super-easy recipe that's sure to help tide you over till we're able to meet up at Mission Chinese again. Enjoy!
 

Recipe
Rice
2 cups rice, rinsed
2¼ cups water
½ cup cherry tomatoes
1 tsp sea salt
 

Directions
1. Ensure rice is rinsed of starch.
2. Mix with water, bring to a boil, add cherry tomatoes and salt.
3. Cover and steam over low heat for 15 minutes. 
Cherry Pickles
2 cups cherries
1 cup rice wine vinegar
½ cup sugar
 

Directions
1. Mix vinegar, sugar, and cherries in heavy-bottomed saucepan.
2. Bring to a simmer; cook until sugar has evaporated, about one minute.
3. Remove from heat, and cool. 
Greens
1 bunch collard greens, stems removed, chopped, leaves torn
½ cup sliced red onion
1 tbsp Hon Dashi
salt to taste
5 cups water or unseasoned stock
2 tbsp extra virgin olive oil
1 clove garlic
3 chilis, preferably Calabrian
4 limes
 

Directions
1. In a large wok or saut
é
pan, add extra virgin olive oil, garlic, zest of one lime, and chili.
2. Bring to a quick simmer until garlic toasts, about two minutes.
3. Then add chard stems and half of the chard leaves. Raise heat to high and stir to wilt.
4. Add other half of the greens; season with Hon Dashi and a pinch of salt.
5. Add water; bring to a quick boil.
6. Cook until greens are desired consistency.
7. Remove from heat, and season with lime juice. 
---