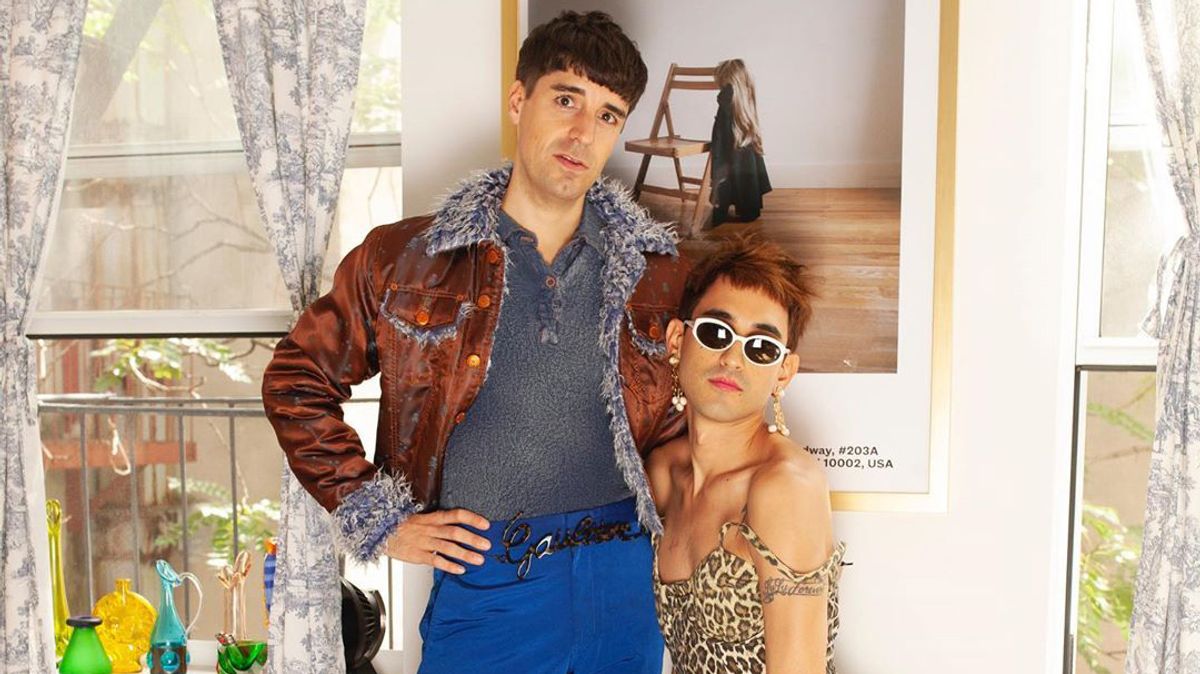 Fashion
The Downtown Vintage Store Bringing Inclusivity into Fashion
The duo behind James Veloria talk love, fashion, and community.
After a year of seeing him around town, Collin Weber finally built up the courage to approach Brandon Giordano at perhaps the most inopportune time (or opportune, depending on how you look at it)—while Giordano was naked in a hot tub. It was 2010, and they were at a party in Oakland, California. After an evening of light flirting, both boys were heading home when, in true Scorpio form, Weber faked a flat tire to get an invitation back to Giordano's. In true Taurus form, Giordano relegated Weber to the couch that first night, but the crush had already taken root. Ten years later they are married (a last-minute elopement in Hawaii) and run the successful Chinatown vintage store 
James Veloria
. Conceived using their middle names, the store name is also a subtle homage to Giordano's mother, his forever muse.
Rewind a bit to 2014, when the pair first set up a vintage booth at the Bushwick flea market. The market was a mixed bag, with a horrible owner, occasional sales, and a wonderful community of vintage dealers. Many friends were made that first year, but with no more than five sales a day, their weekend venture still lived in hobby land. It was at A Current Affair in 2017 that they realized they could make a business out of selling vintage clothes. Weber recalls, "In minutes people had armfuls of clothing, and this was just in the first half hour."
Giordano chimes in, "We felt like we were rich that night," carrying thousands of dollars around in a mini Fendi. After that first success, they were met with a lot of discouragement from dealers who had been in the business for decades—the pair's approach to selling vintage is highly untraditional and threatens the status quo because they have such a strong point of view. To put it simply: They don't just carry the same 501s and '70s peasant blouses that every run-of-the-mill shop has on display.
Weber and Giordano focus on more recent vintage ('80s to early 2000s)—items that are vibrantly colored, heavily patterned, conceptually made, and perfectly suited to any New Yorker on the party circuit today. Their store design amplifies this aesthetic, with fun murals by Andrea Smith and explosive colors in every corner. "We want it to look almost like a toy store," says Giordano.
"Or maybe your grandmother's basement," says Weber.
---
When they first started, they were buying things they thought would sell—they quickly found "[you] need to authentically be into what you're selling for it to work," to quote Giordano. Most of their sources are icons in themselves. The grandes dames of Fifth Avenue, the Armani-clad ad execs of the '80s, and retired Studio 54 regulars. They have their sources for Margiela-era Hermès and Tom Ford Gucci, but their holy grail was a selection of Comme des Garçons pieces from the "lumps and bumps" collection. It's not all latex and roses, though—the pair have trod through Hades to stock the store, almost literally. Weber recounts a particularly traumatizing buying trip— "[This woman] would not let us leave the apartment. We were there for two hours with no AC, and she kept pulling out frumpy business suits." They bought something solely in the hopes of escape.
For a vintage store, James Veloria is wildly of-the-moment. Their historic wears (archival Alaïa, classic Gaultier mesh, Westwood corsets) can be seen in action on the company's Instagram (modeled by the svelt Giordano) and at their recurring party, House of Veloria—a thoughtful addition to their programming, as "so many of our images are centered around music, dancing, and performing," says Giordano. Aside from the queer-friendly dance fest, the pair has also released trading cards featuring their friends modeling their stock (with a shout-out from
Party Monster

–
famous Michael Alig) and faux commercial series shot by the store's first-ever employee, Dani Nemet ("Aphrodite" on Instagram). The videos feel like a '90s
Real World
montage, and the trading cards fill the gap of a business card, except unlike the outmoded token of professionalism, these cards are actually desirable. Customers still inquire about the now rare set.
Opening Ceremony (RIP) also hosted running JV pop-ups in their L.A. and NYC locations. The partnership began casually in a New York restaurant. "I was eating at Kiki
'
s, and Humberto came up to me and said,
'
Could you do this thing in my store,
'
" explains Giordano. Leon met him and Weber at their tiny apartment to discuss logistics—they did their best to be professional, but it was the ad hoc approach that ended up charming Leon. These are just a few examples of the pair's sophisticated approach to PR and branding. Everything is always organic (the store's logo was designed the night before their first vintage show) and is centered around accessibility.
The vintage world, as an arm of the fashion world, has been infamously non-inclusive since its conception. Giordano and Weber's priority is to create a community space where all feel welcome. A visit to the store is just as intimate, fun, and open if you are the only one there as it is shopping shoulder-to-shoulder with 10 other people. There's usually one or two kids whose parents work in the Chinatown mall where James Veloria is located, doing their homework at the front desk or on the floor (Giordano chose wall-to-wall carpeting for their extended space primarily to provide more comfort for his favorite eight-year-old visitor, Aiden).
A steady flow of famous patrons comb the racks in the midst of all this. Their dream closet is also their dream customer—Naomi Campbell has shopped with them more than once. And of course she left a strong impression. Giordano explains, "I was trying to hand her these big bags of clothing she had bought. She looked at me repulsed and called over her assistant to carry the bags." A mistake he never made again.
James Veloria is not just for the starlets, though. Their prices are on the very low end for vintage designer clothes (other dealers even buy from them to resell), making the space not just easy to be in, but easy to buy in. They carry a complete range in sizes, body-pos as ever. There are some things they have had to sacrifice in the name of ease—their clothes were once organized without gender in mind, but they found few men would comb through mixed racks, and so pieces were separated—but they still encourage a free and comfortable experience. It's not rare for a customer to strip down in the middle of the store. "People feel really uninhibited when they come into this space," says Giordano. A coup for him and Weber. James Veloria is a space with no pressure, no pretension, and no rules—a technicolor fantasy come to life. Having just opened back up, they are fully stocked and ready to rock.
Top photo: Courtesy of Instagram/@jamesveloria
Want more stories like this?
Resale Experts on the Fashion Pieces Worth the Investment
Meet the Menswear Designer Making DIY Cool Again
Fashion without a Runway