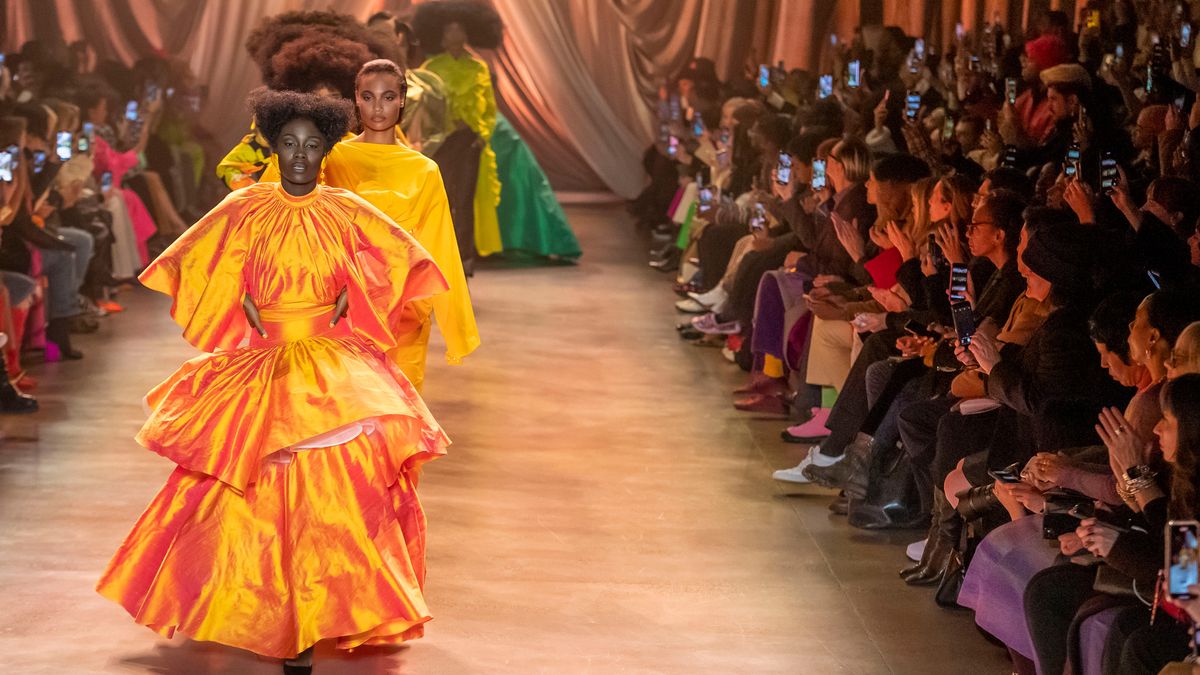 Fashion Week
What the industry will and won't miss.
It's hard to keep up with the status of fashion weeks around the globe. In a
running list on BoF
, we've learned that Haute Couture Fashion Week in July has shifted to a completely virtual medium. A few major brands like Gucci and Saint Laurent have decided to depart from the fashion calendar entirely. While Paris has declared that it will hold an in-person fashion week, it will not garner the same international audiences that it once did. And according to
Fashionista
, the CFDA recently announced that NYFW will be officially condensed into three days and will be entirely virtual.
Regardless of these decisions, the concept of fashion week was already under intense scrutiny. The process is no friend to the environment and perpetuates an unsustainable seasonality that both designers and consumers have begun to question. Not to mention, fashion week has always been criticized for its lack of diversity, both on and off the runway. Despite all its faux pas, fashion week is also a time for designers to display creativity. For the time being, however, we've asked six insiders across the industry what they would miss and what they wouldn't about an in-person fashion week.
---
Caitlin Burke, Style and Content Director at Moda Operandi
"My favorite thing about fashion week is the newness—new ideas, new styling inspiration, new faces, and new product. I love seeing the collections presented as one cohesive vision from the designer for the season ahead. I think virtual platforms will be able to capture a portion of that, which I'm looking forward to, but I do think a bit of that in-person magic—the anticipation, the music, the mood of the room, the sound of an epic dress swishing past you as you try to take it all in—will be a bit lost. That being said, I think there are a lot of upsides as well—I won't miss rushing to and from Ubers, getting caught in a downpour while wearing my best ensemble, or the marathon of late night drinks and early morning appointments. My under-eye bags will be much less visible virtually!"


Alyssa Coscarelli, Freelance Writer, Influencer, and Consultant
"September fashion week usually feels like summer camp. I get to see my friends near and far—fellow influencers, writers, and photographers from all corners of the globe, almost all day, every day, for a more-than-weeklong stretch. From catching up shoulder-to-shoulder in the tightly packed rows of runway-show seating, to evening drinks that go late into the night even though your first show is at 9:00 AM the next day, I'll sorely miss the social aspect of fashion week. I'll also miss the experiential aspect (Sandy Liang lining models up in a packed Congee Village, Coach taking over Hudson Yards at golden hour, Mansur Gavriel's ever-Instagrammable setups, Rihanna making waves at Barclays Center...). Fond memories are always made in good company, but now these festivities feel like a thing of the past. And maybe it's better this way. Fashion week was a symbol of what a never-ending, completely unsustainable hamster wheel fashion could sometimes feel like, and I hope new formats can push the industry to create more democratized iterations of traditionally restrictive and exclusionary events. This season is a welcome pause for us all to reconsider the way the industry operates. We can use the time to reflect and reinvent—I know I am."


Nandi Howard, Associate Fashion Editor at Essence
"To be completely honest, I am indifferent about the spring/summer runway calendar being altered. On one hand, I love fashion week. This is all pretty new to me, so I enjoy covering all the shows and events that happen in September. I do think, however, fashion will never be the same. COVID, along with the issues regarding police brutality that have sort of 'forced' labels to speak out–it's all a lot. And I think that brands have to now be strategic about anything they do because everyone is very sensitive. While I am going to miss the typical fashion week, I hope that this time period will force fashion to truly diversify. I hope to see more designers of color from all backgrounds presenting along with size inclusivity on the runway from here on out. Fingers crossed."


Julie Gilhart, President, Tomorrow Consulting and CDO, Tomorrow Ltd.
"I'll miss the energy. I am trained to 'feel' fashion versus just look at it. Both are necessary in making good business and creative decisions for the future. I'll also just miss engaging with people in the atmosphere of 'sharing a show' with your colleagues and the creatives involved. This is the part that is difficult to translate online. Being able to touch the clothes, see how they move and fall, understand the details and complexity in the construction, is not completely possible online.

"I won't miss the travel, which is hard, expensive, and adds to my carbon footprint! I have for a long time now been concerned about the over-the-top production and spending involved in putting together a show, which is wasteful. This is one of the many points that got me interested in sustainability in fashion over 15 years ago. I also won't miss the fashion week schedule. Fashion weeks are many times too full on shows, presentations, events, meetings, etc., that it can feel very unsustainable."


"I'll miss seeing friends and family at the show. I don't bring up work almost ever at home, so until the day of the show, my family has no idea what I've been working on the past few months. I'll miss the feeling of relief right after the show and sharing that with the team—including all the models, casting, stylists, hair and makeup, production, etc. I'll miss that nervous but giddy feeling while everyone is backstage in hair and makeup before the show.

"I won't miss all the time it takes to prep, which takes away from my sketching or working time. My ideal day at the studio is when I don't have any meetings and I can just design all day—which prepping for a show does not allow for! I won't miss the last-minute changes. I won't miss all the extra emails!"


Telsha Anderson, Owner/Buyer t.a. New York
"I'll definitely miss the mingling aspect of the shows, but there's an exciting element surrounding virtual fashion shows and the market week appointments. I can't wait to see how designers and showrooms reallocate their resources from the front row to the production. They have the opportunity to push their creativity to the next level, offering an experience that is visually appealing and enticing, no matter the location (which will most likely be my living room this season).
"During market week, my favorite part of the day is catching up with Karina from
Haus Agency
or the group from
Paper Mache Tiger
, walking through each collection and experiencing the fabric, so I'll also miss reconnecting with the showroom representatives in person. However, it might serve as a great opportunity to connect personally with designers, which is sometimes missed at physical shows."
Top photo: Getty
Want more stories like this?
It's Time to Reopen: 10 Business Owners On What the Future Holds
17 People Who Are Serving Up Serious Summer Style Inspiration
Everything Coveteur Staffers Are Buying This Sale Season