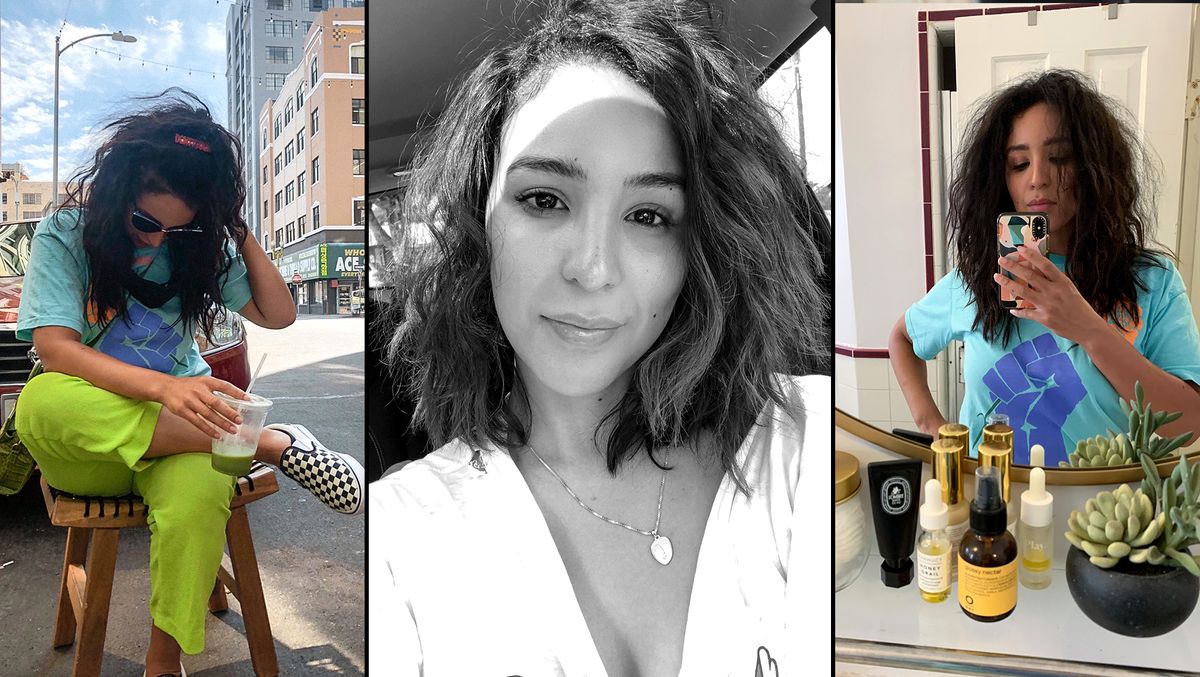 Hair
Where Do I Fit In? Being Multiracial with Multi-textured Hair
A writer shares how she learned to embrace her hair and style it to perfection.
Graphic
Rachel Pickus
The road to embracing my natural hair was not the perfectly smooth ride to self-love I had anticipated. I'd been watching women rediscover their natural texture for years, and while the journey looked empowering and magical, no one told me that confronting the belief systems surrounding love, identity, and acceptance is also incredibly difficult.
When I stopped chemically straightening it, I liberated parts of myself I, until that moment, didn't know were suppressed. I had moments that felt hilarious—like the first time I tried a
bonnet dryer
, or what my boyfriend now refers to as the "bouncy house"—to others that broke my heart, like when I realized how much self-worth I carried in having straight hair.
I have three different hair textures that are a result of my three ethnicities: Black, white, and Hawaiian. My hair is curly, wavy, and straight, depending on the section, and while I've learned this isn't uncommon for multiracial women, it's rarer to see and tricky to style. Uniformed hair, meaning a texture without inconsistencies, whether it be through curl pattern, texture, or style, has been an unattainable goal with my mixed hair. And while I now know that the diversity of my hair texture is a blessing, it took some time to unlearn my previous mode of thinking.
Before coming around to the natural-hair movement, I had chemically straightened my hair for years. Brazilian blowouts were my drug of choice, but after learning that formaldehyde is one of the main ingredients (a known carcinogen), my stylist informed me she would no longer perform them. When faced with the choice of embracing my natural texture or risking my health for three months of straight hair, I chose to risk my health.
Once I was finally ready to embrace my natural hair, I chopped off the damaged portion, and although I felt empowered at that moment, it was short-lived when I realized how ill-equipped I was to manage my hair's many textures. I contacted salon after salon, but no one had any advice outside of 
"
Just curl the pieces that are straight.
"
Not helpful. Finally, I discovered
Virgo Hair Salon
in Los Angeles, which focuses on natural hair texture and curl care.
---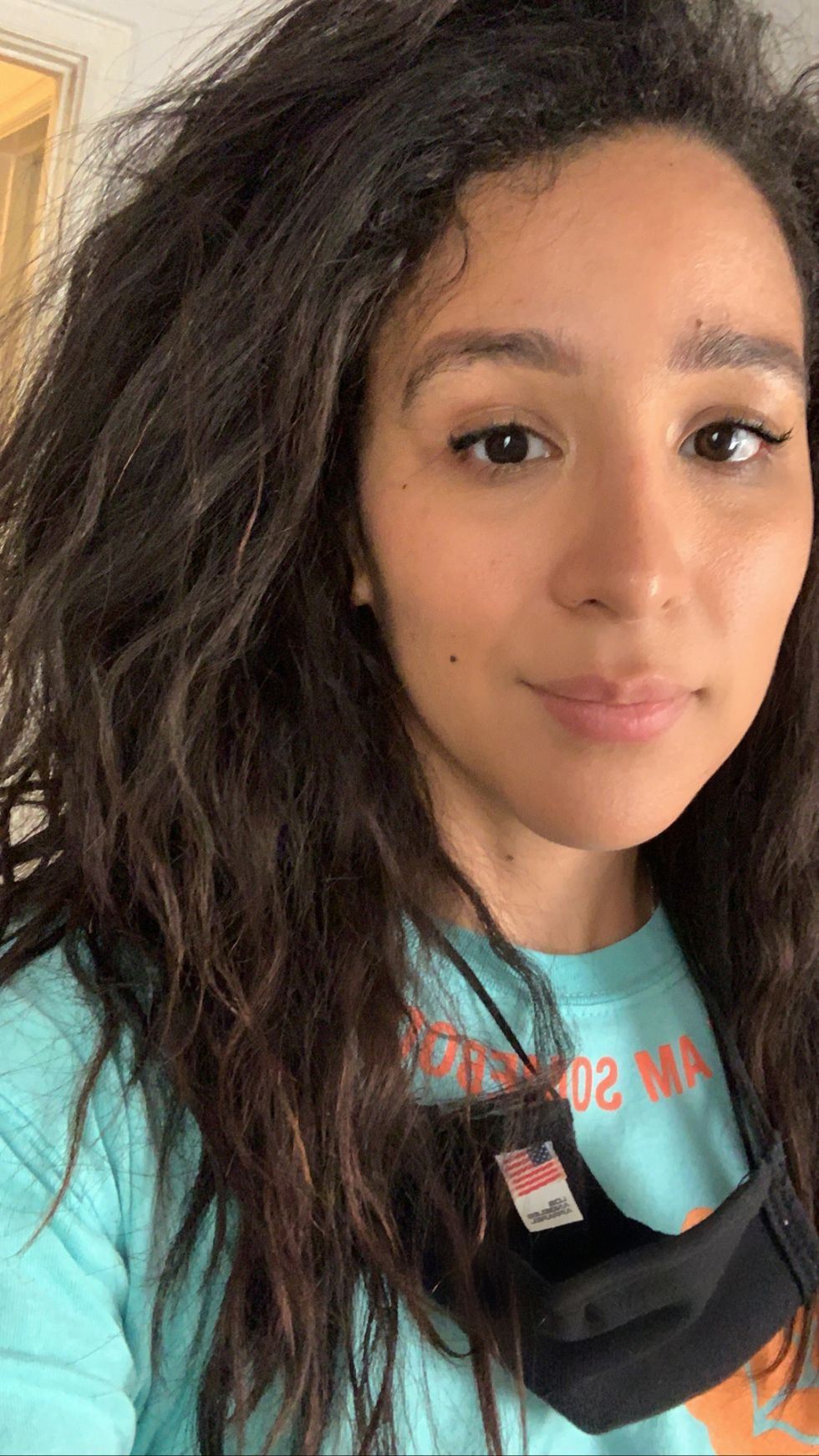 Photo: Courtesy of Jasmine Ward
"It's incredibly hard to find anyone in the salon and hair industry that focuses on textured hair," explains Mateo Garcia, the salon's owner. "Sadly, most cosmetology schools primarily focus on what you need to pass the licensing examination, which is simply maintaining health standards and the basics of hairstyling, and usually only touching upon looser textures."
Garcia's grandmother (who was a Virgo and for whom the salon is named) was a Native American medicine woman in Colorado, and she instilled in him a passion for natural and holistic remedies, which is why he now only uses specialized, gentle hair products. "There are a lot of horrible products out there that not only weigh down and create buildup on the hair, but also prove to be detrimental to the delicate structure of highly textured hair." Some ingredients he recommended to steer clear of are: coconut oil (it suffocates the hair and inhibits moisture absorption), sulfates, silicones, mineral oil (similar to silicones—they aren't water-soluble and can block moisture), parabens, phthalates, and drying alcohols like ethanol and propyl. Fatty alcohols that are derived from plants, like cetyl and stearyl, are a safer bet for textured hair.
To help me find the right cocktail of products for my combination of textures, Garcia encouraged me to try
Davines Love shampoo
and
Love Curl conditioner
,
Davines Relaxing Moisturizing Hair Fluid
,
OWAY Rebuilding Hair Bath
and
Mask
, and
Oway Glossy Nectar serum
. He is a firm believer in empowering his clients to learn how to care for their unique hair, sharing with me tips like never rough-drying my hair after a shower, sleeping on a silk or satin pillowcase, and avoiding heat styling as much as possible. Techniques like air drying, plopping (an easy no-heat drying technique for volume and
enhancing curls
), diffusing on cool or warm, and using the aforementioned bouncy house, are best for my strands. After starting to incorporate his recommended products and tips, my hair transformed.
Soon after meeting Garcia, I crossed paths with another trailblazer in the hair industry,
Tania Whittier
, a stylist at
Meche Salon
in Los Angeles and a non-toxic hair guru who advocates for clean hair technology. "My clients come to me because I encourage using treatments to balance out the different textures in hair," she says. During my first appointment, Whittier spent 30+ minutes looking through my many textures, piece by piece. It was the most in-depth hair consult I've ever received. She took notes and gathered information about my hair so that she could tailor a plan and create a custom Pura Luxe formula just for me.
"When I approach a client
'
s hair, we first discuss what we like and don't like," says Whittier. "Everyone has different textures, and everyone wants different results, [which is why] I like using Pura Luxe
—
because I can customize each client
'
s formula."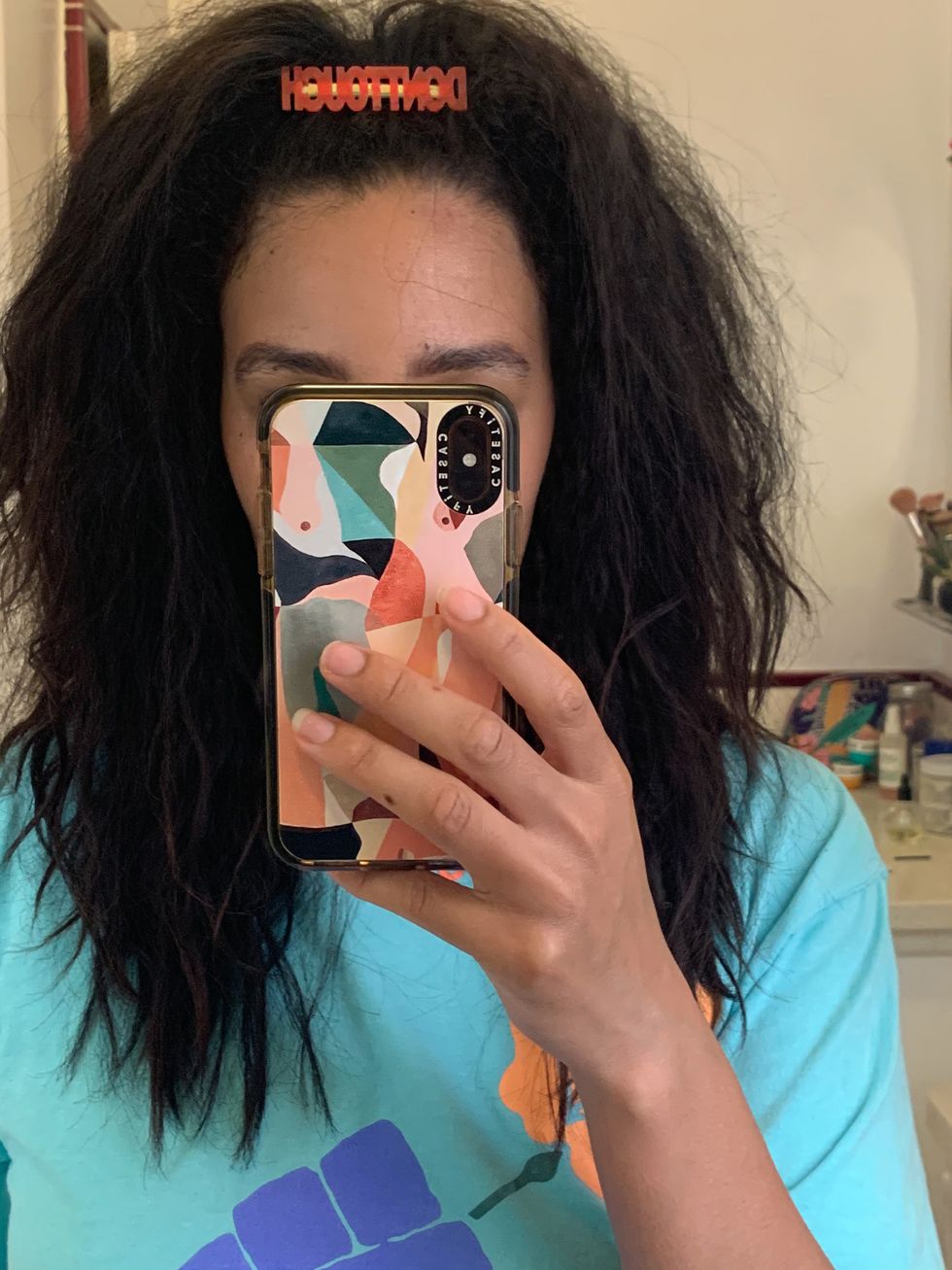 Photo: Courtesy of Jasmine Ward
While there is debate on whether or not you can call your hair "natural" if you treat your edges, I like to use
Pura Luxe
on them a couple of times a year. It is made from proteins and aromatic essential oils that are deposited into the hair without breaking its structure. It's dissimilar from a keratin treatment, which tends to break down the hair the longer you use it. Rather, this smoothing treatment works to strengthen the hair fiber itself and smooth frizz.
And obviously, since it's 2020, Instagram has been a powerful tool for introducing me to new products and finding other women who've found ways to nurture their natural texture. People like Ebane Ward of
@booksandbraidouts
(and my cousin), 
Tondreanna Esquilin
,
Sunkiss Alba
,
Manes by Mell
, all share the details of their hair journeys, offer product advice, and encourage everyone to own what you've got. In addition to curl-influencers, I love to follow hair-focused sites like
The Girl Habit
,
Mane Addicts
, and
BounceCurl
. Resources like these mean I can always find the information I need to keep my curls looking their best.
Today I wear my hair however I like—sometimes straight, sometimes curly, or rocking all my textures at once. It's now a choice that comes from love rather than shame. Before, I'd dread washing my hair and having to wrestle my curls straight. Now, wash day is a luxury. It's become a weekly
self-care ritual
that I look forward to. My hair has taught me patience and gives me an excuse to be present
at least
once a week.
While the journey to natural hair has been emotional and overwhelming at times, it has never felt lonely. The number of resources available is rich, and the community of individuals willing to help and share is plentiful. Following the journey of other women both online and in person has helped me to find the confidence to step outside with my wild, unruly hair and proudly wear it like a favorite accessory. For women, and especially women of color, our hair is more than a style—it
'
s a display of self-love in a world that has at times taught us to not like ourselves. It's tied to our culture, heritage, and history that's often as colorful as we are.
In case you're starting your natural-hair journey, or are simply looking for a few new products to try, check out a few of my favorite products for keeping my hair healthy and happy.
1 / 8
Act + Acre Cold Press Essentials (Shampoo, Conditioner, and Scalp Detox)
, $85
This kit contains Act + Acre's shampoo, conditioner, and scalp detox, all of which are cold-pressed and jam-packed with nutrients. They stimulate hair growth by focusing on deep-cleaning the scalp—essential for healthy hair overall. My hair and scalp feel clean but never stripped after using this set.