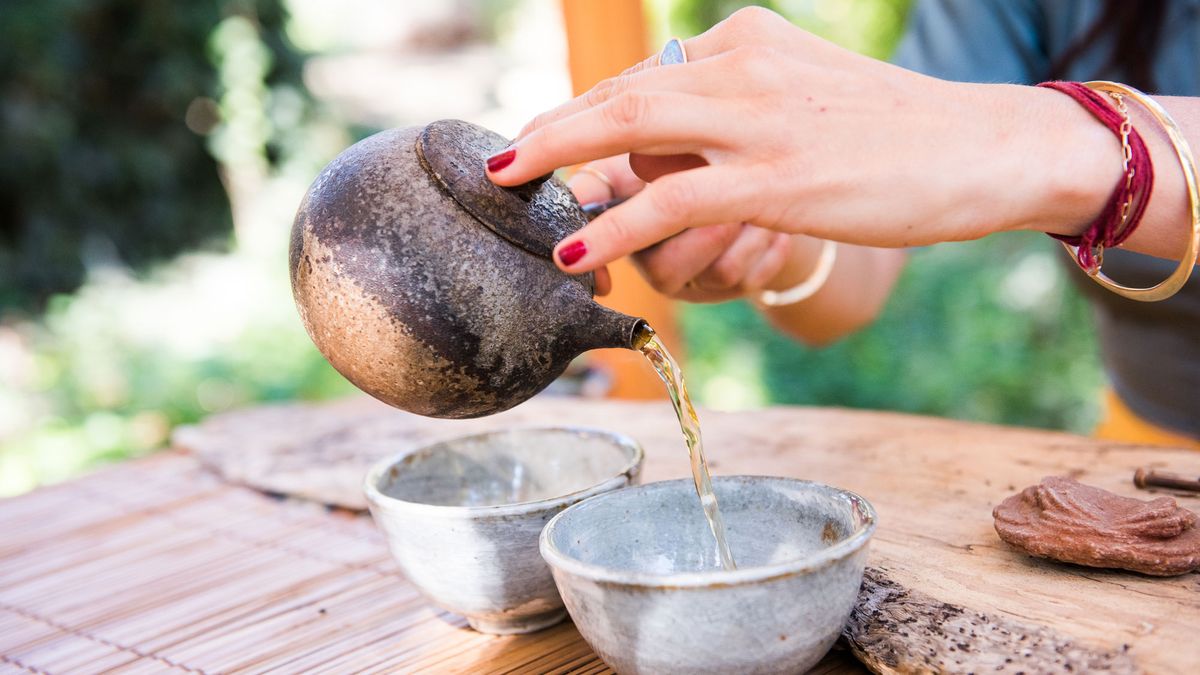 Health
Everything from your skin to your stress levels can improve.
As our work-from-home situations continue for the foreseeable future, we find ourselves reminiscing about our former daily commutes—listening to a podcast, admiring your neighbor
'
s shoes, and most especially, picking up a cup of coffee from your favorite corner store. Let's face it, when you live in one of the most highly caffeinated cities in the world and have an espresso machine in your office, you are bound to drink at least three cups a day. But with
anxiety and stress
levels at an all-time high right now, cutting out the coffee jitters seems like a wise choice to make.
In an effort to improve our
self-care routines
, we've replaced our multiple cups of coffee with something much better for our systems: herbal tea. There are tons of varieties available (all of which you can brew at home), and they help to calm or energize our minds without producing some of the more harmful effects of caffeine. Not to mention, they can reduce inflammation, calm an upset stomach, and fight acne, among other benefits. Here are some of the herbal teas we've been drinking lately.
---
Chamomile Tea
You've probably already experienced the calming effects of chamomile tea. During a time when our apartments have turned into our office, gym, therapist's room, and personal restaurant, it's tough to turn off our racing minds at the end of the day. Brewing a cup of chamomile tea can help signal the end of the workday and a transition into a period of relaxation. Chamomile is also amazing at reducing inflammation in the body and relieving symptoms of an upset stomach.


Stinging Nettle Leaf Tea
Don't worry—this tea doesn't actually sting. We love stinging nettle leaf tea for its cleansing and healing properties. As a diuretic, it helps to flush out any excess water and toxins from our systems. It also has been used to treat symptoms of arthritis and support bone health. We know that the taste may not be exactly for everyone, so for those of you who prefer a less earthy flavor, we recommend adding honey as a sweetener (which also acts as a microbial).


Spearmint Tea
Spearmint tea has been shown to significantly help suppress acne. According to a
2012 study
, "patients had significant decreases in free testosterone with increases in luteinizing hormone, follicle-stimulating hormone, and estradiol" after consuming spearmint tea twice daily for five consecutive days. In layman's terms, spearmint helped these patients to regulate their hormonal imbalances, especially in women with PCOS. That in turn can help reduce hormonal acne breakouts.
Rose-Hip Tea
If you grew up in a Croatian household, then you're already aware of the quintessential pantry staple Franck čaj od šipak. If you are, however, a part of the majority who has not been raised with rose-hip tea being shoved down your throat whenever you had a cold, let us explain the benefits. Rose hips come from the rose plant and are filled with polyphenols and vitamins C and E. Once in our systems, polyphenols work as antioxidants that protect our bodies and skin from free radicals, which can cause cell damage. The results? Better cardiac function, a supported immune system, and even anti-aging benefits for your skin.


Dandelion Root and Stem Tea
Dandelion root and stem tea is amazing for regulating bodily functions. It helps us feel less bloated, since it is a natural diuretic that can promote the removal of excess water from our systems. That means it can also help to prevent UTIs, and it works to regulate our gastrointestinal tracts and reduce inflammation.


Ginger Tea
We can all remember a time in our childhoods when our parents bought us two-liter bottles of Canada Dry Ginger Ale to help relieve our upset stomachs. Similarly, ginger tea helps to calm our stomachs without being filled to the brim with sugar. It can also reduce inflammation, support the immune system, and in some cases even relieve stress.


Fermented Tea
We are obsessed with all things fermented. Fermented teas are a great source of probiotics that help to balance the gut flora, which reduces inflammation throughout other parts of the body. They are also filled with antioxidants, which help protect our systems from free-radical damage.


Hibiscus Tea