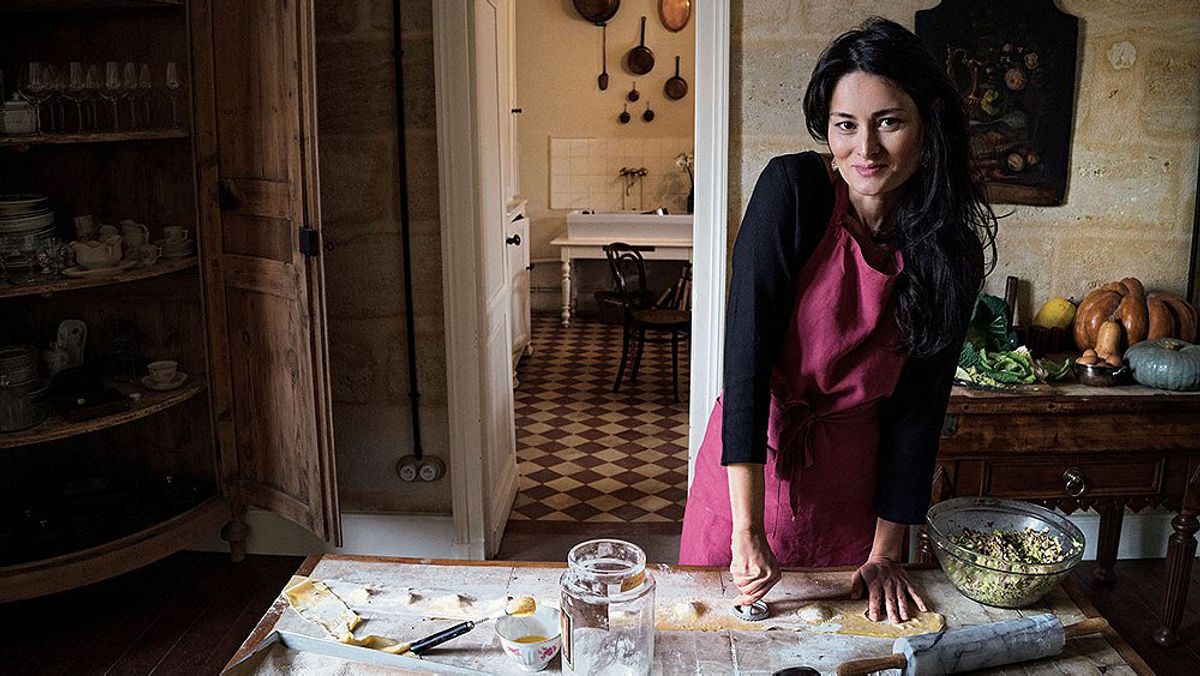 Food
How to Cook Like You're In the French Countryside
Three easy recipes by chef and author Mimi Thorisson.
Your spring trip to the French countryside may have been canceled due to COVID-19's travel restrictions, but that doesn't mean you can't bring French cooking to your kitchen. While chef and author
Mimi Thorisson
grew up in Hong Kong, she spent her holidays in Paris and the South of France at her French grandmother's home—it was there that she discovered her passion for French-style cooking. Some might say her culinary pursuits manifested into her future; years later, in a move that led her from Paris to Médoc with her husband, eight kids, and many,
many
dogs, she has certainly mastered the art of cooking for a big family in the French countryside. "The essence of French cooking is butter, garlic, and shallots," says Thorisson. "Otherwise, a must-have is a French cocotte from Staub to simmer for hours. And third, well, I just love butter; always add more butter!" Over the years, Thorisson has come to be known for
Manger
, her blog devoted to French cooking, and her cookbooks, 
A Kitchen in France: A Year of Cooking in My Farmhouse
and
French Country Cooking: Meals and Moments from a Village in the Vineyards
. So who better to ask than the expert herself?
Below, Thorisson shares three easy recipes that'll bring the French countryside to you.
---
Roast chicken with crème fraîche and herbs

"I roast a chicken at least twice a week. All the flavors take me straight back to France. This is actually the most loved and popular recipe from my cookbook A Kitchen in France. If you don't have crème fraiche, try mixing Greek yogurt with mascarpone."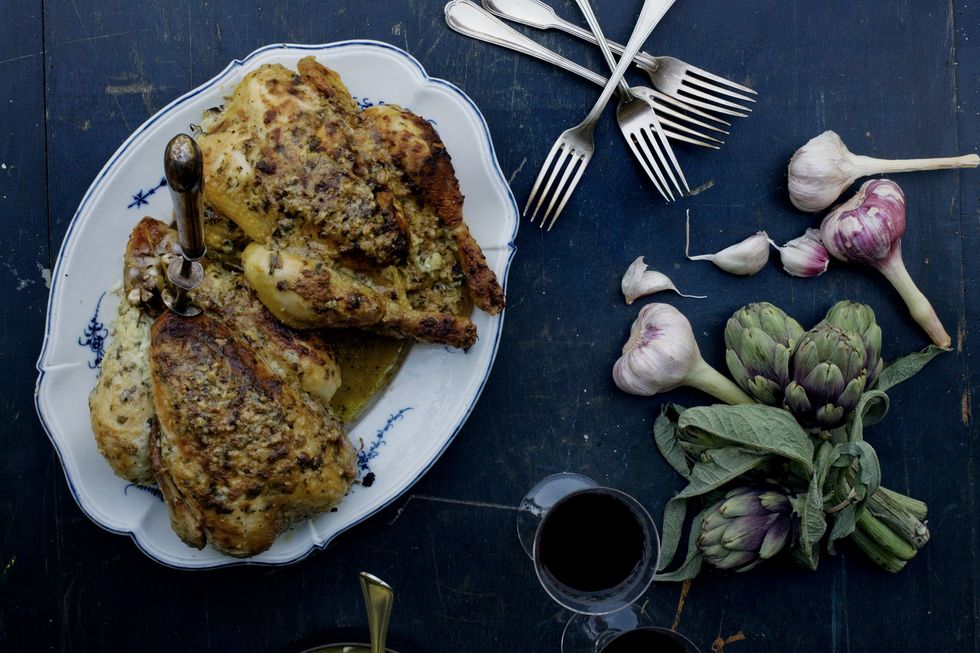 Photo: Courtesy of Mimi Thorisson
Ingredients
1 whole chicken, approx 1.2 kg/3 lb
300 ml/ 11⁄4 cup crème fraîche (you can also use fromage blanc—alternatively, you can mix 2 tbsp buttermilk or sour cream with 1 cup heavy cream)
4 cloves garlic, finely sliced
1 shallot, finely sliced
A large bunch of parsley, chopped
A few sprigs of fresh thyme
Sea salt and black pepper



Directions
1. Preheat oven to 180° C/350° F.
2. Take out the chicken approx 30 minutes before cooking so it is at room temperature.
3. Mix crème fraîche with finely chopped garlic, parsley, thyme, sea salt, and black pepper.
4. Spoon half the mixture inside the cavity of the chicken.
5. Truss the chicken securely with kitchen twine.
6. Rub the remaining cream all over the chicken (make sure to rub under the thighs and wings). The cream must be thickly spread on chicken (see photo). Sprinkle
1⁄2
tsp sea salt on top of chicken.
7. Transfer to preheated oven, and cook for 1 hour to 1 hour, 15 minutes. Check pan halfway, and add two to three tbsp of water if the sauce in the pan starts to dry out.
8. Serve with mashed potatoes. After boiling peeled potatoes (I count two medium potatoes per person), add one egg yolk and 30 g/2 tbsp butter plus 1 tbsp crème fraîche. Salt to season.
Ratatouille "croquant"

"I love this recipe because it's so traditional—all about easy ingredients, and healthy, too. You can turn it into many different meals, but my favorite is with a fried egg on top with a dash of piment d'Espelette (Basque-syle chilli powder)."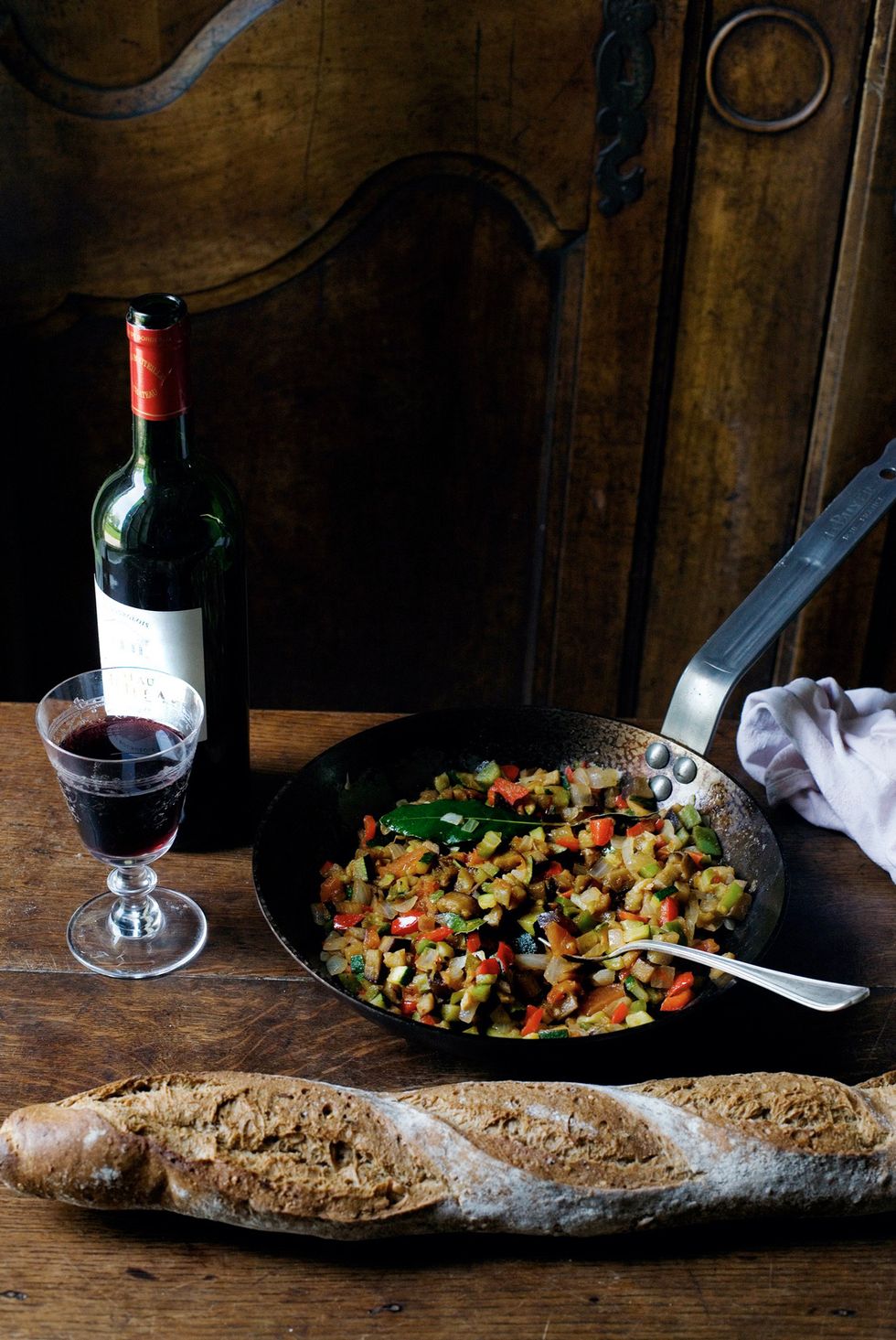 Photo: Courtesy of Mimi Thorisson
Ingredients
5 tomatoes
2 aubergines/eggplant
2 zucchini
2 red peppers
2 green peppers
2 white onions
2 garlic cloves, peeled and crushed
A few sprigs of thyme
1 bay leaf
Olive oil, for frying
Salt & black pepper



Directions
1. Bring a large pot of salted water to a boil.
2 . Add the tomatoes for two minutes or until the skin starts to crack. Drain and peel tomatoes. De-seed tomatoes.
3. Dice all the vegetables into small cubes (see photos). Make sure to keep each vegetable in separate bowls.
4. Heat a few tablespoons of olive oil in a large pan. Sauté each vegetable (they must be all al dente, slightly crunchy) at a time in the following order: onions; peppers; aubergines; zucchini; tomatoes with the crushed garlic; bay leaf and thyme. Season with salt and pepper.
5. Mix all the ingredients together in the pan, mix well, and turn heat off. Cover with a lid, and set aside till serving time.
The Best Madeleines

"This is my can't-live-without recipe. It's everything. It's all our childhood, it's comforting, and makes anyone happy. So simple. My best tip: Leave the batter to rest in the refrigerator at least one and or, even better, two [hours] before baking. You'll get that perfect bump for sure! And if you don't have orange blossom water, no worries, just add an extra spoon of honey or rum."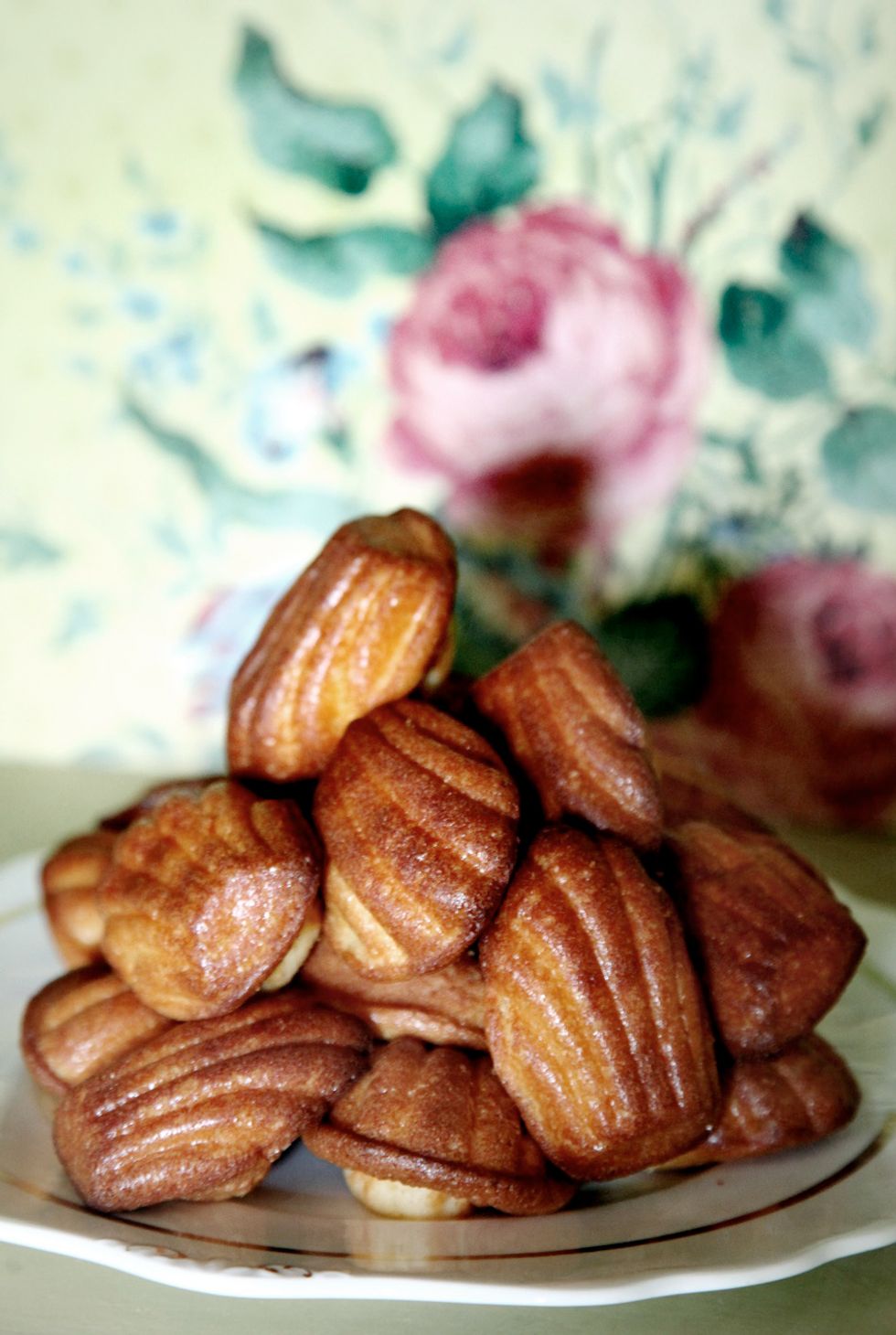 Photo: Courtesy of Mimi Thorisson
Ingredients
3 eggs
150 g plain flour
125 g butter or margarine (melted)
130 g sugar
20 g honey
1⁄4 tsp salt
1 tsp baking powder
1 tsp lemon zest
2 tbsp orange blossom water
Madeleine cake molds (I have silicone ones)



Directions
1. Whisk sugar, honey, salt, and eggs together until light and fluffy.
2. Sift flour and baking powder together, then gradually fold in the egg mixture and mix gently.
3. Add the melted butter, orange blossom water, and lemon zest, stir lightly, cover, and leave to rest for at least two hours or overnight in the fridge. It is very important for the batter to be cold before baking—the thermal
"
shock
"
is necessary for a good
"
bumpy,
"
round madeleine.
4. Pre-heat your oven 180
°
Celsius.
5. Butter and sprinkle your molds with flour. Add one good teaspoon of cold batter into the molds. Bake for 10
–
12 minutes depending on how big your molds are.
6. When ready, use a round-edged knife to delicately lift each cake.
Always in her pantry:
*butter
*eggs
*Rabelais allspice
*Piment d
'
Espelette
*Olive oil
*Jura wine (a bit like a dry sherry, but better!) to make an incredible sauce with chicken or seafood
Photos: Courtesy of Mimi Thorisson
Want more stories like this?
In the Kitchen with Flynn McGarry
The Best Cookbooks to Shop Right Now
The Best Digital Cooking Classes to Try Out Now