It's Official—We're Swapping Our Body Lotion for a Body Conditioner
We asked the experts why this in-shower product is the key to supersoft skin.
Skin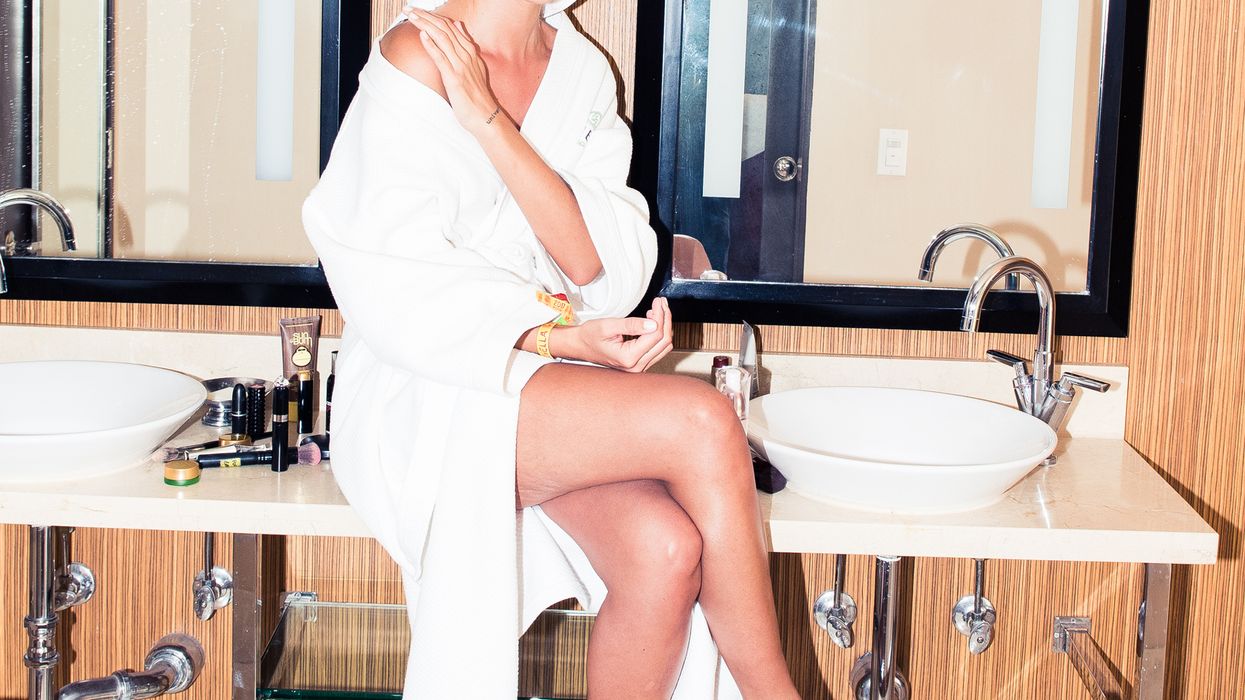 In the world of beauty, there are countless products dedicated to just one body part. Take your
feet
for example: There are foot scrubs, detoxes, balms, and butters aplenty. When it comes to tackling our body care, however, we've come to accept that simplicity is the norm, with a standard wash as the only option. That is, until now.
The latest craze to hit our radar is something our hair is much more familiar with: conditioner. "A body conditioner protects the skin the same way conditioners protect your hair," says dermatologist
Dr. Richard Bottiglione
. "It applies a thin layer of oil to coat the top layer of the skin so that the skin does not have a dry feeling when getting out of the shower." Don't worry, we've been living under a rock, too. Apparently, it's crucial to the health of our skin as a whole to treat the skin on our body with more than just a heaping of lotion.
We tapped two experts to explain how exactly body conditioners work, what benefits they offer our skin, and if they're truly necessary as part of our shower and
bath routines
(spoiler alert: they are).
---
How They Work
According to dermatologist
Dr. Zain Husain
, "most body conditioners are to be applied all over the body as the last step in your shower routine—that means after you've washed your hair and used your shower gel." When applied on wet skin, it can help the skin feel hydrated and protected, especially if you're the steaming-hot shower type. Says Dr. Husain, "Moisturizing after taking a shower is extremely important, especially if you use hot water, as your skin will become dehydrated, thus leading to itchy skin and potential rashes." And unless your skin is severely dry, an in-shower conditioner should be used in place of your body lotion. FYI: If you're oily, applying too many layers can over-grease your skin, so you may want to skip the lotion if you're using a body conditioner, says Dr. Husain.
There's no risk of "over-using" a body conditioner, and the amount of product for optimal results can vary based on skin type. "A body conditioner is a tool to restore the moisture back to the skin that is stripped by harsh soaps in the bath. The skin absorbs the moisture needed, and the excess washes away. Therefore, there is no harm that can be done," says Dr. Bottiglione. However, if your skin skews oily, then adding topical oil too often can increase risk for breakouts. "When using body conditioners with bathing, one can judge the optimal amount of product necessary by assessing the skin post-bath. Post-bath, if dryness is still present, then one should increase the amount of product used. If the skin has oily buildup, then decrease the amount of product used."
Lotion vs. Body Conditioner

Generally, an in-shower body conditioner has a thicker consistency compared to lotion and is meant to be used on damp skin right before stepping out of the shower. The obvious benefit is that it replenishes the skin's lipid barrier and attracts water (aka hydrates). And while that's the main goal of a body lotion too, conditioners are able to offer deeper penetration into the skin and hydrate quicker. "Lotion applied to dry skin may not be able to penetrate as deeply as body conditioners and can stay on the surface of the skin," says Dr. Husain. "When the skin is wet, however, it is able to absorb moisturizers faster, which is why an in-shower body conditioner is beneficial to use."

He adds that for people with skin conditions like eczema, urticaria, and psoriasis, using a body conditioner will allow the skin to remain soft and soothed as opposed to dry and flaky post-shower. Finally, because lotion is applied on dry skin, it's more susceptible to leaving behind a greasy residue (since the product is not being absorbed fast enough). That's not the case with body conditioners, which makes them ideal for morning-shower people who may be in a rush to get out the door.


Shop 8 of our favorite body conditioners below:
1/8
Soap & Glory Whipped Clean Shower Butter
, $11
This conditioner doubles as a wash and body butter, and its decadent formula includes vitamin E, which, according to Dr. Husain, helps to fight free radicals in the skin that can cause signs of aging and wrinkles.