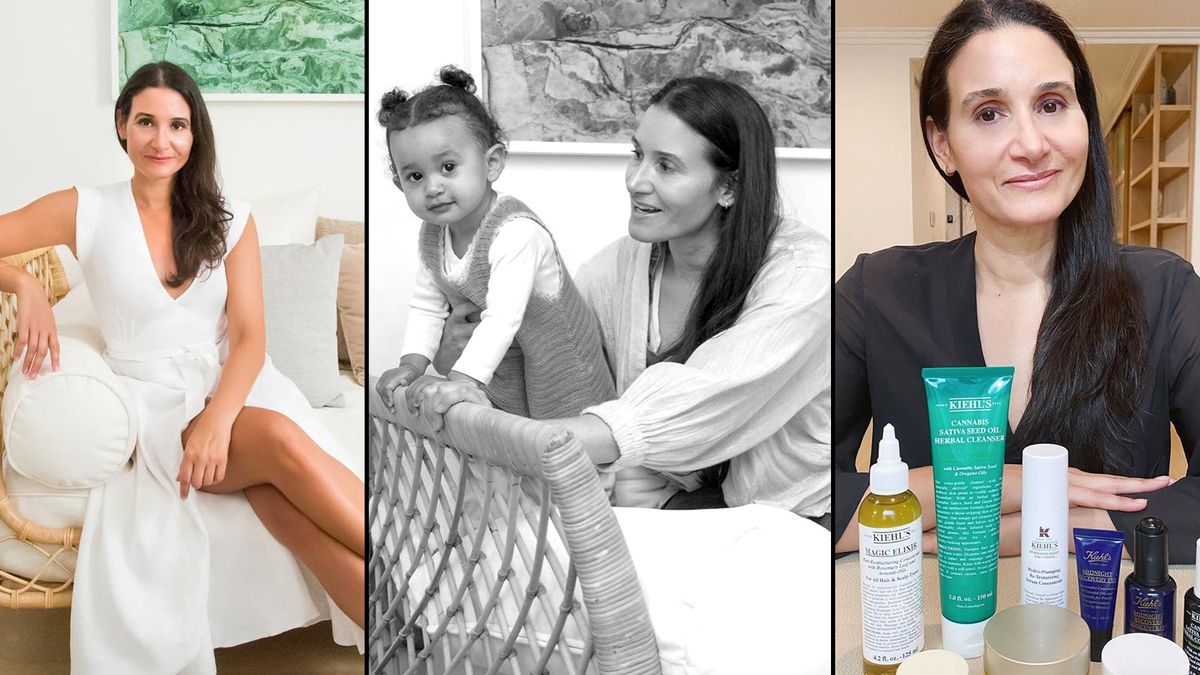 Skin
How to Shop Like Skin-Care and Microcurrent Expert Shamara Bondaroff
The aesthetician and SB Skin founder shares her beauty essentials.
Graphic
Rachel Pickus
Shopping for new beauty products can feel like a game of Whac-a-Mole—will this make me break out? What ingredients are a fit for my skin type? Is this even worth the money? That's why personal recommendations, especially from experts in the field who have years of testing under their belts, are so valuable.
Shamara Bondaroff
is one of those individuals whom we'll happily trail through the aisles of Sephora or Credo (and Trader Joe's while we're at it). She's a New York
–
based aesthetician and the founder of
SB Skin
 who is known for her lifting and toning microcurrent facials—and happens to have the type of otherworldly glow that we'll never stop coveting.
As a longtime proponent of overall holistic wellness, her approach to beauty is mutli-faceted, with a focus on taking care of your body from the inside out (eating right, sleeping enough, drinking plenty of water), in addition to some tried-and-tested products. "While I'll be the first to tell you that I am not a product junkie, my mom always modeled great skin care as far back as I can remember," she explains. "When I started buying my own products, I usually did so at health-food stores rather than department stores, because I knew the products sold at health-food stores were safer. So I guess you can say it's always been important to me to make smart beauty-product choices."
Ahead, the products she swears by for her everyday skin-care routine, the benefits of microcurrent as an non-invasive anti-aging alternative, and her unexpected old-school treatment for getting rid of a pimple fast.
---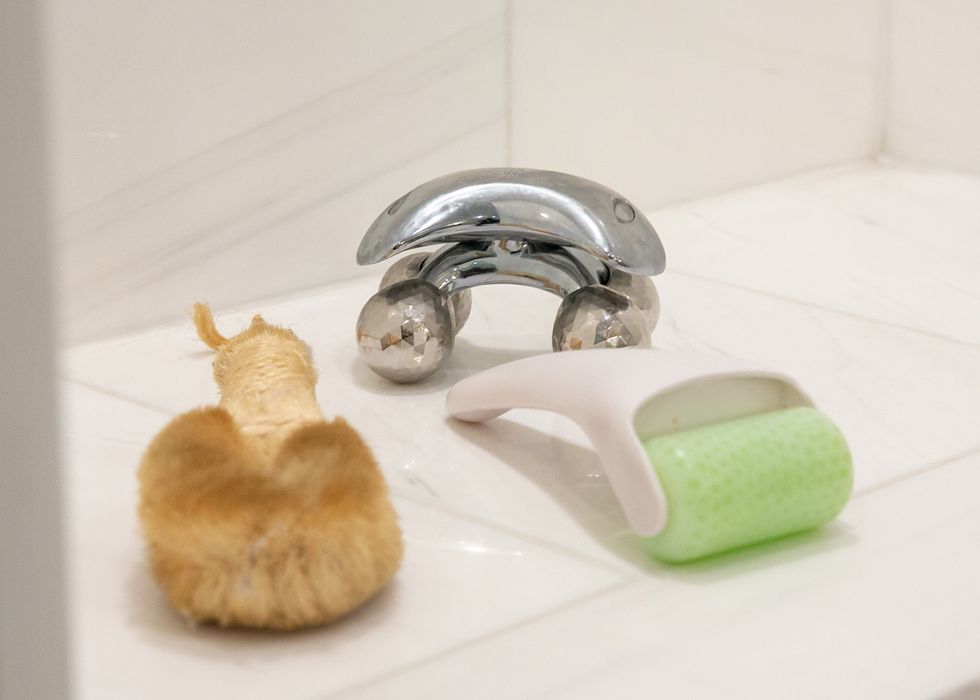 Photo: Courtesy of Shamara Bondaroff
What was the catalyst for founding SB Skin?

"Since I always prefered more natural skin-care products, as I got older and many people I knew were getting Botox and fillers, I was always hesitant. It felt like the opposite of how I usually care for my skin. That's why discovering microcurrent was such an aha moment for me—here was a super-effective anti-aging treatment that was non-invasive and didn't involve injectables, harsh chemicals, et cetera. I quickly decided to become an aesthetician and, more specifically, a microcurrent specialist."

What does holistic skin care mean to you?

"Holistic medicine takes into account the whole person when considering treatment, and holistic skin care is similar. I always tell my clients that you can't come to me never sleeping, eating terribly, totally dehydrated, and expect microcurrent alone to transform your skin. Holistically, all of those lifestyle factors affect your skin and must be taken into account.

"The other piece has to do with ingredients in products. If a more traditional beauty product makes your skin look good but is filled with harsh chemicals that could be carcinogenic or endocrine disruptors, then, holistically, it doesn't make sense to have that product be part of your skin-care routine."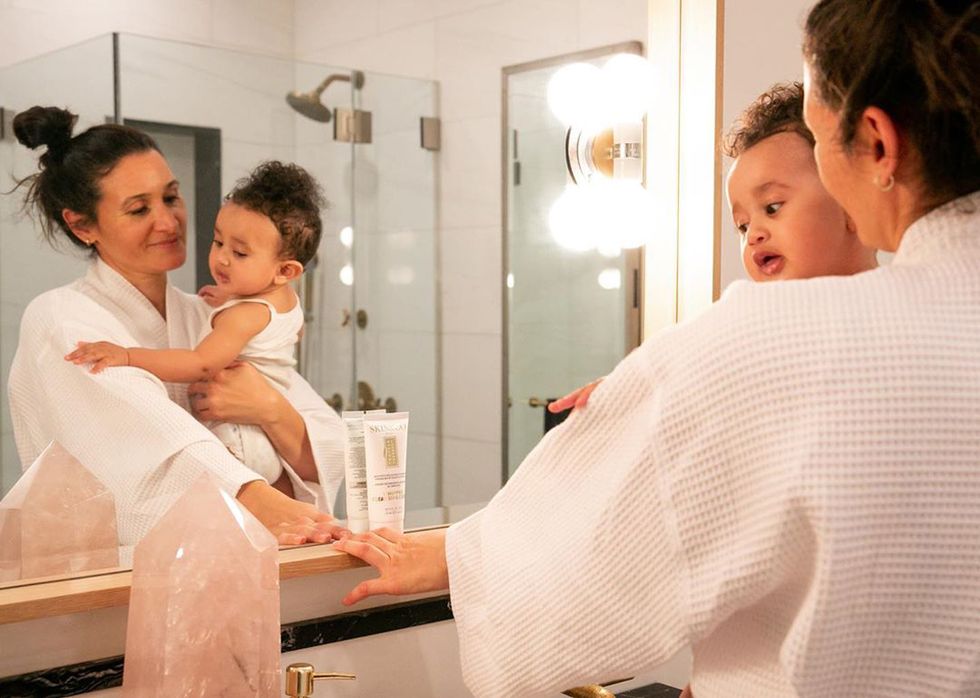 Photo: Courtesy of Instagram/@sb_skin
What are your morning and nightly skin-care routines?
"My daughter just turned a year old, and my routine is now fully based around her schedule. First thing in the morning, my routine is super simple: splash of cold water, ice-roll my face, rose-water spray, and face oil. BONUS: If the baby is still sleeping, I will give myself some extra love with a facial massage for lymphatic drainage. When I get the chance to shower later in the morning, I'll always use a light cleanser, toner,
vitamin C serum
, face cream, eye cream, and sunscreen, always.
"At night, once Glory is asleep, I take a little more time. I
double cleanse
; I do a mask a few days a week, depending on what I see my skin needs. Then a serum, oil, and a heavier eye and face cream. I have several in rotation and choose depending on what I feel my skin needs that day."
What is your favorite type of skin-care product?
"Today I love
mist toners
. They are such a quick skin pick-me-up at any time of day; they can help other products you apply [afterward] absorb better into the skin and can set your makeup. I always have one on me."
What are your top three favorite hydrating face masks?
"
Kiehl's Ultra Facial Overnight Hydrating Mask
,
Nuori Moisture Mask
, and
True Botanicals Resurfacing Moisture Mask
."
What products do you swear by for getting rid of a pimple, fast?
"For overnight treatment,  a pimple patch like
ZitStika
works really well to calm down both whiteheads and cystic-type breakouts. For a cream product,
Eve Lom Dynaspot
is gentle yet effective. Plus old-school
Neosporin Ointment
for daytime."
How do you approach anti-aging and preventative skin care? Any favorite products?
"So many aging skin concerns can be solved with adequate hydration. Fine lines, dullness, loss of elasticity... Before you go piling on products, make sure you're drinking enough water and properly moisturizing. That's why I think
deep moisture masks
are such key anti-aging products.
"For preventative reasons, I'm sure you can guess what I'm going to say—
SPF!
Every day! I split my time between New York and Miami. I love the sun and the beach, and I never skip a day of SPF, even if you're not leaving the house (rays can come through the window)."
What are your favorite exfoliators?
"I'm loving
Holifrog Shasta AHA Refining Acid Was
h and
Como Popp-e Renewal Scrubby Wash
,
E3Live Light Polish
, and
Nuori Supreme Polish Treatment
."
What sunscreen formulas do you love?
"
Supergoop! Unseen Sunscreen
has the best texture. Just a little bit is enough to cover your whole face because it glides so easily across the skin and absorbs immediately. I've also recently discovered
Cle Cosmetics CCC Cream
. It goes on the skin white, but in a few seconds [it] blends into your skin tone perfectly. It comes in 10 different shades and is SPF 50. When I am outdoors running in the summer, I use
Neutrogena Sport Face
because I know it won
'
t sweat off that easily."
What products are you using to keep your hair healthy in quarantine?
"Like skin, hair health is something I approach holistically. Eating a variety of foods rich in hair-healthy nutrients like avocados, nuts, chia seeds, and spinach is important. I also take an omega-3 supplement every day, which is great for hair health. For topical products, I
love
Kiehl's Magic Hair Elixir
and
Kiehl's Smoothing Oil-Infused Shampoo
."
What body-care items do you swear by?
"Pretty much my entire life I have washed with
Dr. Bronner's 18-In-1 Hemp Pure-Castile Soap in Peppermint.
A few times a week, I take a hot bath in which I scrub down my entire body with my
scrubbing glove
; then I finish with an ice-cold shower. I use
Aura Cacia Sweet Almond Skin Oil
or grapeseed oil morning and night. After a bath, I add a heavy cream after my oil, which I switch up between
Nuori Vital Body Balm
or
Kiehl's Creme de Corps
. This was also what I did during my pregnancy. The layering is key."
What beauty tools do you incorporate into your routine, and how often?
"I have the luxury of professional machines. I still incorporate weekly microcurrent, microdermabrasion, polarized light, and sit in my infrared sauna. At home, I swear by ice-rolling my face, dry-brushing in the morning, and daily face massage. I also use a foam roller on my body after my runs to work through my muscles as well [as] to smooth out my fascia."
6 Items Shamara Bondaroff currently has in her shopping cart:
Supernal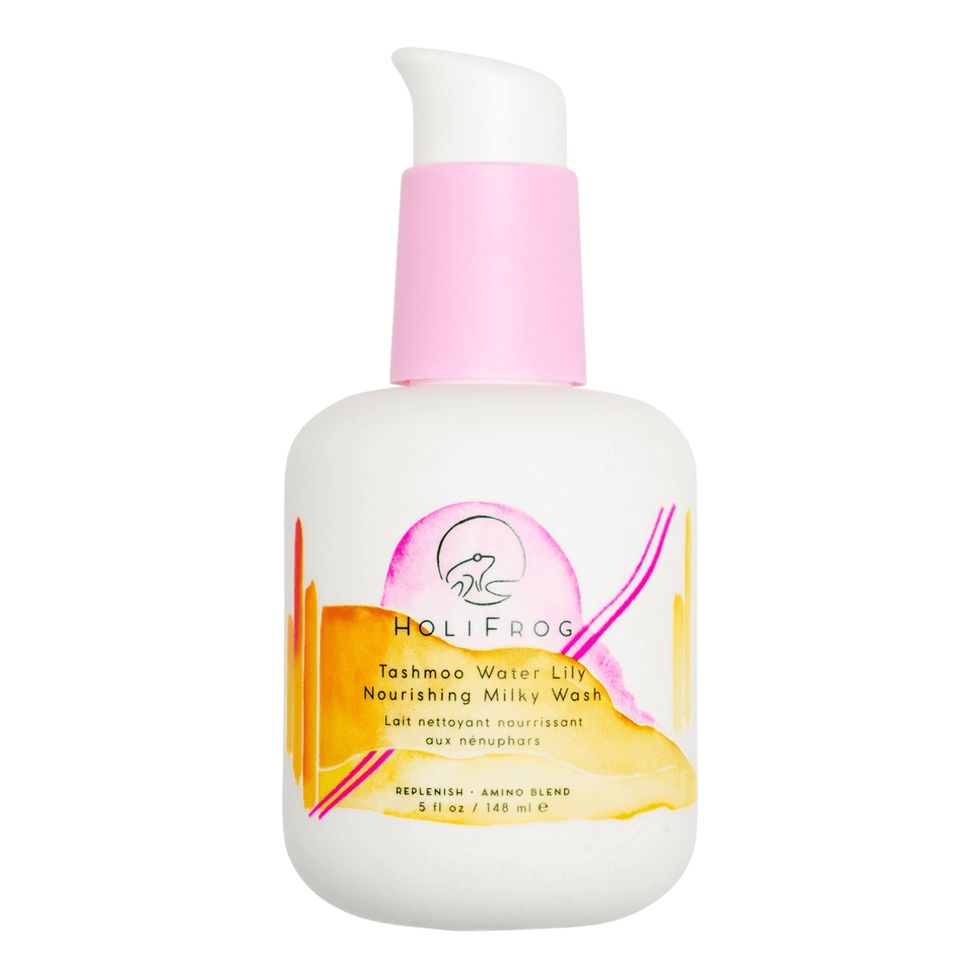 HoliFrog
Honey Girl Organics
True Botanicals
Saie
Necessaire