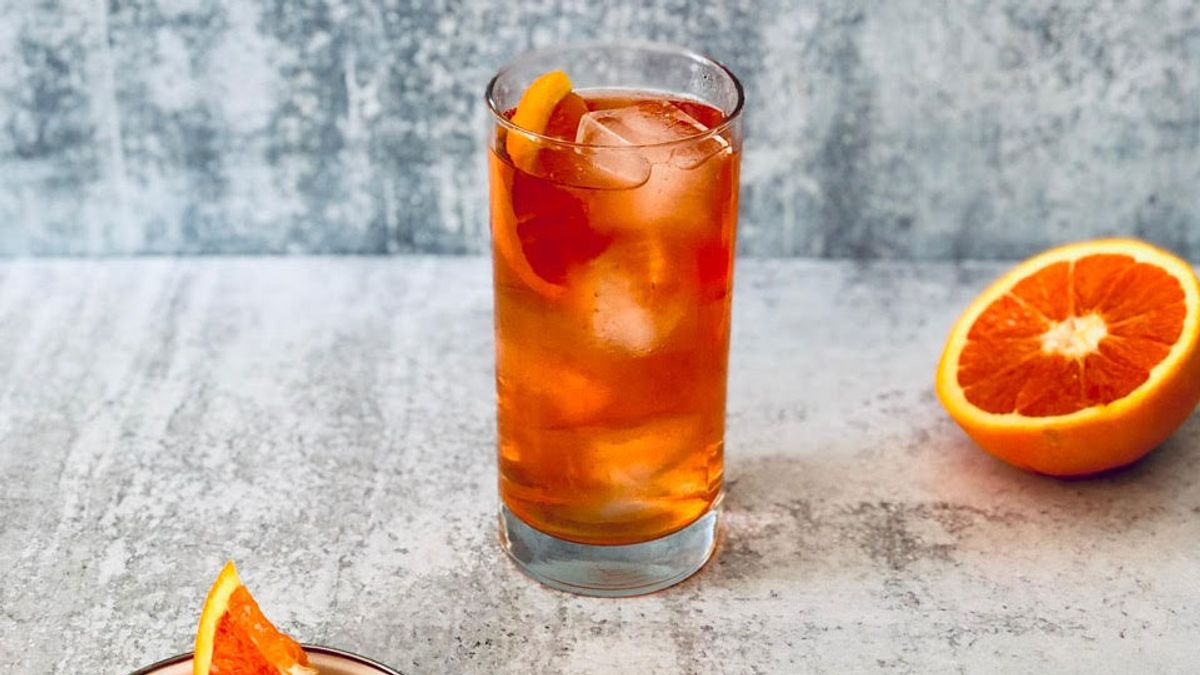 Living
Summer Sips: Drink Ideas from 7 Fashion Insiders
What they're drinking right now.
It seems everyone has become their own bartender/barista these days, and what better time to up your drink game than the (hopefully) relaxing summer months? (There's no one to blame here but yourself when your cocktail or your matcha latte isn't up to snuff.) We checked in with seven friends of Coveteur to see what they've been concocting during quarantine and what they're planning to enjoy this summer. Here, they share their favorite drinks (some boozy, some booze-free) of the moment. Cheers!

 
---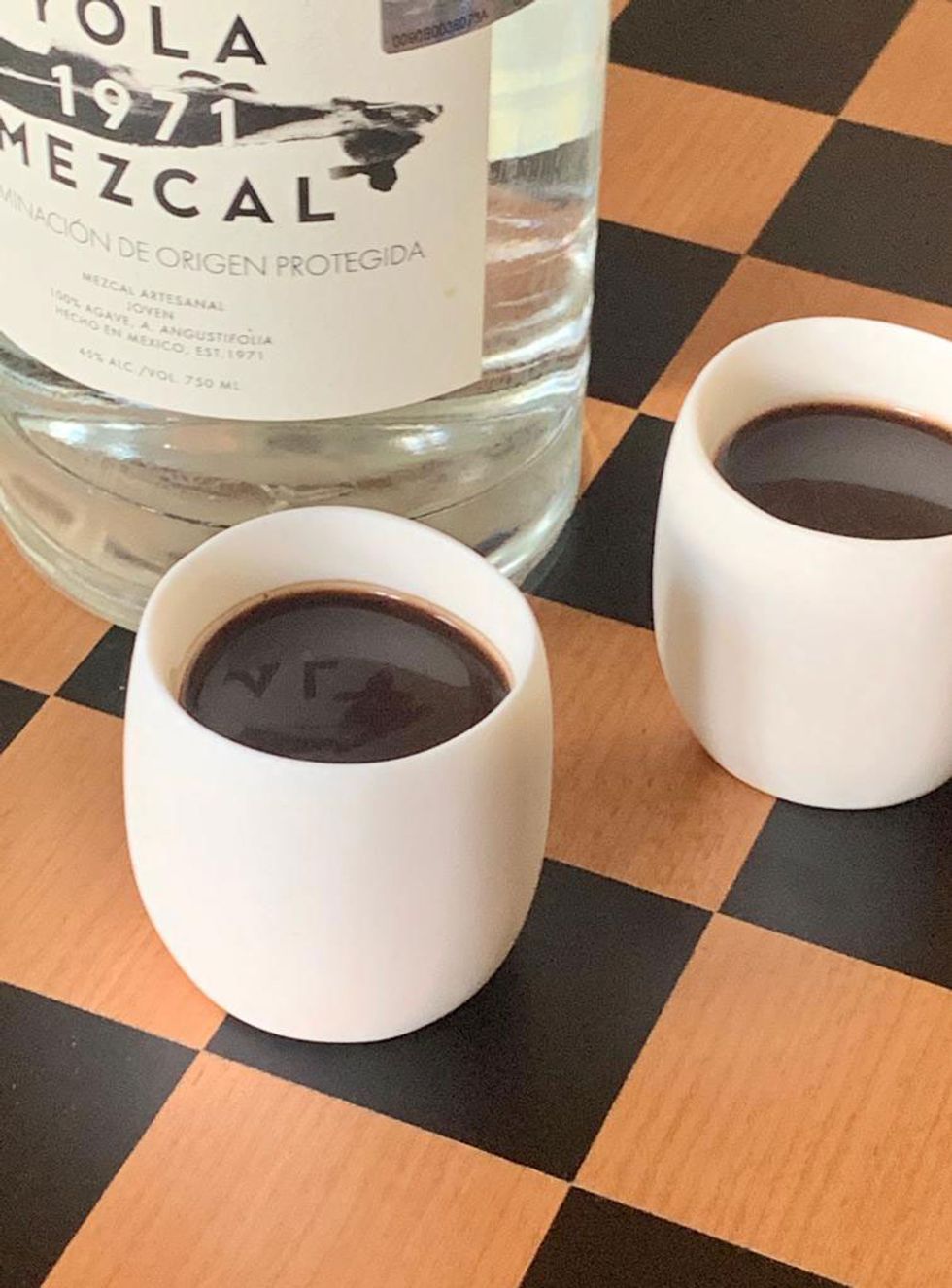 Photo: Courtesy of Yana Volfson
"I've been drinking a lot of mezcal—as part of our takeout and delivery offerings at ATLA and Cosme, we're sharing a couple of our favorite agave spirits. There are some bottles on the menu that you can't get anywhere else in the States, and I've been enjoying revisiting them. When you order a bottle from us, the mezcal comes with our house-made sal de gusano (worm salt) and fresh fruit. Besides sipping mezcal on its own, I've also been leaning on my hot chocolate recipe, which is spiked with mezcal—I was drinking it when it was cold and rainy for two months straight."
Mezcal y Mota y Agua de Cacao
Ingredients
150 g maple syrup
90 g cocoa powder (regular)
10 g dark cocoa powder
10 g cocoa butter
1 oz mezcal



Directions
1. Heat your pan to medium, and toast 40 g cinnamon until you start to smell the aroma.
2. Add two quarts of water, bring to a boil, and simmer on low for two hours.
3. Melt down 10 g of cocoa butter, and add 150 g maple syrup, 90 g cocoa powder, 10 g jet-black cocoa.
4. Whisk together until smooth, and simmer over low heat for another 20 minutes.
5. Remove from heat, and add one ounce of mezcal to the cup of hot cocoa to spike it.
---
---
"For Fridays (or as needed),
Ina Garten's margaritas
. For treating-myself wine, Flowers Pinot Noir, and for normal-days wine, a few bottles from Biondivino here in SF. But what's really been getting me through are nightly sunset walks on Ocean Beach (I'm lucky enough to live across the street from it) with a light, easy mix of Lo-Fi's Gentian Amaro (tastes hibiscus-y and not at all sweet) with seltzer/sparkling water and a slice of whatever citrus I have on hand. The portions are to your liking. Some nights it's more amaro than water, others it's more water than amaro. It's not an exact science."
Amaro & Seltzer
Ingredients
Lo-Fi Gentian Amaro
Seltzer or sparkling water
A slice of citrus, for serving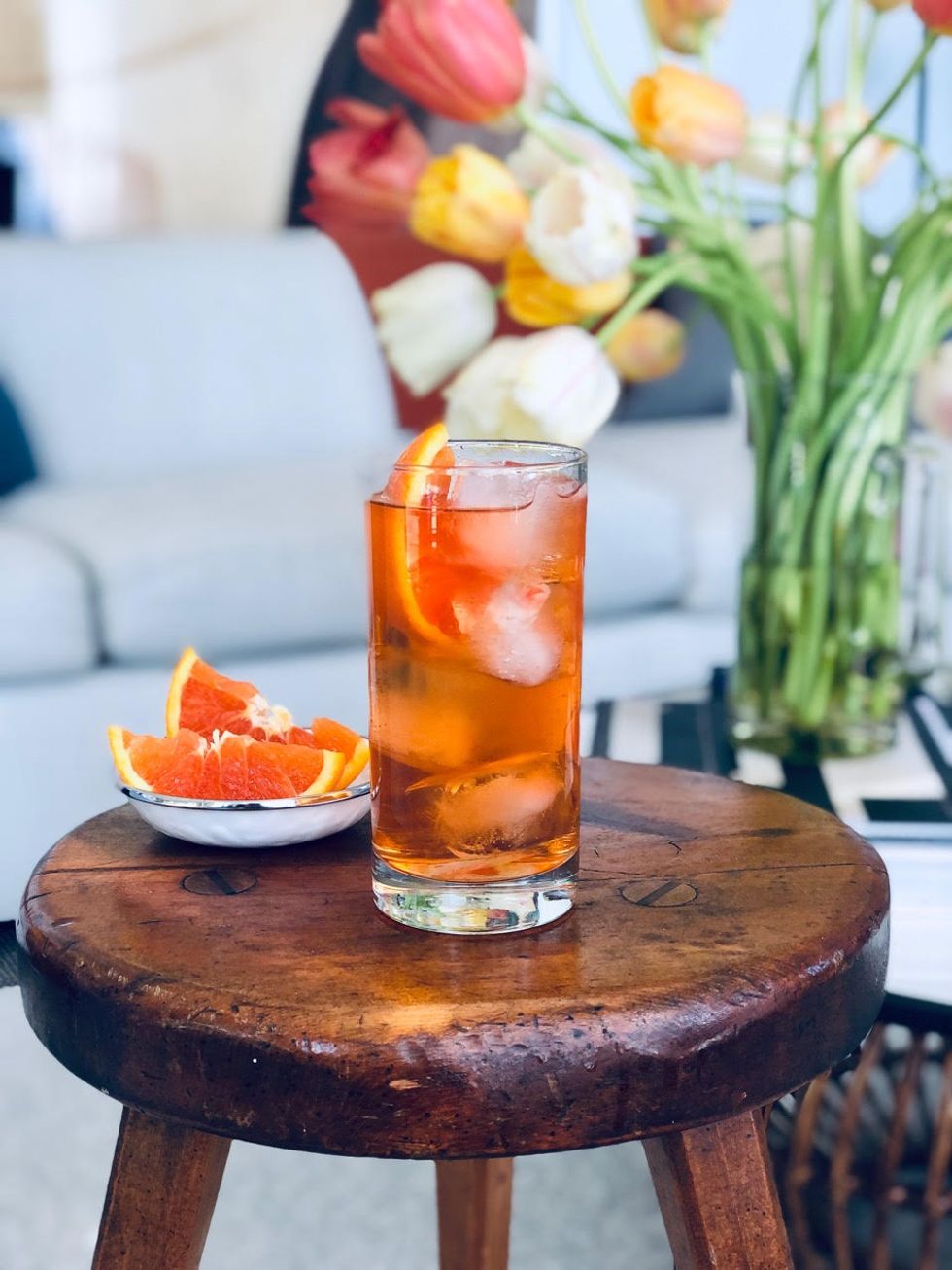 Photo: Courtesy of Peter Som
"As much as I love the classic Aperol Spritz, I also love tequila, so I married the two (and simplified). This is a tequila Aperol with grapefruit seltzer. I love the subtle hint of citrus from the grapefruit seltzer (OK, it's La Croix) along with the slight bitterness from the Aperol. Oh, and tequila is an upper, so all in all, a sip of this drink is a refreshing good time."
Tequila, Aperol with Seltzer
Ingredients
1 part Aperol
2 parts tequila
3 parts seltzer


---
---
"These are the more expensive versions of the alcohol you need, but any gin and Campari are fine! The trick is making sure there is an equal amount of each liquor, one big ice rock, and the orange peel."
The Perfect Negroni
Ingredients
1¼ oz Aperitivo Cappelletti
1¼ oz Monkey 45 Gin
1¼ oz Carpano Antica Sweet Vermouth
Orange peel, for serving



Method
1. Pour in glass over the big rock and stir, stir, stir.
2. Once it's cold, blended, and the ice slightly melts, you're in heaven.
3. Garish with an orange peel (I twist mine before tossing into the glass).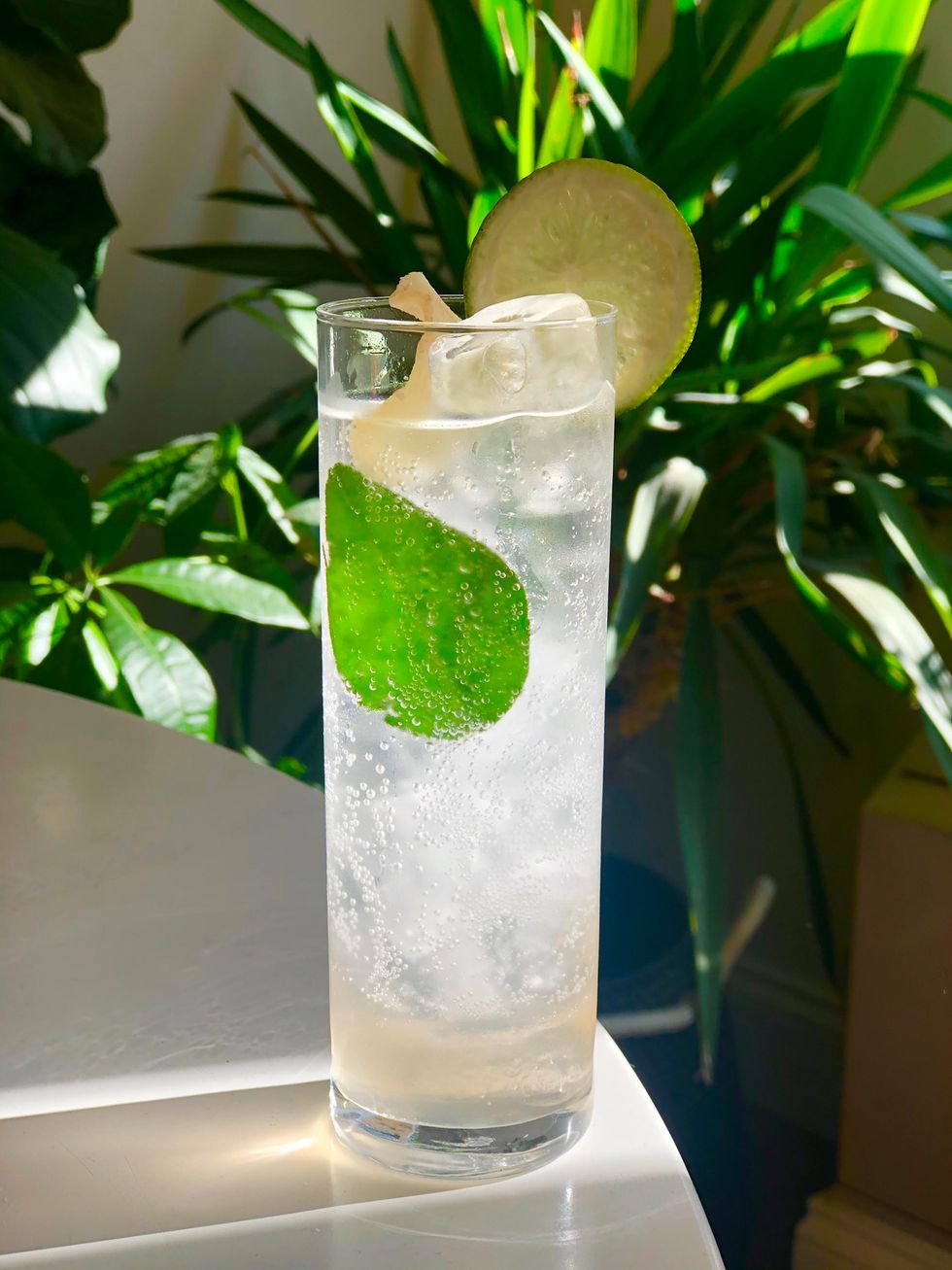 Photo: Courtesy of Woldy Reyes
"I love taking a classic cocktail, like a Moscow Mule, and giving it a modern twist by making a delicious homemade ginger-kaffir lime syrup and topping it off with fizzy club soda to give it the right amount of effervescence. To me, it's a refreshing escape while in quarantine."
Ginger-Kaffir Lime Moscow Mule
Ingredients
2 oz vodka
1½ oz fresh lime juice
¼ cup ginger-kaffir lime syrup
¼ cup club soda
crystallized ginger
lime wedge or wheel

For the ginger-kaffir lime syrup:
1 cup sugar
1 cup water
3" fresh ginger, peeled
1 kaffir lime leaf or zest of 1 whole lime
1 ginger tea bag



Method
1. In a small saucepan, combine sugar, water, ginger root, kaffir lime leaf, and ginger tea bag.
2. Place the saucepan over medium heat, and simmer gently until the sugar is completely dissolved.
3. Remove from heat and let it cool for 2
–
3 hours. Discard the ginger root, kaffir lime, and ginger tea bag.
4. To make the cocktail: Fill ice in a tall Collins glass; pour vodka, lime juice, and ginger-kaffir lime syrup, and stir. Top with club soda. Garnish with fresh lime wheel and crystallized ginger.
---
---
"I am not much of a drinker, so I always love an iced matcha. Green tea has so many health benefits—the antioxidants are catechins and polyphenols (great for the immune system, mood, anti-cancer, anti-aging, etc.), and there is also caffeine and l-theanine."
Iced Matcha
Ingredients
Ito En's Matcha
hot water



Method
1. Heat up water, but not to a boil.
2. Next, mix the matcha powder and hot water with a
matcha whisk
.
3. Pour over ice, and enjoy!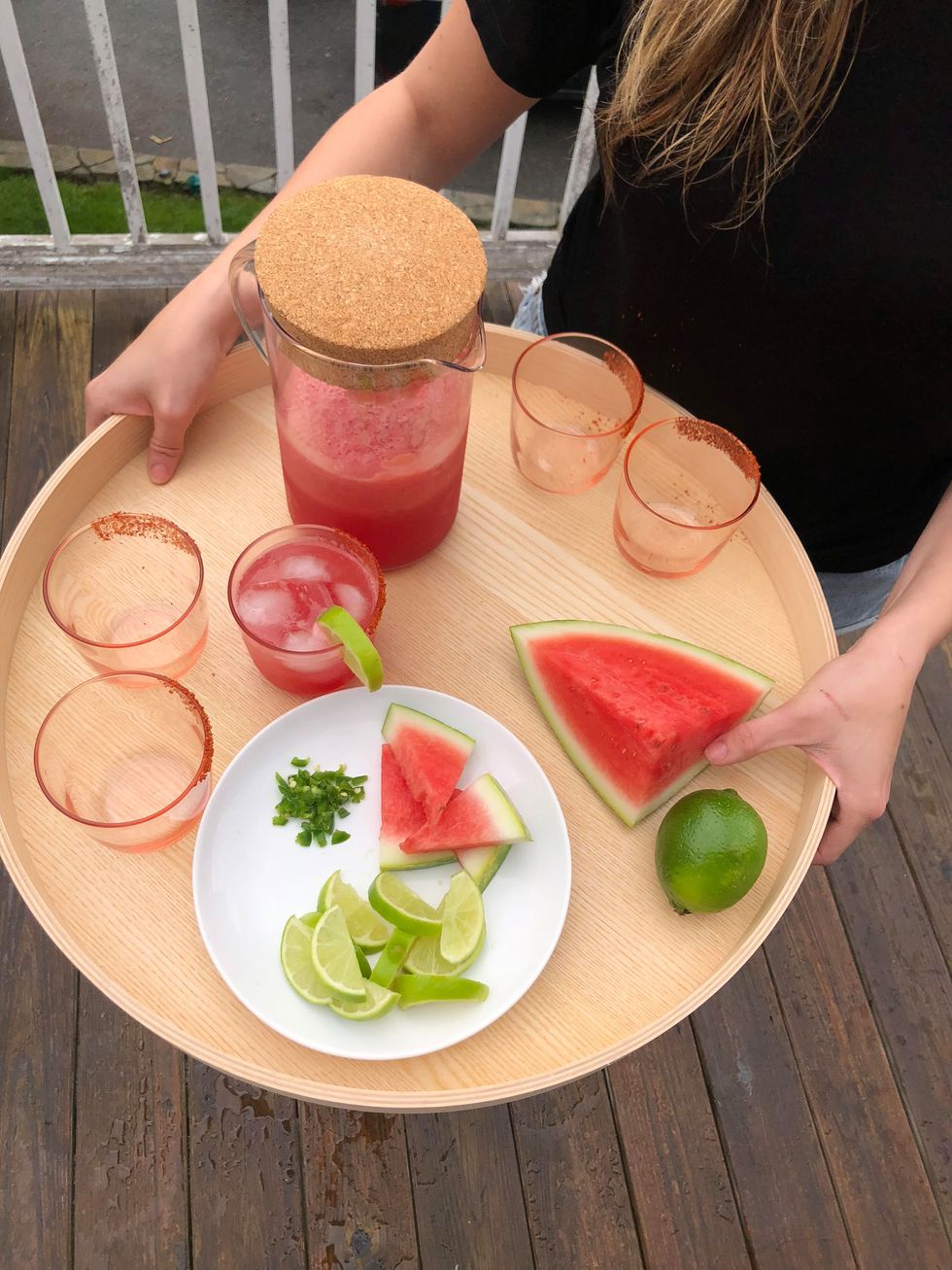 Photo: Courtesy of Kelsie Hayes