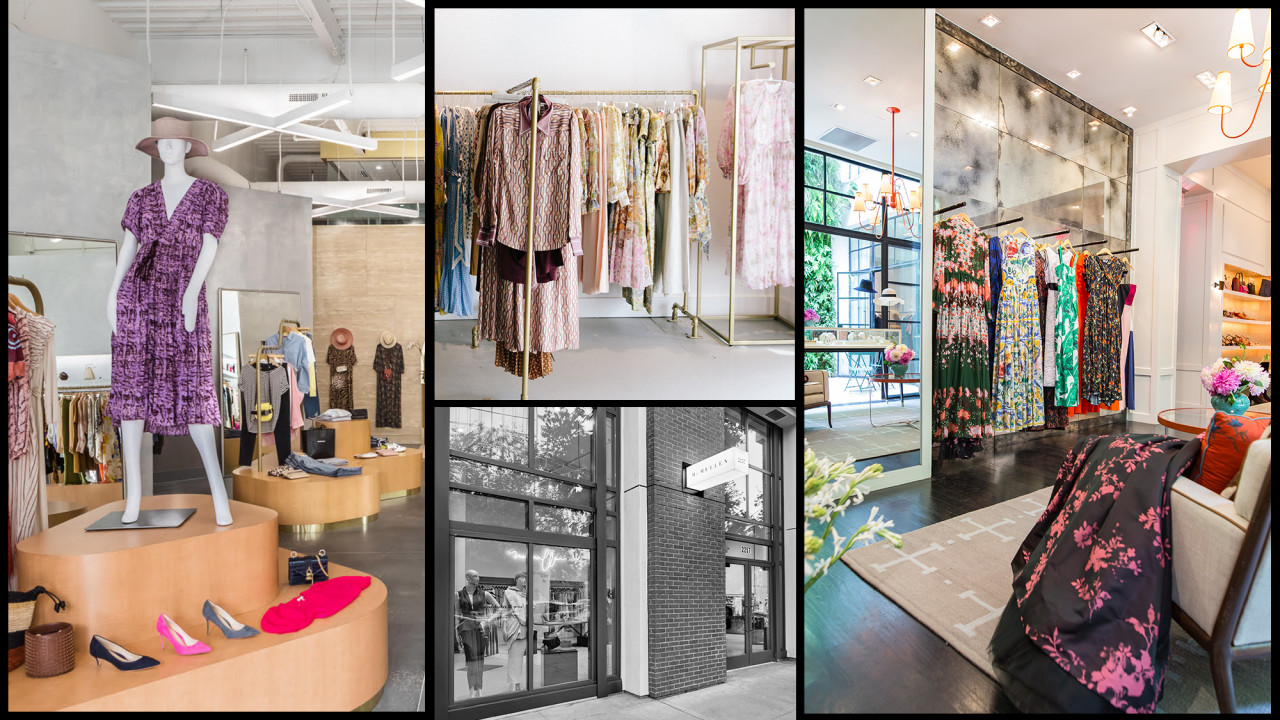 How Your Favorite Fashion Boutiques Are Adapting to the Current Retail Climate
They might just come out of it stronger than ever.
It's easy to assume that the US fashion industry revolves around New York and Los Angeles. That's where so many headquarters are located and where the fancy parties are held. But to assume so is a disservice to the slightly smaller fashion hubs across the country. Aside from massive department stores, there are fantastic boutiques peppered across the country with beautiful ranges of high-end merchandise and stunning interiors that immediately make you feel like you're in a fashion capital. They translate the high-end, exclusive world that congregates in NYC, Milan, Paris, etc., to women living all over the nation.
These boutiques, or specialty stores, as they're often called, have a few powers the greater industry often lacks. Because they cater to smaller clientele, they're able to develop very strong relationships with their customers. Not only can they then receive a mountain of feedback, but those same customers are also likely to support their businesses in tough times.
Due to the power of these relationships, boutiques are a pretty good gauge of how the fashion industry is performing as a whole. We tapped four of our favorite boutiques in cities from Charlotte, North Carolina, to Oakland, California, to share their insight on how they've adapted their own store practices and how they see the current pandemic affecting both specialty stores and the fashion industry as a whole.
Stacy Smallwood of Hampden
Hampden, founded by Stacy Smallwood, initially opened its doors in February of 2007. After years working for department stores, Smallwood wanted to bring advanced contemporary designers to Charleston, South Carolina. Since her store closed in March, Smallwood has been focused on shifting their strategy to a digital platform, allowing clients to book virtual store appointments to replace the notion of actually going in-store.
"Fashion is about change. It's about risk and who has the balls to stay in it."
Because Charleston is such a popular tourist destination, 70 percent of Hampden's business actually comes from outside the state of South Carolina. To keep that customer engaged, Smallwood and her team have channeled a lot of time, effort, and money into their online presence. "Thank goodness we had already invested in it and diversified the way we speak to our customer," she tells us.
Where a specialty store has power over a larger department store is their ability to nimbly adapt to their environment. "We can listen to the customer, we can change course, we can react, and we can move forward," says Smallwood. Hampden is featuring curated product edits on their social media channels and website that speak to their clients' current needs. For instance, she ran one consisting of bottoms with elastic waists, proving how many designers are sneaking this once taboo tactic into elegant, modern pieces.
Additionally, they've shifted their strategy to focus on forging a connection with their customers as opposed to sales. Smallwood is trying to use this new digital surge as a platform to help ease women into the luxury space, which many are intimidated by. "Most women struggle with what to wear every day," she says. "Anyone not in the fashion business struggles with it." She has decided to launch a new membership platform titled the Hampden Style Set, which will offer styling videos, membership perks, 15-percent-off discounts for one purchase a month, and interviews with designers explaining their lines and how they came to be. Smallwood is working tirelessly to encourage more transparency in what some would call a rather intimidating industry.
Sherri McMullen of McMullen
Sherri McMullen opened her eponymous store, McMullen, in 2007 in Oakland, California. Her store was founded on the concept of supporting emerging brands, specifically female designers and designers of color—"designers who tell a story through their work," she explains. Her brands range from those who've been with them since the beginning, like Tibi, Ulla Johnson, and Nomia, to younger designers who are recent acquisitions, Christopher John Rogers, Khaite, and Akira Naka. McMullen describes the range as "a nice mix of designers that people know already, but also the designers that our customers like to discover through us."
The pandemic has placed an added value on the importance of expanding into the digital space. The launch of their newly renovated e-commerce platform could not have come at a better time. In terms of social media, they've held IG lives with designers, allowing them to explain both their own story and the stories behind their collections, shifting attention away from the current levels of panic. She's even been trying on merchandise in her home for social media, propping up a camera and shooting on an automatic setting. McMullen acknowledges that her followers are enjoying this newfound element of humanity not typically seen in the luxury space.
"I think the women who love fashion are still going to love fashion regardless of what they are going through, but what does that look like when you're not outside?"
McMullen has found solace in working with designers, her partners in business, to decide how best to move forward with regard to the current circumstances. "We're all going through this together, so it's a lot of hand holding and figuring it out, what the future of the industry looks like," she says. This includes how many times they go to market, how much product she carries in her store, and seasonality of clothing and deliveries, among many other issues.
For this same reason, she is not panicking about having to attend market appointments virtually. "I think that if you know the designers, then you know the collections and you understand the fit of things," she explains. She looks to technology as the force that will allow the industry to adapt and push forward for the next few tumultuous seasons.
Laura Vinroot Poole of Capitol
Founded in 1998 by Laura Vinroot Poole, Capitol is a luxury specialty store in Charlotte. They are known for carrying elegantly feminine yet fresh collections from some of the biggest names in the business—Valentino, Gucci, Rosie Assoulin, and Irene Neuwirth are just a few. In recent years they've expanded their repertoire to include a Poole shop upstairs with more contemporary designers, another Capitol location in Brentwood, California, and a men's shop, Tabor. Since closing their store in March, the Capitol team has shifted to focus on curbside pickup and delivery, shifting in-store events like trunk shows to the digital space.
"I think our business really changed in 2008," says Vinroot Poole of implementing tactics she learned from the recession. "We spent a lot of time bringing things to clients' closets rather than having them come in-store." In a place like Charlotte, most of the business for their boutique is local. Therefore, the Capitol team prides itself on how well they know and understand their clients. Before they even thought about sales, they were checking in on their clients and making sure that they were doing OK. "I think that more than anything...what we've focused on the most is our relationships," explains Vinroot Poole.
"It really helps to have real relationships with people and for them to have been to your store and to know that it's a legitimate business that they believe has the ability to survive this."
She has similar relationships with vendors, saying, "they're friendships, and some of them are 20-year friendships." In the wake of the pandemic, orders have been cut and payments have been delayed; it's been challenging, to say the least. A sense of understanding from both parties smooths those rough edges and allows business to function as seamlessly as possible for the time being.
One of the biggest concepts the team is trying to focus on is staying relevant. A luxury boutique that sells designer gowns and fancy shoes could easily come off as out of touch at a time like this, and Vinroot Poole is cognizant in her efforts to avoid that. "[We're] making sure that we're acknowledging what is going on," she says, adding that from her 22 years of experience, the team is acutely aware of what they are good at. While they are adapting to stay relevant, they are trying to still play to their own strengths as opposed to jumping on the bandwagon of social trends.
Ashley Vermillion Webb of Vermillion
Vermillion, a boutique in Raleigh, North Carolina, was just about to celebrate their 15-year anniversary when their store was forced to close in early March. Vermillion Webb and her team were going to host a fabulous party with designer guests such as Wes Gordon of Carolina Herrera, Amy Smilovic of Tibi, and Rosie Assoulin. Needless to say, this will not be happening, as they are currently operating by FaceTime appointment only, implementing new curbside drop-off measures for their clients.
Vermillion Webb shared that though they are not selling at their normal rates, they are still turning over product due to increased sales efforts from the entire team. "I mean we busted it," she says. "We worked so hard." With the changing circumstances, they are implementing initiatives that they probably wouldn't have considered a few months ago. "If you would have told me I was going to do an Instagram video, I would have wanted to get my hair blown out, I would have maybe gotten my makeup done, I would have for sure taken a shower. Now we're like, 'let's just do it.'" Typical decorum doesn't apply as it once did. Vermillion Webb has found that people want this realer aspect that they are getting from their social channels.
"Desperation breeds such creativity and momentum."
The Vermillion clientele is mostly local, which has allowed her and the team to build very strong relationships with them. Whenever they schedule a FaceTime appointment, they end up doubling, sometimes tripling, the scheduled time spent talking to clients, many of whom have become like friends. "I just think in general people are starved for beauty and a shopping experience," she says. And because she has such strong relationships with these clients, they are going above and beyond to support her.
Along with finding new ways to get creative, the team has also been working on shifting their business strategy. "A shoo-in for us is a trunk show, which I'm doing because this is inventory I don't have to pay for unless I sell it," she explains. "I would love to get back to normal, but we've learned a lot, and there's things we're going to do differently going forward."