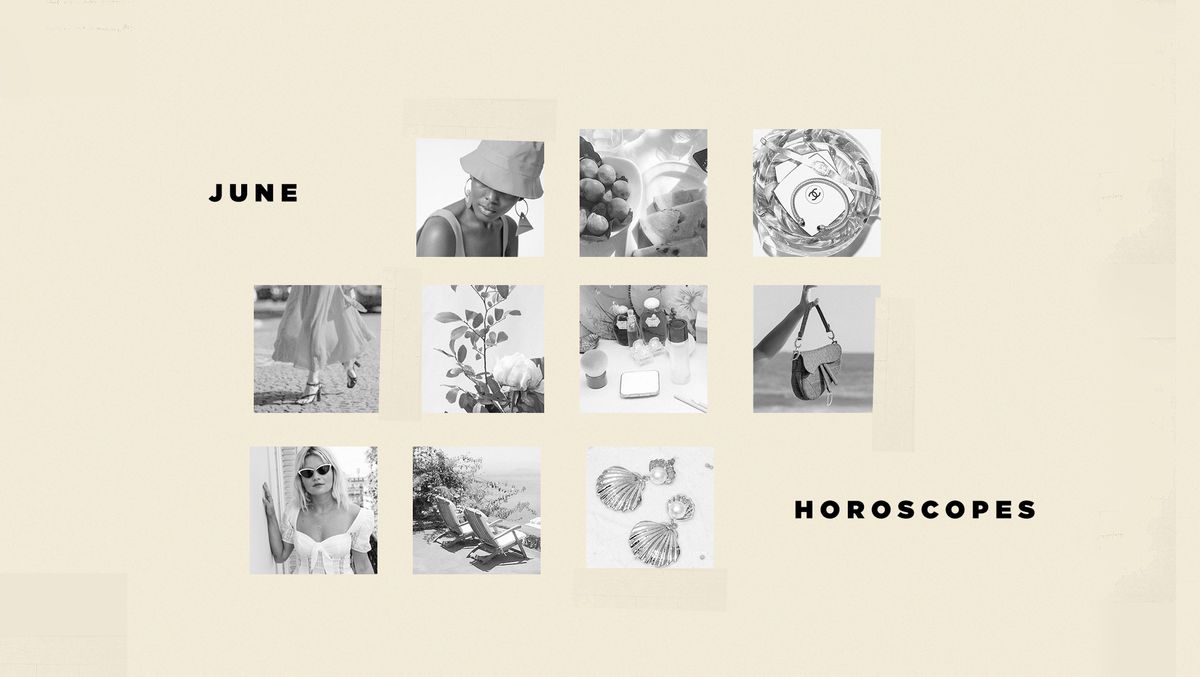 Horoscopes
Your June 2020 Horoscopes Are Here!
Tune in, and trust yourself.
Graphics
Rachel Pickus
June 2020 reveals crossroads, both micro and macro, that we'll look back on for some time. The decisions we make this month will have a ripple effect beyond 2021, thanks to a pair of eclipses: a tense lunar eclipse on June 5th, and an invigorating solar eclipse on June 21st. The time around eclipses can be kismet or uncomfortable—closing some doors while opening others, seemingly speeding up the inevitable. We're at the precipice of a new era, and it's up to us to establish the modern customs and conventions. Thanks to planets in Gemini, the first three weeks of June are prime for stimulating conversations and cheeky exchanges. Keep it light, but never shallow. With Mercury turning retrograde June 18th until mid-July, plus a handful of other planets reversing, we are given the chance to revisit our goals and adjust our trajectory. Knowing your history matters; retrospection and studying the past could help solve present issues. The last week of the month has the potential to kick off impressive changes, personal or otherwise.
 

This eclipse season is an opportunity to notice your thought patterns. What are your automatic responses? Detach yourself from old, defeating cycles and commit to forming better habits. Rather than going on autopilot, find fresh ways to expand your consciousness; utilize the month's thoughtful planetary energy by exploring a new skill or hobby. Mars entering your sign on June 27th adds extra fuel to your fire to get things moving. 
Be present in the moment. Consider what you physically surround yourself with: How does your environment influence your mindset and attitude? After 40 days of reflection, your ruler Venus concludes its retrograde on June 25th. You've got a better understanding of what really matters; take time to sit with this new perspective. People are not mind readers, so make sure your ideas are heard by verbalizing your sentiments. 
GEMINI
And just like that, your scintillating season is upon us. Mercury, the ruler of your sign, turns retrograde on June 18th, inviting you to slow your pace. Smell the roses, stay flexible, and take it one day at a time. Get to know yourself thoroughly before trying to connect with someone else; it's always worth the effort. The solar eclipse is prime for setting intentions around prosperity: You are a magnet for everything you want. 
CANCER
Don't chase anything but your goals. June's astrology emboldens you to plant and water the seeds of your future. You won't see the results immediately, but there's magic happening below the surface. Have faith in your aspirations, and continue showing up for yourself. The time around the solar eclipse on June 21st is the perfect chance to welcome your season and start a new, more genuine chapter of your journey. 
LEO
It's not easy being a visionary. The planets are helping you tap into your subconscious mind—notice which ideas jump out the most. During eclipse season, emotional undercurrents can reach a fever pitch. Your intuition may be heightened, but June's retrogrades urge you to take everything with a grain of salt. Avoid jumping to conclusions, and find productive outlets for any bottled-up energy. 
VIRGO
You may not be for everybody, but that's a good thing. Forge your own path, and those who get it, get it. With your planetary ruler's retrograde starting June 18th, be extra tactful with your conduct and communication. The clearer and more concise, the less likely you are to be misunderstood. The lunar eclipse invites you to balance your naturally logical leaning with sensitivity and compassion; the heart understands things the mind can't always articulate. 
LIBRA
Evolve or repeat. Avoidance can't work forever; it's time to grab the reins and take charge of your life. Venus—the ruler of your sign—finishes its retrograde on June 25th, bringing a sense of renewal and wind in your sails. The end of Venus' retrograde signals the start of a fresh cycle, a new dawn of relating and connection. As your attention gets pulled towards external matters, make sure your personal goals aren't neglected. Integrate lessons from your past to add more richness to the present. 
SCORPIO
In case no one told you, it's OK to feel unsure right now. This month, the stars encourage you to turn lemons into lemonade. Only focus on what's within your power, and release the rest. The solar eclipse on June 21st is prime for freeing yourself from ideas of perfectionism. Do your best, and if you stumble, try again. This month makes it clear there's no going back, only onwards. Embrace the messiness of life, and commit to persevering. 
SAGITTARIUS
Don't talk yourself out of a chance at growth. A restless lunar eclipse activates your sign on June 5th, signaling that you're turning an important corner—the old ways aren't working for you anymore. As daunting as it seems, you're ready for a challenge. The last week of June will be especially enlivening for those looking for a spark of inspiration. Amid all the uncertainty, celebrate having new mountains to climb and roads to roam. 
CAPRICORN
Delayed satisfaction is still satisfying. This month urges you to honor your goals by working on them daily, even just for a minute. In this era of distractions, be economical with your energy, and pay attention to the big picture. The solar eclipse on June 21st is constructive for refreshing your attitudes towards one-on-one relationships: Draw a line in the sand if necessary. If you're not sure of what you want, then identify what you don't want. 
AQUARIUS
Not everything can be planned, especially this summer, so you'll have to adjust your perception of control. In moments of uncertainty or disarray, focus on finding your zen. With planets in fellow air sign Gemini, integrate more playfulness and levity into your routines. The lunar eclipse on June 5th stresses that you can't always live to please others, so honor yourself first. As a person who often thinks five steps ahead, don't miss out on the vast potential of being mindful in the present. 
PISCES
Possibilities abound for personal growth. This month is an ideal time to recharge and reset; get into a new groove at home or work. There is a dynamic lunar eclipse on June 5th, dredging up untamed emotions and possibly stirring your wild side. With multiple retrogrades, give yourself ample time to process your feelings before doing anything too spontaneous. In this culture of oversharing and noise, it's powerful keeping some things to yourself. 
Want more stories like this?
How to Boost Your At-Home Vibe, According to Your Astrological Sign
What You Need to Know about Mercury Retrograde
The Hottest Places to Have Sex Based on Your Sign