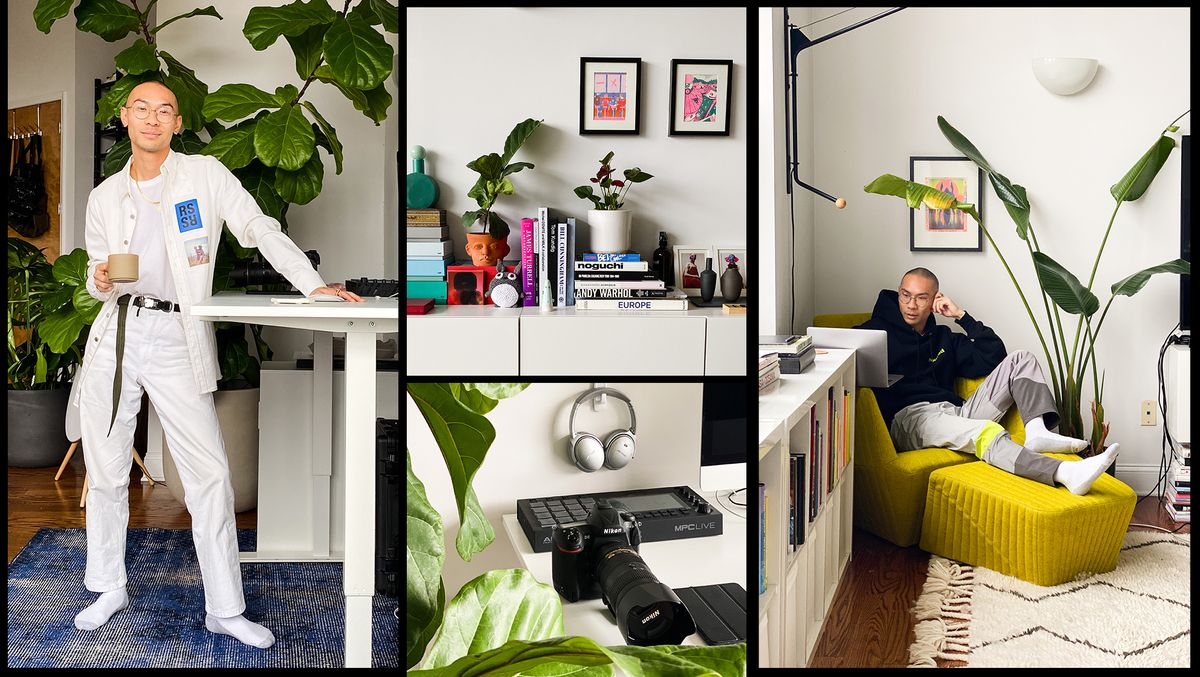 Career
Working from Home with Tyler Joe
The photographer talks Zoom photo shoots, TikTok, and the compulsive need to clean.
Graphics
Rachel Pickus
As many adjust to working from home—Team Coveteur included—tips on how to stay focused and motivated are more welcome than ever (as are snack and music recommendations). Each week we're checking in with friends to see how they approach working from home. Today we're chatting with photographer Tyler Joe on all the things keeping him busy as he WFH—TikTok breaks and Zoom photo shoots included.
What do you find yourself having for breakfast?
Tyler Joe:
"Everything bagel with two eggs over easy, one banana, strawberries and/or grapes, and genmaicha green tea."
Coffee, tea, or neither? How do you drink your coffee or tea?
TJ:
"Green tea
—
Genmaicha, to be specific. It's green tea with roasted brown rice, and it's the only thing I drink at home. I'm really weird because I don't like water, it's tasteless. So yeah, TEA."
Do you work in silence, or do you like to have music on in the background?
TJ:
"I like to listen to music loud AF! Music really dictates my energy and mood."
What's on your WFH playlist?
TJ:
"Here are my top 10 songs on repeat this week: Childish Gambino
—
'19.10'; ELIO
—
'My Friends Online'; Peter CottonTale
—
'Hi 5'; ZICO
—
'Any Song'; TOKiMONSTA
—
'One Day'; Ant Clemons
—
'Mama I Made It'; Ant Clemons
—
'Alladin'; 070 Shake
—
'Guilty Conscience'; 100 gecs
—
'Ringtone'; and Yaeji
—
'SPELL.'" 
---
Are you incorporating movement or exercise into your daily routine?

TJ: "TikToks are a workout, for sure! I swear every time I'm done filming one, I'm exhausted—it's crazy. But I try and go for at least a 5k run every morning, and then at the end of the day, my girlfriend and I will go walk around Brooklyn Bridge Park for some fresh air to wind the day down before dinner."

Do you take breaks throughout the day, or grind straight through?

TJ: "I take a ton of mini breaks all throughout the day; that way the day kind of ebbs and flows. Tea break, cleaning break, etc."

What is your biggest WFH distraction?

TJ: "Food!"

How do you stay focused and motivated throughout the day?

TJ: "The biggest thing keeping me motivated right now is TikTok. It's helped me so much to stay positive! Don't underestimate 30 minutes of humility and laughing at yourself. It's honestly just pure fun, and it makes me genuinely happy when I'm making them. I never anticipated this, but when I started to post my TikToks, I got hundreds of messages from people telling me how hard of a time they were having during the quarantine or something else in their life, and how much my 15-second video brought them joy and helped them get through the day. It's crazy to think about the impact my videos had on others in a positive way. That made me more motivated to keep spreading the good vibes!"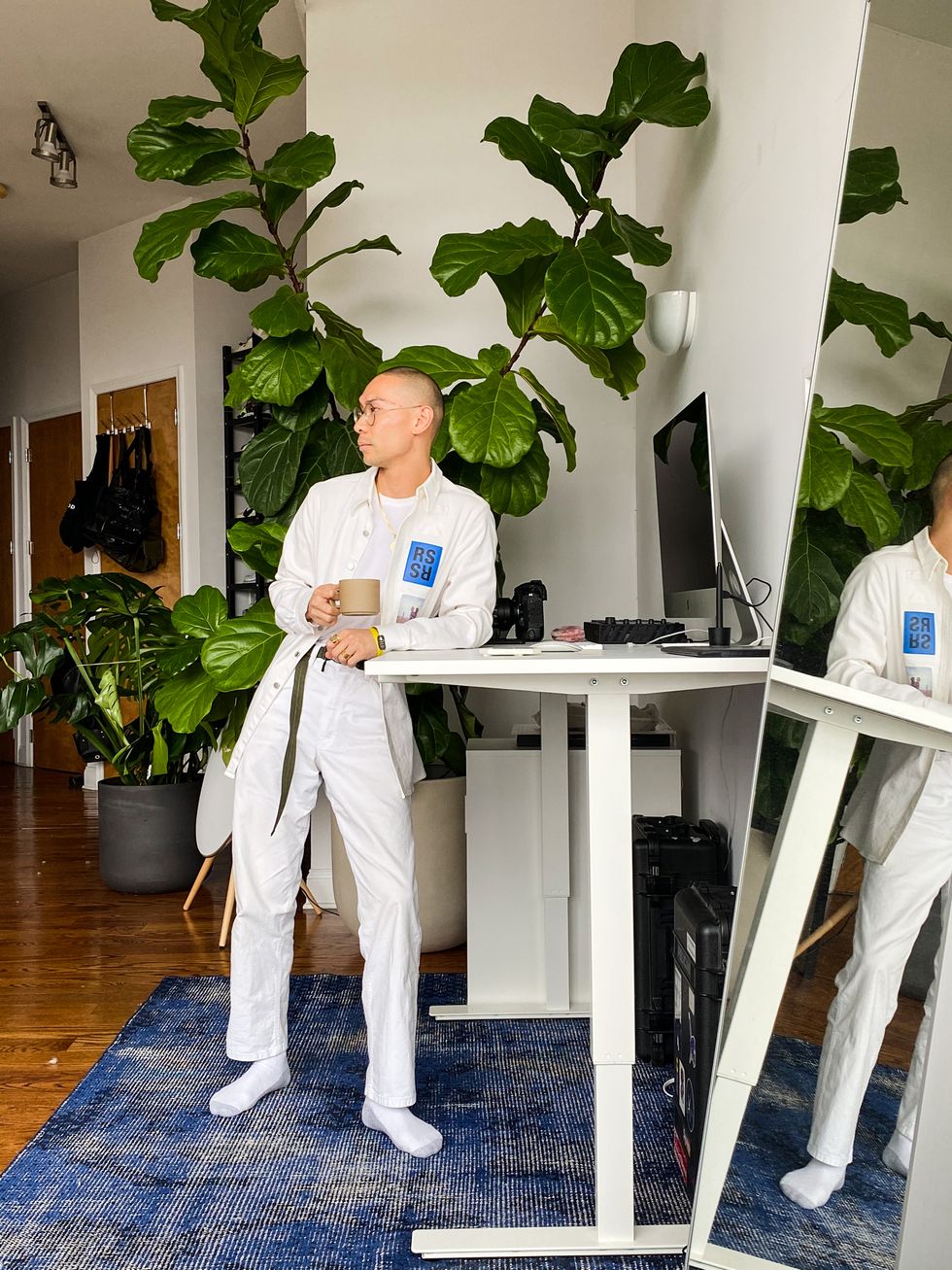 Photo: Courtesy of Tyler Joe
Lunch break, or snack all day?

TJ: "Always have to make time for a proper meal; however, my lunch game is kind of wack. It's normally just a sandwich or salad. You can always find a bowl of sugar snap pea veggie chips around my apartment, but they never last very long."

Do you adhere to a strict schedule, or freestyle your day?

TJ: "Both. I need some sort of schedule, but then leave time for something new. Every morning I do the same exact thing: make my bed, make my tea, cook breakfast, and then I clean the apartment for 30 minutes. My space has to be perfectly in order and clean in order for me to do anything productive. The state of my apartment directly reflects the state of my mind. Then, after that's all done, I get into whatever I need to do that day, and that is always different."

Who is your entrepreneurial inspiration?

TJ: "This is controversial: Gary Vee...lol. He's kind of annoying, and I really don't want to like him, but he says some real sh*t sometimes!"

What do you miss most about going into the office?

TJ: "The people!"

What does your video-conference wardrobe look like?

TJ: "Whatever hoodie I'm wearing that day. I'm boring."

What are you reading right now?

TJ: "The subtitles on all the anime I watch."


How do you unwind at the end of the day?
TJ:
"Cooking dinner with a glass of wine, maybe two. I love cooking!"
How do you foresee this period of time impacting your industry?
TJ:
"A resurgence in the sweatpants market. Maybe silk tracksuits will come back. Maybe they're already back. No, but for real, it's not good. As a photographer, it's not business as usual. We have to completely reinvent our careers. The obvious solution[s] right now are Zoom or
FaceTime shoots
, but we are really limited. I'm trying to think of myself [as] more of a photographer and to pivot into other things during this time period. The market is all social right now, so I'm pivoting to social media to try and adapt the content I make for myself and others to serve that purpose."
What products are you relying on now?
TJ:
"My Blueair 211 air purifier! Don't underestimate air quality! Since we have been locked down in our apartments, I've noticed a huge difference in my air quality since getting this. It's the one thing that has changed my life in quarantine. My Bang & Olufsen A9 speaker playing all the jams! All my plants from RootedNYC. As much as I want a dog, I can't have one right now, so being a plant dad is the next best thing! Getting to learn all my plants' personalities and watering habits has been really fulfilling to see them thrive and not die. My Hypervolt massage gun. My Hasami Porcelain plates and bowls. Since we can't go out to eat anymore, it makes my dinners at home just a little bit more gourmet."
Inspirational mantra that's helping you during this time?
TJ:
"I don't have a mantra so much as a compulsive need to clean."
Blueair
Bang & Olufsen
Rooted
Hyperice
Hasami Porcelain