The Shows, Movies, and Books Our Group Chat Is Into Right Now
The crew knows best.
Culture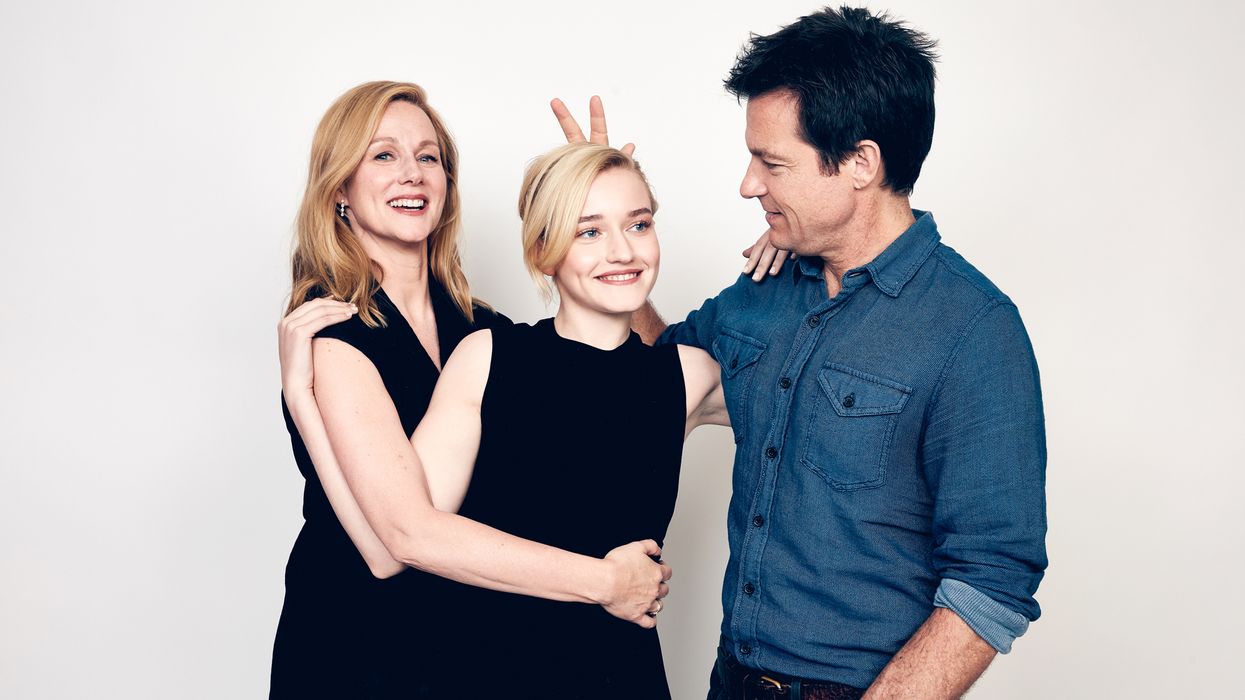 The group chat is a funny place. Pre-quarantine, I was mildly anti-group-chat, keeping mine on mute and only dropping in from time to time as the spirit moved me. One might even say I was a group-chat snob. I was fine with small text threads with two or three people, but I found the party groups a bit overwhelming. Wander off from your phone for 20 minutes, and you might return to 143 notifications. (It's happened.)
But in quarantine times, my group chat is a solace (though I still keep it on mute). I drop in throughout the day to weigh in on Zoom dates, recipe sources, the best
Instagram Live Pilates and yoga teachers
—and that's just in the past 48 hours. So when we started discussing the idea of a regular column to share what we're watching and reading, I went straight to the source.
I discovered that the crew is basically watching and reading the equivalent of comfort food right now, which should come as a surprise to no one. Though some of us have been turning to
intense fare
to keep us occupied (and distracted), it seems as though the best way to go is to snuggle up on the couch with a blanket and plow through a few seasons of something truly delectable, watch a fantastic movie or two, or just read a damn good book.
Ahead, the best of the chat (kept to current shows and movies you can stream from Netflix, Hulu, HBO, or Amazon, for simplicity's sake). 
---
---
TV Shows
---
Ozark
It's official:
Ozark
is the most-recommended show of the group chat. A drama about a family in hiding after a money-laundering scheme goes wrong? Why not. Plus, the allure of Jason Bateman is real. Consensus: Insatiably binge-worthy.
Sex Education
This was the second-most recommended show, and it's easy to see why. The British dramady about a socially awkward high-school student who has the inside scoop on sex ed thanks to his sex-therapist mom is guaranteed to make you laugh—even in quarantine.
You
If you can handle a little grisliness,
You
is the creepy, glossy thriller you never knew you needed. Starring Penn Badgley (who, coincidentally, I once saw at Whole Foods and I am here to say is just as cute IRL as he is on the small screen), it's a crowd—and group-text—pleaser.
Grace and Frankie
You know what we need right now? Wholesome fun, best friends, and weed jokes.
G&F
has all three in spades, and the writing is so whip-smart you'll have to keep watching just for the punch lines.
The Good Place
Worth watching for the actors alone,
The Good Place
starts out strong. It may or may not peter out in the last season, but guess what? That doesn't matter, because by that point you'll be so hooked you won't care. Kristen Bell, Jameela Jamil, Ted Danson,
and
Maya Rudolph? Yes, please.
---
Movies
---
Closer
Once again, there was a clear winner here: It seems the film to watch under quarantine is definitely, for sure, without question, 
Closer
. "
Closer
is one of my fave movies for a time like this," one friend declared, followed quickly by another: "Yes
Closer
!!!!!!" That's right: six exclamation points. If you need more encouragement than that, let us remind you this interlaced story stars Natalie Portman, Jude Law, Julia Roberts, and Clive Owen.
The Talented Mr. Ripley
We feel a little weird about recommending two movies in a row starring Jude Law, but only a little. Both of these films feature Law in his prime (with hair!), and though this one didn't rank quite as high in the chat, I think it's even more enjoyable than
Closer
(don't @ me). What better to watch at a time like this than a romp through Italy with Law, Gwyneth Paltrow, and psychopath Matt Damon?
Natural Born Killers
Speaking of psychopaths, if you're in the mood for a little serial-killer action, this movie will scratch the itch. Woody Harrelson and Juliette Lewis act the pants off each other as two hot young killers whose every move is documented by the rabid news media. Not to be missed.
My Best Friend's Wedding
The best! From the opening sequence—featuring a Stepford bride and three bridesmaids swanning around to, fun fact, Ani DiFranco's rendition of "Wishin' and Hopin'"—this film is a genuine delight. Julia Roberts, Dermot Mulroney, and Cameron Diaz create the love triangle to end all love triangles, and watching it find its final shape is way more entertaining than any geometry class could ever be.
It's Complicated
We would be remiss if we didn't include at least one Nancy Meyers film on a group-chat roundup, and here it is—just under the wire,
It's Complicated
completes the list of all-time best movies to watch during quarantine, according to a bunch of women in their twenties and thirties. This one's a triangle, too—with Alec Baldwin and Steve Martin making the sides of an isosceles, and Meryl Streep as the base.
On Earth We're Briefly Gorgeous
The writing alone in Ocean Vuong's magnificent debut novel is enough to keep you turning the pages, but then the story will break your heart. After releasing a book of poems so razor-sharp and delicate at once,
Night Sky with Exit Wounds
, Vuong followed up last year with
On Earth
, a deeply felt portrait of the relationship between mother and son.
Attached
Have you ever wondered why you are the way you are in relationships? Attachment theory is actually a pretty handy way of getting to the bottom of that, and
Attached
is the gold standard of the theory. Psychiatrist and neuroscientist Dr. Amir Levine and psychologist Rachel Heller explain the science behind why some seem to glide through relationships without many hiccups and others struggle so much.
Infinite Jest
I know: It's a lot. But if you don't read the 1,000+ tome now, will you ever? Don't answer that. Just give it a shot—it's worth it even just to become immersed in the incredible way David Foster Wallace describes everything. A++.
Photo: GettyWant more stories like this?
Need a Distraction? The Best Shows, Movies, and Books to Delve Into
21 Funny Shows and Movies to Stream Right Now
The Definitive Guide to Working Out at Home