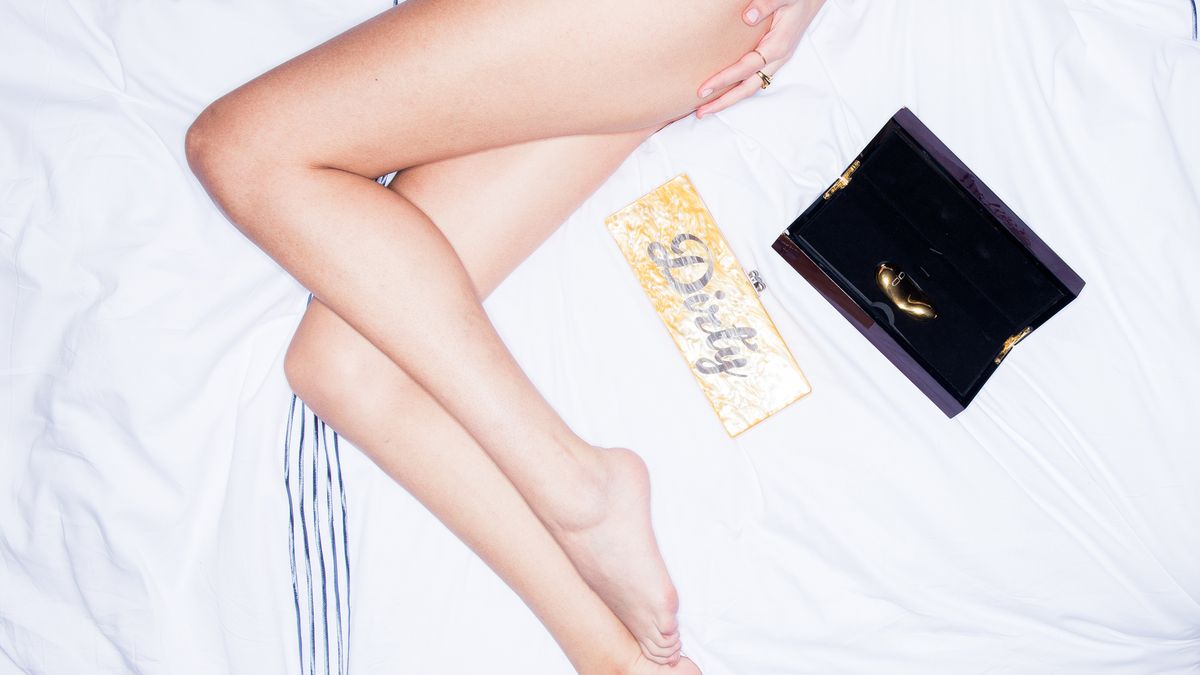 Love And Sex
Couples may be spending more time together, but that doesn't mean they're doing it.
Even though it feels like six months, it's been less than three weeks since New York City—and other cities around the country—went into full lockdown due to the COVID-19 pandemic. Restaurants had to close for everything but delivery. Those venturing outside were told to keep a safe, six-foot separation between themselves and others. And if you were single and dating? Consider that part of your social life on permanent hiatus.

It's not as if things were easier for couples, either. Those who weren't already cohabiting were faced with one major question: Do we live separately indefinitely, or do we fast-forward and move in with one another? And the couples who were living together are now navigating a new reality wherein they're seeing each other 24/7.

Regardless of which situation you find yourself navigating, it's safe to say that everyone's sex life is upside down right now. And while everyone on Twitter is expecting an influx of so-called "quarantine babies" in nine months, now that couples are being forced to pass the time somehow, is that actually what's going on behind closed doors? Or is the stress of a global pandemic sucking the life out of everyone's bedroom activities?

So we asked a few women—some in relationships, and some not—about how isolation is affecting their sex lives, and the answers were surprising. Here's what they had to say.
 

"We didn't have extended 'farewell sex' because we didn't understand the situation"
"I'm casually dating on Hinge and Bumble, but no one 'special person' right now, except for a friend with benefits who I sleep with pretty regularly. I don't think either of us had any idea of how scary it was going to get. I went over to his place two weeks ago in Seattle, where we live, before the city started sheltering in place. We didn't have any sort of extended 'farewell sex' because we genuinely didn't understand the gravity of the situation.
"Now there is definitely a disconnect between us since we've been social distancing for two weeks. He's experiencing boredom and isolation. I work in healthcare, so my entire job has changed to revolve around the virus, so I'm on hyperdrive. My libido has gone dormant, which I didn't think was possible. And I don't really feel like I have free time to even hang out with other people on FaceTime. He and I have exchanged a few texts, and he's expressed concern and encouragement, but that's about it. But I'm not in the mood at all. Instead, I'm focusing on getting more sleep and blocking off times to meditate and exercise because I feel lethargic and am struggling with nightmares and anxiety—things I don't usually have."
—Abby, 30
"It's stimulating knowing he is in the bedroom while I'm in the living room"
"My partner and I have been together since August 2018, and we were living together before the quarantine. When my partner was finishing grad school at the end of last year, I was home intermittently throughout the day because of my work; we were having sex about five times a week. But once he started a full-time job earlier this year, we dropped down to twice a week. We began isolating about two weeks ago, and now we're back up to where we were—about four times a week.
"My partner is still working 9:00
–
6:00 PM from home, but since he doesn't have to commute an hour, we have a lot more time together. It's also stimulating knowing he is in the bedroom the whole day, while I'm in the living room. And while living with the coronavirus has brought me great anxiety, it's been really wonderful to have my partner home more often."
—Kelsey, 27
"I don't know if he's not interested, or if things are just too weird right now"
"I was getting back into dating after taking a bit of a break. [I
'
d had two dates with a guy I was seeing,] with a third scheduled for March 13th. We canceled because things were starting to feel off, saying that we'd meet up once everything was over. We haven't spoken since, and I don't know if he's not interested, or if things are just too weird right now.
"I tremendously miss going out, having fun dates, and having sex. I've been trying to masturbate and use toys. But at the same time, it just feels weird at the moment, due to the isolation. It feels a bit depressing, and the stress of the entire situation also plays a huge part. This whole pandemic feels very stressful and very lonely. I'm lost on how to act on potential matches, what to do now, or if it's better to just take a break."
—Sarah (name has been changed), 29
"We thought about living together during the quarantine, but decided it's not feasible"
"My partner and I have been together for about two and a half kick-ass years. We aren't quarantined together—we thought about it, but decided it's not feasible [since] we both have cats. It's a whole thing. Living apart impacts our sex life, because we're not physically having sex. But the situation in general isn't sexy—it's scary, so I think there's a balance that needs to be found in turning the sexy off and turning the love on.
"I recently noticed my sex drive has been lower. We haven't gotten to phone sex yet, but we have done it before. There's something about the long game of the quarantine, with the lusting and the desire, that actually helps get me in the mood [for phone sex]. It's probably something I'll initiate soon."
—Serena, 23
"Since the first day of our quarantine, I haven't been able to have sex with my partner"
"My partner and I have been together for a year and a half, and we moved in together last November. Our sex life has always been pretty fun and passionate. Even when we're tired, it's still very sweet. I'm not someone who can just switch on sexually—I really need to feel like it's emotionally safe for me to be vulnerable with my person.
"Since the first day of our quarantine, I haven't been able to have sex with my partner. With everything going on, I've honestly been too stressed. It was a problem because a lot of her feeling of connectedness with us is attached to our physical touch. I wish I could be someone who could turn to sex as escapism, but I'm not. We were bickering a lot, but we recently had a breakthrough where we realized that we both tend to get cranky around five at night. Realizing this, and realizing that there are other ways to be intimate without sex, was a breakthrough for us. It's taken the pressure off."
—Laura, 32
Photo: Shot on site at 6 Columbus, a Sixty Hotel. On Solveig: Underwear, Fleur du Mal; Rings, Azlee, Baker & Black; Bag, Edie Parker; Vibrator, Lelo.
Want more stories like this?
31 Books to Help Pass the Time Indoors
21 Funny Shows and Movies to Stream Right Now
How to Pair Wine with All the Comfort Foods You're Eating Right Now