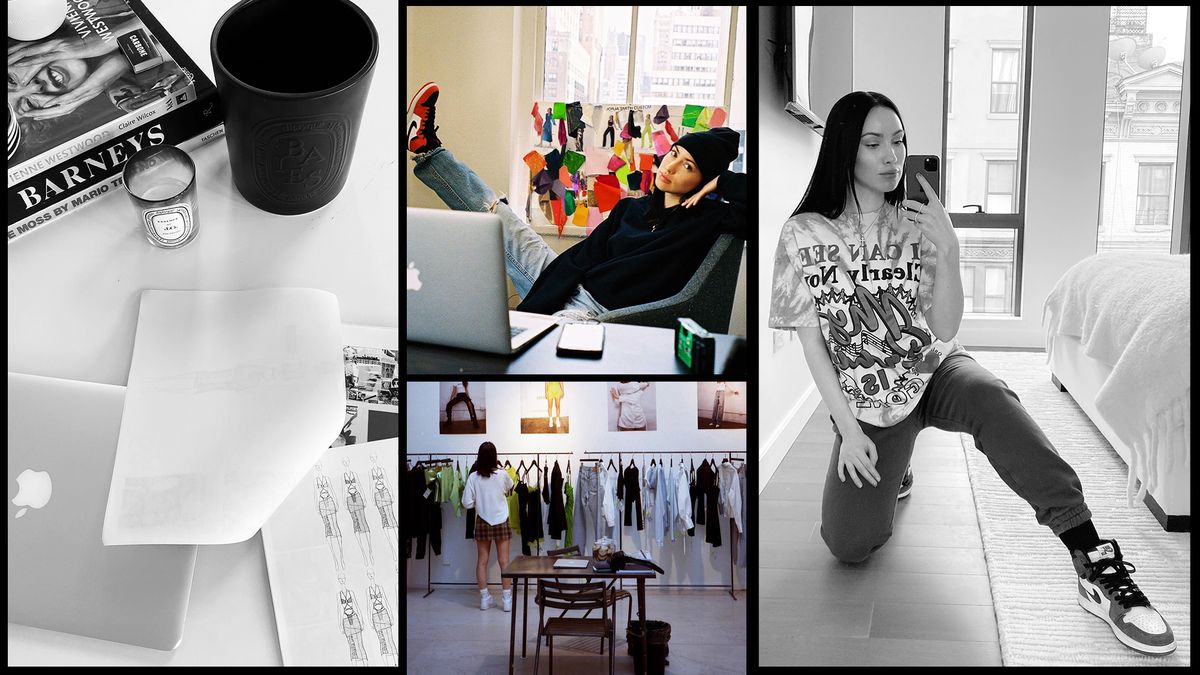 Career
Working from Home with Danielle Guizio
Keeping cozy with plenty of sweatsuits, music, and wine.
Graphics
Rachel Pickus
As many adjust to working from home—Team Coveteur included—tips on how to stay focused and motivated are more welcome than ever (as are snack and music recommendations). Each week we're checking in with friends to see how they approach working from home. Today we're chatting with designer Danielle Guizio.
Working with music blaring, or in silence/with headphones?
Danielle Guizio:
 "Always, always have to be working with the music speaker on medium volume."
Can you share some songs from your WFH playlist?
DG:
 "All of the new PARTYNEXTDOOR album, all of the new The Weeknd album, 'Dolerme' by Rosalía, 'Find Someone Like You' by Snoh Aalegra, 'Cucumber' by J Hus, 'SUGAR (Dua Lipa Remix)' by Brockhampton, 'Best You Had' by Don Toliver, 'Whats Poppin' by Jack Harlow."
Take breaks, or grind straight through?
DG:
"Grind straight through."
Are you integrating movement into your day (a walk? a workout?), or keeping it lax?
DG:
 "Once my day is done, I'll take a break around 7:00 PM and go for a run/crunches/booty cardio, then get back to work for a little at 9:00 PM."
Coffee, tea, or neither? How do you drink your coffee/tea?
DG:
 "Coffee in the morning (I've just been drinking the cans because it's the easiest for now), La Colombe Triple Shot Draft Latte."
Biggest WFH distraction?
DG:
"Sephora, Amazon, TikTok." 
---
How do you stay focused and motivated throughout the day?

DG: "I love playing music through the Sonos sound system in my apartment. I'll start my day by showering and cleaning up my apartment, which starts my day feeling refreshed, put something cute on (even though no one but my doorman will see it, lol), and light a good candle; then get to work."

Taking a lunch break, or snacking all day?

DG: "Breakfast in the AM, then by lunch I'm super focused and don't want to break that, so I wait [it] out for dinner."

Do you adhere to a strict schedule, or freestyle your day?

DG: "I pretty much freestyle, especially given the workload that day. But I keep my routines consistent, if that makes sense."

Who is your entrepreneurial inspiration?

DG: "Jimmy Iovine, Gary V, Lori Greiner, Ronnie Fieg, Marcus Lemonis, Sara Blakely, Scooter Braun."

What do you miss most about going into the office?

DG: "My team!!!! Ugh, I miss them. Nothing beats face-to-face interaction, especially when creativity is involved. I'm really longing for that feeling right now."

What does your video conference wardrobe look like?

DG: "Sweatsuits and more sweatsuits."

Working in your pj's or a power suit? Maybe a combo of the two?

DG: "I never stay in the clothes I slept in. I feel more motivated when I shower and put on fresh clothes. And by fresh clothes, I really mean just a new sweatsuit."


Favorite thing you're reading right now?
DG:
"
The Happiness Advantage
by Shawn Achor."
Favorite thing you're listening to right now?
DG:
"New PARTYNEXTDOOR album."
How do you unwind at the end of the day?
DG:
"A concoction of getting cozy on the couch, Netflix or Hulu, and wine. I was never a weekday drinker before working from home, but here we are [
laughs
]."
What's your inspirational mantra that's helping you during this time?
DG:
"Stay positive. What is out of my control cannot be changed. Focus on what I *do* have control over and how I can improve it. Focus on all the *good* and what more can be done."
How do you foresee this period of time impacting your industry?
DG:
"The fashion industry won't be the same after this. I foresee a lot of physical department stores and retailers being in danger of closing. I believe we are going to rethink the traditional fashion calendar. Everything was moving at the speed of light, so I do imagine the reins being pulled back quite a bit for humanity and creativity[
's]
sake. Now is a time to build a strong relationship with your direct consumer."
Five items you're loving right now (products, at-home workout items, comfy clothes):
DG:
"
Lavender essential oil
,
GlamGlow Firming Treatment Mask
,
C E Ferulic Serum by SkinCeuticals
,
DB Method workout machine
, and of course
DG sweatsuit
:D."
Are there any charities or causes that you are passionate about right now?
DG:
"
Union Square Hospitality Group Employee Relief Fund
,
Lucien GoFundMe Staff Support Fund
,
A Million Masks Coronavirus Support Fund
,
Battling COVID-19: Masks for Doctors & Nurses
, and
Dumplings for Doctors: Food for Health Care Workers
."
Shop Danielle Guizio's current must-haves: