Designers
Danielle Guizio started her brand with her tax return money.
Weston Wells
Chances are that you've become familiar with a certain black patent leather skirt over the past few months. You know the one—that lace-up number
Kendall Jenner wore
post-
Met Gala
? Well, we have
Danielle Guizio
to thank for it. Add to that the tracksuits that
Bella Hadid
and Hailey Baldwin wear on the regular,
Kristen Noel Crawley
's favorite bathing suits, and the custom vintage denim look Gigi Hadid just wore on the cover of
Vogue
Korea. Yep, Guizio designed all those, too. Suffice it to say, she's on the sort of rise that most designers dream of.
---
"Since I was eight [I've been] obsessed with dressing myself," Guizio shared with us when we visited her New York City studio. "Even when I was younger, I would take shirts and make them my own. I just always had the urge to make [everything] my own." That urge led her to study fashion at LIM College, where something unexpected happened. "I really didn't feel super fulfilled there," she said, adding that she didn't feel much of a connection to her classmates. "[School] made me have a different view on the industry. I was like, 'I'm leaving here.'" Post fashion school, Guizio studied business while bouncing around various jobs, including working in retail and assisting a jeweler.

"During that time I had a crazy cancer scare [and had] emergency surgery," Guizio says. "I had a huge tumor on my liver. When [the doctors] told me it wasn't cancer, I was just crying. It was an eye-opening experience that life is so short, and that you really have to do what you want to do." So Guizio did just that, first by printing graphic tees and selling them online using the only funds she had available: a $1,000 tax return. Once she saw how quickly they were selling out and realized that she was onto something, she left school for good (with her dad's blessing), began customizing more and more pieces, landed in a few boutiques, and the rest, as they say, is history.


Guizio says the internet—especially Instagram, where she does most of her business—has been a blessing to her career and the reason so many celebrities are now wearing her pieces. "It all started from just knowing people," Guizio says, mentioning that a friend of a friend, who happened to be a Victoria's Secret model, was one of her early supporters. "Then it became a trickle-down effect [thanks to] the internet." Today, Guizio frequently works alongside Bella Hadid's stylist,
Elizabeth Sulcer
, creating custom pieces for the model. She has also created custom pieces for the likes of 
Drake
,
Kim Kardashian
,
Jen Atkin
, and most recently 
Kylie Jenner
and BFF
Jordyn Woods,
 whom she made custom bathing suits for.
"Kanye asked about [my custom] bombers," Guizio casually mentioned to us. "He requested my number. That was like, last year. Even if it doesn't happen, it's still cool."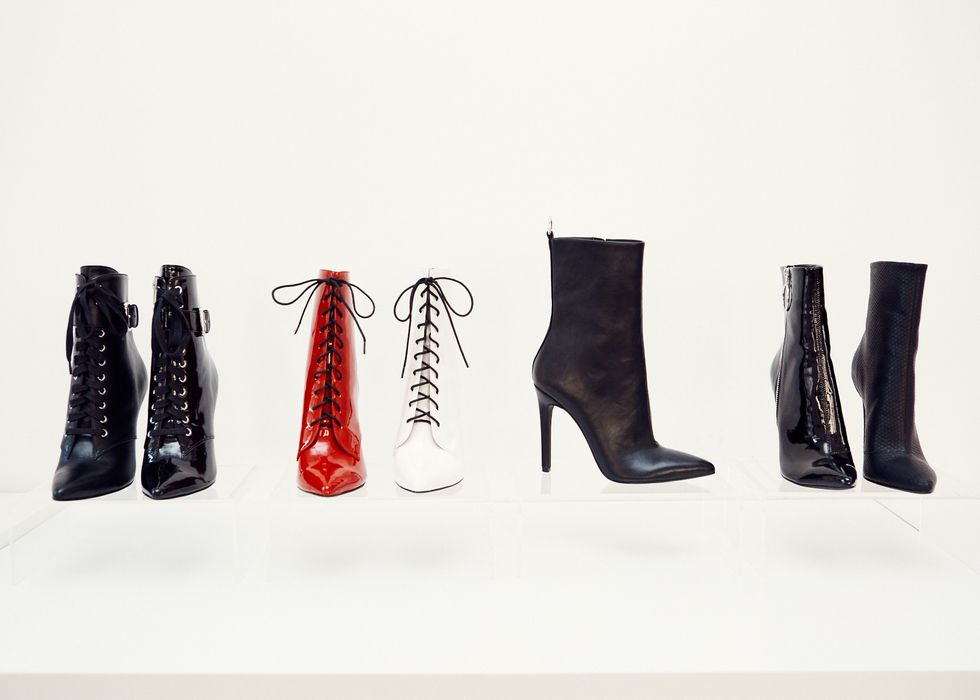 Despite the buzz around her brand, Guizio is particular about who she works with, only collaborating and selling with retailers that she personally loves. "
Eight months ago I decided I wanted to take a turn and not associate with companies and brands that I didn't like or want to be a part of, so I dropped [a few vendors]," she says. "As I was maturing, my brand was maturing, so we started fresh. We just got into
Revolve, I
'
m really excited."
In addition to her custom separates, Guizio is also dabbling in swimwear and jewelry, just launched custom vintage denim, and is currently in the midst of launching footwear. "I've been working on it for [about] nine months now," she says of the line, which is slated to launch the first week of September. "I'm doing booties because that's pretty much [the only thing] I wear. I'm also coming out with a sneaker, so I'm trying to perfect [that]. It's going to be a suede shoe inspired by skate shoes." We'll be waiting—anxiously.