WWWRN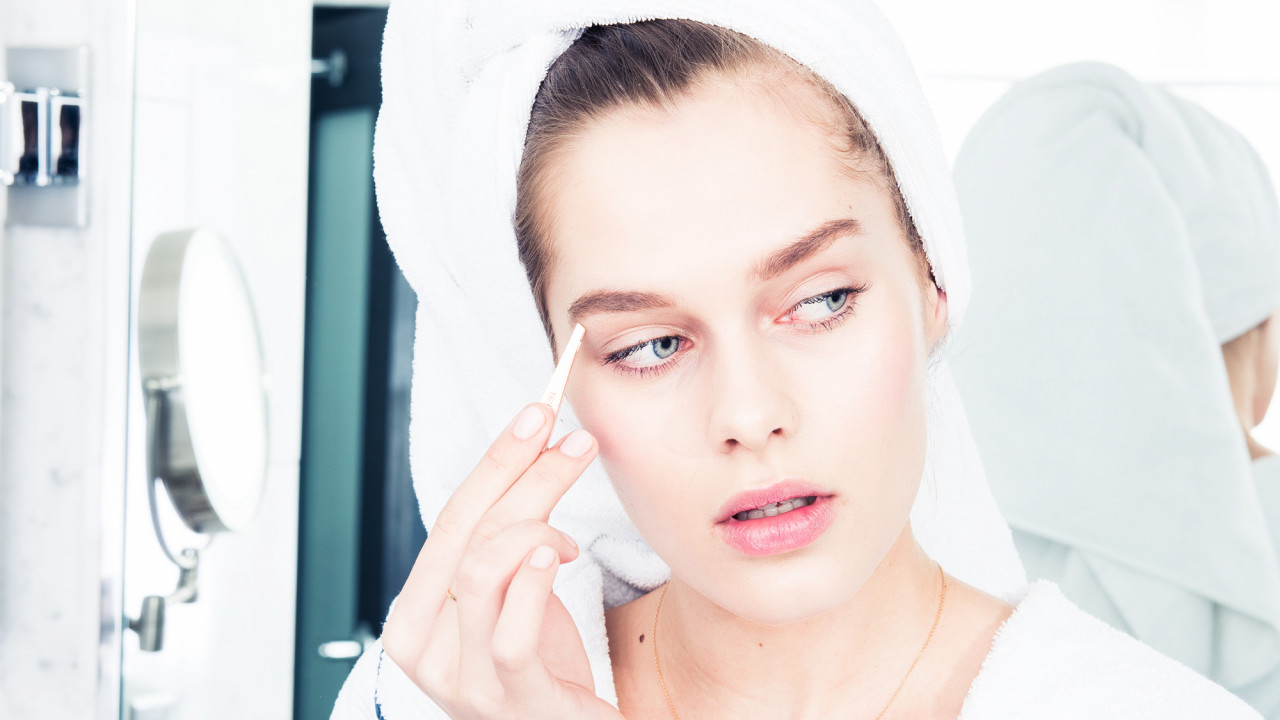 Expert Tips for Keeping Your Brows Looking Their Best
Don't let a little social distancing wreck your brow game.
In the long list of beauty services we miss during this time of social distancing (seriously, stay home), getting our brows done ranks near the top. Whether you're blessed with an exceptionally woolly-mammoth pair or rely on tinting to bring out those baby hairs, we all understand the value of visiting your trusted brow expert. Luckily, you don't have to completely forgo this type of beauty service in isolation—all you need is a handful of tools and products and a few crucial tips from the experts to keep your girls in check.
To learn more about how to maintain our brows from the comfort of our homes, we spoke with master brow expert Joey Healy. He keeps this editor's brows in tip-top shape year-round and has some exceptional advice for keeping your base instincts at bay (boredom plus tweezers is not a good combination). Keep reading for his tips, and remember, if you want to chat with your brow technician, or truly, any of your beauty experts, during this time, from your colorist to your favorite manicurist, be sure to compensate them for their time. Remember that we're all in this together.
What are the bare necessities needed for at-home brow maintenance?
"Everything in The Joey Healy Essential Tools Kit. A tweezer, scissors, and a brush with a spooly. Those are going to be your allies when shaping your brows at home."
Recommendations for at-home color if you're used to tinting your brows?
"Tinting in a professional setting with brow and lash dye is just as much of an art as it is a science. I would avoid trying to replicate that with things from the drugstore. You might be tempted to do with Just For Men beard dye—I've heard all kinds of things! It's not the worst thing in the world; it's just that you have to be very careful to make sure that you don't leave it on too long, so your brows don't get too dark. Tinting is not a one-size-fits-all type [of] thing. I'd rather see people use tinted brow gels, like Brow Lacquer, to make sure their brows are colored. Tinted brow gels cover grey hair and blond hair, and they're just wonderful all around."
How often should someone be messing with their brows?
"I would say once a week maximum, but it really depends on the person. Some people do daily maintenance when they have really thick and aggressive hair growth. I think once a week on average is good just to be giving them a quick once-over."
Tips to avoid a boredom-induced overpluck of the brows?
"This is not the time to sit in front of the mirror overworking those brows! Once a week is perfect. Set a hard time limit for yourself. You can assess your brows for fifteen minutes and that's it. Also, maybe this is a fun time to experiment with eyebrow cosmetics, like powder versus pencil; maybe the pomade you bought but never used; maybe making your brows a little bit warmer or cooler.
"If you're going to play with your brows, don't play with tweezers or scissors—play with different brow colors and formulas. Dig things out that you need to master. We always say that filling in your brows takes a lot of mastering, patience, and practice. Now is the time to practice with your fill, but not with your hair removal."
What areas of the brow are best to pay attention to in order to ensure they look groomed?
"Definitely the dead center. You want to separate the two. Ideally, your brows should begin at the bridge of your nose. If you take a tweezer and kind of hold it together vertically and push it against that nose bone, that's where the brow should start—not the nostril edge or the cartilage edge. Really, it's the bridge of the nose. Holding a tweezer is more accurate than holding a brush because if you pinch a tweezer together, it makes a more fine line. If you aren't sure, aim for the dead center.
"Also, the area directly under the arch. The arch of the brow is about two thirds of the way down your brow, so when there are little strays down there, [it] can start to look messy. You can go for things evidently on the forehead, temple, bridge of the nose, et cetera. The two most important parts are the dead center and that outer third where it's below the arch. The hairs that get super long, you can trim."
Any other general tips for keeping brows polished at this time?
"This isn't the time for a brow revolution—this is a time for brow maintenance. Your job is to give yourself a general perimeter, not the brow perimeter of a professional brow shaping. Your goal here is to hold yourself over, not to take yourself to a totally new direction.
"Use a gel, whether it's tinted or clear, to hold them in place. Tweeze in good daylight, and avoid using a magnifying mirror because you can't see the forest through the trees! If you're trimming your brows, never trim more than one hair at a time.
"Another good way to do some maintenance is to fill in your brows the way you like, then tweeze the things that are outside of that obvious area. Fill in your brows very dark in the shape that you like, and it becomes obvious what's not supposed to be there. It's a good tip for maintenance in general."
Photo: Shot on site at 6 Columbus, a Sixty Hotel; On Solveig: Rings, Baker & Black, Azlee; Hair, Angela Soto; Makeup, Andriani.
Want more stories like this?
I Tried Tinting My Eyebrows with Beard Dye
Want Fuller Brows? These Products Will Help You Get There
Our Beauty Routines Are More Robust Than Ever—Here's What We're Using
Part of the series:
WWWRN