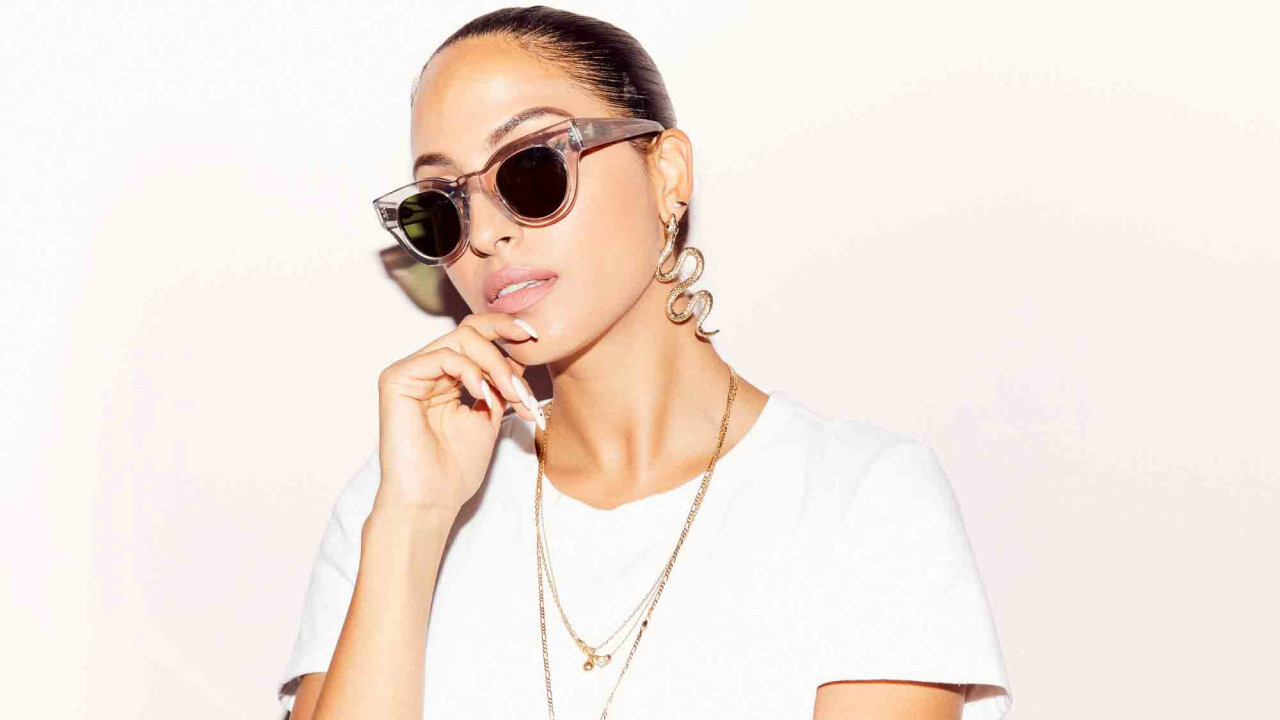 Snoh Aalegra Talks Skin-Care Secrets & Being Mentored by Prince
Meet the singer with an extremely bright future.
If you weren't familiar with Swedish-born singer Snoh Aalegra prior to last August, when she dropped her second studio album, Ugh, Those Feels Again, you've most likely become acquainted with her since. Whether it was through her two Grammy nods, her sultry music video for "Woah" starring everyone's favorite Michael B. Jordan, the remix to that same song featuring Pharrell Williams, her Colors Studios cameo, her Emirates Woman cover, or her appearance on NPR's Tiny Desk Concert, she's had a busy six months and the momentum won't let up anytime soon.
Not only is Aalegra extremely dedicated to her craft, but she's set on making a difference in the industry. The artist speaks openly about the trials and tribulations she's encountered in the hopes that others will learn from her mistakes. She also carries that mission through to her music, where she shares much of her life—the good and the bad—as if she were opening up her diary to the world. All of this is why we weren't surprised to hear her voice sounding both friendly and honest when we picked up the phone to chat. Throughout our conversation, she opened up about her younger years, being mentored by Prince, her hero skin-care products, and so much more.
Her first memories with music:
"I'm a product of MTV; I was glued to the TV. I remember when I heard Whitney Houston, 'I Have Nothing'—that was a game changer for me. I remember her voice and the chills that she gave me. I knew at that moment that I wanted to sing. I think I was seven or eight years old. [Also,] watching the making of 'Thriller'—Michael Jackson was really important to me."
She never gave up on her dream to be a singer:
"[When] I was 10 or 11, I told my mom, 'I want to be a singer.' She was like, 'Well, you can calm down a little bit, let me know if you still want to do this when you're 14.' I turned 13, about to turn 14, and I was like, 'I'm ready. I want to do this.' She would call around to labels [to see if] I could come audition, and they just kept saying no, we had to send a demo. I didn't have access to any demos, but there was this one person that agreed to meet me, and I signed with him when I was only 13—he thought I had something special. We didn't even know he was working with Sony Music, I just signed my deal, and I've been doing music ever since. It's been tough for me. Everything you can imagine in this industry, all the ups and downs. It took me a long time to find a team I can trust; I've been fucked over in the past. It's not like an overnight thing."
Prince discovered her early on and took her under his wing:
"I moved to the States about six years ago, and I started developing here. I only had two songs out, and then all of a sudden Prince reached out, which is crazy. He tried to reach out on Facebook at first, and I never saw the message, and then he reached out to some mutual people that we knew and asked for my cell number or email, and that's how he got ahold of me. He called me one day, and I couldn't believe it. Two days after he called me, he flew me into Minneapolis, and it was an instant connection. We were supposed to do a whole album together, I was supposed to go on tour with him—there were a lot of things we had planned out that unfortunately never happened, but I have a lot of great memories with him, and that's what I'm going to cherish."
On the advice he gave her that she will never forget:
"I'm always going to remember his work ethic. When I met him, it wasn't even the prime of his career, but he would still be rehearsing three times a day. Even after everything he did and all the awards he got, he would still practice. He was [never] finished with his craft, and that student mentality is something I'm always going to take with me.
"He encouraged me to stay true to myself. I know it sounds like a cliché, but a lot of people want to change you, and he was like, 'You should be as natural as possible.' Even when it came to my hair color—when I met him, I had honey-brown hair because I colored it, and he was like, 'Turn it back to black-brown.' He just wanted me to be me as much as possible. Things like that I am always going to cherish."
Her creative process:
"Something that never changes is where I get my inspiration from, and that's from my own life. What I do is I live life and I write a song. It's like an open diary; I share my thoughts when it comes to my relationships, to my breakups, other issues, mental health, my struggle with myself—a lot of people, we deal with anxiety, past trauma. [My music] is like different chapters of my life. I try to give you guys as much as I can because outside of the music, I can be very private."
On the song from Ugh, Those Feels Again that best represents her life at the moment:
"My life at the moment? 'Nothing to me.'"
Her hero skin-care products:
"I wake up with puffy eyes, and the Caffeine Solution from The Ordinary is a miracle. I love to add some glow to my face before I apply makeup, so that's why I'm a big fan of La Mer Renewal Oil. I will use [The Ordinary] Rosehip Seed Oil at night, and then I use the La Mer oil in the morning before makeup—I don't use it at night.
"[Garnier] hair wax is a must, essential. I go through one of those a month. When my hair is in a ponytail, I use it and bring back my baby hairs with a brush. I like [it] because it's not too strong of a hold [and] it doesn't look too sticky when you put it on.
"I use the [Tom Ford Soleil Blanc] if I'm going out and I want a little bit of shimmer—it smells good, too. I've been using the Christian Dior perfume; I usually mix that one with lotion so I get both scents. It's refreshing, and I'm a big fan of vanilla scents, so I will mix that one with vanilla [lotion] so I don't fully smell like a cupcake [laughs].
"[Dior Hydra Life] is basically a makeup remover—I have really sensitive skin, and it works. As of recent, I've also been using the whole La Mer line. The eye cream, the thicker day cream, the lighter one. I use the thicker one when I'm wearing makeup because it works as a primer. The eye cream they have is a de-puffer, but it's not as extreme as [The Ordinary] caffeine one. I also [use] their primer and their sunscreen. I went in on using all of their stuff, and it helped my skin."
Want more stories like this?
Julia Fox Went from Selling Her Underwear to Staring in Uncut Gems
Cher on Smelling Like a Mermaid & Her Fire Twitter Account
We Got Ready with Young M.A