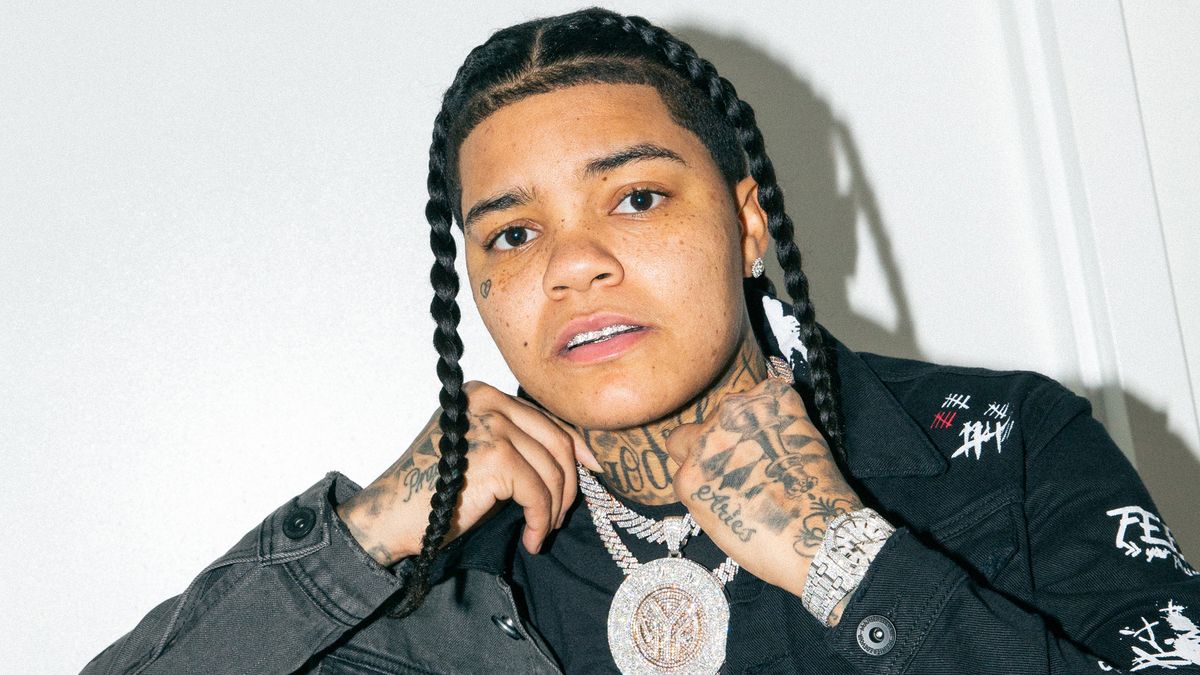 Celebrity
Talking fashion and playing NBA2K before the rapper's NYC show.
Alec Kugler
All it took was a single phrase, "Ooouuu" from
Young M.A
's debut single, for the world to fall in love with her. Now, three years later, the 27-year-old artist is touring the U.S. on the heels of her debut album,
Herstory in the Making
. Ahead of last night's New York show, she invited us over to her Jersey apartment to hang while she got ready for her gig.
M.A hit pause on her Xbox game to open the door for us. She was in sweatpants, her tour tee, and Ellesse slides—and seemed unfazed and chill about having strangers sit in while her hairstylist,
Sarah
, started a fresh set of braids. While getting her hair done, she sat in a red leather styling chair that was perfectly situated in front of her TV, red Xbox controller in hand, playing NBA 2K (on the Chicago Bulls, for those wondering) while simultaneously chatting with us. As serums were worked into her hair and the hair dryer blew, M.A stopped the game to give us a full breakdown of the Manière de Voir denim outfit she was going to wear for the show.
Once her hair was done and the outfit was on, M.A topped it all off with a pair of fresh straight-out-of-the-box black Timbs (it was only right for the New York show, she told us) and a light shower of Dior Sauvage cologne, her signature scent. After snapping a few photos and sipping a bit of red wine, we all piled into a sprinter to head to the Bowery Ballroom. As we rode into Manhattan with Max YB playing over the speakers, we realized the whole shoot was just as laid-back and chill as M.A described her getting-ready style.
Click through to read more about her shopping habits, skin-care routine,
Kweens Foundation
, and when we can expect to see more tour dates.
---
1 / 28
Her typical getting ready vibe:
"I'm just regular. *Shows her hairstylist a photo* This is one of the things I do, I tell the hairstylist how I want my hair. I don't like skinny braids when I get my hair done. And I don't always get my hair done, that's the crazy thing. Sometimes I like the rugged look—I don't always really care for a fresh [style], only my shape-up. My haircut gotta be fly—before a show I gotta have a fresh cut. I just got it cut two or three days ago, so I'm still nice.
"I'll listen to music and get in a vibe. Definitely some fresh kicks, that's always necessary. There are times that I might go shopping the day of the show because I feel like I need a certain fit or a certain look, but other than that it's really cool vibes."