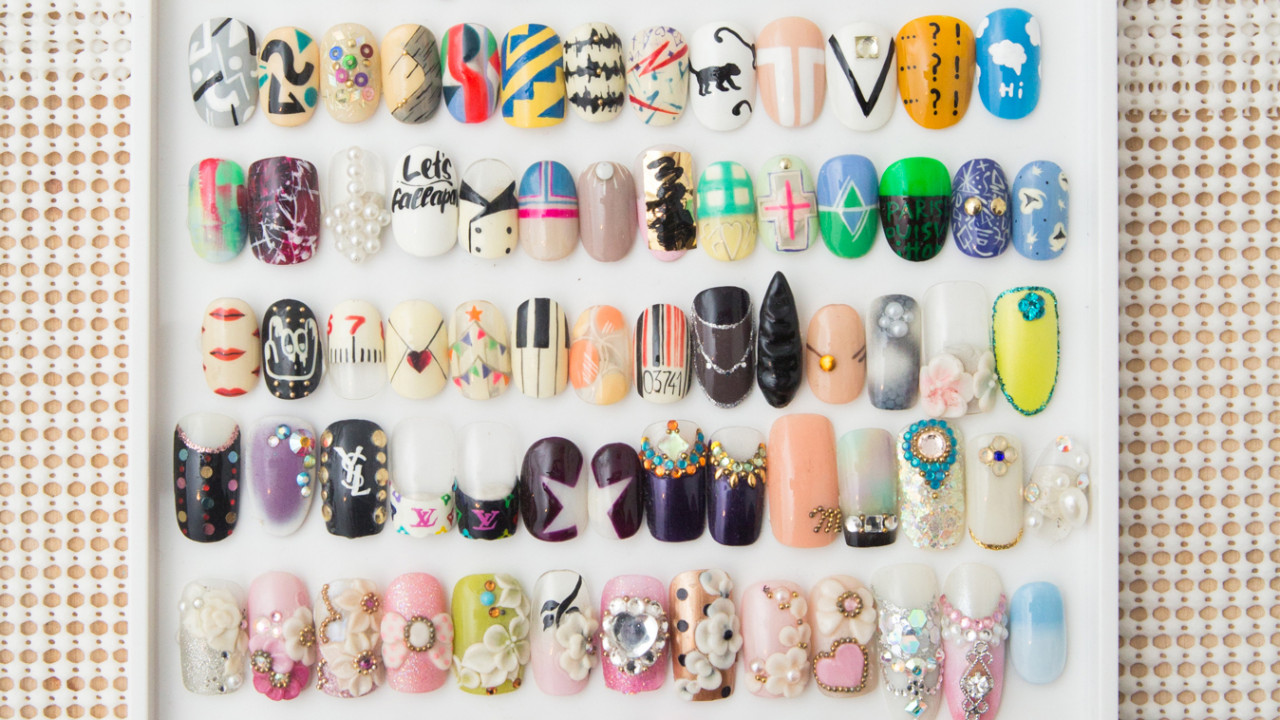 It's True: Press-On Nails Are Back
Gorgeous nails for under $20? Sign us up.
Having chronically chipped or busted nails does not fly once you're a full-fledged adult, especially in the fashion and beauty industries. But as many of you know, it can be tough to carve out an hour or two for a salon visit. So color us shocked when we realized several of our friends were not so secretly embracing press-on nails for their weekly (or sometimes longer) mani refresh. Press-ons have come a long way since they rose to prominence in the 1970s and became a drugstore staple in the 1990s. The quality, staying power, and design aesthetic have all improved drastically to the point that many women are saying "so long" to salons all together in favor of doing their own set at home.
We chatted with four of our industry friends to learn why they've come to love press-on nails above other forms of professional manicures, as well as their all-time favorite brands.
Crystal Anderson
Manager of Production, Man Repeller
"Press-on nails are the shit because:
1. "Who has time to sit at the nail salon for an hour and a half? Press-ons take 10 minutes!
2. "I'm either tapping away on my laptop/phone or literally building experiences with my hands, so it doesn't make sense for me to invest in actual tips when I can just spend seven dollars at the beauty supply and slap them on real quick.
3. "Designs! There's legit a million different designs, and the nail-bed sizes have become more nuanced, so the press-ons look just like what you'd get in the salon.
"Static nails are my hands-down fav!"
Alix Tunell
Deputy Editor, RealSelf
"I was a dead plastic-surgery housewife for Halloween (don't ask—very last-minute) and obviously that required a long, acrylic French manicure, which I found in the press-on nail section. It looked so tacky, but also...so good? I felt more feminine than ever, so I ended up keeping it for a week and got compliments from just about every cashier I handed a credit card to. After that I bought a box whenever I went to the drugstore—blacks and classic reds for everyday, silver glitter for my birthday and New Year's, usually by Kiss or imPress—so now I have a nice stockpile. I love how put-together they make me feel, but I'm not convinced they're any less damaging than gels—in fact, my nails feel more brittle after removing glue-ons or press-ons. They're my every-other-month indulgence now."
Annie O'Conor
Audience Development Manager, Coveteur
"My nails chip. Every. Single. Time. In recent years I've just given up. Most of college I went with bare nails, but alas, I missed that extra bit of glam. Enter press-ons. My favorites are Kiss and Static Nails. They are easy and way less of a hassle. I like the variety they offer and [that they] allow me to get a bit creative without adding on extra money or time at the salon. If applied as instructed, they last over/under two weeks. After wearing a pair, I usually give my nails a breather and a thorough clean. I opt for anything from nude square shapes to a patterned stiletto. I also have purchased a full kit of blank press-ons from Kiss to DIY. I've recently bought into the nail-wrap game, too. Scratch makes my favorites, from florals to full-on art references. Goodbye, [traditional] manicures."
Maria del Russo
Freelance Writer
"I'm a chronic nail biter, but I love the look of long, polished nails. So until I finally figure out how to kick my habit (please direct tips to my inbox), I stick to press-on nails for special occasions. My favorites are Static Nails because their color selection is gorgeous and the nails hold up. They're also pretty easy to apply once you get the hang of it. And as long as they aren't cracked or broken, you can actually re-wear them. I like to file them down pretty short so that I can type. But let me tell you—these things are so realistic, people tend to not realize they're press-on."