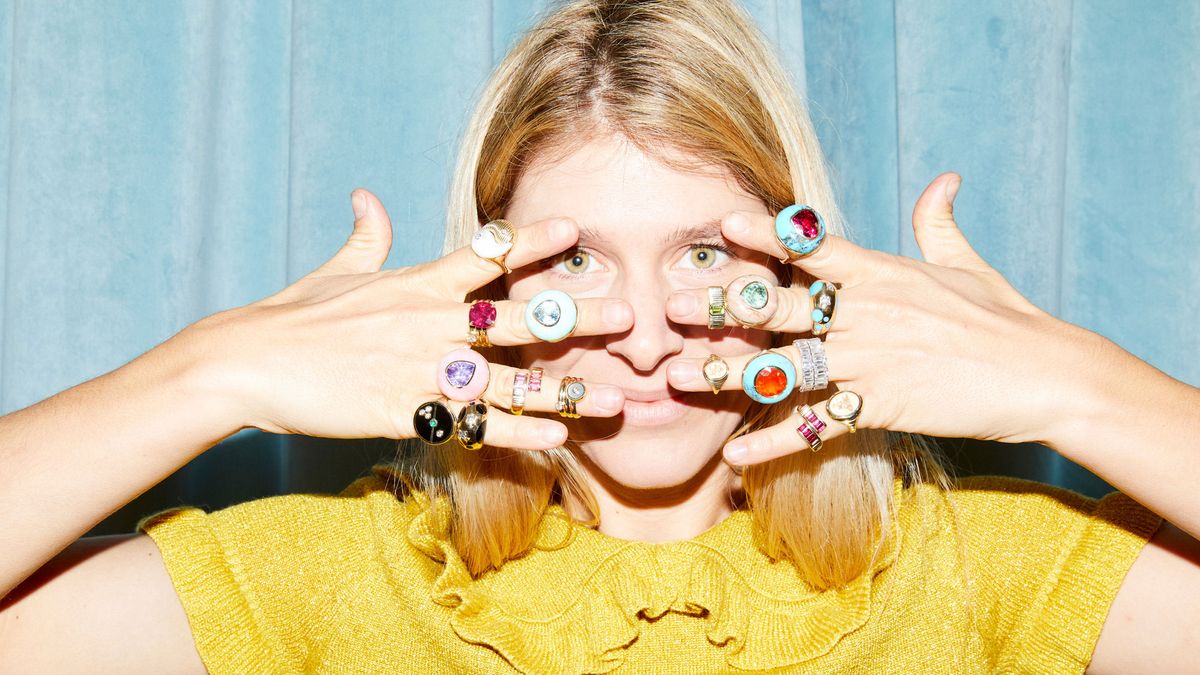 Career
Kirsty Stone of Retrouvaí is making the modern heirlooms every woman wants to wear.
Tristan Kallas
One of our favorite things about
jewelry
(and believe us, there are many) is that its lifespan is so much longer than other forms of fashion. Sure, a
structured handbag
or a camel coat will forever remain sartorial classics, but you might not wear them the same way in twenty years as you do now. However, gold and diamonds will forever be gold and diamonds, which is why they'll eventually become priceless heirlooms. But what if you love that style of jewelry, but don't necessarily want to wait to inherit your mother or grandmother's collection?
Kirsty Stone
, the founder of
Retrouvaí
, is about to become your new best friend.
"My whole childhood, I was taking things apart and making tons of seed and bead jewelry," says Stone when we stop by her Los Angeles headquarters, which is located, not by accident, in the heart of the downtown jewelry district. "But I went to school for business." The native Canadian moved to the USA soon after graduation and co-founded an architectural firm with a friend, but nevertheless her heart remained in accessories. "I came down here every single evening for nine months, immersing myself in it. I had one guy who took me under his wing and taught me everything I know on how to make jewelry. He made my first samples."
---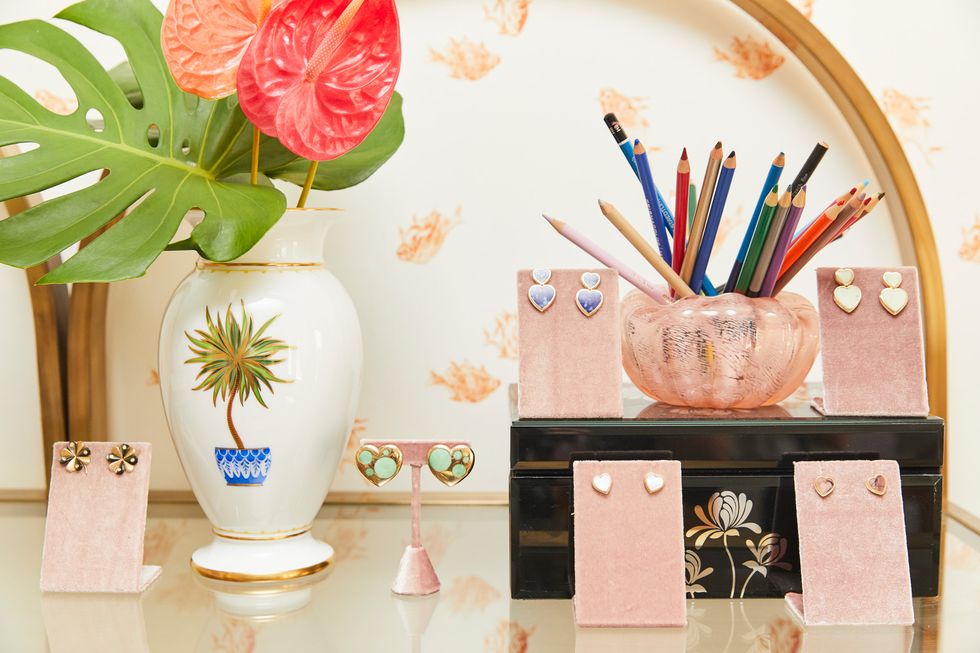 As we walk through the small sunlit studio—Stone's adorable pup, McGee, trailing behind us—the colorful stones for which Retrouvaí is known immediately stand out in the form of various statement earrings and necklaces. "I wanted to make jewelry that would really be personal for people without having their initials or something so literal," she explains while we admire a few of her signature
black onyx Compass designs
. "I collected gemstones for so long, my husband was like, 'What are you going to do with all of these?' I'm also so inspired by the heirloom pieces that I've received, so that naturally carries over into the collection." Even the name Retrouvaí espouses this idea—Stone was inspired by a French proverb that means the joy of reconnecting with something from your past.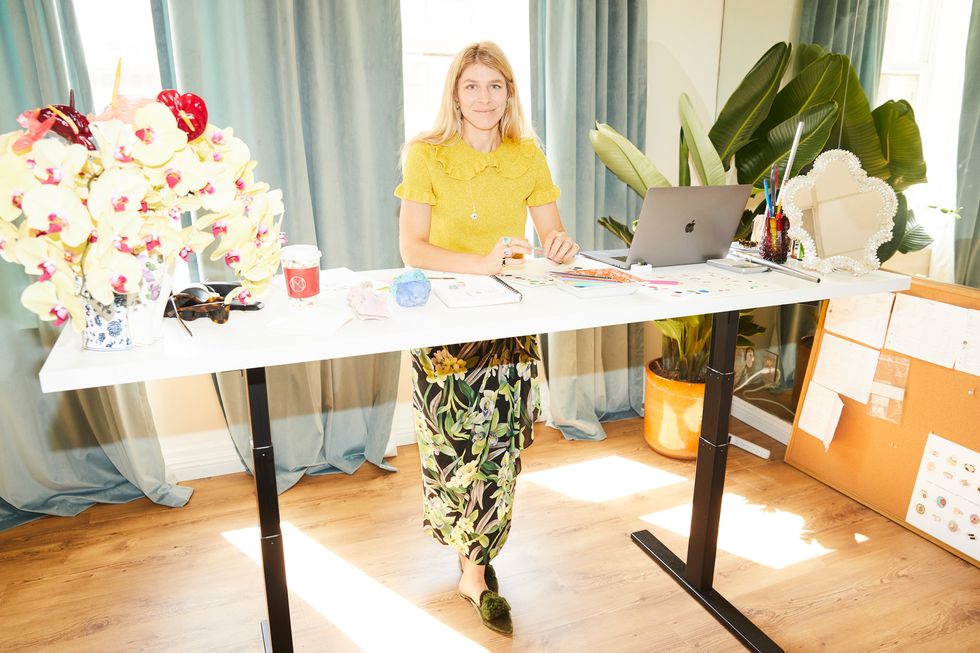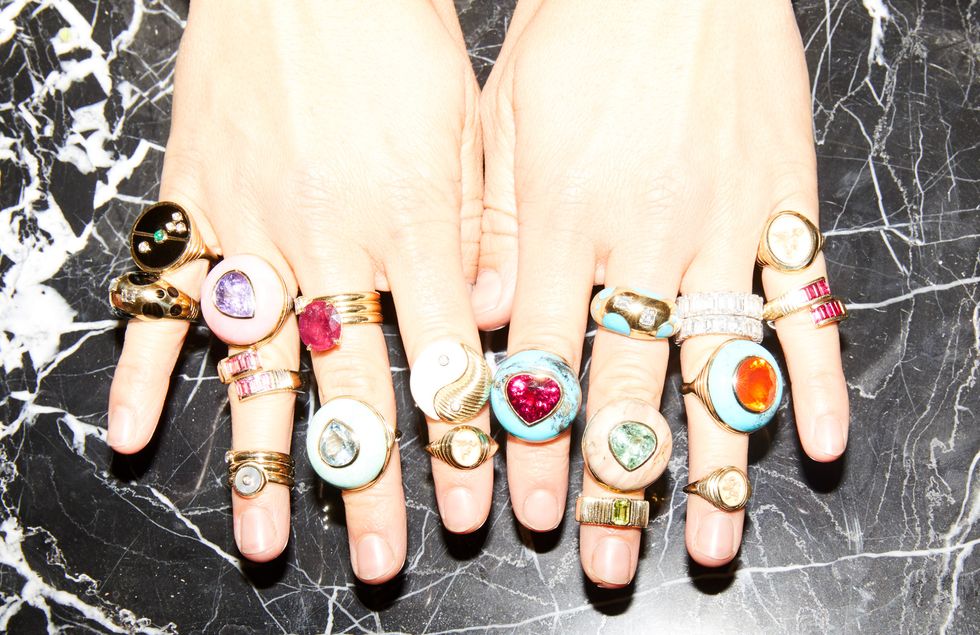 Among the treasure trove of her shelves, we quickly spot her infamous flying pig ring. "[That] and the unicorn signet were two of my very early pieces, and they're still two of my most popular," she says, slipping a few of each onto her fingers. "I think a lot of people can relate to the messages that are being sent." She's referring to each ring's respective inscriptions of "anything is possible" and "beautiful and mysterious," and truly, who wouldn't want to carry that kind of mantra with them daily? This type of subtle detail is what makes Stone's pieces feel all the more precious, but also—in conjunction with her playful designs (we're partial to her diamond-and-pink-opal yin-yang)—thoroughly modern. And while they're a far cry from the type of delicate jewels that remain popular as of late, we'd have no problem stacking two or more of the knuckle-dusting rings or layering a few mother-of-pearl pendants for everyday wear. More is more, in our opinion.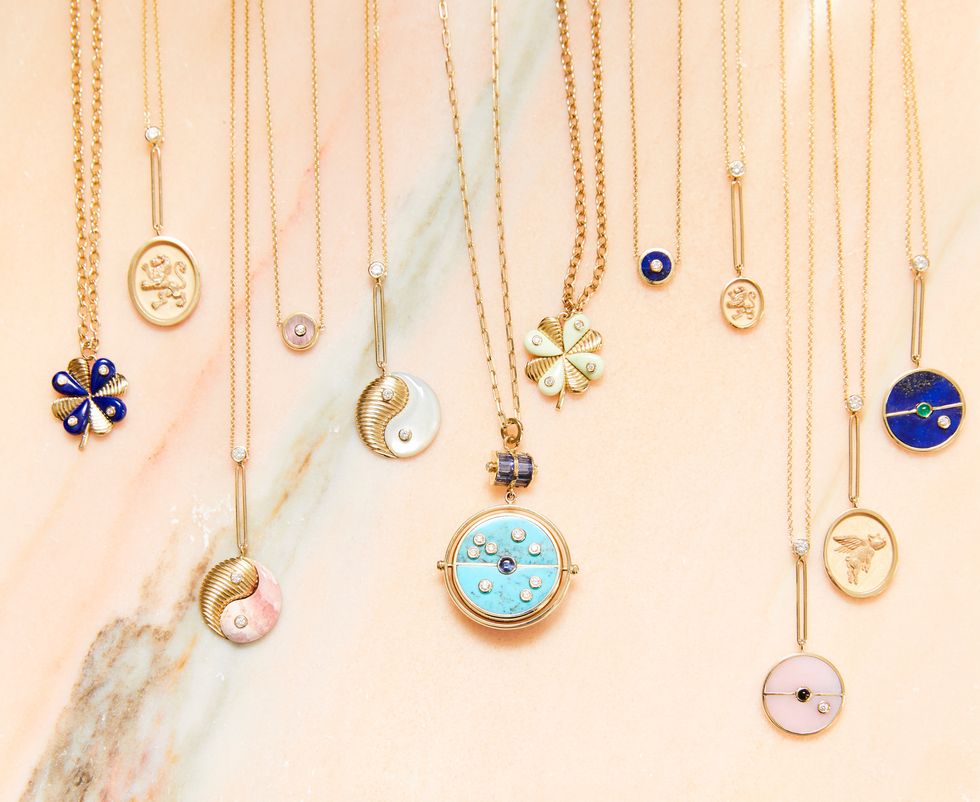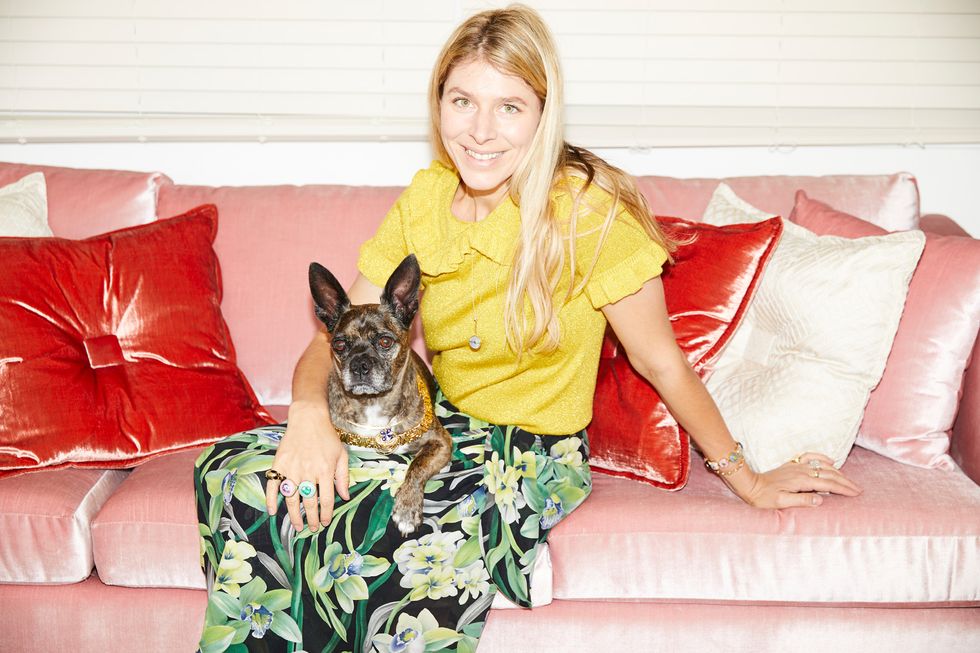 "I think a lot of [my customers] are self-purchasing," she says after we snap a few photos of McGee wearing his own array of gold necklaces. "I have clients that are 18 and 65, and a lot of the bespoke pieces especially are women doing it for themselves, and I love that. I love working with women on jewelry for women. I think it's really empowering."
Now that the line is firmly established as an industry favorite in just four years, Stone has expanded into bespoke bridal pieces—which, as we examined the gold-and-diamond baguette ring on her left hand, is quickly becoming a staple for the fashionable bride. "Engagement rings are challenging, because everyone wants to customize a little bit, [but] I love it when someone comes up and goes, 'My girlfriend loves your jewelry. Do an engagement ring just like that.' That to me is so fun." We'll be anxiously plotting our own custom piece from here on out.
Want more stories like this?
This Cult-Favorite Jewelry Brand Mixes L.A. Minimalism with French-Girl Chic
Inside NYC's Most Luxurious Jewelry and Watch Boutique
15 Rings We're Currently Adding to Our Shopping Carts