WWWRN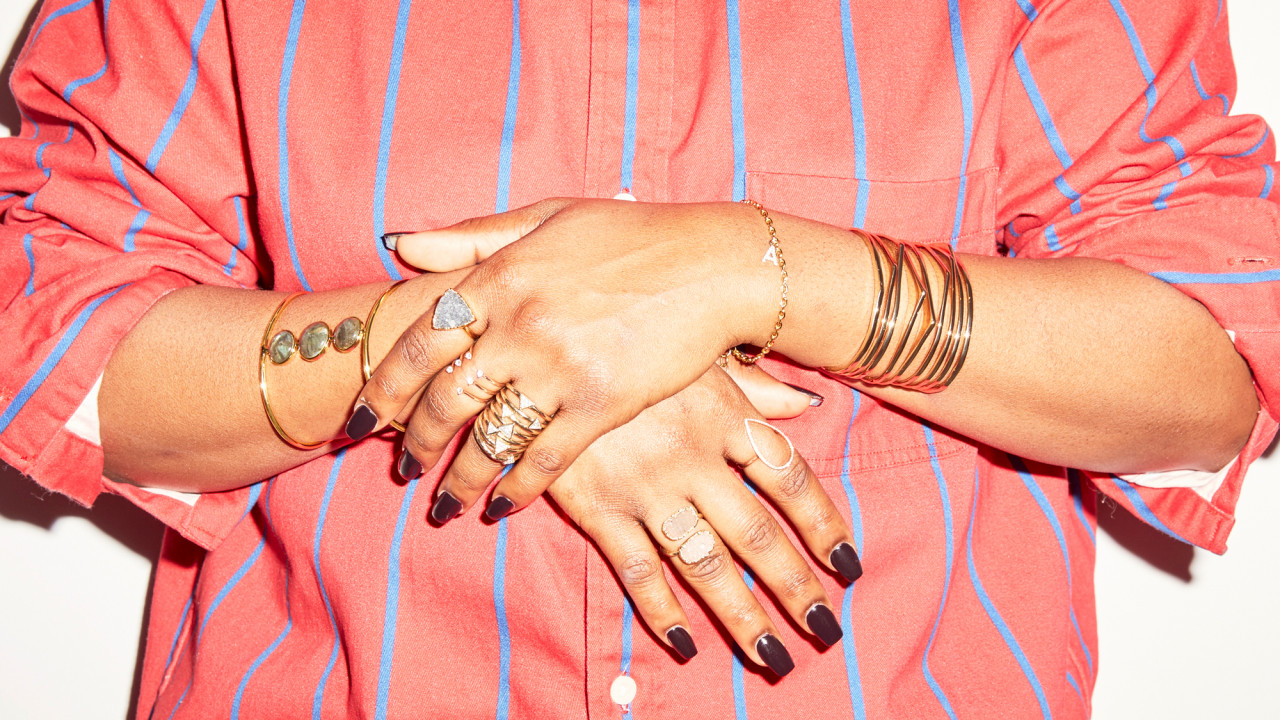 15 Rings We're Currently Adding to Our Shopping Carts
Right this way for diamonds, gold, sapphires, and pearls.
Many of us here at Cov feel naked if we accidentally walk out of our apartments in the morning without our usual four to eight rings on our fingers. It results in us panicking multiple times throughout the day when we go to twirl or play with them while deep in thought (they're sort of like a new-age stress ball, tbh), only to then remind ourselves that they're sitting safe in our ring dish at home. All of this is to say that we're ring addicts around here. We're constantly shopping for them, taking pictures of them, or DM-ing them to one another (when our director of talent and lifestyle, Noah, adds a new one to her shop, we practically go into a frenzy). Below, the ones that have caught our eye as of late.
---
Hannah Baxter
Senior Beauty Editor
1. Spinelli Kilcollin Sonny Set of Three 18k Gold Diamond Rings: I've wanted a Spinelli ring for years, so why shouldn't I scoop one now that I'm 30? That's a band for every decade I've been alive, in case you're wondering as to how I'll justify it. I deserve diamonds, and so do you.
2. Retrouvai Green Sapphire Baguette Wrap Ring: I already wear a Retrouvai flying pig signet on my left pinky every day, but I think this baguette wrap ring would be a nice accompaniment, either stacked or on the opposite hand. Green sapphires are also my newest gemstone obsession.
3. Vada Dorothy Original Dome Ring: Sometimes a sculptural, oversize piece is exactly the thing to spice up your ring game. Vada always has gorgeous vintage jewelry to choose from, but the in-house line is just as dreamy.
---
Jodi Taylor
Editor
1. Grace Lee Gold Ring: You can never go wrong with a simple gold band. I like to stack 'em when I can, and I'm not opposed to owning one for every finger. Currently, I'm on the hunt for a thumb ring, and so this one by Grace Lee is perfect.
2. Jessica Biales Sapphire Ring: My birthday is in September, which means that this lil baby is covered in my birthstone. Do I even need to say more?
3. Shami Official Bolt Nameplate Ring: This girl loves a good initial or nameplate accessory and is a firm believer in the fact that you can never have too many. What's missing from my ring collection currently is a nameplate ring (I only have my initials), and I wouldn't consider getting it from anyone other than Kelly Shami of Shami Official.
---
Gabby Sgherri
Editorial Intern
1. Ole Lynggaard Copenhagen Gold Diamond Snake Ring: I love gold and snakes, so naturally I need this ring. This is one of the most elegant snake rings I've ever seen, and the diamond eyes are everything. If you're into snakes as much as me, they have matching earrings, too.
2. The M Jewelers Iced Cuban Link II Ring: Ice me out, M Jewelers, because I am here for this ring. I love a good Cuban link, and this ring is making me feel like I need a matching chain à la Gunna. Then I can confidently say "drip too hard."
3. Mejuri Croissant Dome Ring: I'm into statement rings (clearly), but sometimes you need a simple style to balance everything out. I'm usually drawn to baguette diamonds, but I'll diverge for this croissant dome ring. If I have any advice for jewelry shopping, it's the more gold, the merrier.
---
Taylor Ford
Head of Social Media
1. Tarin Thomas Yin Yang Everett Ring in Mother of Pearl and Onyx: I've been in the market for a pinky signet, but every time I try one on, I feel more Tony Soprano than Alexa Chung. The yin-yang enamel of this Tarin Thomas ring adds a quirky touch that lets people know the only mafia I'm in is the fashion one.
2. The Great Frog Beaded Eye Ring: Halloween may have just passed, but this eyeball ring by The Great Frog is the perfect year-round punk piece. I'd wear the men's ring on my index finger next to a stack of thinner bands to create an ogle-worthy balance of creepy and chic.
3. The Last Line Diamond Teddy Flower Ring: This little daisy diamond would look best on a hand halfway tucked into the back pocket of a pair of Levi's, or around an ice cream cone.
---
Naydeline Mejia
Editorial Fellow
1. Catbird Zodiac Ring: If you know me, then you know how much I embody my zodiac sign—I have a Libra necklace from Awoke Vintage that I wear almost every day, and I even have a forearm tattoo of the Libra scales. When I saw these brass zodiac rings at Catbird the other day, I knew I had to add the Libra ring to my growing zodiac accessories collection.
2. Verameat Dino Claws Ring: I've been obsessed with Verameat ever since I discovered their shop on Instagram. I'm wearing one of their hand necklaces right now! All of Vermeat's jewelry pieces are handcrafted in New York City from recycled materials by founder Vera Balyura. Her style is fun and whimsical, and out of all her ring designs, I am especially drawn to this adjustable Dino Claws that's both dainty and badass.
3. Poppy Finch Crisscross 14-Karat Gold Pearl Ring: When I look for rings, I tend to go for dainty, thin bands—I use my hands a lot, and I don't like to feel like my hands are restricted in any way, which is how larger, more bulky rings make me feel. This 14-karat gold pearl ring from Poppy Finch is perfect for everyday. It's simple and elegant and embodies the "it's all in the details" rhetoric I wish to embody every day with my outfits.
Want more stories like this?
Those Accessories You've Had Your Eye on Forever? Here's How to Find 'Em
Meet Saintwoods, the Brand That Knows Parties & Sweatpants
13 Pretty Wedding Accessories
Part of the series:
WWWRN