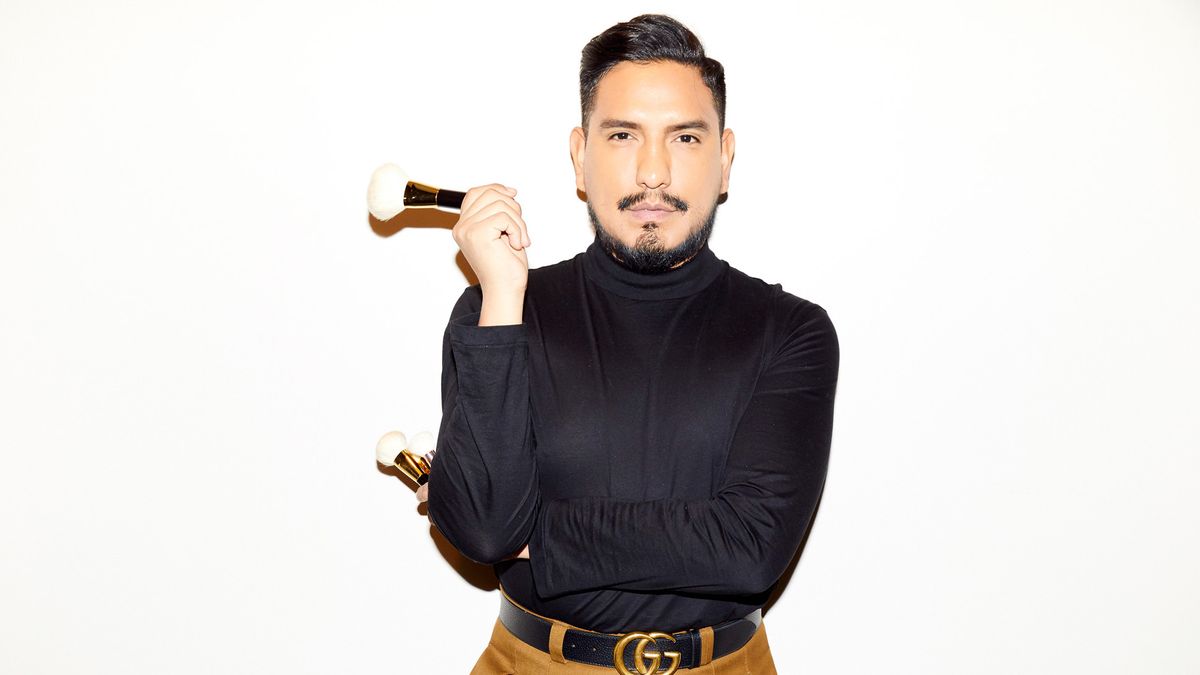 Makeup
Lizzo's Makeup Artist Reveals His Must-Have Beauty Products
Nobody does a rainbow eye like Alexx Mayo.
Tristan Kallas
After closing out 2019 by being named 
Time
's 
Entertainer of the Year
, it's safe to say that Lizzo had a truly remarkable year, and few people understand this better than the makeup artist who has traveled the world with her. From show after show on her "Good as Hell" tour, to the fantasy land that is the Met Gala red carpet,
Alexx Mayo
has been through it all with his beauty kit in tow. Even if you don't recognize his name, you've certainly seen his work. Just think back to that *epic* rainbow eyeshadow look Lizzo sported during Pride month, or the diffused mossy green she wore on her cover of
Teen Vogue
. That was all thanks to him, and so was every other dazzling drop of makeup the singer has worn over the last two years.
Just take a peek at the artist's Instagram for a dose of beauty inspiration—emerald glitter, lavender shadow, fuchsia lipstick. Every look is more vibrant and playful than the last, which, to be honest, is how we want our makeup to feel most days. Why shouldn't it evoke pure joy, or devastating glamour, or make you feel like the powerhouse vixen you were born to be? We discussed all that, plus our mutual appreciation of
all things sparkly
, when we met up with him in L.A. to check out his beauty must-haves. From the products he swears by for bouncy pre-makeup skin to the process behind Lizzo's best beauty looks, plus a reflection of how far he's come from doing his friends' makeup as a teenager in New Mexico, it's time you got to know Alexx Mayo. 
---
When did you first become interested in makeup?

"I was always an artsy kid growing up. I got into charcoal and pastel around middle school. I did a lot of portraitures and drew my friends. That led me to beauty. As I was growing up and getting into high school, I was struggling with identity as far as discovering who I was as a gay man and an artist. My best friend at the time and I were both goth punk kids, and I was so fascinated by the way she did her makeup. She had no eyebrows and would draw flames and stuff on her face as a canvas. I started venturing into that and wearing makeup as a defense mechanism when I was 14."

Did anyone in your family impact your love for beauty?

"I used to watch my mom get ready every single day. She had a specific routine. The moment she would wake up, before she would even get in the shower, she would put on her face and did her eyebrows and her eyeliner. She needed something to pick herself up in the morning. It was inspiring to see her use makeup to tackle the day."

When did you realize you had a talent for it and decide to pursue this professionally?

"Around 16 I actually did my friend's makeup for the first time, and instead of going the normal punk way, I did more of a glam look on her, and I just remember the reaction of people telling her she looked so beautiful. People saw her in such a different way just because of makeup, and the way I made her feel opened up a whole new perspective of like, Wow, if I can make someone feel different or better about themselves, maybe I should do that."


What was your first major makeup job?

"I moved to Albuquerque, and my first big job—I was maybe 19 years old—was for a Southwestern jewelry company. I kept working for them and got my first billboard, and that was my 'wow' moment. That was just through testing, contacting photographers, and begging them to do let me do makeup and begging them to capture it."

What do you think is the most misunderstood thing about being a professional makeup artist?

"I think people see the end results and the final image, but it's a big process of traveling and not sleeping and sometimes not having a lot of time to do a full look that would normally take two hours. It takes somebody who is able to manage time really well and just work with whatever you've got, with whatever amount of time that you have. There's a lot of chaos behind the scenes. There's been a lot of pressure around me currently, especially working with Lizzo. We're known for never repeating a look, and it's not intentional; it's just something that flows. Even if someone asks me to re-create a look, it's so organic and in-the-moment that that happens."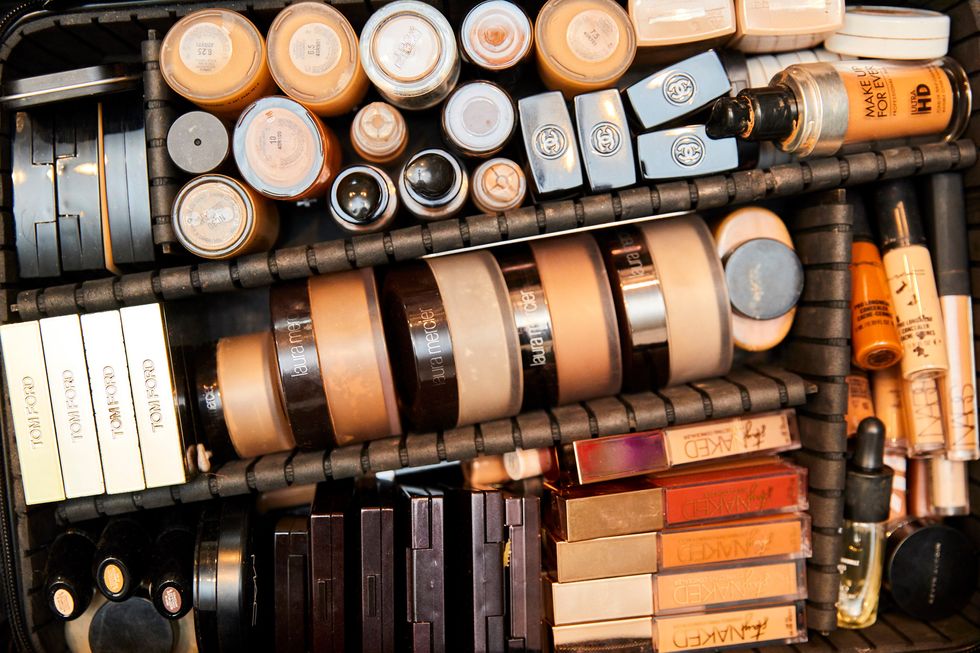 How did you first start working with Lizzo?
"It's been over two years. The first day I met her was the 'Water Me' video, which was 2016 or 2017. In this industry, I think that you're always remembered, hopefully in a good way, when you work with other people. On set I'm talkative and I like to introduce myself to everyone. That's always a key thing about the way I work. Her makeup artist wasn't able to make it last minute so they needed a replacement, and it turned out her personal assistant at the time I had worked with on a previous shoot who remembered me and referred me. I hear that I'm nice all the time, and I'm like 'Is it that rare?' I am who I am and that's just my personality but it's always nice when people count on you for that."
What have been some of your favorite moments working with her?
"This has been a whirlwind year—so many different countries and places that I hadn't even heard of. One thing I feel I got a lot of attention for was the
rainbow eye
I did for Indie Pride. So many people went wild for that. We were joking days before like 'What are we going to do, a
rainbow eye
?' I knew I wanted to go colorful but it was about her hair in pigtails and I wanted to celebrate what Pride means and it was a true look. I'm really known for using shocking colors in a wearable way.
"Show wise, in London, we did a show at The O2 [arena]. The crowd was so loud that I had to use earplugs, even when I was backstage. Everybody knew every word to every single song, and the energy from the crowd was overwhelming. I was brought to tears and I had no idea why, but something about all that energy being projected, it was phenomenal. It's amazing to see that people are taking what she's saying and applying it to their own lives."
Have you ever lost your kit in transit and had to improvise?
"No, I have not, fortunately! Knock on wood, but I have multiple kits, one for travel and one at home, and more editorial kits. I did, however, once bring the wrong kit and all my brushes were missing and I had no pencils. I had to improvise by using cream products and keep it more minimal. Luckily it was more of a fresh look that we were going for. I used no brushes or pencils. How I made it work, I have no idea, but it happened."
What skin prep products do you always keep in your kit?
"I'm such an advocate for skin prep! I always have mists. I love the
Caudalie Concentrated Brightening Essence
 [and] the
Urban Decay Hydra-Charged Complexion Prep Priming Spray.
I love eye patches. When you're getting ready super early, they're great. I love the ones from
Tatcha
and
Klorane
. I love using rich moisturizers and oils, like the
Sunday Riley C.E.O Glow Vitamin C + Turmeric Face Oil
and
ICE Ceramide Moisturizer
. I like to massage it all in and then have a little pampering moment, so spend at least three to five minutes."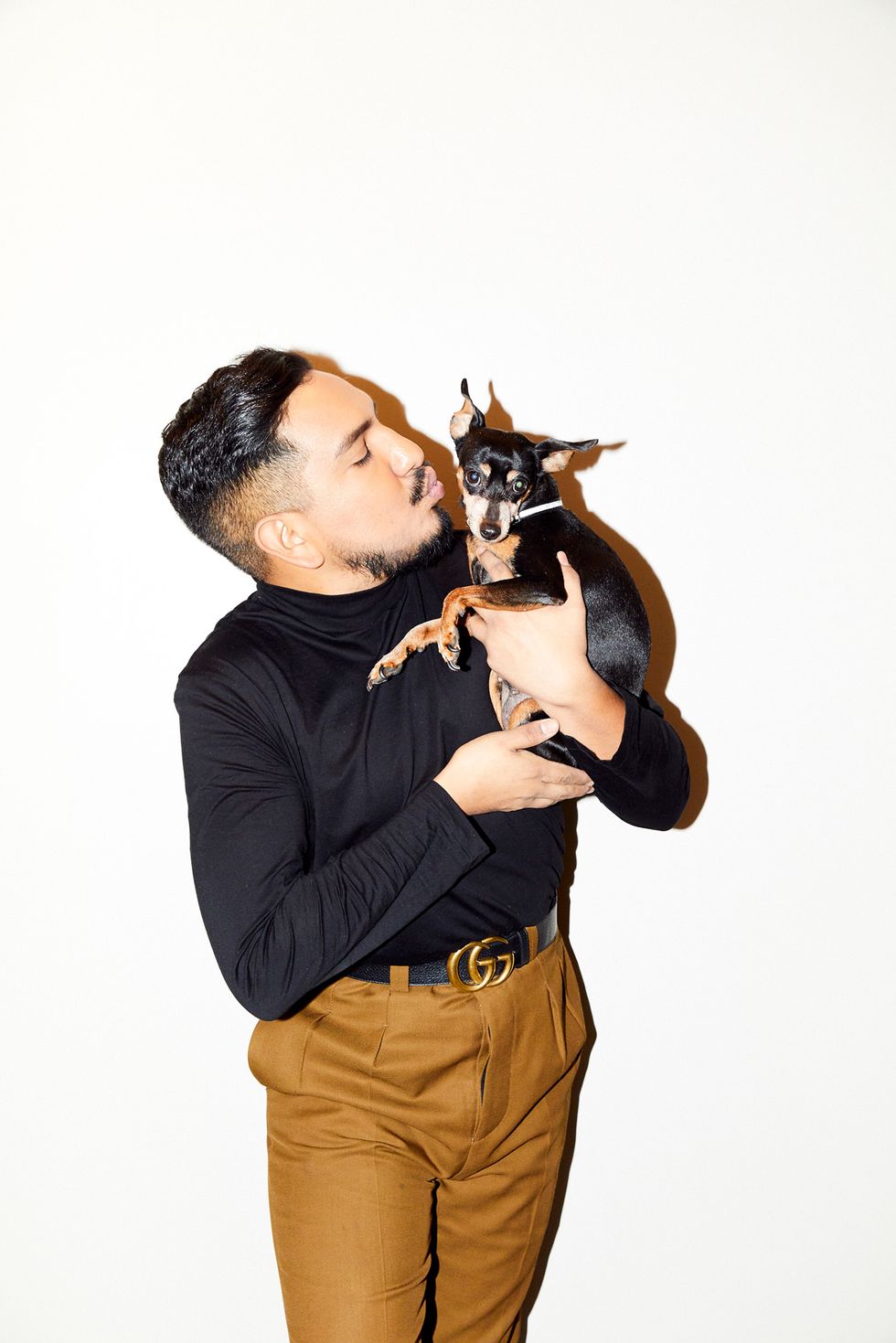 Favorite foundation and concealer?
"I go through phases, but it depends on what I'm doing. For stage, I love a more matte foundation. The
Urban Decay Naked Skin
has been a go-to lately. I love the
Makeup Forever Ultra HD Invisible Liquid Foundation
; it's always a staple in my kit.
Armani Luminous Silk
is also a great one."
Favorite mascara for major volume?
"The
Kevyn Aucoin Volume Mascara
. The brush is amazing, and the formula is really unique. It's creamier, but it creates these tubes on the lashes, and the brush allows you to really build the lash. It doesn't run or flake. I love it."
Recommendations for lip colors that won't budge for hours?
"Matte lips are a must for a performance or any time I'm not there for touch-ups. I love the
Urban Decay Mega Matte Lipsticks
. I'll add extra staying power by applying the corresponding blush or eyeshadow on top of it. I love the
Huda Beauty Liquid Matte Lipsticks
. They're not too thick, and they're really flexible on the lips."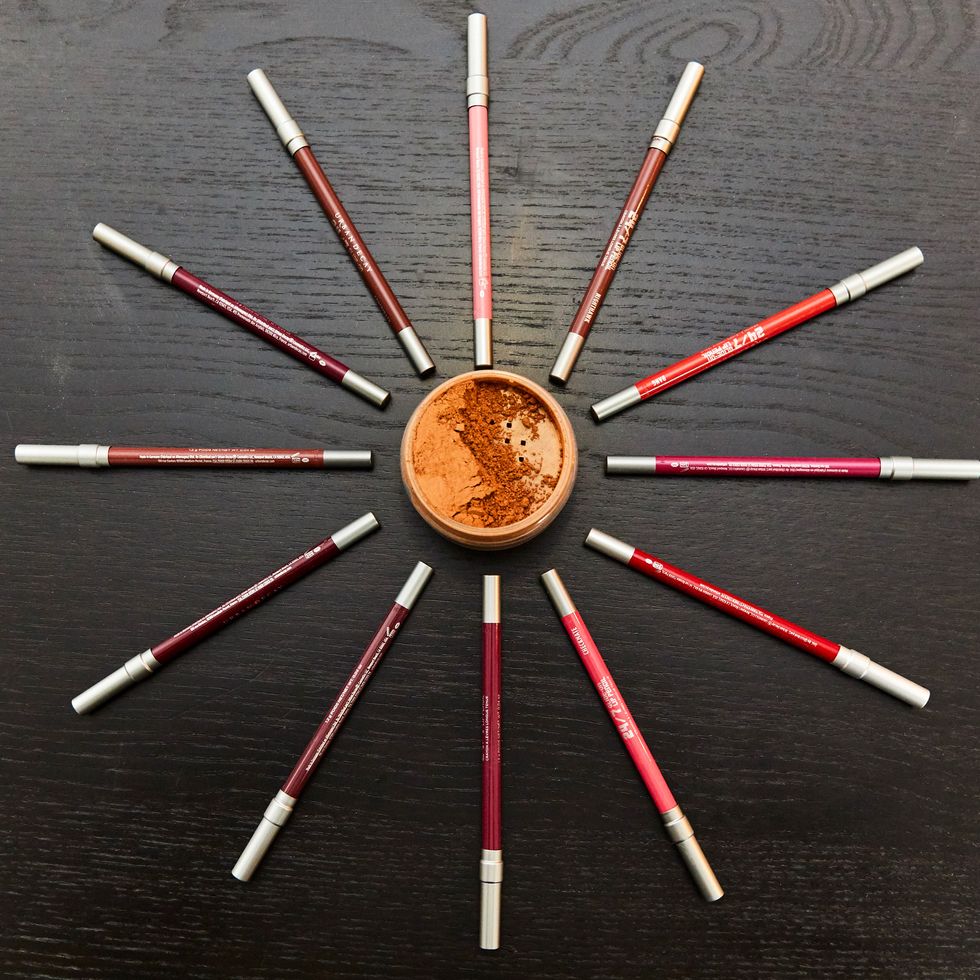 How do you get those cheekbones to pop, even on stage?
"This goes back to my art background with shading, being able to create dimension under a spotlight. You have to reinforce that, so using a dark foundation, around two or three shades darker than the actual skin tone. I also like using a cream foundation stick with a corresponding powder for extra depth and dimension."
What do you think is the most underrated type of makeup product out there right now?
"Cream blush. I am such an advocate, even if you don't wear any makeup at all, [because] it gives the most natural glow to the skin and helps you look awake. It's one of my favorite things to use. I love the
Nudestix
. It's in a stick but the texture has a nice balmy glossy finish to it. No highlighter needed if it's for every day."
What about high-impact highlighter?
"The one I use often on clients is the
Makeup Forever Pro Light Fusion in Golden
. It's so universal, melts into the skin, and works for many skin tones. I like mimicking the natural sheen to the skin and not using anything that's too frosted. I don't like overly glittery highlighters."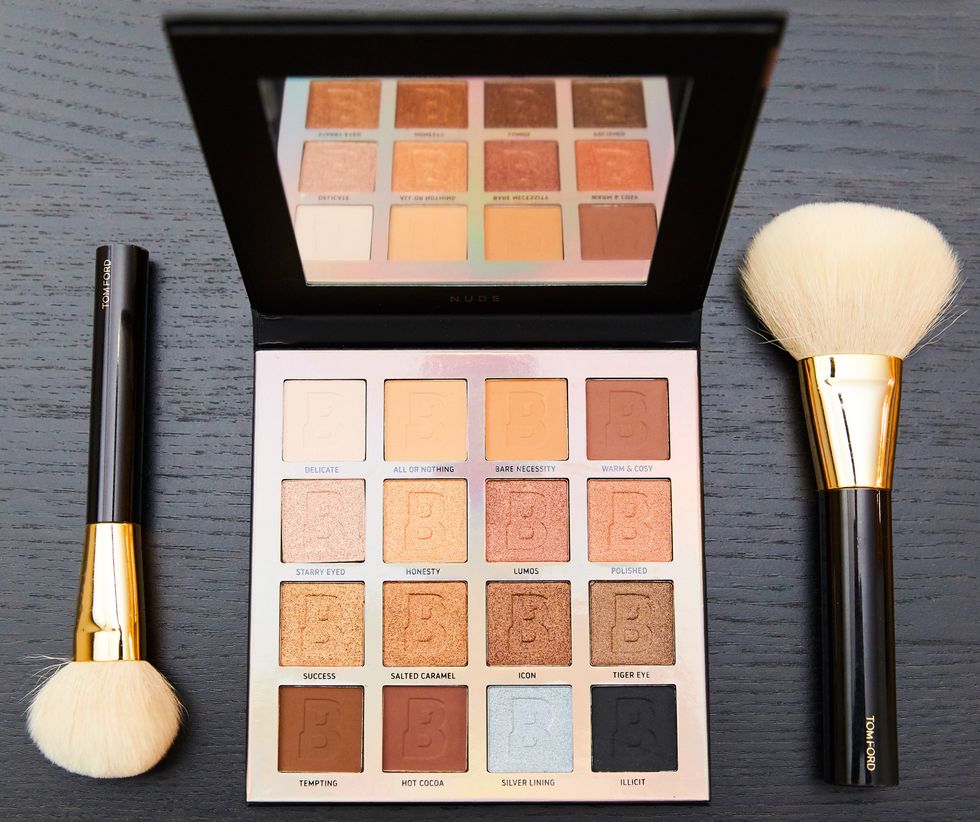 What is your favorite glitter? That's important:
"That is important! I love the
Urban Decay Heavy Metal Eyeliners
, I use those a lot. I also love the
Makeup Forever loose glitters
. They're super fine and extra sparkly."
What are you most excited about within the beauty industry right now?
"I've noticed more diversity and inclusion within brands. That's so important. You know, I was in a Sephora or Ulta recently and I saw a giant advertisement with a boy wearing a full face of makeup. I thought,
this is so amazing
. I remember being a 15-year-old boy myself and being so afraid to wear lip gloss and mascara. I got teased and got so many negative comments. I'm so happy that we're coming to an age where that is being normalized and celebrated."
Any other major pinch-me moments for your career thus far?
"Doing makeup for the Met Gala. That was never something that I'd imagine I'd be doing. I was watching the red carpet for years and years and years, and being able to see your work inspiring other people to try different, new things... that was surreal. Being able to have the cover of
Elle
Magazine with Lizzo. That was my first major American fashion magazine cover and it was a major 'wow' moment that I've always dreamt of. Such a milestone. Even shooting it I was like a kid in the candy store. Like, 'Wow, this is where we're at.'"