Food
Alessandra Garcia Lorido Shares the Ultimate Holiday Pasta Dish
Cheese, cream, nutmeg, noodles—what more do you need?
Tim Buol
Tim Buol
Producer
Halle Lagatta
With the New Year just a few days away, and the holiday season in full swing, it's officially time to indulge in all your favorite foods without an ounce of guilt. Seriously, is there anything better than gathering around a table with your loved ones and sharing a home-cooked meal? We certainly don't think so. Whether it's a secret family recipe or a potluck with your closest friends, 'tis the season for an
out-of-this-world yummy dish
. Like a super cheesy pasta, perhaps?
---
We're never ones to turn down a bowl full of noodles, which is why we were more than a little excited to join model
Alessandra Garcia Lorido
in her Manhattan kitchen to learn how to cook her signature dish. The Los Angeles native showed us exactly how she makes tagliolini, or an "elevated fettuccini alfredo" with plenty of parmesan and cream (technically half-and-half, but you understand the decadence). Hint—it was even more delicious than it sounds. Follow along in our video above for the recipe, plus her take on the best part of spending the holidays in New York City.
---
Recipe
---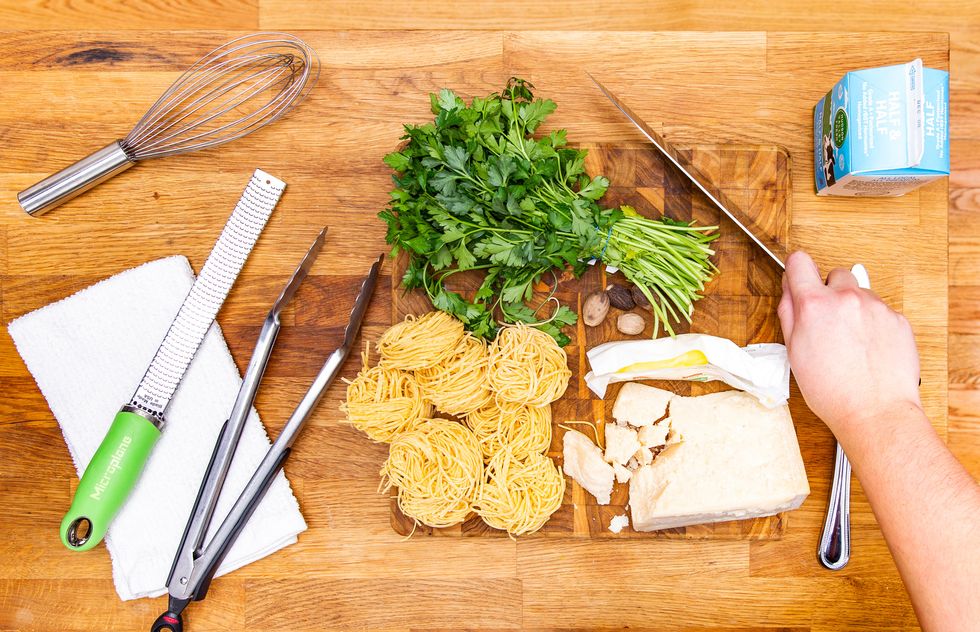 Ingredients:
2–3 bunches dried tagliolini pasta
2 cups Parmesan cheese from Murray's Cheese
1 tbsp nutmeg
5 tbsp cold salted Irish butter
1 cup half-and-half
1 cup fresh parsley
fresh black pepper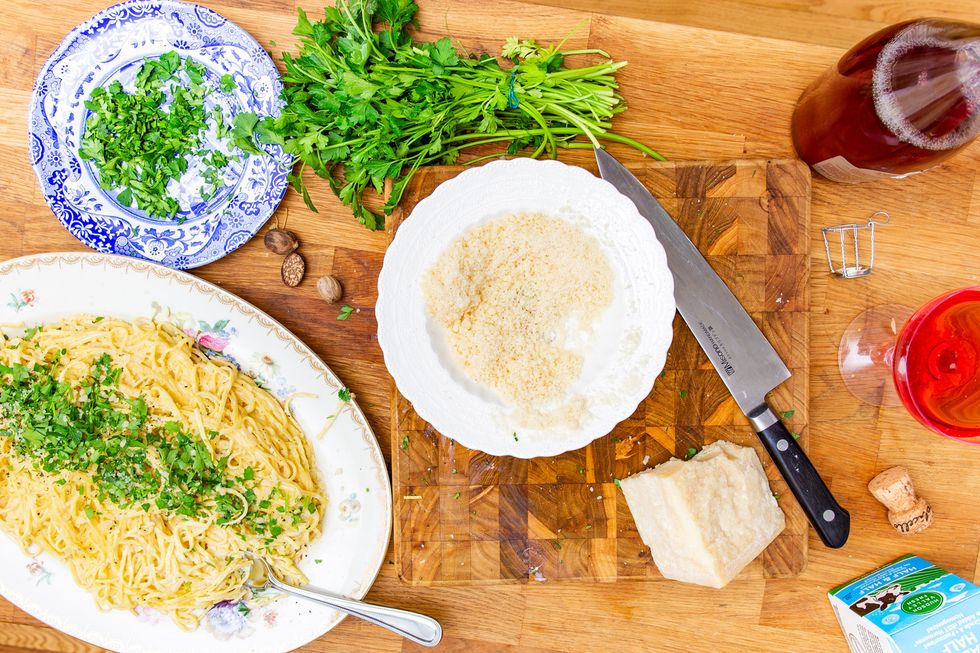 Step-by-Step:
1. Bring a heavily salted pot of water to a boil, then add the pasta. While the pasta is cooking, prep the sauce.
2. Separate the parsley from the stems and finely chop.
3. Blend the cheese in a food processor until it is sand-like in texture.
4. Once the pasta is cooked, set it aside and make the sauce.
5. In a pan over medium-low heat, bring the half-and-half to a simmer. Add the butter and one cup of cheese, whisking constantly.
6. Grate the nutmeg with a microplane grater until fine.
7. Add ½ cup of parsley and nutmeg, and whisk together to incorporate it into the sauce.
8. Add the cooked pasta and ½ cup of pasta water (add more if the sauce gets too thick).
9. Once the pasta and sauce are fully incorporated, add pepper (salt if needed, although if the pasta water was seasoned thoroughly, you shouldn't need to add any more).
10. Plate and garnish with the remaining cheese and parsley as preferred.
11.
Mangiare!
Want more stories like this?
In the Kitchen with Claire Saffitz
Beauty Foods You Need to Have in Your Cupboard
Are Your Vegetarian & Vegan Holiday Meals Actually Healthy?