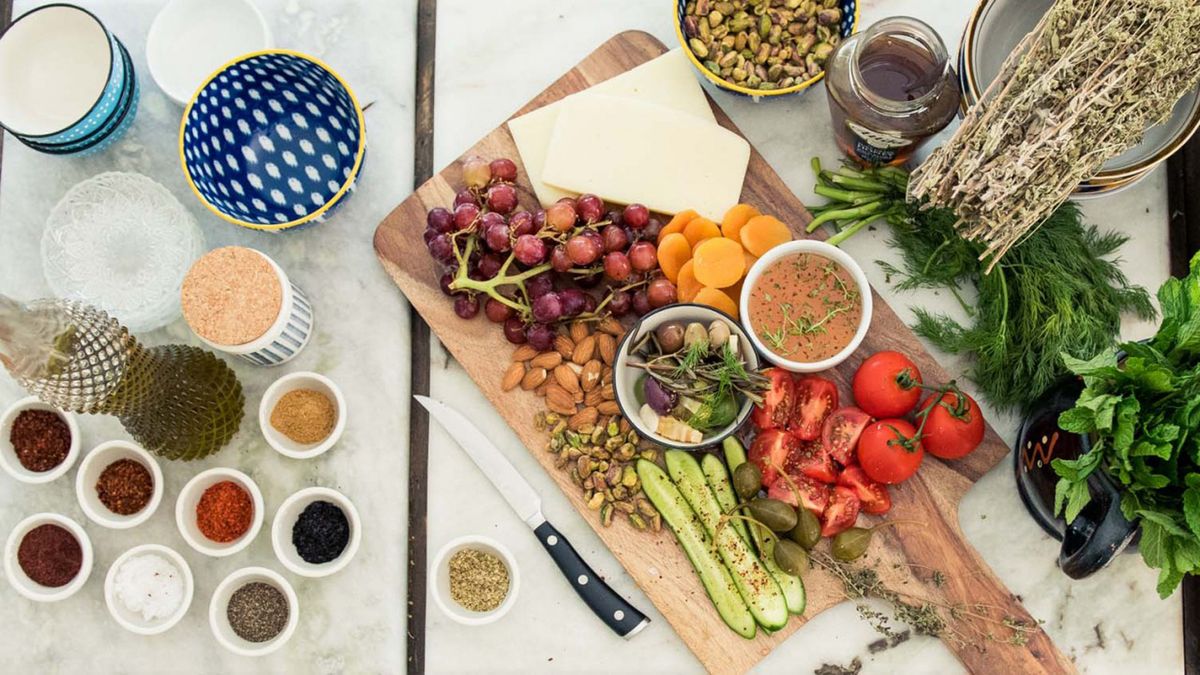 Food
We look into the tofu turkeys, Daiyas, and other festive food swaps.
We may as well call the holiday season for what it is: the time when we eat copious amounts of food with family and friends for what feels like a month straight. There are the heavy hitters like eggnog, sweet potatoes, stuffing, and, of course, turkey, which have become practically synonymous with the festivities. Can you blame the vegetarians and vegans in our lives for wanting to get in on the action, too? There is a plethora of vegan- and vegetarian-friendly alternative foods out there mimicking the real stuff, but are the alternatives really all that healthy for you? We asked celeb nutritionist and author 
Cynthia Pasquella-Garcia
whether some common holiday go-tos like Tofurky and Daiya have any true nutritional value, as well as back-label ingredients to watch out for.
"When the holidays roll around, it can be a tough time for vegetarians and vegans who want to feel as festive and merry as everyone else," Pasquella-Garcia says. "In an effort to capture the holiday spirit, they often turn to meat alternatives that include soy, gluten, and a mixture of other strange and not always wonderful things."
---
Be Wary of Soy (aka Tofurkey)
Whether you opt for a big hunk of tofu in the shape of a bird, or other tofu-based meat-adjacent products to satiate your craving, you'll want to be aware of a few things. "Tofu is processed soybeans, and you want to avoid foods with processed soy as much as possible for a number of reasons. First of all, it's processed with hexane, a petroleum derivative. So if you wouldn't add a dash of motor oil to your gravy, you probably want to steer clear of soy and soy-based ingredients. In addition, soy is a xenoestrogen and can interfere with normal hormone function of women and men," Pasquella-Garcia stresses. "Unless that tofu turkey is organic, the soy is most likely genetically modified. In fact, in 2018, 94 percent of all soybeans in the United States were genetically modified—up 17 percent from 1997. And even if the source of soy consumed is organic, the effects of processed soy on the body can include weight gain, hormone imbalances, and thyroid issues," she continues. But not all soy-based stuff is bad, and moderation is key. "It's fine to enjoy soy in small amounts, as long as it's naturally fermented (like naturally fermented miso, tempeh, or natto)."


Dairy Alternatives Are Loaded with Additives
A vegan remix of mom's famous cheesecake or melty lasagna is tempting this time of year, so it's not all that surprising that dairy-free cheese alternatives are a popular swap-in. "When it comes to faux cheese products, like Daiya, you have to read the ingredients. You will see that they often contain soy, harmful oils, high amounts of trans fat, glutamates and/or MSG, and more sodium than would be healthy for anyone. I would recommend avoiding cheese-like products at all costs. It's full of trans fats and starch, contains glutamate (MSG's BFF), and 300 mg of salt per serving. Processed foods, in general, should be avoided as much as possible if you're looking to celebrate and not feel sluggish and experience brain fog after," Pasquella-Garcia recommends.


Stick to the Good Stuff