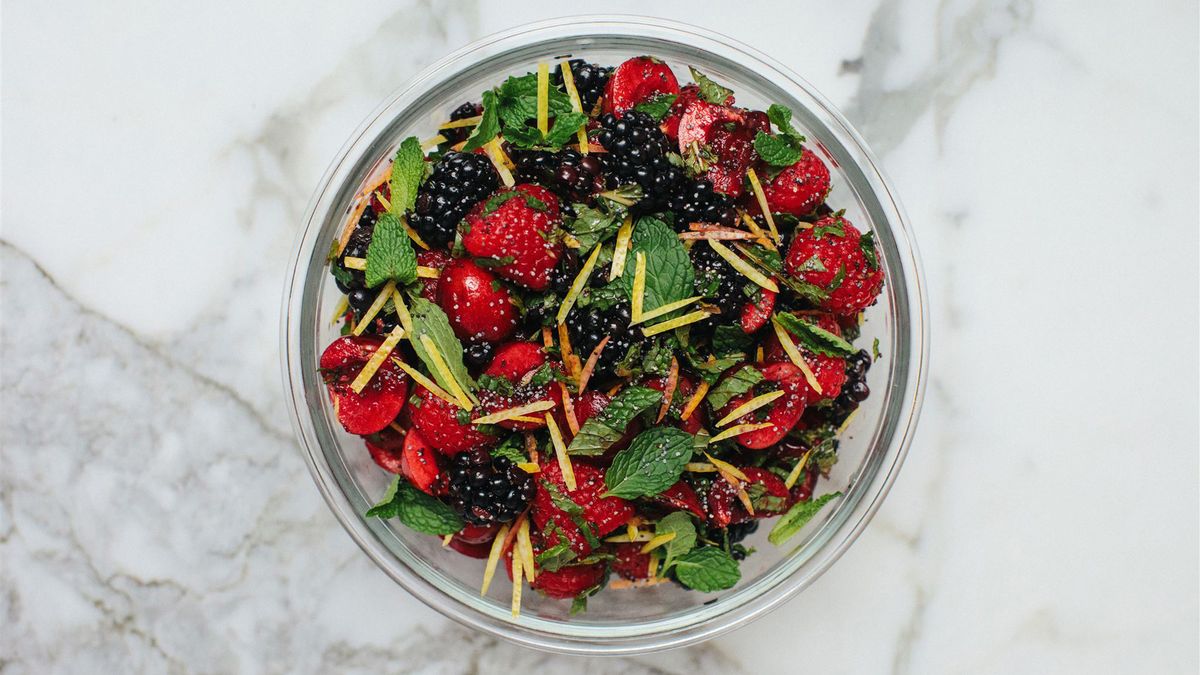 Food
How to Eat Like You Have a Private Chef
The girls from The Culinistas teach us how.
People often talk about life's little luxuries
—
a day spent in bed, time to meditate, an extra-long pedicure complete with foot massage. But there is one luxury that truly trumps all others, and that is having someone cook all your meals for you. I recently had the experience of working with
The Culinistas
 and having them provide a week's worth of insanely delicious and healthy meals, and it completely changed my week. No more scrambling to pick up groceries for dinner, no dishes to wash, and my fridge was stocked with guilt-free food. While my budget doesn't allow me to have The Culinistas in my home every week, they provided me with expert tips on grocery shopping and meal prep (and the recipe for their INSANELY delicious Green Vegetable Soup) to help my work weeks feel as stress- and guilt-free as they were when the girls were actually there. Read their expert tips and recipe below.
---
Their meal prep philosophy:

"Good food isn't only about how it tastes, but also how it makes you feel, and that's where home cooking wins. Meal prepping is great for preparing nutrient-rich meals that not only taste amazing because they are packed with fresh ingredients, various herbs, and unique spices, but also make you feel energized, healthy, and nourished.

"When your schedule is fluid and you don't eat at home a lot, meal prepping is the perfect way to balance your social life with quiet time at home. It allows you to center and organize yourself, while also creating simple, healthy food for the dinner table."

On nailing your trip to the grocery store:

"First, make a list and organize the list by produce, staples, dairy, and protein. This will help you navigate your local market. Then, buy only what you need. Shopping, especially in big cities like New York, can be costly and clutter your kitchen. Utilize the bulk section at stores like Whole Foods for grains, nuts, or dried fruits. If you're cooking a meal for one, there is no need to purchase a whole box of quinoa, so measure out and only pay for what you need. Apply the same logic to other products as well; break off pieces of garlic, ginger, or cheese, and only purchase what you need."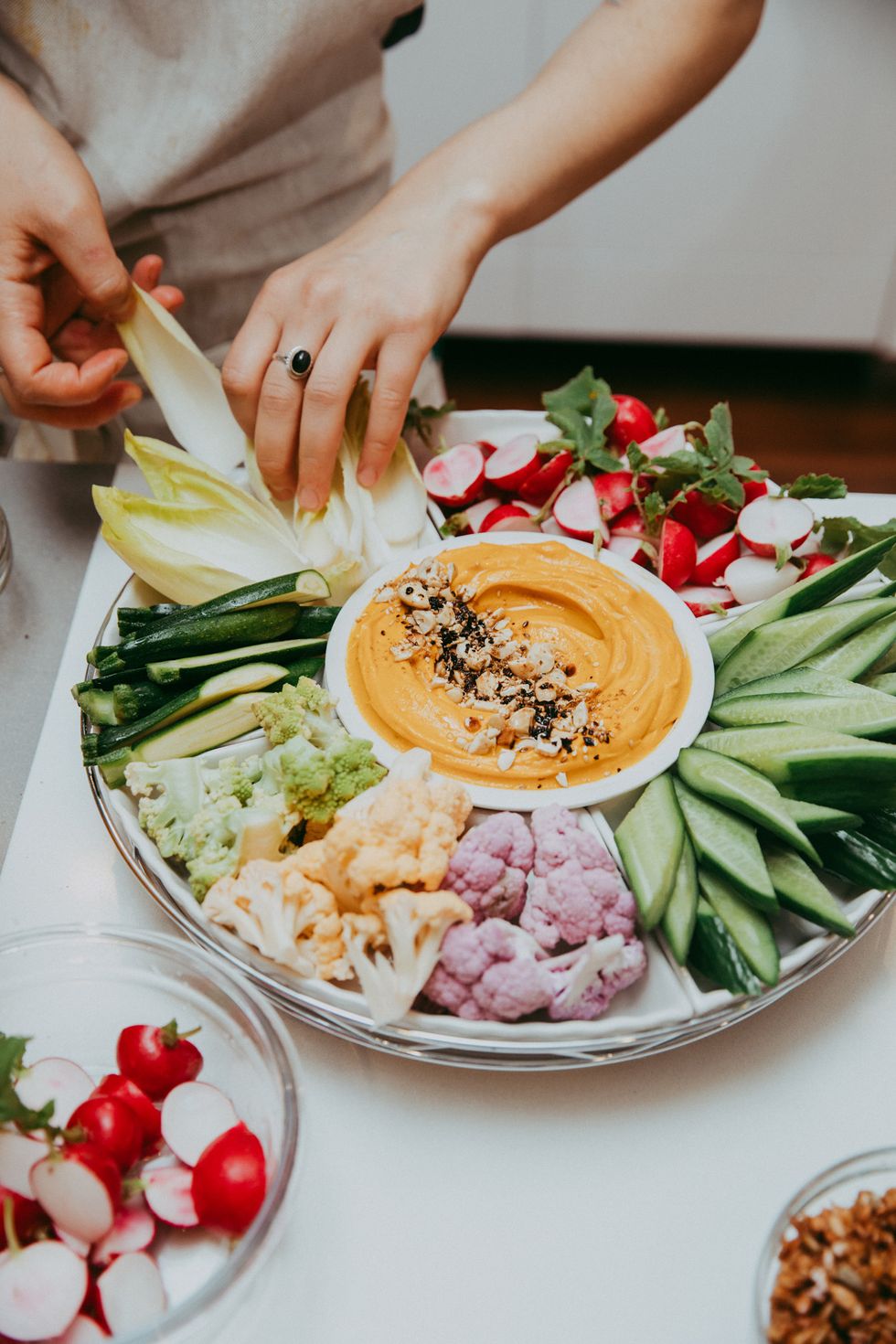 Photo: Courtesy of The Culinistas
On keeping it simple:
"We've established a six-ingredient rule: Each dish consists of six core ingredients, plus olive oil and spices. By limiting the number of ingredients per dish, you will save on time and money, further streamlining your meal-prep process. We incorporate unique spices into our dishes in order to add depth to their simple ingredient lists."
On how to store all your food:
"The best way to keep your dishes exciting throughout the week is to store everything disassembled in the fridge, and piece together the day of. Leave your meat marinating and sear the night of; portion dressings and pack them separately in the fridge to toss a salad
à

 la minute
. Mix and match components and dishes throughout the week to differentiate and repurpose ingredients that you have left over. If you have leftover watercress from a quinoa salad, throw it on a sandwich, or pair it with slices of grapefruit for a light summer salad."
Green Vegetable Soup recipe:
"This soup uses the scraps and extras from herbs and aromatics to make a robust, hearty broth. It also makes extra basil oil that can be repurposed to drizzle on toast, scramble with eggs, and mix with citrus for a summery salad dressing in a pinch. It's the little things that transform snacks from simple to satisfying. Make a double batch of the soup if you want to stock the freezer for dire moments."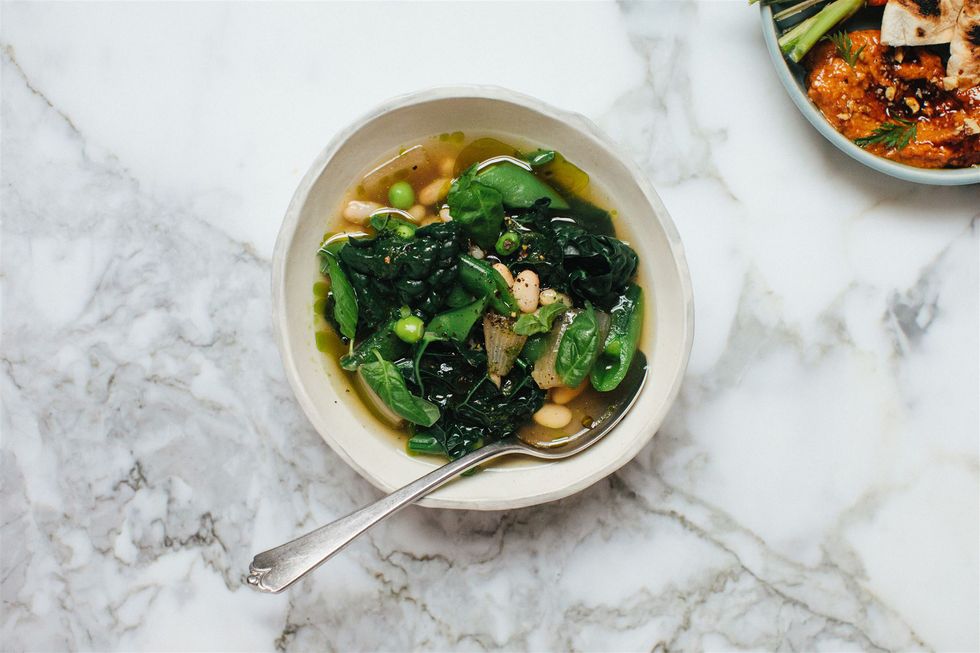 Photo: Courtesy of The Culinistas
Serves 4
Prep Time: 20 minutes
Cook Time: 55 minutes
Ingredients:
1 small white onion, chopped plus scraps for stock
¼ cup parsley, chopped plus stems for stock
½ cup basil, packed plus stems for stock
Whole black peppercorns
½ cup plus 2 tbsp extra virgin olive oil, divided
1 can (15 ounces) Cannellini beans, drained, rinsed
¼ tsp cayenne
1 bunch Lacinato kale, ribs removed, chopped
4 ounces sugar snap peas, ends trimmed, cut on a bias
Salt, to taste


Directions:
1. In a heavy-bottom stock pot, add the parsley stems, basil stems, onion scraps, and black peppercorns, and toast over medium heat until aromatic. Approx. 2 min.
2. Add 5 cups water and bring to a boil, then reduce heat and simmer for 15 minutes.
3. Strain, reserve the broth, and discard the aromatics.
4. In the same pot, add oil and sweat onion until translucent, 10 minutes.
5. Add beans, cayenne, and broth and bring to a boil. Reduce heat and simmer for 15 minutes.
6. While the soup is simmering, make the basil oil: In a high-speed blender, add the basil leaves and salt to taste. While the motor is running, stream in 1/2 cup oil. Set aside.
7. To the soup pot, add the kale and peas, and cook until tender, 2 minutes. Turn off heat and fold in parsley. Serve the soup hot with a few drizzles of basil oil.
Photos: Courtesy of The CulinistasWant more stories like this?
How to Eat Dessert for Breakfast with These Healthy Recipes
The New Beauty Foods to Eat for Healthy Skin and Hair
The Truth about the Celery Juice Trend