New Year New You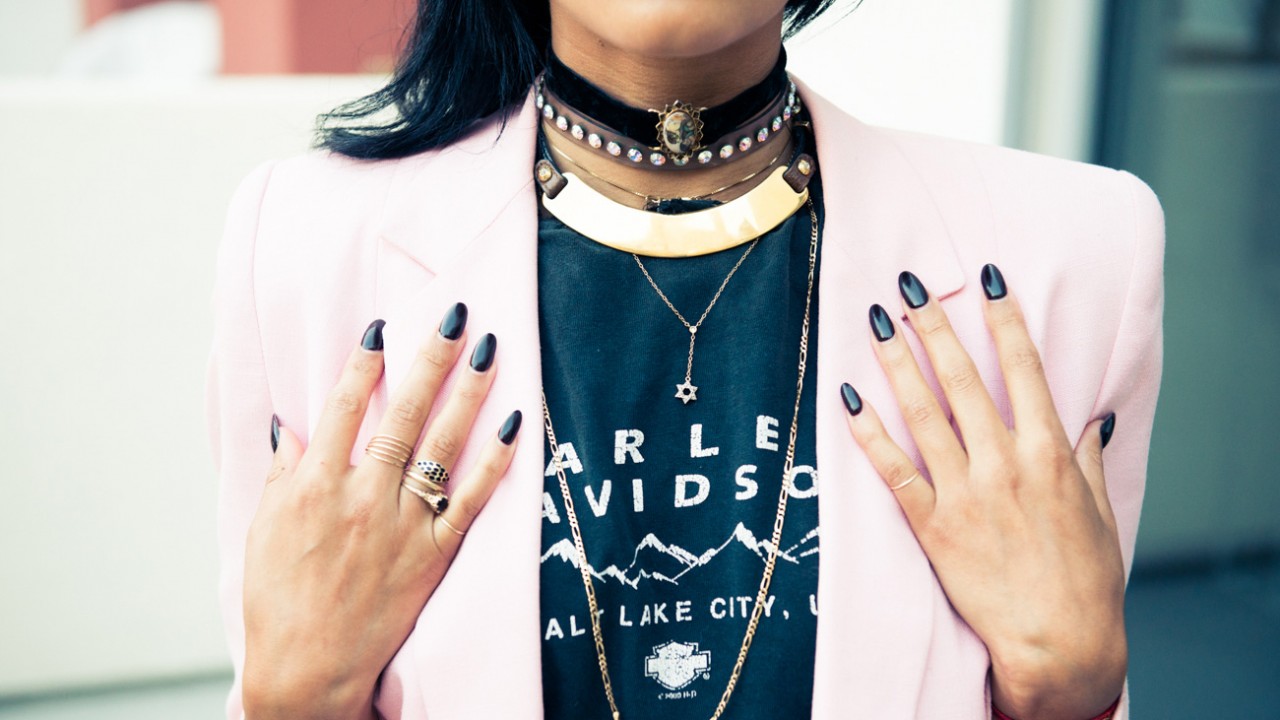 Your 2017 Style According to Your Zodiac Sign
How lucky Jupiter, retrograding Venus and something called the Grand Fire Trine will influence your wardrobe this year.
What's in the stars for 2017? An eclectic mix of the eighties, power dressing, and Wuthering Heights-esque romance means we're entering strange times, but as always, astrology can help you navigate the changing fashion and beauty landscape. Read on to see what fresh hell (and heaven!) the year ahead has in store for your sign.
Aries
This year, don't be afraid to experiment. As the first sign of the zodiac, you probably tried sheet masks before the rest of us ever heard of them. That's because Uranus, the planet of trendsetting, has been in your sign since 2011 and will stay there until 2018. In that spirit, you'll want to stay ahead of the sartorial curve. Your singular aesthetic may attract a few naysayers, but let the haters hate. Jupiter is traveling through the house of your horoscope associated with gossip, so all press can be good press in your case. In March and April, beauty planet Venus will retrograde in your sign, clearing the way for a Lady Gaga-style reinvention. Just don't commit to anything drastic like going platinum or chopping your hair until after she's direct again. That's when you really shine.
Taurus
Here's your game plan, Taurus: get your best athleisure ready, because you're going to spend the first half of 2017 prepping for a major career breakthrough in late summer. You have two eclipses lighting up your home sector, so you'll want to be comfortable during those major transitions. Luckily, you make rocking your sports bra with Adidas sweats and kicks look like it came straight off the runway. You're usually down-to-earth when it comes to beauty too, but your patron planet, Venus, will be retrograde in March and April, activating your mysterious twelfth house. Suddenly, you shed your everyday uniform in favor of soft, enchanting curls and wine-stained lips. You'll look mesmerizing when August's lunar eclipse in your career sector puts all eyes on you.
Gemini
Are you feeling lucky, Gemini? Because you might just be getting lucky in 2017! Jupiter, the planet of good fortune, has been lighting up your pleasure sector since last August, and odds are good that any extra spicy adventures have been reflected in your aesthetic. This year, smoky eyes and bare shoulders offer a welcome departure from your usual librarian fare. Your clique might be a little surprised by your style choices thanks to tension from Uranus and Pluto, but here's a secret: You're the best flirt in the zodiac. Now's your time to own it, before Jupiter changes signs in October. In August, a lunar eclipse in your ninth house of exploration takes you on an exciting journey. Pick up a conversation piece that you can flaunt when you get home!
Cancer
Oh, Cancer. Sometimes it seems like everyone sees you as a princess, and while you are incredibly kind, that doesn't mean you don't know how to lead. This year sees you leaning in and becoming the intrepid captain of your life, with the wardrobe to match. Make the utilitarian look in warm neutrals like camel your go-to uniform, so you can focus your energy on more important decisions. Meanwhile, you'll have support from lucky Jupiter in your creativity sector and Neptune in your expansion zone, helping you get your name out to the masses. Together, they form a star alignment called a Grand Water Trine that brings once-in-a-lifetime opportunities tailored for you. Just know that water could be literal, so make sure you wear waterproof mascara in case.
Leo
This year, you're in your element, literally. Saturn in Sagittarius and Uranus in Aries align with your sign in what's called a Grand Fire Trine, fanning the flames of your creativity and influence to propel you to new heights. If it sounds great, that's because it is, but you'll definitely be outside your comfort zone in lots of exciting ways, and you'll want to be dressed for the occasion. Color-blocked looks in bright hues and platform shoes, as well as day-glow lips and eyes will be the perfect accent to your newly emboldened spirit. Whatever you do, your mission for this year is to try as many new things as you can. Serious Saturn is moving through your pleasure sector, so it's up to you to make your own fun. Once you do, surprise planet Uranus shows you beauty where you least expect it.
Virgo
As the zodiac's overachiever, some might say you're like Hermione Granger—but if that's the case, you're also a wizard! That's especially true this year, as the stars align in the areas of your horoscope associated with the supernatural. Two eclipses in February activate your psychic senses, and a few tweaks to your look might be just what you need to complete your magical transformation. Add something blue to your wardrobe. Not only is it major for 2017: It's your sign's lucky color, and it has a history of protecting against weird vibes from not-so-genuine friends trying to get a come-up off your abilities. There's another round of eclipses in August, but luckily, you'll have the magical combination of Jupiter and Neptune on your side to ward off any stress.
Libra
You're riding high off Jupiter's entry into your sign last September, enjoying a season of success that only comes around once every 12 years. Until October, squeeze every last drop of Jupiter's fun-loving, over-the-top influence into your life, and dress every bit the part. You're usually somewhat demure, but tension from Uranus and Pluto means that right now, you've got the edge to pull this off. Make the late, great Prince and David Bowie your icons. Ruffled blouses, platform shoes, broad shoulders, and smoky eyes all draw people into your larger-than-life persona. In August, an Aquarius lunar eclipse in your creativity sector makes you even more charismatic. Use that moment to make any last pitches, and you'll reap the benefits for years to come.
Scorpio
You're no stranger to ambition, Scorpio, but 2017 is the year you finally start to see it pay off. Your ruling planet, Pluto, has been in your networking zone since 2008, putting you in powerful social circles. Chances are you've entered a new league since then, and your aesthetic should follow suit. The shirting trend projects an air of professionalism, and a deep side part keeps your signature sex appeal intact. Pluto is in Capricorn, so make that sign's favorite neutral—nautical stripes—your go-to. Lucky Jupiter enters your sign just in time for your birthday, giving you a come-up you could never have expected. He'll be in sync with Neptune in your pleasure sector, so when opportunity knocks, answer. A lover or artistic project could be waiting, and you'll want to look your best.
Sagittarius
Get ready, Sagittarius, because you may have the busiest year of all! With your ruling planet, Jupiter, in your social sector until October, you'll have more invitations than you have space in your calendar. Even if it's tempting to buy something new for every event, the stars want you to shift the way you spend. Responsible Saturn has been in your sign since last September, showing you how to stretch your money and put it into things you really love. Do quality over quantity: investment pieces, a bespoke scent, and a haircut that accentuates your best features all give you the luxury you crave without breaking the bank. If you do make an impulse purchase, buy something that supports your artistic side. Later in the year, when Jupiter enters Scorpio, you'll be able to hunker down and recover. In December, Saturn finally exits your sign, giving your career a boost. Don't work so hard you forget to celebrate!
Capricorn
You're usually such a pragmatist, but as surreal as 2016 has been, you may have felt like you've been living in the Upside Down. That's because your ruling planet, Saturn, has been in your dreams sector since last September, blurring the lines between fantasy and fiction. Visionary Uranus will be in sync with Saturn throughout 2017, amplifying the effect. Consider this an opportunity to experiment with styles you might think are strange. Think Florence Welch: bell sleeves, lush florals, and voluminous tiers are all contenders. Braids or ribbons in your hair add to the mystical appeal. Throughout the year, lucky Jupiter in your career sector is in a tug-of-war with Pluto in your sign. It's actually a good thing! Expect your public image to shift for the better, as long as you go with the flow.
Aquarius
As the zodiac's "it girl", you're used to being in high demand, but in 2017, your popularity soars to new heights. It's all thanks to your ruling planet, Uranus in your networking sector, making your already vibrant personality even more electrifying. Keep your signature color palette of neons, but deploy it in unexpected ways, like colorblocking and stripes. Uranus is in sync with serious Saturn in your leadership zone, so you'll be able to impress important VIPs if you play your cards right. Shirting with a surprise twist looks good on you, especially paired with the club beauty looks you hold so dear. In August, when a lunar eclipse in your sign puts you in the spotlight, know that you might need to be red-carpet ready at any moment. Keep a bag of travel beauty supplies at the ready, just in case.
Pisces
This year, you take some much needed time for yourself. After your ruling planet, Neptune, entered your sign in 2012, you've been more self-confident, with or without the world's approval. In February, the last in a cycle of eclipses in your sign inspires you to reinvent your whole aesthetic accordingly. Traditionally, Pisces shines in dreamy florals and blues. Want more grit? You're a water sign, so wet hair or slicked-back braids look good on you. Just make sure you're getting plenty of hydration and are using a good moisturizer throughout the process. In October, Jupiter moves into fellow water sign, Scorpio, and into sync with your sign. You'll benefit from the planet's good luck and charm, especially when it comes to travel. While you're out and about, pick up a beautiful fragrance or piece of jewelry as a memento.