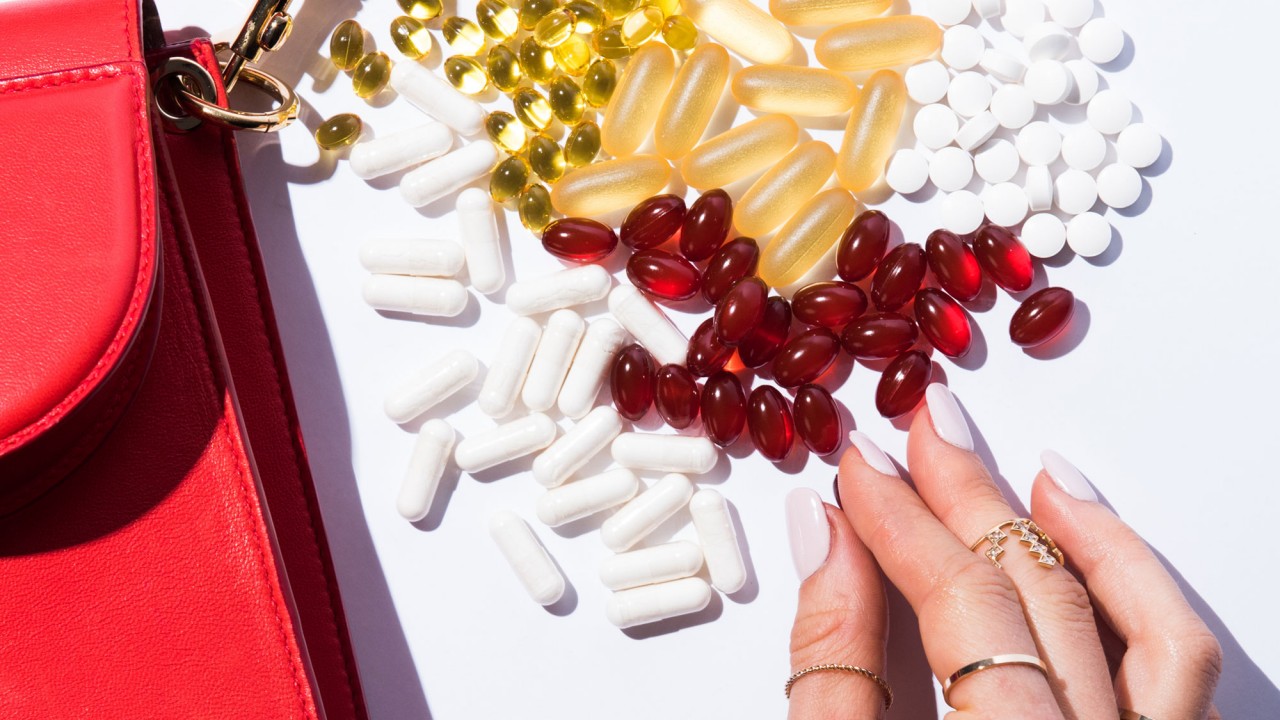 Supplements that Genuinely Make Your Hair Grow Faster
When we first start a new supplement, we're overly enthusiastic about this miracle answer to all our prayers. But then, we go to grappling with the expense but risking it, to noticing little or no difference and reverting to the drawing board—deflated, wounded, and despairing. Sound familiar?
So we understand why you might be skeptical about trending ingestables that claim to give you Kim Kardashian hair extension-free. But the reason for stunted hair growth can range from extreme stress to genetics to hormones, so supplementing the protein and vitamin dearth that causes the root to shut down at the scalp encourages follicly challenged hair to keep on growing.
That said, hair supplements can be a bit hit-and-miss. So to save you the anguish of another failed cycle, we've found the ones with enough backup and anecdotal evidence to be worth the money. It should be noted, however, that we are not doctors. Please consult a medical professional before taking supplements.
---
Viviscal Extra Strength
$49.99 for 1-month supply
How it works: It's the number one selling hair supplement in the U.S. for good reason. The combination of protein, zinc, and their marine extracts prolongs the growing phases of the hair cycle (from sprouting to dropout) by nourishing the scalp for optimum growth. I took these in the run-up to my wedding, and not only did my hair sprout faster than flowers in spring, it felt fuller—TV-advert, swish-worthy fuller.
How to use: Take one tablet twice daily after food. Unfortunately, you can't take them if you're pregnant or nursing due to the high iron content.
---
SugarBearHair Vitamins
$29.99 for 1-month supply
How it works: These gummy bears might look like candy, but the chewy vegetarian vitamins are jam-packed with biotin, which supports hair's natural protein supply. And they do taste like red Haribo gummy bears. It also has the Kardashian stamp of approval, if that sways you.
How to use: They might taste great, but try to restrain yourself to two per day.
---
Phyto Phytophanère Hair and Nails Dietary Supplement
$60 for 120 capulates
How it works: History has taught us to always trust the French when it comes to anything beauty-related, so our expectations of these chocolate peanut lookalikes were high. The biotin works like a protein shake to bulk up strands so that hair doesn't snap off or split so often. As a result, hair growth is noticeably faster.
How to use: Take two capsules in the morning and use religiously for four months. These aren't a "cure" as such, but a course of four months to be taken twice a year to keep topping up the vitamin and protein supply to the scalp.
---
Hum Nutrition Hair Sweet Hair
$25 for 1-month supply
How it works: More gummy candy! These ones are heart-shaped and vegan. They not only contain folic acid, which supports cell and tissue growth on the scalp, but natural mineral zinc, too.
How to use: Take two gummies preferably at the same time each day.
---
Be Well by Dr. Frank Lipman Hair, Skin, and Nails Formula
$39 for 1-month supply
How it works: Antioxidant green tea is the hero ingredient along with biotin, zinc, and other botanical extracts and vitamins. These supplements balance hormones to limit the effect of stress or other imbalances like menopause (so if you have either of the above, this is for you). These also support keratin metabolism (protein production), so hair not only grows faster, but stronger too.
How to use: Take four supplements per day with meals.
Photo: Bag, J.W. Anderson; Ring, AZLEE; Supplements, HUM Nutrition.