Asking For A Friend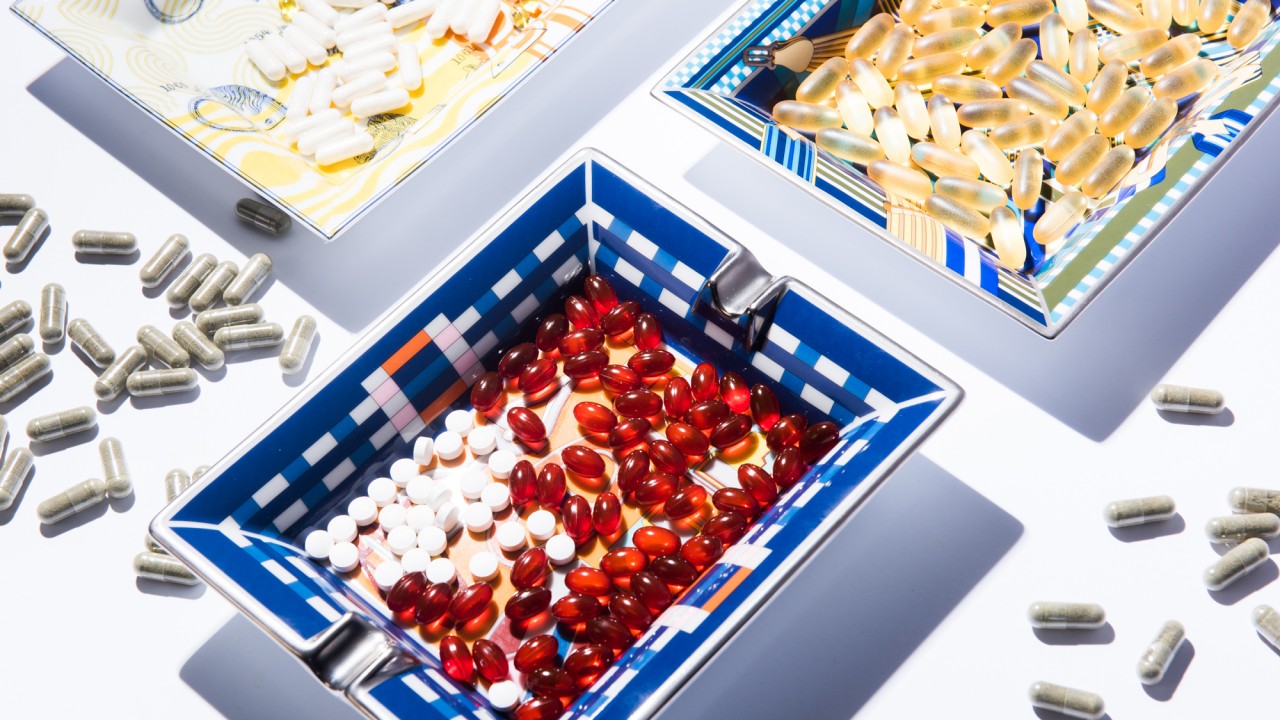 The Real Difference Between Vitamins and Supplements
MD Sara Gottfried educated us on the topic and introduced us to three supplements we didn't even know existed.
It's becoming pretty clear to us that the vitamin conversation is never really over. There is so much to know about the pills we pop on a daily basis, and we want to be experts on every. little. thing. While we have solved the mystery that is the multivitamin, we're now asking ourselves WTF the difference is, if anything, between vitamins and supplements. Seriously, what even are ~supplements~, and why is Elle Macpherson plugging them? We're done being naive with these things, which is exactly why we consulted MD Sara Gottfried, to get some answers. You may recognize Gottfried's name from Goop Wellness as she is the one who creates one of their well known vitamin regimes (they're so good), High School Genes. When we chatted Gottfried, not only did she set a few (JK, a lot) of things straight, but she also let us know about three supplements we had no idea existed let alone should actually be taking. Prepare to be enlightened.
The actual difference between vitamins and supplements:
"Supplements are any product that adds nutritional value to your diet or augments health. Vitamins are a type of supplement. Other types of supplements include minerals, herbs, or nutrients like fiber."
Is it possible to overdo it with a vitamin or supplement?
"Yes. In health, there's almost always a U-shaped curve, meaning too little is bad and too much is bad—getting the right dose is crucial. In addition, not everyone needs vitamins or supplements, so it's important to determine whether any supplement is totally necessary. Too little vitamin A causes eye problems; too much vitamin A can cause hair loss, dizziness, nausea, headaches, coma, and even death. Too little vitamin D can cause osteoporosis, bone pain, muscle weakness, heart disease; too much can cause buildup of calcium in your blood (hypercalcemia), poor appetite, nausea, vomiting, weakness, frequent urination, and kidney problems. Consult with your doctor. In functional medicine, we track the blood levels of many supplements over time to make sure our patients are absorbing them well and getting the correct dose."
Three-lesser known supplements to get familiar with:
"Chasteberry (Vitex agnus-castus)—for PMS. Also known by several other terms, including chaste tree, chaste tree berry, and vitex. It is proven to reduce PMS and infertility, presumably by raising progesterone. Chasteberry, used by the ancient Greeks more than two thousand years ago, restores normal progesterone levels in the body. In Germany, where integrative medicine is practiced as the standard of care, chasteberry is approved for menstrual irregularity, PMS, and breast pain. A Stanford University School of Medicine study shows that in women with low progesterone, fertility rates are higher among those taking chasteberry.
"Berberine. Blood sugar rises with age (starting at fifty), and berberine is one of the supplements proven to help you normalize serum glucose. Not only that, berberine will cool inflammation in your body, lower cholesterol, assist weight loss, and behaves like an antioxidant. Taking 300 to 500 milligrams once to three times per day has been shown to activate an important enzyme called adenosine monophosphate-activated protein kinase, or AMP, nicknamed 'metabolic master switch.'
"Alpha-lipoic acid (ALA). This powerful antioxidant significantly lowers blood sugar levels and reduces nerve-related symptoms from diabetes. [It] acts to prevent cell damage and restore the function of neurons in [diabetics]. Even with a whole-foods diet, it's hard to get enough to keep your oxidant/antioxidant status in balance. ALA repairs damaged cells, and it's one of the most critical anti-aging, anti-inflammatory, and antioxidant agents you can ingest. When applied as a serum, alpha-lipoic acid (5%) has been shown to reduce aging in the face over twelve weeks. ALA is 400 times stronger than vitamins C and E."
The most common misconception with vitamins and supplements:
"That they are regulated by the government. Supplements, including herbal therapies (also known as botanicals), often lack the scientific scrutiny that the Federal Drug Administration requires prescription medications to have. Since the mandatory regulation is minimal, it's a case of 'buyer beware.' Quality of a product is left to the manufacturer, which means that you must take great care when choosing your supplements."
Pro tip:
"Consider taking only one new supplement at a time so you are able to determine whether it is helping you. Give it at least 6-12 weeks, and if it isn't working after this period, move on to another choice."
[As always, we are definitely not doctors or medical know-it-alls. And everybody is different, so make sure to check with a doctor before trying anything!]
Photo: Trays, Hermès; Supplements, HUM Nutrition