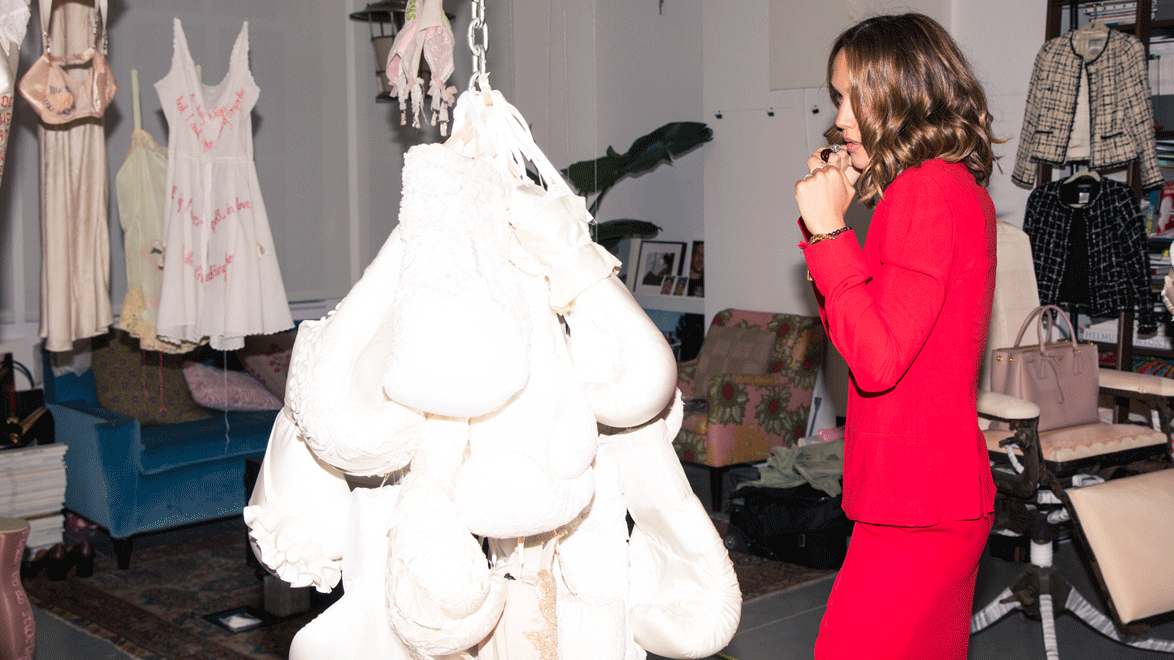 Career
Zoë Buckman's artwork isn't afraid to say maybe–and that women are ready to fight back.
Alec Kugler
When I first walk into Zoë  Buckman's studio, I see everything all at once. There is neon, textile and glass. There are white boxing gloves covered in lace and gynecological instruments covered in patchwork quilt. There are words and lyrics and phrases.
Do we hate our women?
When I finally focus on something it's this question about women and hatred, stitched in brown on a white lace slip. It's a lyric from Tupac's rap "Keep Your Head Up." It's also something Zoë, as a feminist, thinks about without pause.

"I wanted to explore my personal relationship between my feminist upbringing and hip hop. I'm unapologetically a hip-hop fan, and I'm not going to stop listening to Biggie or Tupac just because I'm a feminist." It's the premise of her body of work, Every Curve, where sexually suggestive and misogynistic lyrics from Biggie and Tupac (two of Zoë's favorite artists) are embroidered on constrictive vintage lingerie.
---
When Zoë's daughter was born, she would rap the songs of her East London youth aloud before realizing how problematic some of the wording was. "I think that as women we can either shun something, or we can take it and make it our own. That misogynistic lyric–you can dance to it, you can flip it your own way, you can embroider it on lingerie and make it part of your art even."
But her work isn't a criticism of hip-hop or the rappers whose songs play quietly in the background throughout our interview. "Hip-hop is the music of black men and this is a country where black men are taught from a very young age that there is something intrinsically violent about them, or [that's] deviant or wrong. We can't get mad when the music reflects the constructs we've put on them."
Instead it's a critique of society as a whole; the way everyone regardless of race or age has been taught to view and speak about women. There are some people out there who'd maybe like to blame rap but these unrealistic sexist ideals have been around for decades. Zoë's use of lingerie, some that even dates back to the 20s, illustrates this. "What are corsets? They are there to bend us into shapes that are unnatural!"  Whether it be in the form of a song or a garment, women have always been told this is how you should look; you are not beautiful or thin or curvy enough and you belong to men.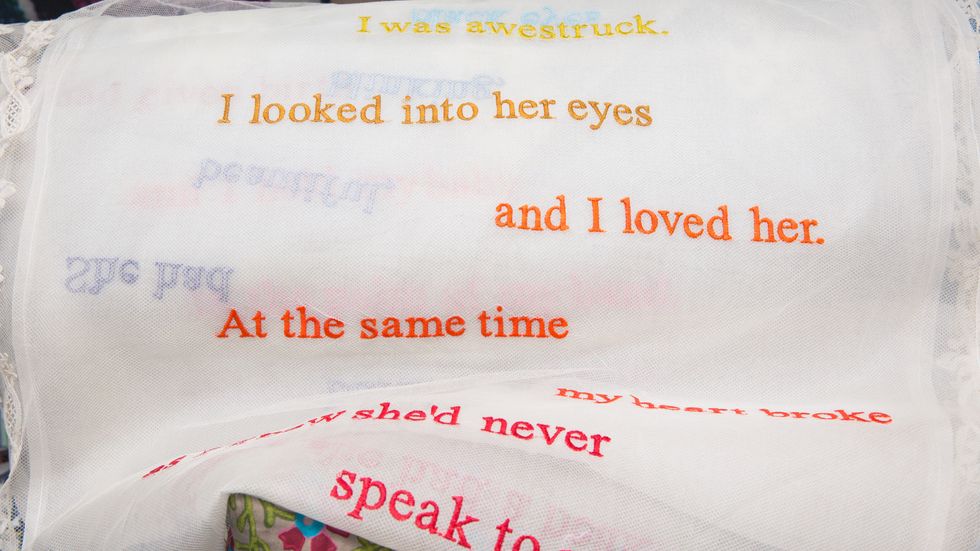 One of Zoë's most recent projects, We Hold These Truths To Be Self Evident, is a mural dedicated to 37 politicians most disgraceful statements about women. "Some girls, they rape so easy" is the first quote on the mural. Four of the quotes are by Donald Trump alone. Republicans and democrats alike are represented, their words immortalized in white paint over a photo of white men sitting around a table as if to say misogyny is here, too. It isn't just found in a lyric in a rap or on the streets in a catcall; it can be found in the White House on the lips of men in power.
I'm reminded of another lyric, embroidered alongside the question that initially caught my eye:
I wonder why we take from our women...why do we rape our women?
All of Zoë's artwork feels like a female cry of "Hey girl! I see you, too!" whether it be about beauty or motherhood or rape. It's all a reminder that we all have a voice, that we can fight, that women's art is as essential,  meaningful and powerful as government and song.
She touches the nameplate around her neck for her daughter as she talks about her series Present Life which explores life and death. "The first thing I made...I actually didn't know I was going to turn into a piece of art." Her placenta sits on a pedestal, encased in marble at the front of her studio underneath neon lights. "Following the birth, I thought about death and mortality. You've created this beautiful thing and you're like, 'Well, shit. They're going to die!' I'm going to hopefully die before she does. This shit is really fucked up. It's really unfair, it's really beautiful, and it's everyday." She wanted to make the process of motherhood permanent; the fleeting forever.
Mostly It's Just Uncomfortable is a response to the potential defunding of Planned Parenthood. "I'm taking these cold, harsh metal objects, and these gynaecological instruments and I'm powder coating them into something that is beautiful and more palatable."
Let Her Rave was inspired by a line in a John Keats poem that suggests if a women is angered she should be emprisoned and left to rave. "I wanted to examine that line and also look at the ways in which the social constructs in our society aim to keep women controlled." The result was white boxing gloves covered in lace, a physical interpretation of the feminist slogan pussy fights back before it was chanted in the streets in protest.
On my way out I look at another piece of red and black lingerie. "If it was dark, it was because she was a prostitute" Zoë tells me. There was a phrase from Tupac's song embroidered on it in bright blue. "I thought I couldn't put a degrading lyric on that. I wanted to put something on there for her, whoever she was. To lift her up." It feels entirely different than anything else in the room and yet entirely the same, a cry for women to stand up and fight back:
Forgive but don't forget girl. Keep your head up.